I wish I could say that my house is a picture of cleanliness. Often it is pretty close – but oftentimes my house needs a fast 10 minute purge. Especially my kitchen, which is hub of my house. If my kitchen is clean – I feel like my house is clean.
I have a few go-to favorites for freshening up my kitchen, so I thought I would share them. These are probably pretty common solutions, but every kitchen needs a little freshening up every now and then! Please pass along any other ideas. I am always looking for new tips!
How do you freshen up your kitchen in 10 minutes? Here are my favorite tips and tricks to make your kitchen your favorite room again!
1. Fill your dishwasher and wash all your dishes
I keep my kitchen rather clean, but sometimes it needs a quick 10 minute cleaning-down. I love to start the dishwasher, wash any used dishes, and make sure all dishes are limited to the drainboard. Once the dishes are air-drying, I fine with them still on the counter. Usually a good 10-minute kitchen cleaning leaves all the counters new again.
If you don't have time to wash all your dishes, I pile them in the sink with the largest dishes on the bottom. If they are off the counter – I feel so much better!
This is my absolute favorite drying mat for dishes. I usually have dishes sitting on it as they air dry – and it doesn't bother my OCD Type-A spirit! I love that I can wash it in the laundry!
2. Do these three instant pick-me-ups
I love to do three things daily. I replace the hand towel and put the old one in the laundry.
I Swiffer the floor – even if I don't have time to vacuum. If you don't have a Swiffer, your house cleaning supply cabinet is lacking! I use this almost daily over all my hardwood floors. It bides me some time until I have time to vacuum!
And I spray my counters down with my favorite thing ever: Mrs. Myers's Clean Day Countertop Spray. I LOVE this stuff! It feels so fresh and bring so much cleanliness to my kitchen. These three things freshen up my kitchen immediately.
3. Create ambience
Every day I light my Yankee Candle. Every day. It is an air-freshener, mood lighting, and immediate ambience. Yankee Candles are always my favorite – and immediately calms my mood in the kitchen.
No matter the season, this is my absolute favorite Yankee Candle scent. I love an apple-scented candle. Right now Yankee Candle has a sale for 2 candles for $40! Don't miss it.
Also, we also have a countertop lamp that we light instead of our overhead light fixture. We never use the harsh standard lighting, and our lamp does wonders for the cozy factor.
4. Indulge your senses
I am the most happy when all my senses are satisfied. My favorite is to turn on some pretty music and made coffee. These two things immediately made me want to be in my kitchen. All my five senses are happy!
My favorite coffee pot has a setting where I can schedule when it turns on. This is PERFECT for setting up the coffee to start when I get home from an errand or work. I love walking into a house that has a fresh pot of coffee. Check out my coffee pot here!
5. Sweep all clutter into laundry baskets
I usually need more than 10 minutes to remove all the clutter from a room. So – the trick is to grab a few laundry baskets, throw ALL the clutter into the baskets and move them into a staging area to go through them.
This is also a perfect way to declutter your house before company arrives. It is much easier to organize and put away clutter from one big pile – instead of where it is scattered all over the house. This is one of my favorite ways to feel like I have a clean house!
If you do all these steps in 10 minutes or less, you will feel like a new person – and love the kitchen that you get to step into!
Leave comments below with your favorite cleaning products for a new kitchen!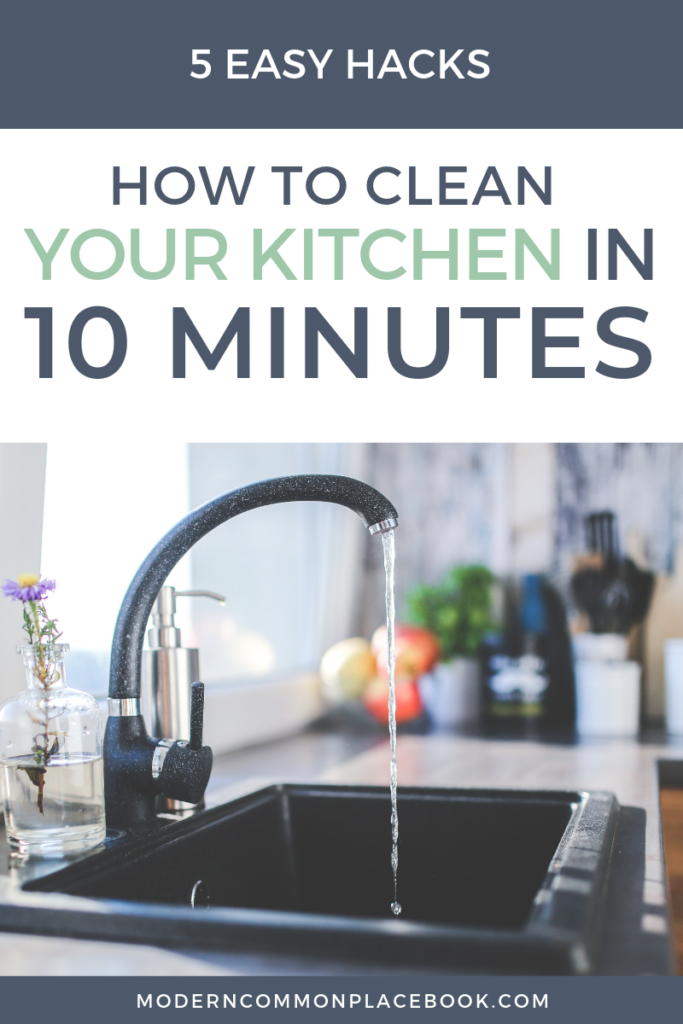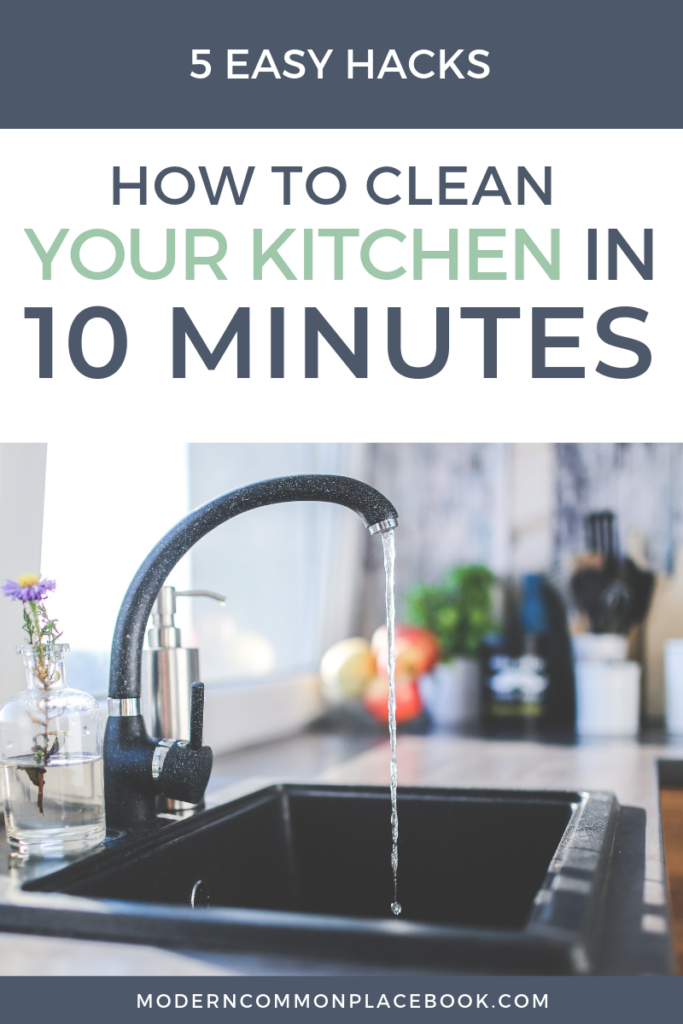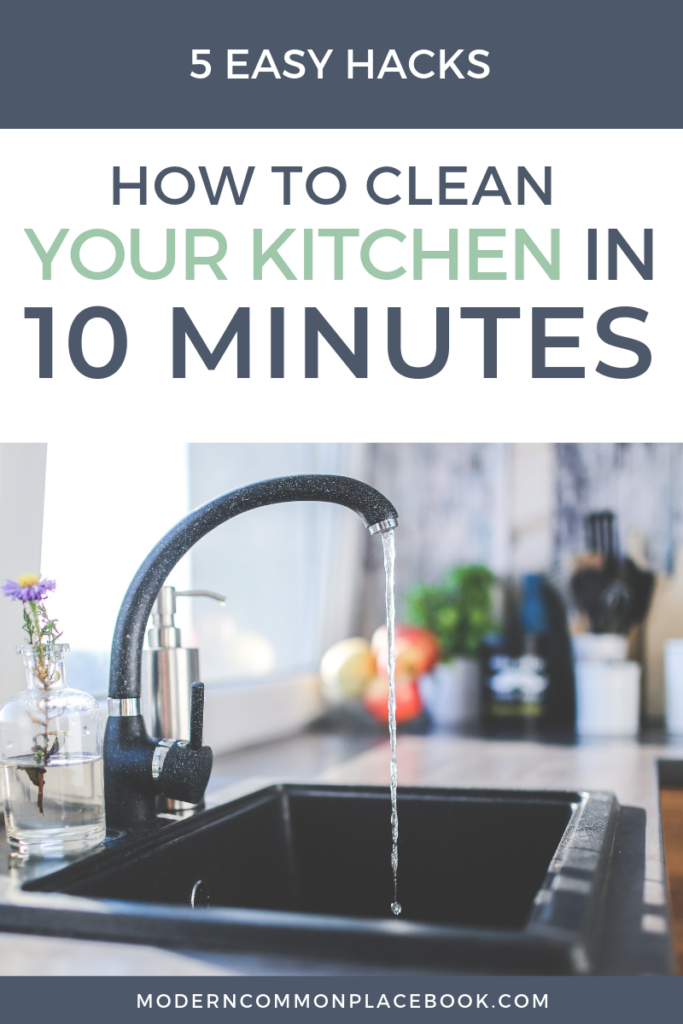 ---
Make Your Week Easier with these Deals that Keep Me Going
LeTote
- I know the last thing on your mind is new clothes for you. But, seriously? When was the last time you shopped for yourself? Do you even have time to think about new fall clothes? Let me tell you what I do. I rent my clothes with Le Tote. Yep. I pick out a few outfits every month, wear them, LOVE them, and then send them back. Their prices are super cheap, and I don't have to buy anything. If you are pregnant, their maternity clothes are AMAZING.
Get a free tote here and love your FREE CLOTHES!
EveryPlate
- I know every mom in the world is talking about Hello Fresh - but let me tell you why
EveryPlate
is better and cheaper than Hello Fresh. EveryPlate provides fresh family-friendly meals right to your door - but for
less than $10/serving
. Their meals are the
same
as other providers, but they use less packaging (yay saving the environment!) so they can charge less. They also offer fewer meals per week with a wider rotation, so we never get sick of the same meals! I have used them for MONTHS, and we have loved every single meal. Stop meal planning today and try
EveryPlate
this week with a $20 discount.
Click here to get you first box at $1.66/serving!
KiwiCo
- Are your kids staying home this school season? Do you need something to keep your littles busy for HOURS? You need to get
KiwiCo Activity Crates
for your kids every month. These boxes teach your kids, provide 2-3 activities per month, give you a free storybook, and entertain your kids for
under $20/month
. We have loved them for years. Seriously, make this school year easier for you with
KiwiCo
.
Latest Posts: