I find myself pulling out my summer must haves around this time every year. And because I have found some favorites that stand the test of time – I know you will want to hear about them! These favorites make my summer. Make sure to leave a comment with your summer favorites!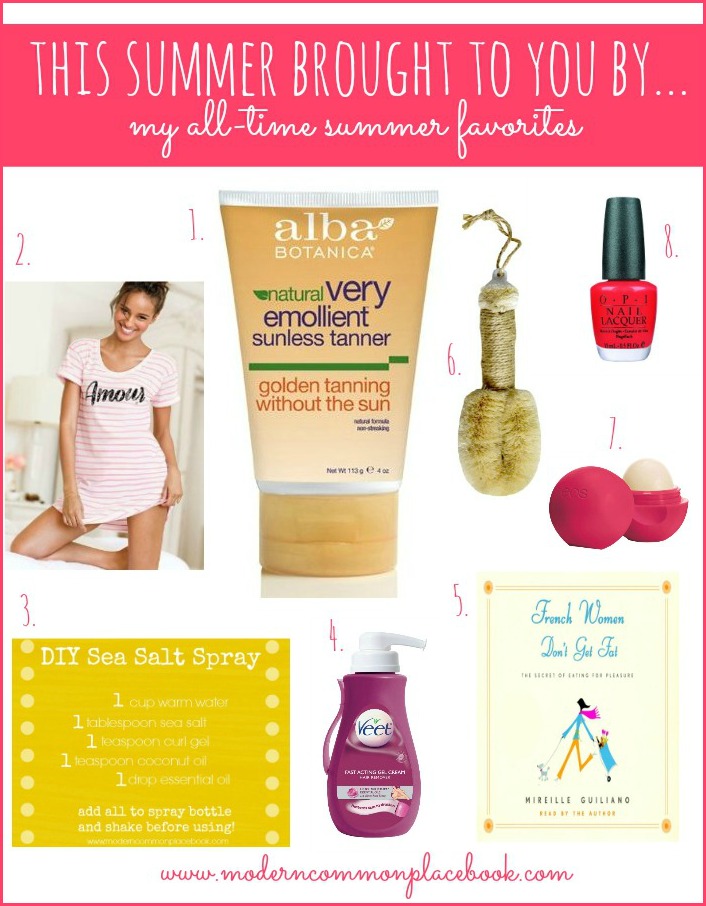 Alba Botanica Sunless Tanner
1 – I have talked about this self-tanner before. I have tried so many brands – and I always come back to this Alba Botanica Sunless Tanner. It is a thick lotion that smells so good, my husband has requested I wear it. No joke. I would wear it just for the creaminess and the scent. The tan is natural, non-streaky, and all-natural. I thought it was sold out, so I was so happy to see Amazon has it for only $6.18!
Victoria Secret Sleepshirts
2 – Last year I was on the search for a sexy and cute – but comfortable – everyday sleepwear option. I found these sleepshirts from Victoria Secret. Y'all, I am in love. They are so soft and comfortable – but the cutest things ever! I would recommend getting them when VS has their sales and coupons!
Summer Hair
3 – I love letting my hair go during the summer – and don't care to spend a fortune on a Sea Salt Spray – when I can make my own! I keep a spray bottle of this in my bathroom, and use it a ton during the summer! Get my recipe here.
The Summer Body
4 – I am planning to write the dreaded post about hair removal soon (sorry – it had to come some time!), but in the meantime, just know that Veet Fast Acting Gel Cream is magic! I use it on my arms, but I hear it is awesome for the whole body. I wouldn't recommend it for the face. It is super effective, good smelling, fast acting – and it works. Score.
5 – Summer calls for fresh soft skin – that I get by using my dry brush. I use it in the shower before I run the water, and LOVE it. Read my post about it here!
6 – I always keep coming back to Eos Lip Balms. They are fruity, smooth, and last FOREVER. I re-stock every summer! Get them here.
7 – To me, the very best summer color is OPI Cajun Shrimp. I am kind of an OPI snob, and Cajun Shrimp is my go-to all summer.
French Women Don't Get Fat
8 – I first read French Women Don't Get Fat in 2006, and now I read it every summer. For some reason, it just gets me in the "eat healthy because it's summer" mood, and I love her stories and thoughts about fresh food, farmer's markets, and clean eating. I love her yogurt recipe – but don't recommend her leak diet (3 days eating only leaks in leak water). Yes, I did that once and my husband will never let me live it down.
What are your favorite summer must haves?? Share with me so I can get all summer-y this season!