I find myself pulling out my summer must haves around this time every year. And because I have found some favorites that stand the test of time – I know you will want to hear about them! These favorites make my summer. Make sure to leave a comment with your summer favorites!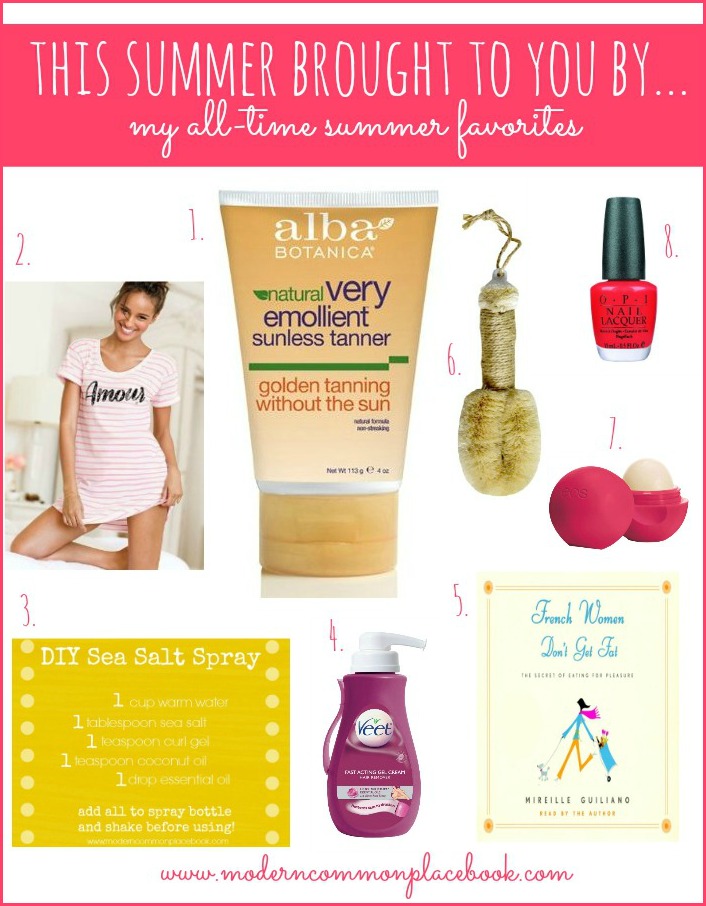 Alba Botanica Sunless Tanner
1 – I have talked about this self-tanner before. I have tried so many brands – and I always come back to this Alba Botanica Sunless Tanner. It is a thick lotion that smells so good, my husband has requested I wear it. No joke. I would wear it just for the creaminess and the scent. The tan is natural, non-streaky, and all-natural. I thought it was sold out, so I was so happy to see Amazon has it for only $6.18!
Victoria Secret Sleepshirts
2 – Last year I was on the search for a sexy and cute – but comfortable – everyday sleepwear option. I found these sleepshirts from Victoria Secret. Y'all, I am in love. They are so soft and comfortable – but the cutest things ever! I would recommend getting them when VS has their sales and coupons!
Summer Hair
3 – I love letting my hair go during the summer – and don't care to spend a fortune on a Sea Salt Spray – when I can make my own! I keep a spray bottle of this in my bathroom, and use it a ton during the summer! Get my recipe here.
The Summer Body
4 – I am planning to write the dreaded post about hair removal soon (sorry – it had to come some time!), but in the meantime, just know that Veet Fast Acting Gel Cream is magic! I use it on my arms, but I hear it is awesome for the whole body. I wouldn't recommend it for the face. It is super effective, good smelling, fast acting – and it works. Score.
5 – Summer calls for fresh soft skin – that I get by using my dry brush. I use it in the shower before I run the water, and LOVE it. Read my post about it here!
6 – I always keep coming back to Eos Lip Balms. They are fruity, smooth, and last FOREVER. I re-stock every summer! Get them here.
7 – To me, the very best summer color is OPI Cajun Shrimp. I am kind of an OPI snob, and Cajun Shrimp is my go-to all summer.
French Women Don't Get Fat
8 – I first read French Women Don't Get Fat in 2006, and now I read it every summer. For some reason, it just gets me in the "eat healthy because it's summer" mood, and I love her stories and thoughts about fresh food, farmer's markets, and clean eating. I love her yogurt recipe – but don't recommend her leak diet (3 days eating only leaks in leak water). Yes, I did that once and my husband will never let me live it down.
What are your favorite summer must haves?? Share with me so I can get all summer-y this season!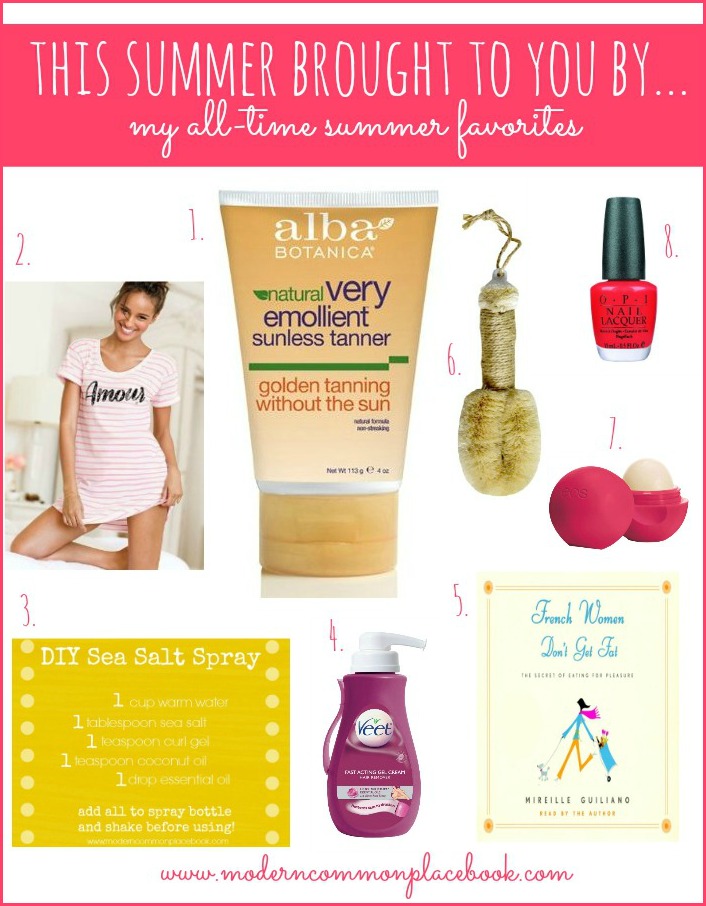 ---
Make Your Week Easier with these Deals that Keep Me Going
LeTote
- I know the last thing on your mind is new clothes for you. But, seriously? When was the last time you shopped for yourself? Do you even have time to think about new fall clothes? Let me tell you what I do. I rent my clothes with Le Tote. Yep. I pick out a few outfits every month, wear them, LOVE them, and then send them back. Their prices are super cheap, and I don't have to buy anything. If you are pregnant, their maternity clothes are AMAZING.
Get a free tote here and love your FREE CLOTHES!
EveryPlate
- I know every mom in the world is talking about Hello Fresh - but let me tell you why
EveryPlate
is better and cheaper than Hello Fresh. EveryPlate provides fresh family-friendly meals right to your door - but for
less than $10/serving
. Their meals are the
same
as other providers, but they use less packaging (yay saving the environment!) so they can charge less. They also offer fewer meals per week with a wider rotation, so we never get sick of the same meals! I have used them for MONTHS, and we have loved every single meal. Stop meal planning today and try
EveryPlate
this week with a $20 discount.
Click here to get you first box at $1.66/serving!
KiwiCo
- Are your kids staying home this school season? Do you need something to keep your littles busy for HOURS? You need to get
KiwiCo Activity Crates
for your kids every month. These boxes teach your kids, provide 2-3 activities per month, give you a free storybook, and entertain your kids for
under $20/month
. We have loved them for years. Seriously, make this school year easier for you with
KiwiCo
.
Latest Posts: