I had the awesome privilege of testing out Beauty Counter products a couple weeks ago! I am sure you have heard about Beauty Counter – the new beauty company that offers safe beauty products in gorgeous packaging. Well, maybe thats just how I used to see Beauty Counter. They are making waves for their ban of more than 1,500 ingredients toxic ingredients – and their personalized experience matching the right beauty products for each customer.
I really loved testing out their products, because I have been so intrigued by this company. Beauty manager Nicole Brinson sent me an awesome selection. And let's be honest, they have gorgeous packaging!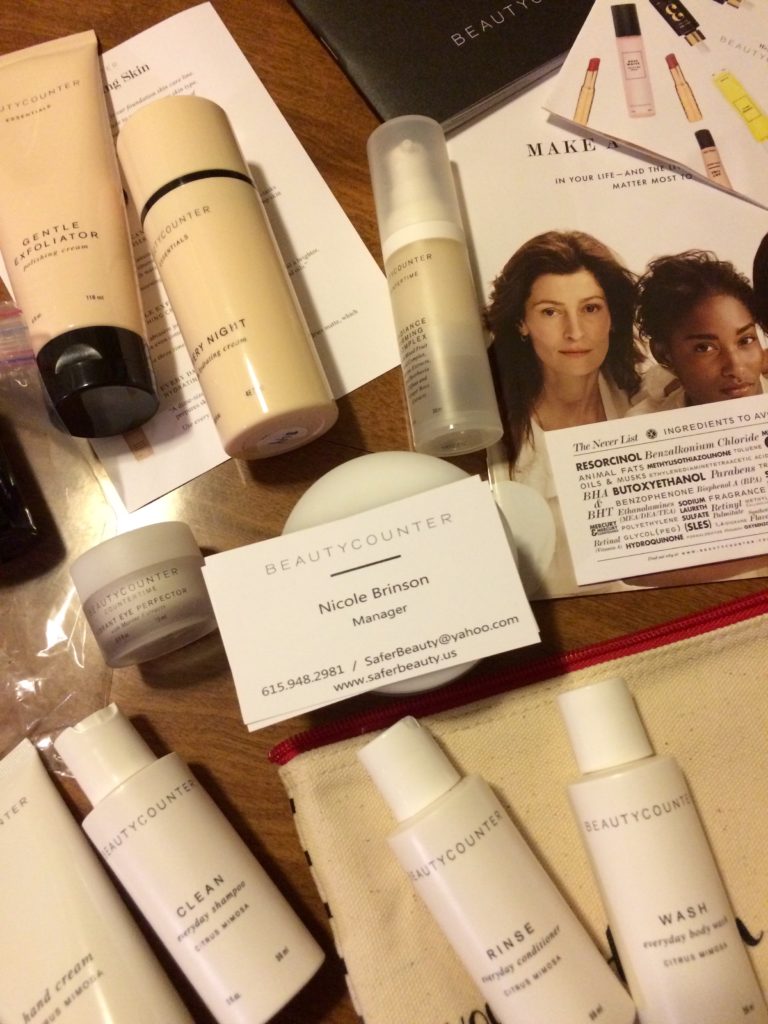 Beauty Counter Products I received and tested:
Charcoal soap: a wonderful cleansing bar that naturally removed impurities without drying. Perfect for acne-prone skin.
Enlightening treatment pads: awesome little power packed pads that brighten skin, even complexion, reduce fine lines and wrinkles.
Radiance firming complex: an awesome moisturizer that brightens skin and firms at the same time.
Lustro face oil #3: an awesome plant-based oil that naturally detoxifies skins and adds hydration.
Essentials PM moisturizer: a very hydrating moisturizer that hydrates without being oily. Coconut oil based and fantastic for oily skin.
Body collection shampoo and conditioner: No SLS or added fragrance.
Body wash, Lotion and Handcream: body products in their signature "Citrus mimosa" scent, a natural scent from essential oils. All hydrating and healthy for skin without any harsh solvents or ingredients.
What I thought…
They are silky smooth, fresh, light and felt so refreshing on my skin. Remember old drug store products that leave your face tight and dry? These are so the opposite! I loved the refreshing feeling – knowing that I was treating my skin right.
Their scents (especially everything citrus) are divine! They are so light and fresh – but so tropical and sunny. Seriously, some of the best scents I have ever smelled in skin products!
The Charcoal Soap was by far my favorite product – and one that I will be buying! My face cleared up, dried out, and I saw results in a week!
Honestly, I didn't see any results with the other products in just a week. That doesn't mean they didn't "work". It just means a week is a super short period of time to see results. Some might say that feeding your skin with super clean and healthy products are the results themselves. I honestly need to see actual results on my skin to say a product works. But, Beauty Counter has awesome reviews on their website – so there is a long line of women seeing results!
I love these products! They seem rather pricey for me, but they last a LONG time. Also, if you are interested in becoming a salesperson, you get discounts! Make sure to contact Nicole here if you are interested.
Win Your Own
Do you use Beauty Counter? Make sure to leave a comment and let me know your favorite product!
And…We aren't done! Make sure you enter for a free Rose Neroli Body Oil! This is no longer available for purchase, but is available to you! Nicole is super sweet to offer this to one of A Modern Commonplace Book's readers – ENJOY!
Please note! This giveaway is only for the US.

This giveaway is no longer active.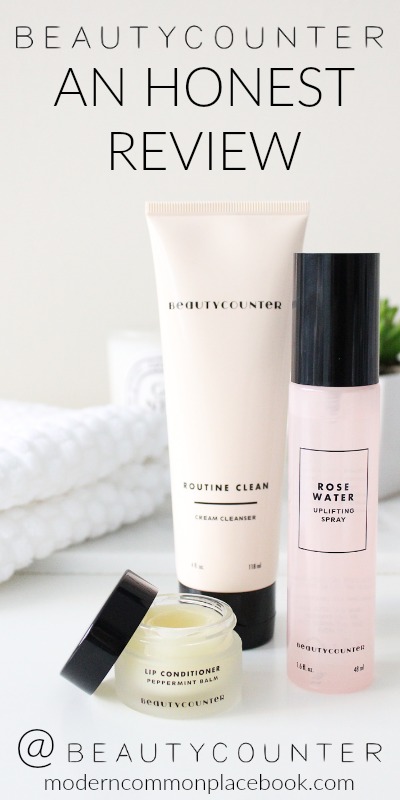 ---
Deals that are saving my hide lately...
🧒 For your kid - I found these printable activity packs for my toddler that are LIFESAVERS. My daughter literally wants to do these activities for hours every day. They are called the Ultimate Preschool Activity Bundles, and there are activities for every theme. Each activity has dozens of pages that are printable pages that teach number and letter recognition, colors, counting, patterns, and much more. These are my favorites:
🧹For your cleaning routine - I have started getting my cleaning products on Grove Collaborative - and they literally have changed my cleaning routine. Right now they are running their deal for my favorite Plastic-Free Cleaning Line for free, so make sure you check it out. Here are some tips to get the most out of this deal:
🧹If you already have a Grove account, use a new email address to get this deal...and then cancel.
🧹Make sure to set a calendar reminder to cancel the Grove VIP trial after a month. No harm no foul.
🧹 Choose the Plastic-Free Hand Soap Set ($45 value) and get all everything for free.
🧹Fill your cart with $20 worth of products you need anyway...
🌮 For Dinner - I know every mom in the world is talking about Hello Fresh - but I'm here to tell you that EveryPlate is better and cheaper than Hello Fresh. I have used it for years with my own pennies...and it really gives me life.
EveryPlate sends me dinner recipes and ingredients right to my door - but for less than $10/serving. Their meals are the same as other providers but HALF the price. It doesn't matter how many $90 off coupons other providers throw at you - this dinner box is still cheaper.
They use less packaging (yay saving the environment!) so they can charge less. They also offer fewer meals per week with a wider rotation. I have used them for over a year, and we have loved every single meal.
When I use EveryPlate, I can actually forget that I have to cook dinner. The ingredients are already in my fridge.
⭐ Stop meal planning and try EveryPlate this week with a $20 discount. Click here to get you first box at $2.49/serving!