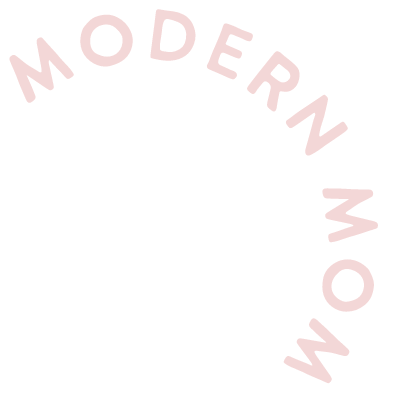 WAHM Shortcuts for working from home, and loving where and how you work. Learn what questions to ask, and find solutions that work for your life, family and home.
Disclaimer: This page may include affiliate links. I may earn a small commission from some of the brands mentioned here. Click here for more info.
Amidst all the scheduling, kids routines, cleaning the house, organizing life, and actually taking a shower…sometimes we forget that we have to work. Like actually work.
Some of us put in 40 hours. Some of us have fluid schedules – long weeks here and short weeks there. Some of us get paid according to how much we work. A slow week = less money. 
At the end of the day, the working is what keeps everything going. Want to afford your kids shoes? Put in more hours. Want to take a vacation? Find a new way to make money on the side.
It doesn't stop.
Fortunately though, there are ways to make it easier. Let's dive in.
(PS. If you are looking for jobs for SAHM moms that can earn you money now, check out my master list here!)
Weary from working long hours, just to get by? Learn how to make your work easier, and find the best patterns for your family.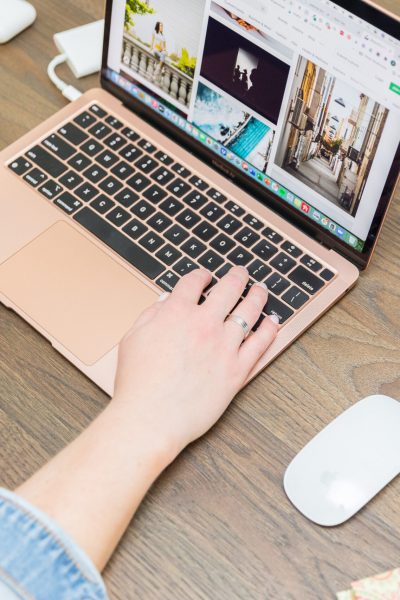 I have had a lot of different at-home work scenarios in my time.
I have set up a temporary card table in my living room with cords going every which way.
I have used a tiny antique secretary desk in my living room, with a hard dining room chair.
I have worked on my bed in my room while the babysitter and kids took over the house (that's where I am now!).
I have had an actual desk and task chair in our loft near where the kids play.
Surprisingly, I have never actually had a dedicated office. I need to get on that…
Regardless of what your house and office/desk situation looks like, there are several tools (and questions) you can use to make it whole thing practical and profitable.
Let's dig into all the options, so you can find what works best for you.
Real life for one minute.
If you are watching children while you work full or part time, you need ways to move your desk/work space to a central location.
In my old house, my desk was actually in my living room. I had room to push my desk near the wall opposite my sofa. And this gave me a lot of space to work and be near my daughter.
Now in my new house, my desk is in our upstairs loft that is between our bedrooms. There is enough room to fit my desk, a small sofa, and a fenced in play area for my baby.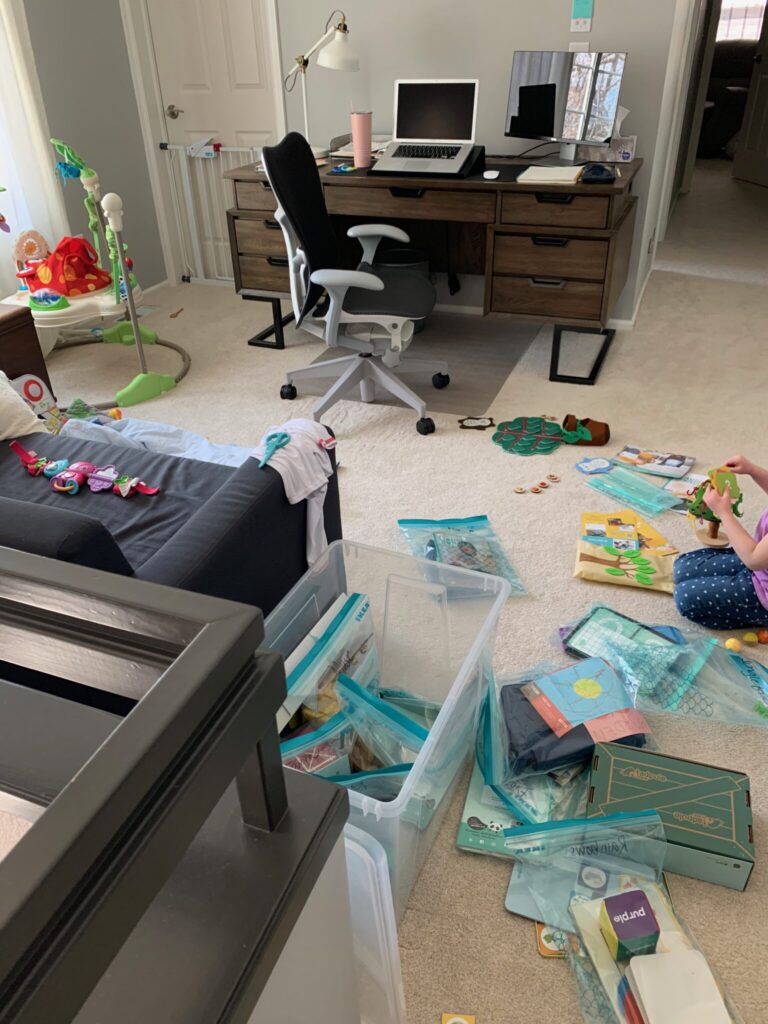 You can see our handy jumparoo that I use for my babies when they are between 4-12 months old.
Also, my daughter is playing with our collection of KiwiCo play activities that we keep every month for her to rotate through.
We keep their toys in their bedrooms (that are connected to this loft-space), and use toy rotation techniques (use this free tool to do that!) to let them play near me.
You guys want to see my current setup? You got it. This is a very raw image of what my work station looks like.
Real life, y'all.
THESE ARE THE QUESTIONS WE ASK OURSELVES:
Sound impossible? Here's how I do this.
The Questions I ask: 
"What are the pain-points with my office/desk situation?"
"Is there any function I need that I can't accomplish now?"
"Is all my technology up-to-date and working for me?"
My Solution: Every season or so I invest in something new to make my work easier. It might be my earbud/AirPod situation, or my phone and computer chargers. Here are some of my favorite must-haves.
AirPods: I got a pair of Apple Airpods few years ago, and they have changed my life. Because I have a lot of work meetings, I use these the most during my work day when I need to switch between work meetings and music or a phone call I am taking. But, I also listen to SO MANY audio books. And, every day I pretty much wear these around the house and listen to a book. While I am washing dishes. Giving baths. Taking out the trash. Cooking dinner. I am not exaggerating. They are the best.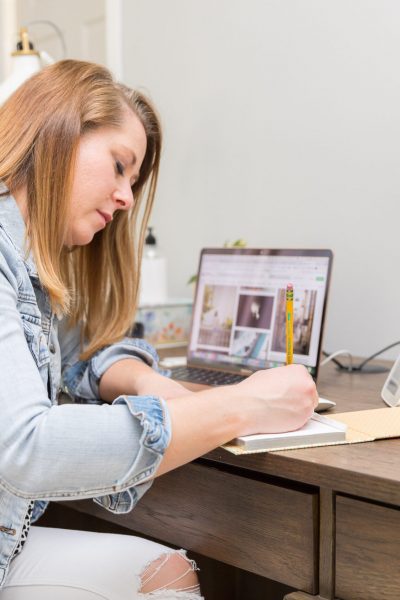 Car Adaptor: If you work in the car, this car adaptor is a must-have. I work a lot in the car. If we are taking a road trip, my husband will drive and I work. This car adaptor is perfect for keeping my laptop plugged in for hours upon hours.
Long Phone Charger: I don't what mom can function with just the short charger that comes with new phones. A 6 foot charger is a necessity for every mom. This one is super cheap, and has lasted me though years of trips, hotel nights, times in the hospital – and all those days string across the play room. If you are having a baby soon, you definitely need this in your hospital bag!
Leather Desk Pad: I loooove this leather desk pad. I use it under my laptop, my coffee cups, my mouse, and all the lunch plates I eat with at my desk. It's a luxurious way to keep messy dishes on my desk…for a steal.
YETI Coffee Mug: Hear me out. I am not a Yeti snob. I could care less who makes this coffee mug. But it is hands-down the ONLY coffee mug I use. The coffee stays hot all day and tastes just as good the 10th hour. It doesn't spill. Ever. Perfect for over carpet, in living spaces, near computers…I have a gorgeous cabinet full of beautiful mugs and this is the only one I use.

The Questions I ask: 
"What is my monthly childcare budget (see Guide #2)"
"What are the pain-points with my childcare-while-I-work situation?"
The best way to work at home with kids is to continually find clever tricks to do both at once. And to adjust every day.
Every few days or weeks I adjust. I research new tips – new toys – new schedules. I heard somewhere that kids change every 3 months. This is definitely true for infants – and I totally believe its the same for toddlers and preschoolers.
I basically have to adjust every 3 months and strive to provide my kids with the best educational activities that they can play near me.
My favorite solutions for babies through toddlers are:
Baby Foam Mat: Every mom wants one of those pretty jigsaw play area mats that you see on Amazon…for over $100. That's crazy talk. You can get car garage foam mats (exactly the same) for super cheap!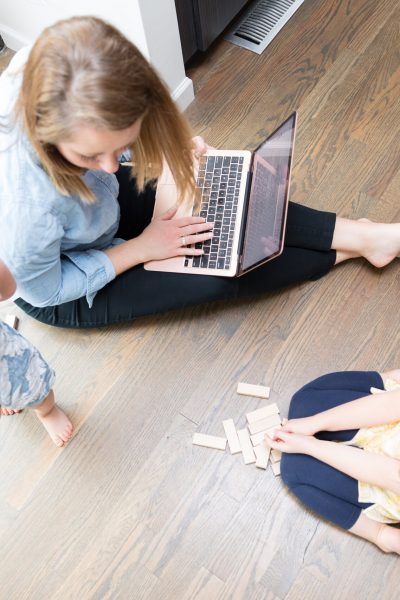 Baby Fences: When my daughter started to crawl, we bought this baby fence and it was the perfect work-at-home solution! This awesome system has removable panels – and encloses 19 square feet. It can attach to walls, and enclose a large area for free play.
Jumparoo: At 4 months, I transition my babies to play in the Jumparoo. This is the BEST stationary toy for this age – and allows them to jump and play near me independently. My babies usually jump in this up to an hour or two a day. They love it – I love it.
Baby Monitor: I researched baby monitors for about 8 months. No joke. I had dozens of lists and tabs open. We finally settled on the Infant Optics DXR-8 Video Baby Monitor because of the 35,000 5 ⭐️ Reviews on Amazon. It is definitely the highest-rated monitor on Amazon. And – we LOVE it!
More resources:

The Question I ask: 
"How can I add corporate mentality to my home environment?"
"What is wasting my time right now"
"What are ways to be more productive?"
Every day for the last 5+ years, I have worked from the comfort of my living room.
In sweats. Maybe with my hair unwashed.
I am so grateful for the discipline of working at home. It's during times like these that I realize how tricky working from home can be! Here are some of my favorite NEW work-at-home tips that I have perfected in the last 5 years.
Toggl: One of the hardest things about working from home is clocking in. It is so easy to sleep late, spend extra time eating breakfast, give into every child's crazy morning schemes. I have found that clocking in forces my hand. Toggl's basic plan is always free – and it has extensions and apps to make it easy to use on any device or browser. And it makes you literally clock in with your literal hands. This really helps keep you going in the morning.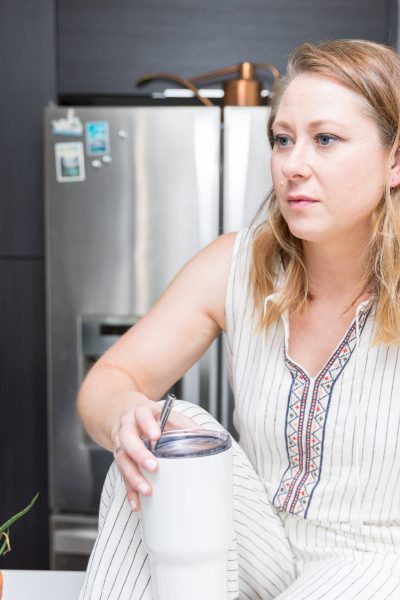 Personal Emails: I do a lot in a day. I work. I watch children. I make meals. I clean my house. But two things I cannot add to my daily tasks are personal emails and mail/bills. Those are evening and Saturday chores only. I mute my email notifications from Gmail and don't check the mail until the end of the day. Of course, I still receive texts, but often leave them unopened if I know I can respond to them later.
1Password: I have used 1Password for years now, and don't know how people do it without a secure password vault! 1Password is a secure password vault that will create long-form passwords for you, save every one of your passwords for every site, and sync across all your devices. On my phone, 1Password will auto-populate the password it has saved for a site, so I don't have to remember anything!
More Resources:
The Question I ask: 
"How much do I need to make each month?"
"Do I need a full-time job, a part-time job, or a money-making endeavor on the side?"
"How is this going to fit into my family routine?"
I have done so many different at-home job. I have done:
a 40-hour full-time employment.
at-home tutoring and teaching.
ESL tutoring through the local University
proofreading
web design & development
Etsy shop & product selling
Facebook Marketplace flipping
created and managed a couple LLCs
I have even tried at-home sales marketing 
The first step is to analyze your strengths.
Any good job draws from strengths – and this is so true about an at-home job.
The advantage of working from home is that you can create the job description.
Think about it. If you are looking for a job available in your area with local employers, you are at their whim. They need a assistant? You do what they ask. They need someone who can type fast? You rise the challenge.
But, if you create a job from your home, you can do anything that your heart desires. Do you really love to cook? Do you love to watch children? Do you know a lot about chemistry? Perfect. Create a job that uses those skills. Here are some questions to ask:
Do I love to be in my house, or do I like to drive?
Do I have kids and limited time?
Do I like to teach?
Am I good with money?
Do I like working odd hours?
Do I like talking on the phone?
Am I fast typist?
Am I creative?
Am I good with websites?
Do I have a unique skill?
Am I a good multi-tasker?
Do I like creating schedules?
Do I like learning new things?
KEEP READING HERE to learn how to identify your ideal client and earn extra money.
More Resources:
Still Reading?
Binge Guide #4 to learn how to focus on your home.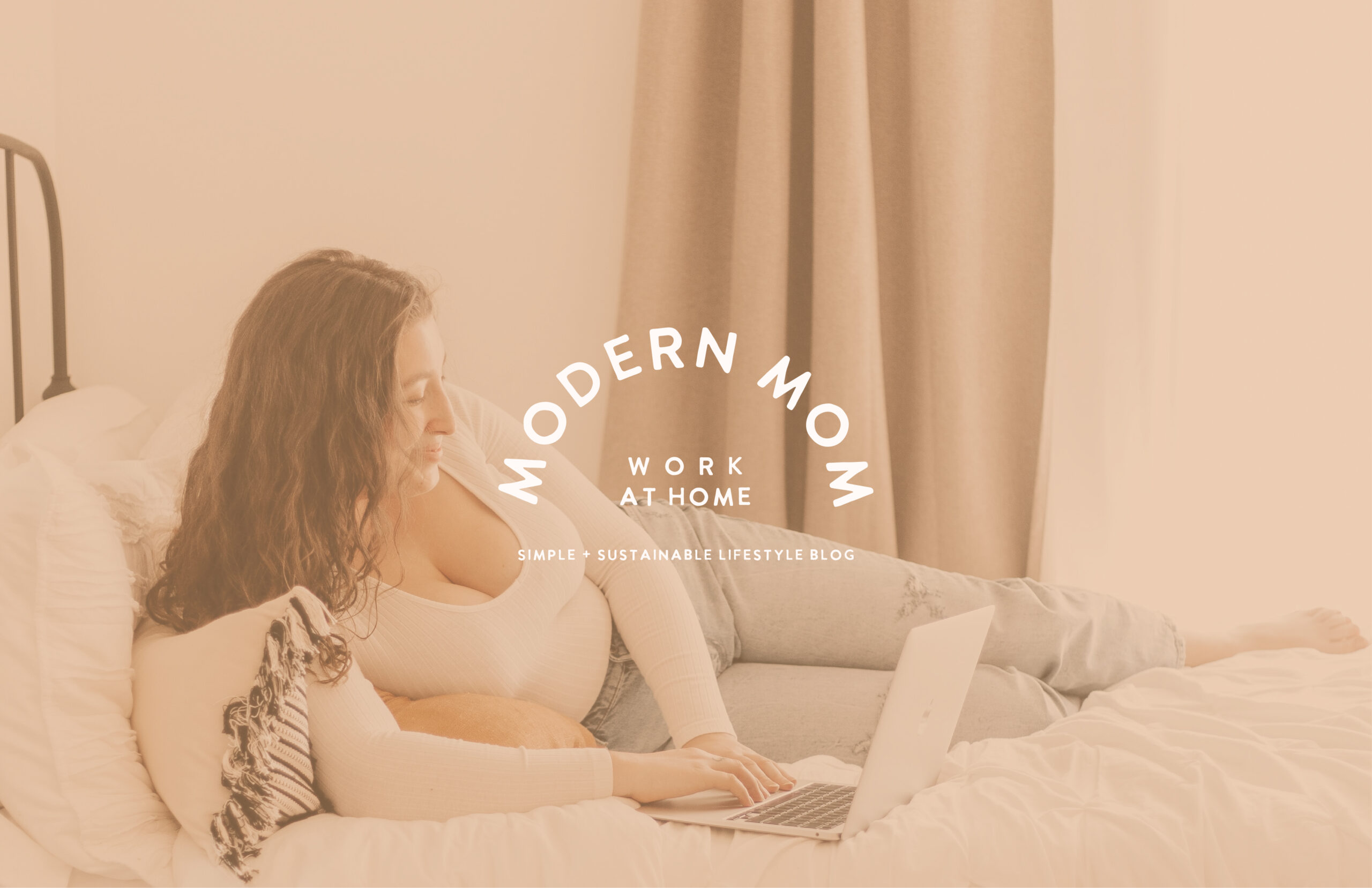 Binge Guide #2 to learn how to focus on your family.
Want to ask your questions? Come join me here!
Make friends with other moms when you need naptime tips…or just someone to chat with while you are nursing at midnight.
This is a judgment free zone. A listening ear. A way to meet likeminded friends.
You aren't alone! Join other moms who are juggling with the same stuff that you are. Ask all your questions and even find friends in your own area! Click below to be invited into the Modern WAHM Facebook Group.