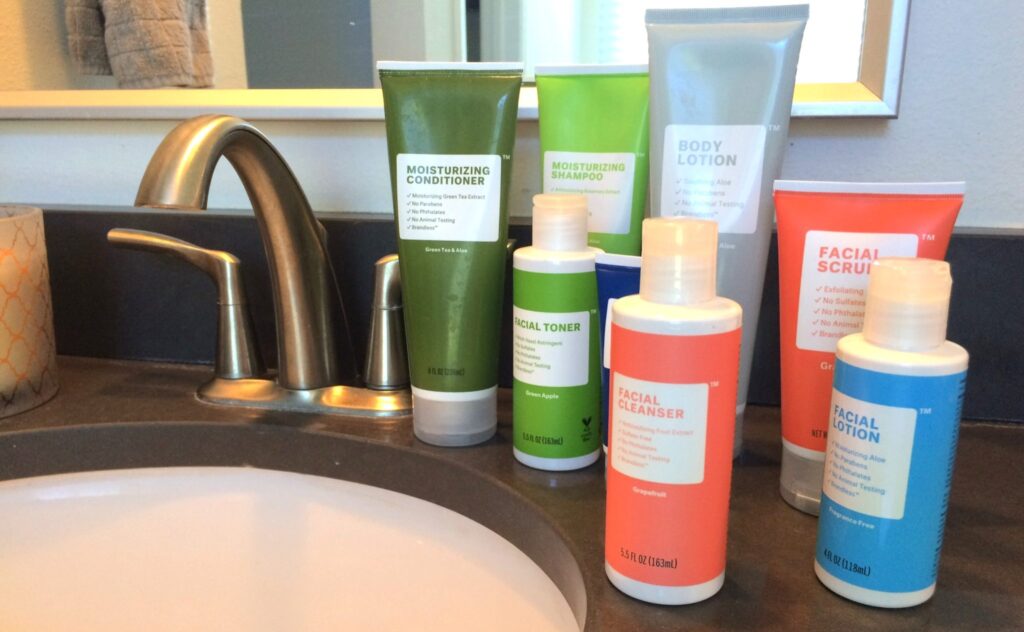 Before I purchased my first Brandless order, I looked everywhere for a good Brandless Review! I hope my experience (and continued support for Brandless) gives you some good feedback about this amazing company.
(Looking for more honest mom reviews? Check out my Resource page where I share all my favorite products – especially for mom + work life!)
How do you feel about shopping for your oatmeal, coconut oil, face cream, kitchen spoons, and stationery all at one online store? And what if everything was $3? And everything is non-toxic, culture friendly, not tested on animals, etc? And for every order, the company gives back and donates a meal with Feeding America?
It sounds too good to be true.
A Brandless Review
Well, it is true – and a real online grocery shopping experience, y'all, and it's amazing! I've become a huge fan. And it's called Brandless. Brandless – because there is no brand. All the products and just simple products that have simple labels with their ingredients forthright. And because of this, they escape the red-tape of a "BrandTax", and they pay less overhead. And, the products are amazing. It's almost too good to be real.

I first heard about Brandless through a YouTuber's review, and I immediately was intrigued. I'm not a brand snob for most things, and I'm always looking for a way to save money on everyday things. I also learned that huge names like Jessica Seinfeld, Randi Zuckerburg and Steph Curry invested in this company in 2017 because they really believed in it. Super intrigued.
---
Here's a little background about how Brandless works:
I love the idea of simplicity, ethics, minimalistic approach, and beautiful packaging. Also – you don't have to get a membership! You can for FREE shipping, easier ordering and for more giving-back meal donating, but it's optional. It's so fascinating! Click here to get $6 off your first order!
---
What I first ordered from Brandless:
Here's what I ordered my first time:
Face/Body Products:
Green Tea & Aloe Moisturizing Shampoo
Green Tea & Aloe Moisturizing Conditioner
Grapefruit Facial Cleanser
Daily Facial Moisturizer
Night Cream
Grapefruit Facial Scrub
Green Apple Facial Toner
Mint Foot Cream
Aluminum Free Deodorant
Green Tea & Aloe Body Lotion
Household:
Tub & Tile Cleaner, Summer Breeze
Glass Cleaner, Cucumber Mint
Food:
Organic Oats & Honey Granola
Organic Quick Cook Oats
Organic Milled Flax Seeds (Only $1.50)
Organic Cheese Duck Crackers
Other:
Stationery Set
In short, I loved the products, and I will definitely be ordering again! I love the quality, the simplicity, the quick shipping, and the wholesome small-shop feel of ordering all my products from one place. Here are my favorites:
1 – Green Tea & Aloe Body Lotion – I almost didn't get this because I have so much lotion at my house. But, I bought it thinking it'd be great in a guest bathroom. But, y'all. It's AMAZING. It is thick, creamy, and smells divine. I like it better than Aveeno, Lubriderm, and Bath and Body Works lotions.
I just moved to a dry climate, and this is PERFECT. I feel like I'm in a spa, and will buy this again for sure.
2 – Night Cream – Again, super luxorious, creamy, smells divine – and ONLY $3. I've never seen a night cream that cheap. And the shea butter really works.
3 – Aluminum-Free Deodorant – I LOVE this deoderant! It was lavender-y and definitely kept me odor-free. It was very similar to coconut oil + corn starch + essential oil deodorant I make at home – but so much better. I totally recommend.
Overall body product review – I love them! I might not buy the shampoo and conditioner again because I can get cheaper products at TJ Maxx. But, they work! And the facial cleansers, toners, and scrubs all work amazingly and smell divine. Also, they have a super minimal natural list of ingredients, which I love! My biggest favorite is the Shower and Bath Bundle because it's PERFECT for a guest bathroom. Only $21 for 7 products – and the bottles are soooo pretty for a guest bathroom. Love it!

4 – Tub & Tile Cleaner, Summer Breeze – This is my favorite product hands-down. This tub and tile cleaner is foamy, strong and smells so good and WORKS amazingly. It's a huge bottle – so I will be using it for a long time. Here's what the company says about this cleaner. I love it so much.
*Update – they now no longer sell the individual cleaners. Instead, they sell a Cleaning Concentrate Bundle that comes will refills for each of their cleaning products. I love ALL of these products – and keep a bottle in every bathroom.*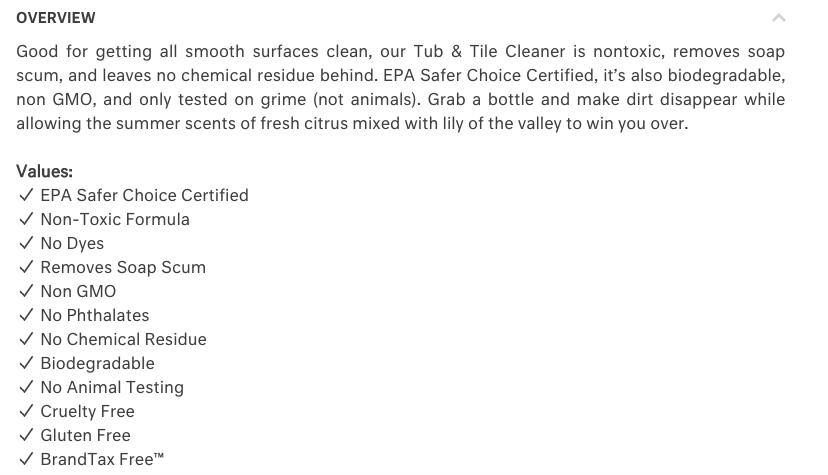 Overall food review – The food was so good! The oatmeal, crackers and granola all taste just like name brands for me – and they are much cheaper. For all couponers and Aldi-shoppers, you might be able to get other brands for less than $3. But, for some products, $3 is a steal for these products!
5 – Organic Oats & Honey Granola – We are super picky about granola – and this granola was perfect! It wasn't too sweet, too nutty – and was perfect over yogurt and cereal.
---
What I now re-order every month from Brandless:
Aluminum Free Lavandin Deodorant
The Cleaning Concentrates Refills
Night Cream
Tear Free Baby Shampoo and Wash
Organic Kids' Gummy Multivitamin
You need to try this! Click here for $6 off – which is TWO ITEMS free with your order. You won't regret it. If anything, try that tub and tile cleaner and body lotion. I'm still amazed by how awesome it is. Make sure you get $6 off when you place your first order!
Have you tried Brandless? Make sure you share your favorite items below so I can try them out!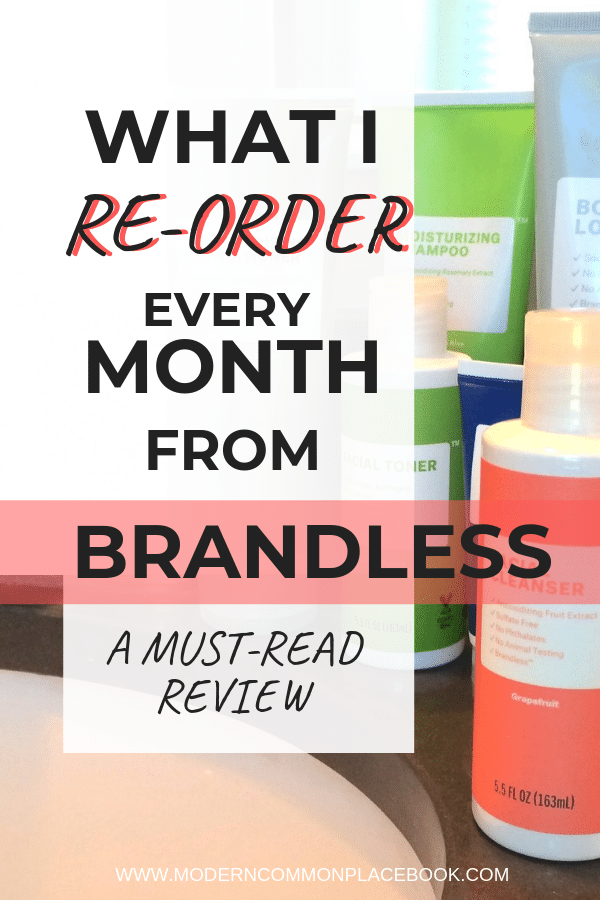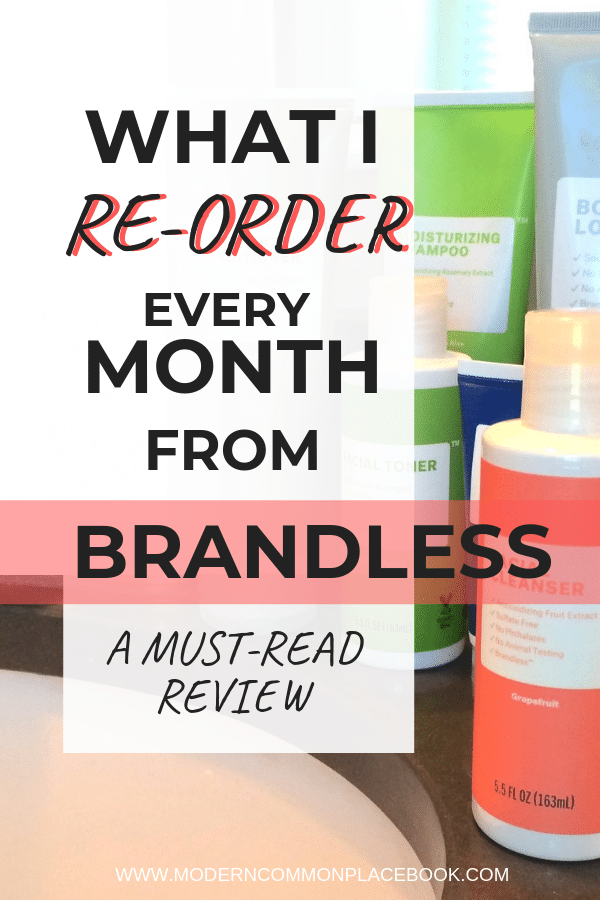 ---
Deals that are saving my hide lately...
🧒 For your kid - I found these printable activity packs for my toddler that are LIFESAVERS. My daughter literally wants to do these activities for hours every day. They are called the Ultimate Preschool Activity Bundles, and there are activities for every theme. Each activity has dozens of pages that are printable pages that teach number and letter recognition, colors, counting, patterns, and much more. These are my favorites:
🧹For your cleaning routine - I have started getting my cleaning products on Grove Collaborative - and they literally have changed my cleaning routine. Right now they are running their deal for my favorite Plastic-Free Cleaning Line for free, so make sure you check it out. Here are some tips to get the most out of this deal:
🧹If you already have a Grove account, use a new email address to get this deal...and then cancel.
🧹Make sure to set a calendar reminder to cancel the Grove VIP trial after a month. No harm no foul.
🧹 Choose the Plastic-Free Hand Soap Set ($45 value) and get all everything for free.
🧹Fill your cart with $20 worth of products you need anyway...
🌮 For Dinner - I know every mom in the world is talking about Hello Fresh - but I'm here to tell you that EveryPlate is better and cheaper than Hello Fresh. I have used it for years with my own pennies...and it really gives me life.
EveryPlate sends me dinner recipes and ingredients right to my door - but for less than $10/serving. Their meals are the same as other providers but HALF the price. It doesn't matter how many $90 off coupons other providers throw at you - this dinner box is still cheaper.
They use less packaging (yay saving the environment!) so they can charge less. They also offer fewer meals per week with a wider rotation. I have used them for over a year, and we have loved every single meal.
When I use EveryPlate, I can actually forget that I have to cook dinner. The ingredients are already in my fridge.
⭐ Stop meal planning and try EveryPlate this week with a $20 discount. Click here to get you first box at $2.49/serving!