When I was a newlywed five years ago (!) I was struggling with easy, fast dinner recipes. I work full time and I run out of ideas (and energy) to make a meal 7 days a week. I posted a quick "please give me your favorite recipes!" post on Facebook, and on that wonderful day, I received one of my favorite tips EVER. For easy shredded chicken.
I was told that if I could make a batch of shredded chicken at the beginning of the week, I would be able to have enough cooked chicken for 2-4 meals that week, depending on how much I used per recipe. Personally, I dislike either boiling chicken or cooking it on the stove, for a recipe. This way, I would have the prep done for meals that week!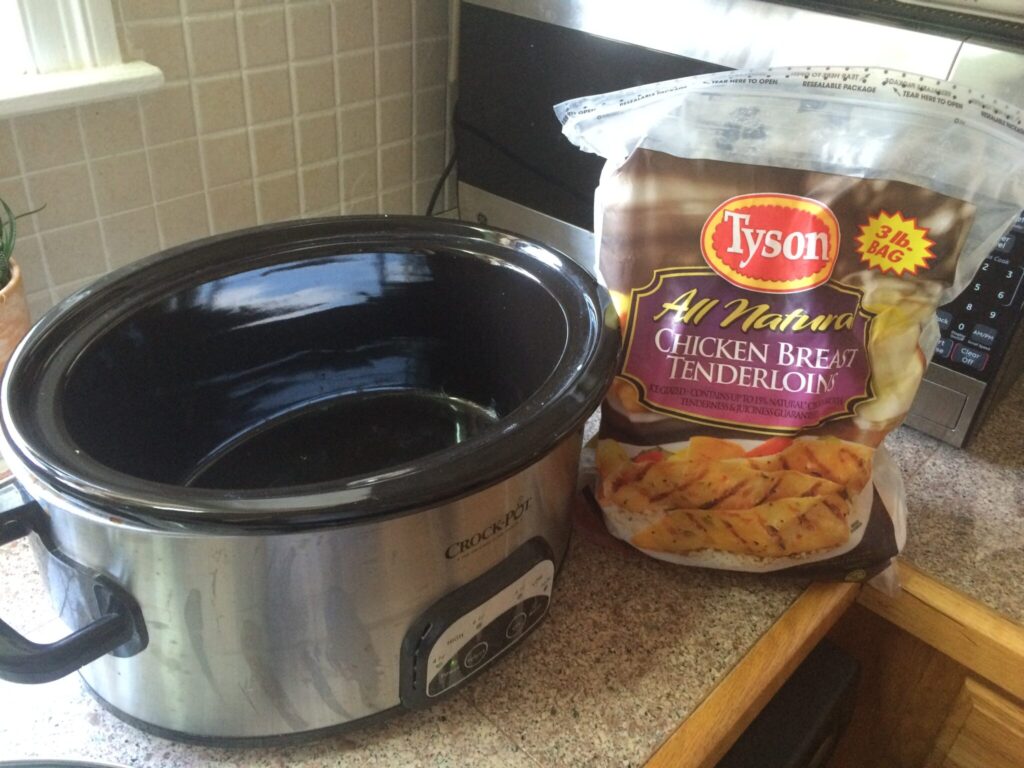 I buy a bag of frozen Tyson chicken tenderloins or breasts. (I like the tenderloins because they have less fat and gristle.) I can usually find a 3 pound bag for about $8.99 at my local grocery. I just empty the bag of chicken into my crockpot and turn it on all day (either on high for 4-6 hours or on low for 8-10). I don't add any water because it creates enough liquid – and I don't add any seasoning because it's so flavorful when it's done. Think rotisserie chicken flavorful.
(Just for the record, it isn't the safest to cook chicken straight from frozen – but I am lazy. I do try to thaw it if I have time.)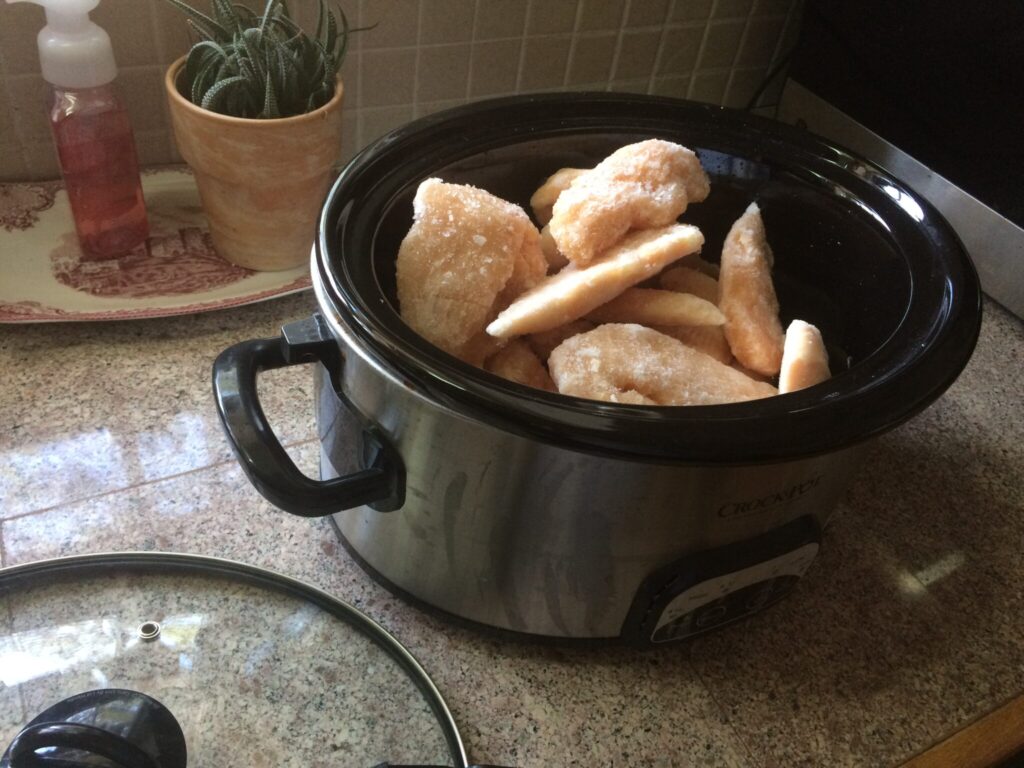 When it is done, I have a soupy bowl of cooked chicken. See all those white globs? Those are all fat. It's super easy to scrape them off and collect all the breasts (or tenderloins) into a container. (The crockpot is super easy to clean too).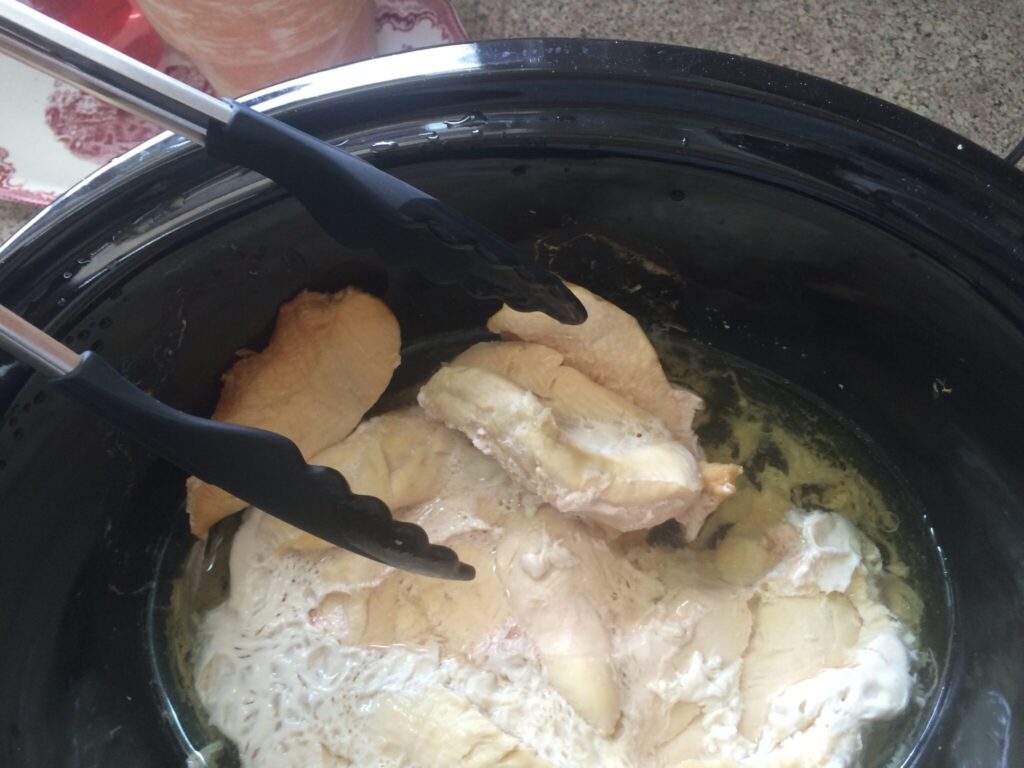 I have heard the tip about shredding the chicken in your mixer. I am sure it is awesome and people swear by it! But, I don't own a mixer (shock) and so prefer just my two little forks :). 30 seconds – and it is shredded!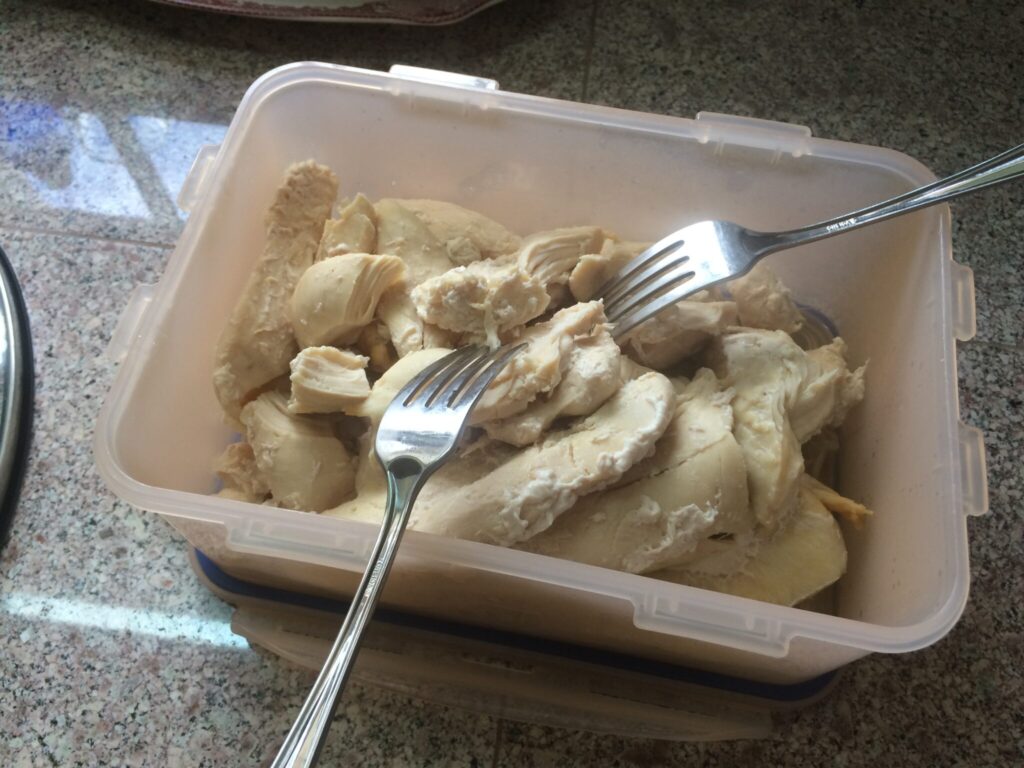 What do I make with my chicken? Everything! I use it to make Mexican (burritos, taco salad, tacos, enchiladas, Mexican Pizza, Mexican Casserole), Asian (stir-fry, my favorite Pad Thai mix), Paninis, Stuffed Peppers, Broccoli and Chicken Casserole, Soups, My Five Minute Mexican Feast, Chicken Salad, Pasta Salad, Salad with Chicken and Vegetables – pretty much anything!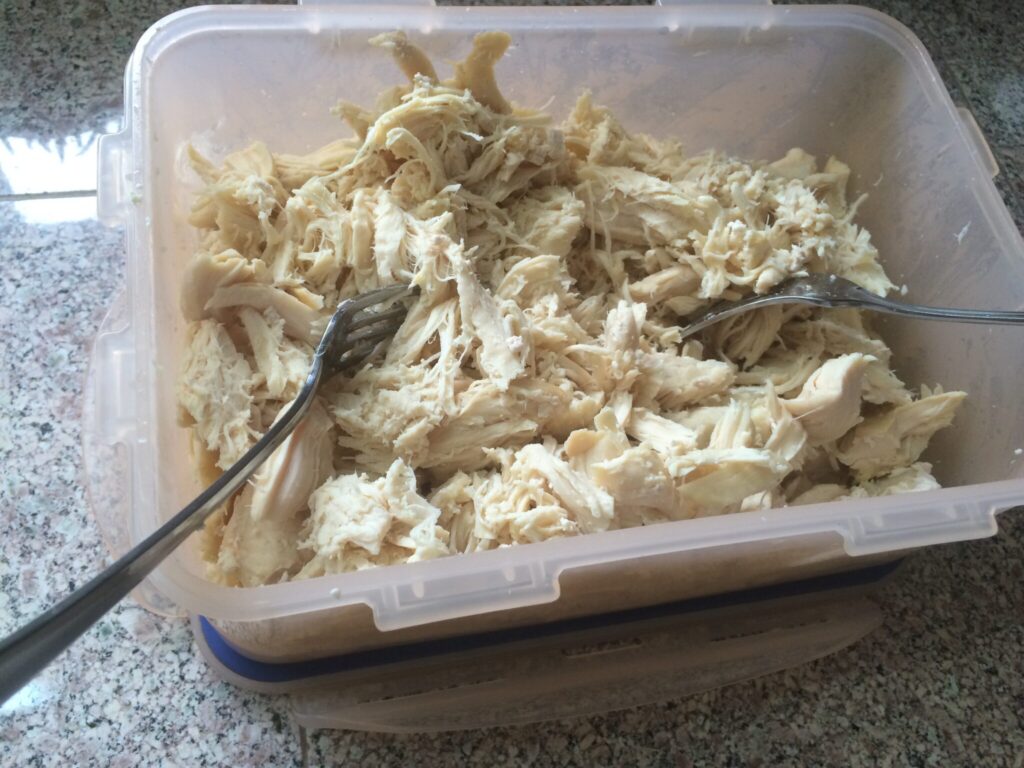 (Another tip? Do the same with a few pounds of ground beef! Cook it all in the crock pot and then save it for all your meals that week.)
Any other favorites with shredded chicken? Please share your tip!
---
Deals that are saving my hide lately...
🧒 For your kid - I found these printable activity packs for my toddler that are LIFESAVERS. My daughter literally wants to do these activities for hours every day. They are called the Ultimate Preschool Activity Bundles, and there are activities for every theme. Each activity has dozens of pages that are printable pages that teach number and letter recognition, colors, counting, patterns, and much more. These are my favorites:
🧹For your cleaning routine - I have started getting my cleaning products on Grove Collaborative - and they literally have changed my cleaning routine. Right now they are running their deal for my favorite Plastic-Free Cleaning Line for free, so make sure you check it out. Here are some tips to get the most out of this deal:
🧹If you already have a Grove account, use a new email address to get this deal...and then cancel.
🧹Make sure to set a calendar reminder to cancel the Grove VIP trial after a month. No harm no foul.
🧹 Choose the Plastic-Free Hand Soap Set ($45 value) and get all everything for free.
🧹Fill your cart with $20 worth of products you need anyway...
🌮 For Dinner - I know every mom in the world is talking about Hello Fresh - but I'm here to tell you that EveryPlate is better and cheaper than Hello Fresh. I have used it for years with my own pennies...and it really gives me life.
EveryPlate sends me dinner recipes and ingredients right to my door - but for less than $10/serving. Their meals are the same as other providers but HALF the price. It doesn't matter how many $90 off coupons other providers throw at you - this dinner box is still cheaper.
They use less packaging (yay saving the environment!) so they can charge less. They also offer fewer meals per week with a wider rotation. I have used them for over a year, and we have loved every single meal.
When I use EveryPlate, I can actually forget that I have to cook dinner. The ingredients are already in my fridge.
⭐ Stop meal planning and try EveryPlate this week with a $20 discount. Click here to get you first box at $2.49/serving!