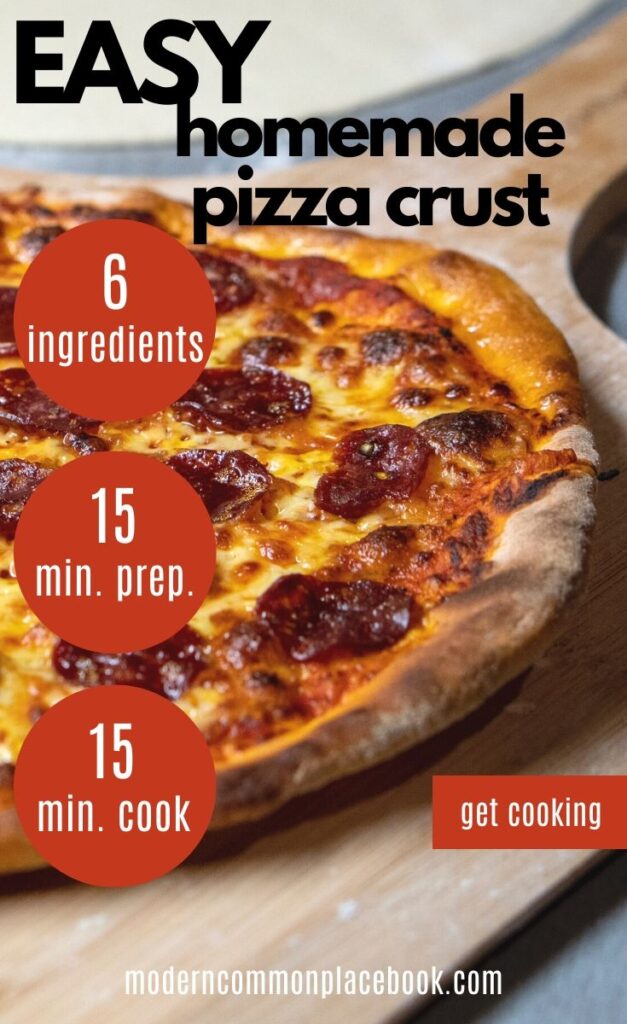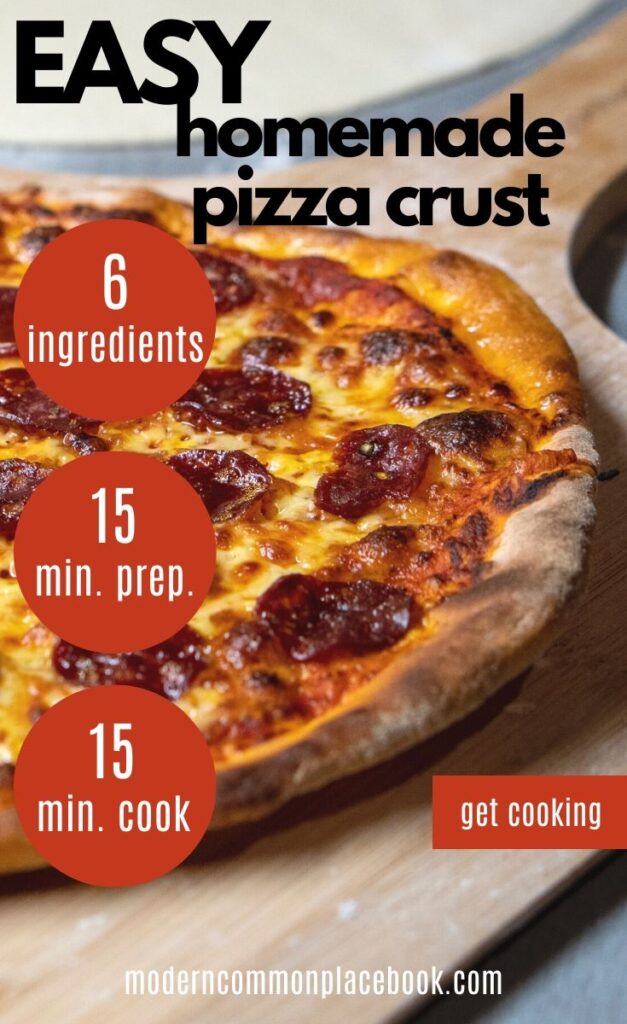 We make this homemade pizza dough recipe EVERY WEEK. It is the most flavorful pizza crust and pizza – but doesn't take hours to make! The crust itself is a light yeasty crust that gets really soft. It doesn't require any extra time to rise – and I can make it all easily in under 30 minutes (including baking time!).
I'm a Pizza Hut girl through and through (hello breadsticks) – and also love me some frozen pizza. But we always end up making this homemade pizza dough and homemade pizza – because it is a lot more filling than frozen, and cheaper and healthier than Pizza Hut.
We have often found that if you are counting calories – this is less calories for the amount of pizza you eat. Basically, we get more filled up with less calories :).
I am also sharing some tips below for easy pizza making! Have fun!
(Looking for more recipes like this? Check out my "No Plan" Menu Plan that is full of easy fast perfect dinners. Each week you get 5 mix and match dinners that only include 20 ingredients total! Check it out here.)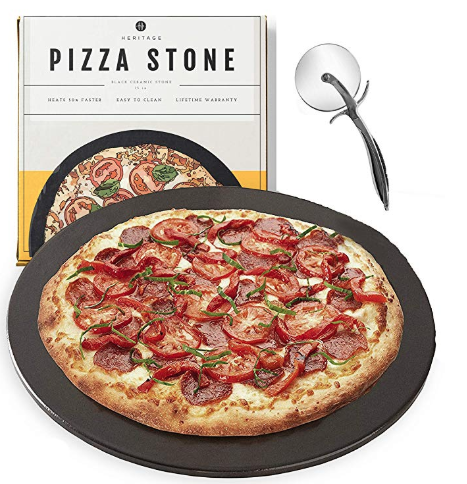 A must-have for perfect homemade pizza crust
I only make pizza on a pizza stone – it is just hands-down the best way! It cooks the pizza evenly and keeps it hot for hours afterwards. You have to try it!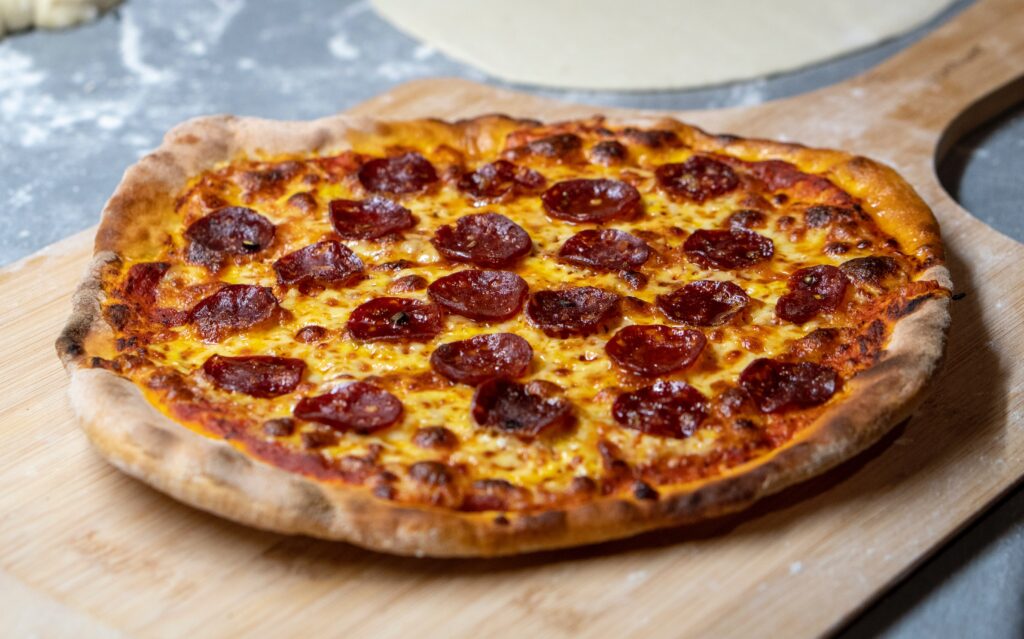 Homemade Pizza Dough Recipe and Pizza Tips
Store your pepperoni in the freezer. I do this and the pepperoni never goes bad. It lets me keep a bag for a while without having to use it before the expiration date. (I don't even thaw it before I use it – just separate the pieces right before I place on the pizza.)
Melt butter + garlic powder + Italian Seasoning and brush on the crust before you add the sauce. It's SO GOOD.
Stuffed Crust variation: Take 4 pieces of string cheese and split each in half. After you make the crust, place the cheese around the circumference and roll the edge of the crust over the string cheese. It's so good!
Buy your bread flour from Sam's or Costco in bulk. I get my bread flour there (I use a lot of it!) and it's 25 pounds for under $10! (And I store it in a dog food container! You can see this is if you click here to watch me cook the pizza on Instagram.)
Have a favorite homemade pizza variation? Let me know!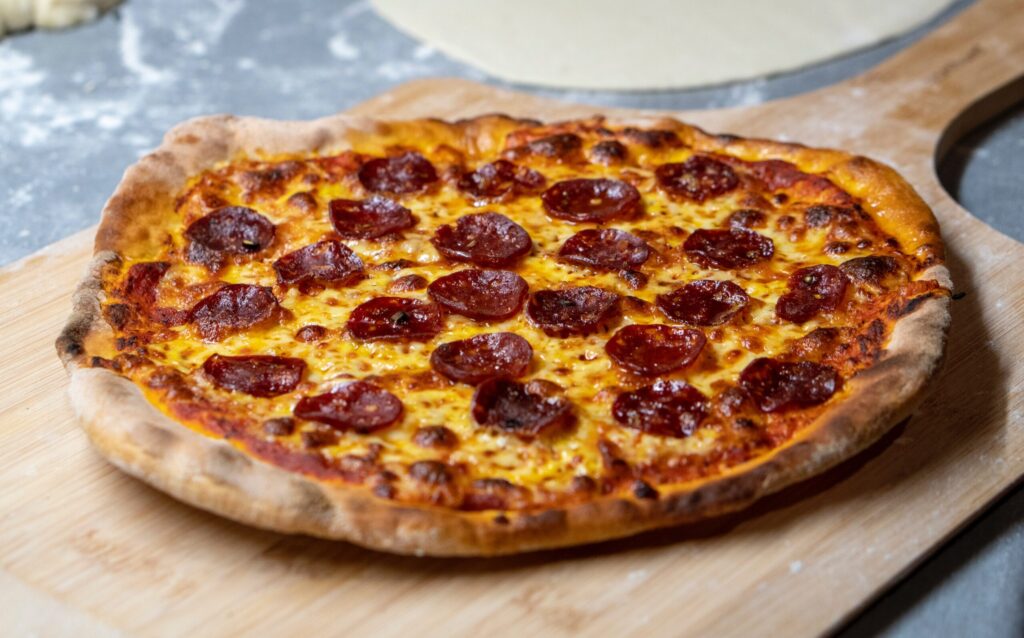 Want to see me make this in 30 minutes?
Homemade Pizza Crust
Pizza in 30 minutes!
Ingredients
1 package yeast
1 c warm water
1 teaspoon white sugar
2 1/2 c bread flour
2 T olive oil
1 t salt
Ingredients for Pizza:
1 T. butter
1 T garlic powder
1/2 c marinara sauce
8 oz shredded mozzarella cheese
Pepperoni
Instructions
Pizza Crust:
Preheat oven to 450.

Dissolve yeast and sugar in warm water. Let stand until creamy, about 10 minutes. Stir in flour, salt and oil. Mix/beat until smooth. Let rest 5 minutes.

Turn dough onto lightly floured surface and roll into a round. (I just take straight from bowl and roll into a round on my pizza stone).

Don't skimp on the olive oil! I've done this, and the crust is a lot tougher.
Pizza:
Melt butter and garlic in the microwave and brush on to the crust with a pastry brush.

Spread on Marinara sauce and top with toppings, cheese and pepperoni, and bake in preheated oven 14-20 minutes.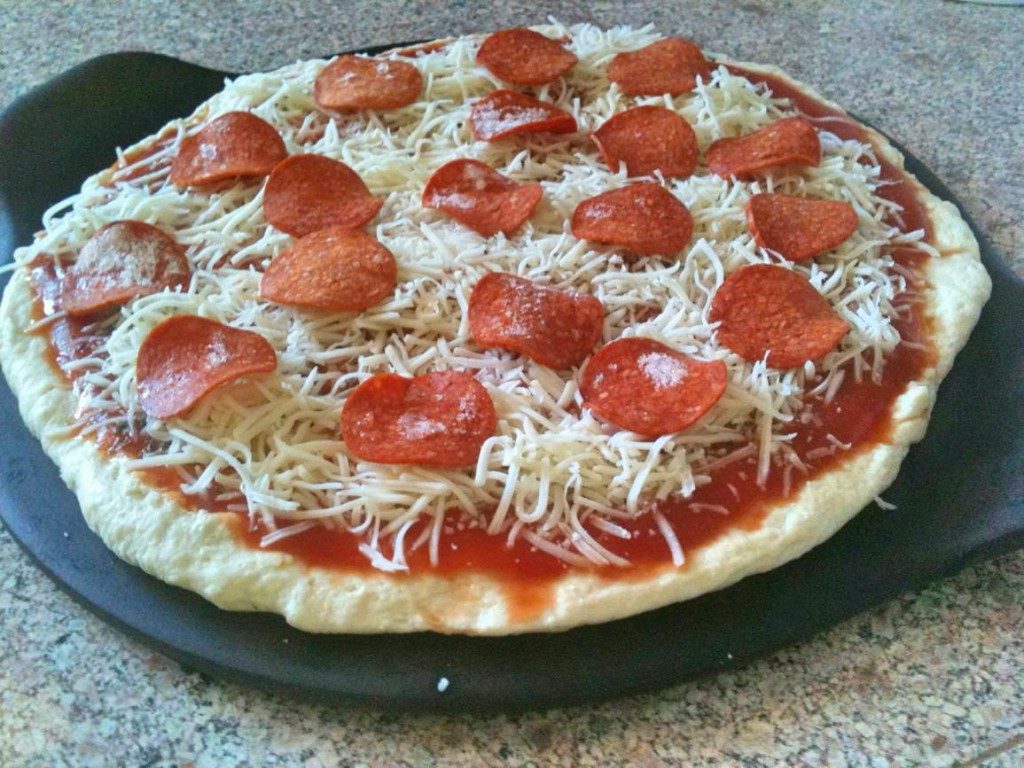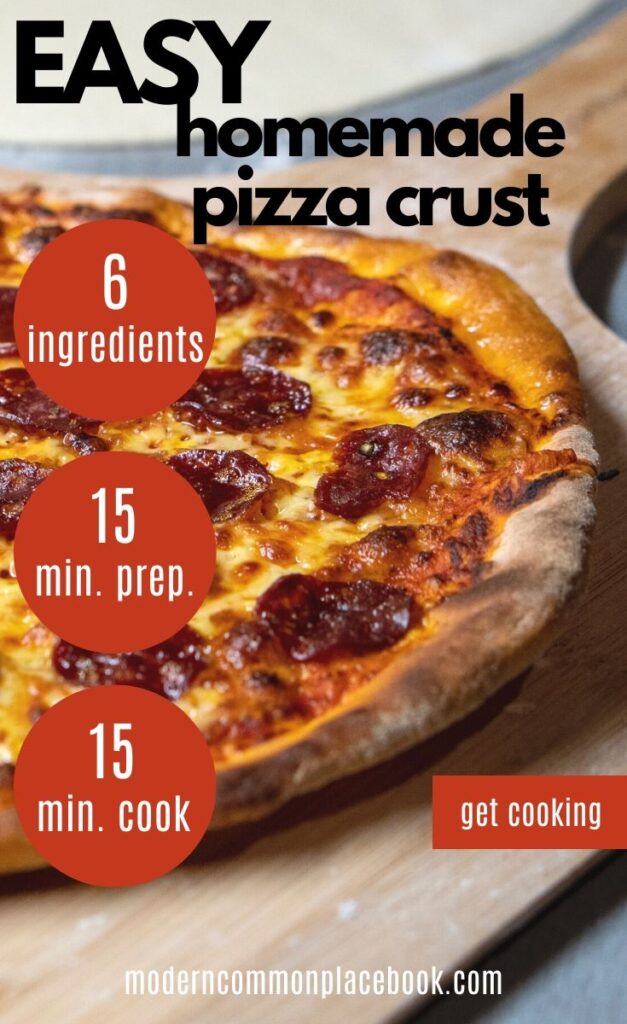 ---
Deals that are saving my hide lately...
🧒 For your kid - I found these printable activity packs for my toddler that are LIFESAVERS. My daughter literally wants to do these activities for hours every day. They are called the Ultimate Preschool Activity Bundles, and there are activities for every theme. Each activity has dozens of pages that are printable pages that teach number and letter recognition, colors, counting, patterns, and much more. These are my favorites:
🧹For your cleaning routine - I have started getting my cleaning products on Grove Collaborative - and they literally have changed my cleaning routine. Right now they are running their deal for my favorite Plastic-Free Cleaning Line for free, so make sure you check it out. Here are some tips to get the most out of this deal:
🧹If you already have a Grove account, use a new email address to get this deal...and then cancel.
🧹Make sure to set a calendar reminder to cancel the Grove VIP trial after a month. No harm no foul.
🧹 Choose the Plastic-Free Hand Soap Set ($45 value) and get all everything for free.
🧹Fill your cart with $20 worth of products you need anyway...
🌮 For Dinner - I know every mom in the world is talking about Hello Fresh - but I'm here to tell you that EveryPlate is better and cheaper than Hello Fresh. I have used it for years with my own pennies...and it really gives me life.
EveryPlate sends me dinner recipes and ingredients right to my door - but for less than $10/serving. Their meals are the same as other providers but HALF the price. It doesn't matter how many $90 off coupons other providers throw at you - this dinner box is still cheaper.
They use less packaging (yay saving the environment!) so they can charge less. They also offer fewer meals per week with a wider rotation. I have used them for over a year, and we have loved every single meal.
When I use EveryPlate, I can actually forget that I have to cook dinner. The ingredients are already in my fridge.
⭐ Stop meal planning and try EveryPlate this week with a $20 discount. Click here to get you first box at $2.49/serving!