Let's be honest. No one tells you how hard it is too clean poop off of clothes.
I just thought I needed that Dreft spray (which does nothing btw) and all would be fine. Um NO.
Within the first week of having my first baby, I had a pile of clothes that were SO DIRTY and I just wanted to throw them away. I was so frustrated.
Has anyone been there?
Luckily, my mother and grandmother were in town and helped me find a PERFECT solution. This is how to remove baby poop stains from ANY clothes.
I am sure you have seen tons of solutions for doing this. Many involve creating an essential oil cleaner, rubbing in a paste, letting the clothes air in the sun…
Let me tell you. I don't have time for any of that. Instead, this process takes just minutes. And you can just drop the clothes and go. Perfect for when you have a screaming baby covered in poop.
Also, this WORKS every time. I don't have any clothes that have stains on them because of this. Enjoy!
Before I get share all my favorite tips, I want to invite you to come back to this site for more busy mom tips.
To say hi, I filmed a brief video introducing myself. Come check it out and say hi here!
To follow along, you can sign up for my newsletter so I can send you my newest posts! Just sign up here and I'll send you my free block schedule template for free.
To see my latest post, check out my my BUSY work at home mom schedule where I show how I work a 40 hour week and watch little kids. It's a great read if you are trying to find hidden pockets of time to get it all done!
Lastly, please also follow me on Instagram for crazy behind-the-scene mom instastories!
---
What you need to remove set-in poop stains from baby clothes: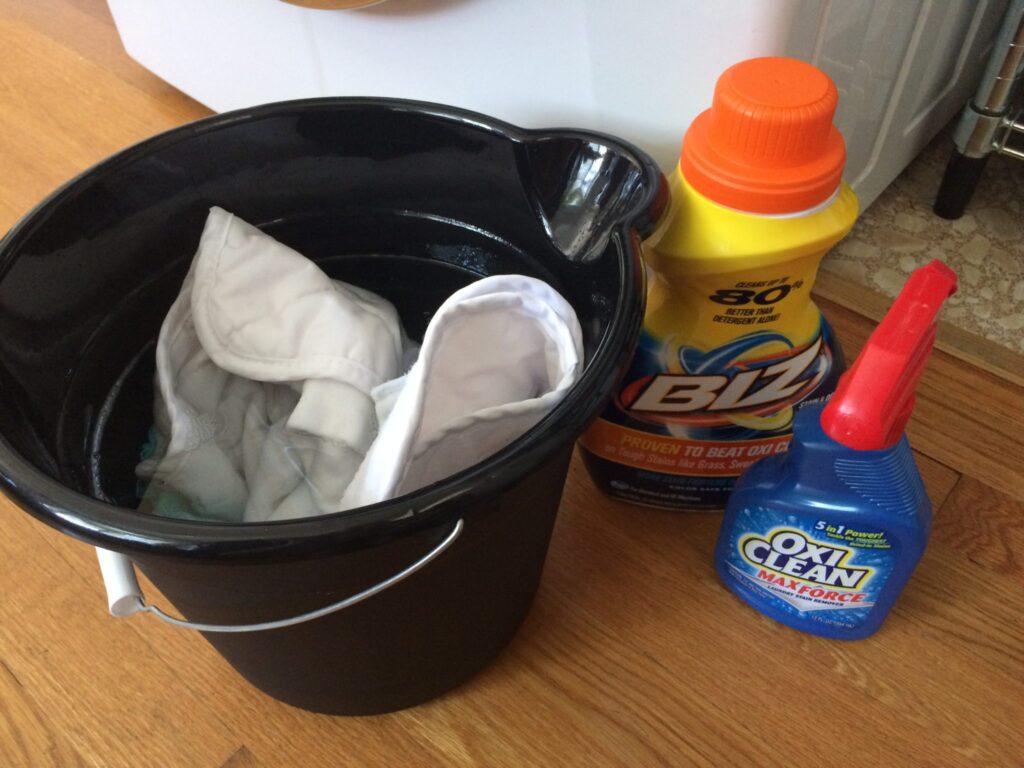 How to Remove Baby Poop Stains:
Keep all three items in your laundry room ready to go. When something gets stained…
Spray the stain with OxiClean.

I don't rub this in – just spray to cover the area.

Put the clothes (already sprayed) into the bucket.

You will let these – and any future clothes that week.
Just let everything soak in the bucket until laundry day.

Add a little bit of the Biz into the bucket.

I usually fill the cap to the first line and add to the bucket.

Add water to cover the clothes and let soak over 24 hours.

Just leave this soaking in your laundry room all week.
Add other stained clothes to the bucket as they happen.

Wash clothes!

When you are ready to wash clothes (anywhere between 24 hours and 1 week later), dump contents of bucket into washer machine and wash normally.

That's it! Spray, soak, wash.
(For additional tips to remove poop stains from your kids clothes, make sure you check out this foolproof guide from Mom Loves Best. They have awesome tips!)
After you read this, make sure you check out my Ultimate breastfeeding and pumping guide. I spent over 20 hours on this guide – giving you every tip you need to incorporate pumping into your busy mom travel schedule. Check it out here!
Additional Tips:
I leave the bucket by the washing machine and just keep adding clothes to the bucket whenever there are new stained clothes.
I've left clothes soaking for a week. As long as the water level covers the clothes – all is fine. I have found that the clothes need to soak at least for 24 hours.
When we go on a trip, I take the OxiClean spray with me. I spray clothes, and wrap in a plastic bag until I am able to get home to soak them.
Stains I have been able to get out:
Stains that were washed and dried. If the stains were not removed, I just soaked them again and got them out the second time!
Stains that had soaked into the clothes for SIX days (from vacation). While on vacation, I carried the spray with me and pre-treated the clothes. Then, when we got home six days later, I soaked them for 48 hours and washed. The stains were gone!
Stains that did not remove the first time. I repeated this whole process and they were removed.
I know this sounds too good to be true – but let me tell you. I have used this method on the WORST stains – with fabulous results!
After you read this, make sure you check out my Ultimate breastfeeding and pumping guide. I spent over 20 hours on this guide – giving you every tip you need to incorporate pumping into your busy mom travel schedule. Check it out here!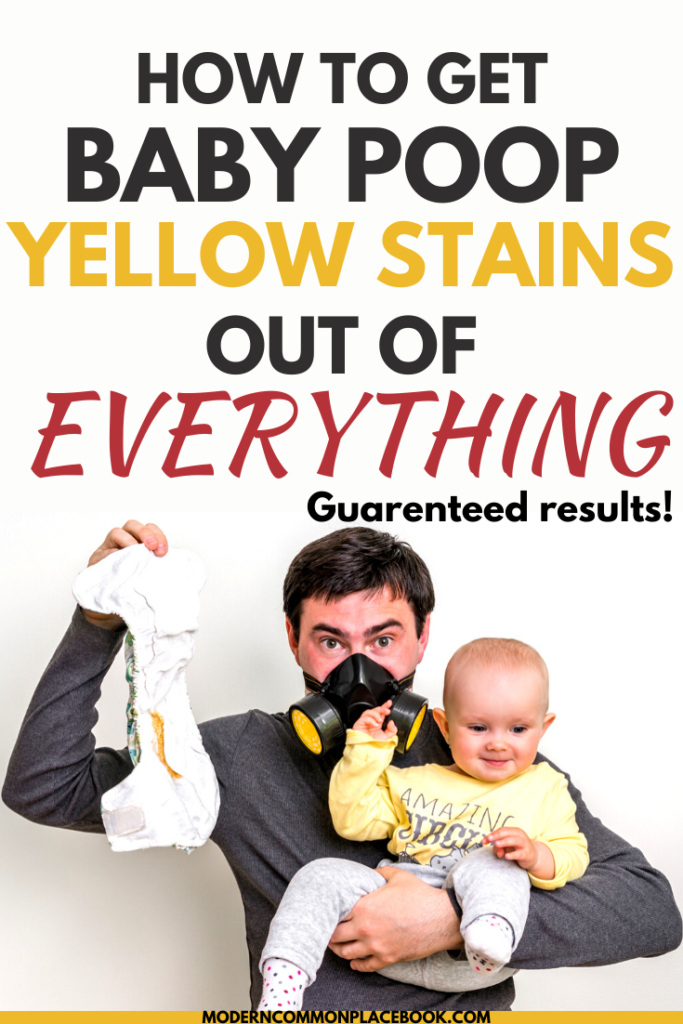 ---
Deals that are saving my hide lately...
🧒 For your kid - I found these printable activity packs for my toddler that are LIFESAVERS. My daughter literally wants to do these activities for hours every day. They are called the Ultimate Preschool Activity Bundles, and there are activities for every theme. Each activity has dozens of pages that are printable pages that teach number and letter recognition, colors, counting, patterns, and much more. These are my favorites:
🧹For your cleaning routine - I have started getting my cleaning products on Grove Collaborative - and they literally have changed my cleaning routine. Right now they are running their deal for my favorite Plastic-Free Cleaning Line for free, so make sure you check it out. Here are some tips to get the most out of this deal:
🧹If you already have a Grove account, use a new email address to get this deal...and then cancel.
🧹Make sure to set a calendar reminder to cancel the Grove VIP trial after a month. No harm no foul.
🧹 Choose the Plastic-Free Hand Soap Set ($45 value) and get all everything for free.
🧹Fill your cart with $20 worth of products you need anyway...
🌮 For Dinner - I know every mom in the world is talking about Hello Fresh - but I'm here to tell you that EveryPlate is better and cheaper than Hello Fresh. I have used it for years with my own pennies...and it really gives me life.
EveryPlate sends me dinner recipes and ingredients right to my door - but for less than $10/serving. Their meals are the same as other providers but HALF the price. It doesn't matter how many $90 off coupons other providers throw at you - this dinner box is still cheaper.
They use less packaging (yay saving the environment!) so they can charge less. They also offer fewer meals per week with a wider rotation. I have used them for over a year, and we have loved every single meal.
When I use EveryPlate, I can actually forget that I have to cook dinner. The ingredients are already in my fridge.
⭐ Stop meal planning and try EveryPlate this week with a $20 discount. Click here to get you first box at $2.49/serving!