Hey! I want to welcome you to Modern Work at Home Mom. This site is a complete guide for the work at home mom. Are you a mom that needs some encouragement? I'd love to meet you! Just follow me on Instagram here, because I am always sharing my latest mom hacks.
I also wanted to let you know about my latest post: The ultimate breastfeeding guide for working moms. I share EVERYTHING that the traveling mom needs to know – from TSA guidelines to how to pump on a work trip. I'd love it if you shared this with your working mom friends! We need all the encouragement that we can get. Thanks for being a cheerleader of the working mom! Now, back to the show…
---
Let's be honest. No one tells you how hard it is too clean poop off of clothes.
I just thought I needed that Dreft spray (which does nothing btw) and all would be fine. Um NO.
Within the first week of having my first baby, I had a pile of clothes that were SO DIRTY and I just wanted to throw them away. I was so frustrated.
Has anyone been there?
Luckily, my mother and grandmother were in town and helped me find a PERFECT solution. This is how to remove baby poop stains from ANY clothes.
I am sure you have seen tons of solutions for doing this. Many involve creating an essential oil cleaner, rubbing in a paste, letting the clothes air in the sun…
Let me tell you. I don't have time for any of that. Instead, this process takes just minutes. And you can just drop the clothes and go. Perfect for when you have a screaming baby covered in poop.
Also, this WORKS every time. I don't have any clothes that have stains on them because of this. Enjoy!
Also, make sure you check out my ultimate Baby Registry Guide here. I share my top 10 must-have items that should be on any baby registry. TRUST ME. You have to check out this list!
(For additional tips to remove poop stains from your kids clothes, make sure you check out this foolproof guide from Mom Loves Best. They have awesome tips!)
---
What you need to remove set-in poop stains from baby clothes: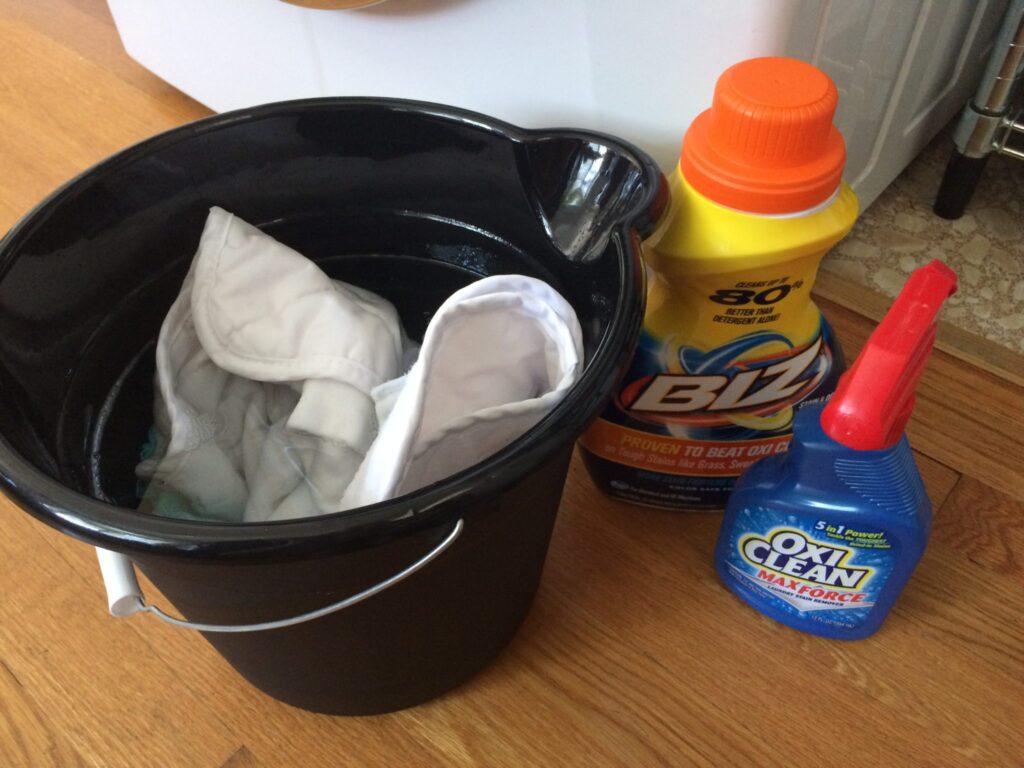 How to Remove Baby Poop Stains:
Keep all three items in your laundry room ready to go. When something gets stained…
Spray the stain with OxiClean.

I don't rub this in – just spray to cover the area.

Put the clothes (already sprayed) into the bucket.

You will let these – and any future clothes that week.
Just let everything soak in the bucket until laundry day.

Add a little bit of the Biz into the bucket.

I usually fill the cap to the first line and add to the bucket.

Add water to cover the clothes and let soak over 24 hours.

Just leave this soaking in your laundry room all week.
Add other stained clothes to the bucket as they happen.

Wash clothes!

When you are ready to wash clothes (anywhere between 24 hours and 1 week later), dump contents of bucket into washer machine and wash normally.

That's it! Spray, soak, wash.
(For additional tips to remove poop stains from your kids clothes, make sure you check out this foolproof guide from Mom Loves Best. They have awesome tips!)
Additional Tips:
I leave the bucket by the washing machine and just keep adding clothes to the bucket whenever there are new stained clothes.
I've left clothes soaking for a week. As long as the water level covers the clothes – all is fine. I have found that the clothes need to soak at least for 24 hours.
When we go on a trip, I take the OxiClean spray with me. I spray clothes, and wrap in a plastic bag until I am able to get home to soak them.
Stains I have been able to get out:
Stains that were washed and dried. If the stains were not removed, I just soaked them again and got them out the second time!
Stains that had soaked into the clothes for SIX days (from vacation). While on vacation, I carried the spray with me and pre-treated the clothes. Then, when we got home six days later, I soaked them for 48 hours and washed. The stains were gone!
Stains that did not remove the first time. I repeated this whole process and they were removed.
I know this sounds too good to be true – but let me tell you. I have used this method on the WORST stains – with fabulous results!
I don't want to share any before photos with you – that's super gross. But, believe me when I have seen the most drastic improvements from the most poopy stains!
Please let me know if this works for you – and if you have any additional tips!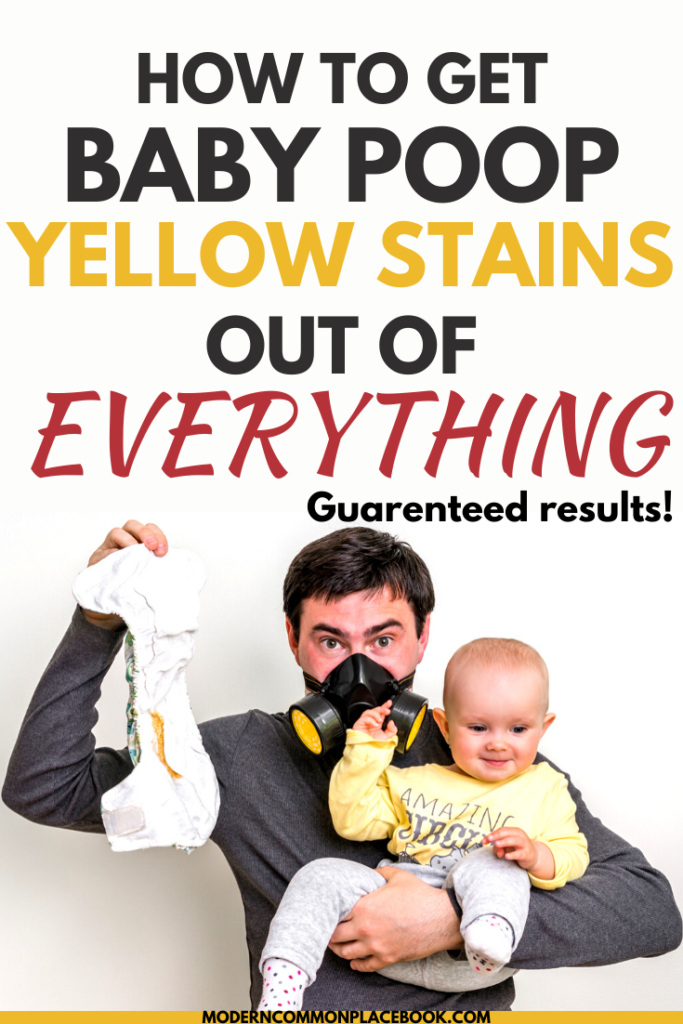 ---
Make Your Week Easier with these Deals that Keep Me Going
LeTote
- I know the last thing on your mind is new clothes for you. But, seriously? When was the last time you shopped for yourself? Do you even have time to think about new fall clothes? Let me tell you what I do. I rent my clothes with Le Tote. Yep. I pick out a few outfits every month, wear them, LOVE them, and then send them back. Their prices are super cheap, and I don't have to buy anything. If you are pregnant, their maternity clothes are AMAZING.
Get a free tote here and love your FREE CLOTHES!
EveryPlate
- I know every mom in the world is talking about Hello Fresh - but let me tell you why
EveryPlate
is better and cheaper than Hello Fresh. EveryPlate provides fresh family-friendly meals right to your door - but for
less than $10/serving
. Their meals are the
same
as other providers, but they use less packaging (yay saving the environment!) so they can charge less. They also offer fewer meals per week with a wider rotation, so we never get sick of the same meals! I have used them for MONTHS, and we have loved every single meal. Stop meal planning today and try
EveryPlate
this week with a $20 discount.
Click here to get you first box at $1.66/serving!
KiwiCo
- Are your kids staying home this school season? Do you need something to keep your littles busy for HOURS? You need to get
KiwiCo Activity Crates
for your kids every month. These boxes teach your kids, provide 2-3 activities per month, give you a free storybook, and entertain your kids for
under $20/month
. We have loved them for years. Seriously, make this school year easier for you with
KiwiCo
.
Latest Posts: