If you are asking "Is the Yoto Player worth it?", then you have come to the right place. I spent dozens of hours researching audio players for my daughter last year, and finally decided to bite the bullet and bought her a Yoto Player. Do you want to know if it's worth it? If it's the best audio player for your child? Then keep reading!
---
Last year I was looking for a quality Christmas present for my 6 year old daughter, and decided I wanted to get her an audio player. You know the kind – the kind that has story inserts, and would let her have a screen-free alternative to her tablet.
I checked out the Toniebox and the Storypod, and decided that I thought the Yoto fit my daughter's age and needs best. We got it for her, even though we had a few reservations…
This is what happened!
You might also like: We tried the Homer App for Kids – This is what Happened!
LIMITED OFFER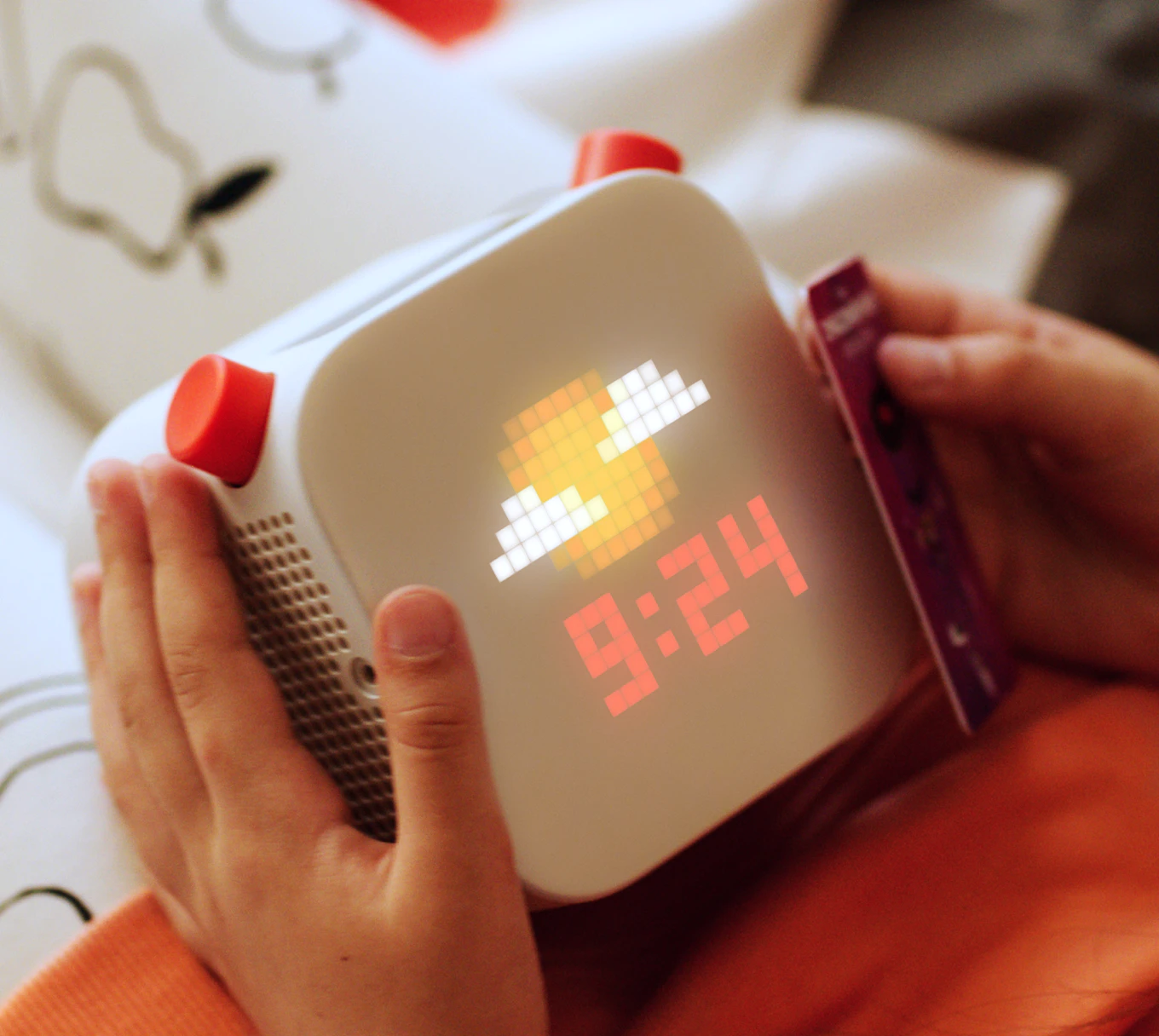 Get 10% off!
Yoto Player 10% Off
This Yoto player has almost replaced screens in our house. My kids love them for stories, jokes, radio stations, podcasts, and so much more. This audio player is for kids to age 12. Get 10% off your order!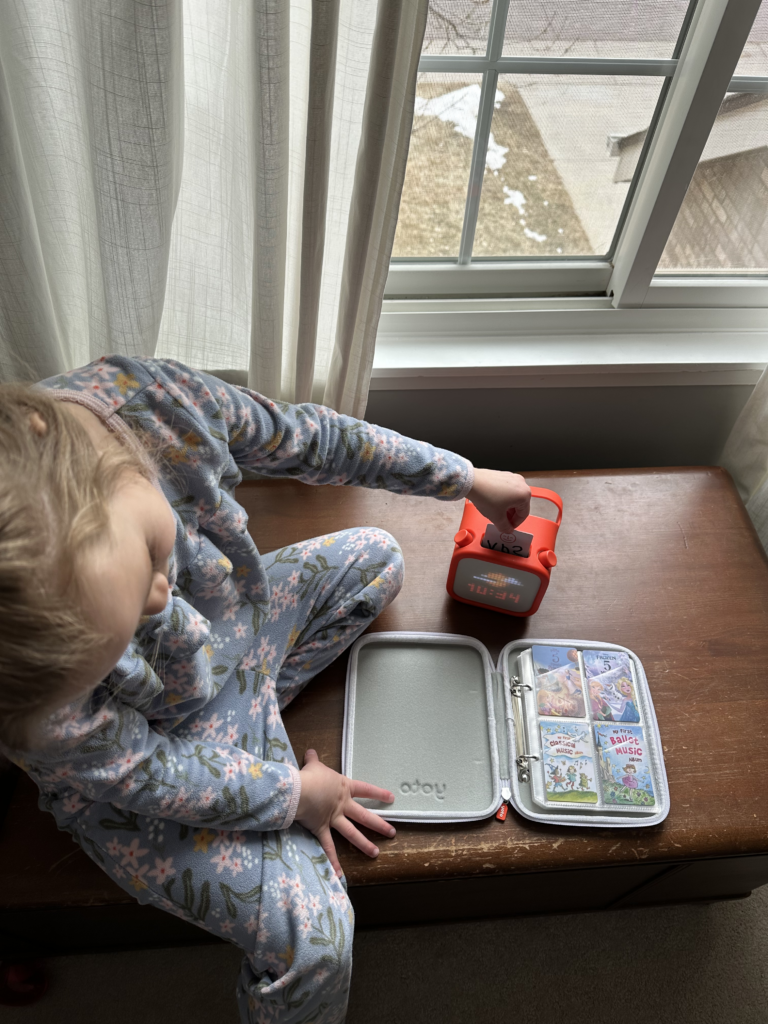 ---
Is the Yoto Player worth it?
If you don't know much about the Yoto player, and have questions about how this could fit into your child's life and education, then I was right there with you.
I loved the idea of a screen-free activity for my child, but also didn't know if it would adequately replace the tablet. Or if she would love to play the cards over and over again.
Also, because she is a very mature 6-year old, I wanted to make sure that there would be some longer content for her, not just short fairy tales. So, we bought it…

---
How Does Yoto Work?
To use the Yoto Player, first you will need to download the Yoto app and create an account to attach your Yoto player to. The Yoto player will give you complete directions to get your Yoto player set up, personalized, and ready for your kids to use their first yoto cards.
To use the Yoto, your kids will be able to insert their first cards, and immediately listen to the story or music. My daughter also immediately picked up how to play, pause, rewind, fast-forward, etc.
We found the instructional welcome card to be very easy to use!
---
Yoto Player Features
What features does the Yoto player have?
The Yoto player is an audio player that has a bluetooth speaker that can play from your phone. It also is an independent speaker to play music, podcasts, stories, and audio files loaded on to cards.
Yoto players don't have microphones, cameras, or a screen, which I love!
Here are some other features as listed on the Yoto website:
10 hours of battery life per charge
Includes sleep sounds, white noise, Yoto-custom radio stations
Magnetic charge dock included
A pixel display syncs with the stories being played
Includes a headphone jack
Has OK-to-wake nightlight and alarm clock
Yoto also sells a Yoto Mini player that is a smaller version of the Yoto. We haven't purchased this one, but we might in the future.
The Yoto player also comes with these accessories:
Adventure jackets in lots of colors
Card organizers
Audiobooks, music, podcast cards and blank cards to create your own cards

---
Yoto Player for the 6 year old
One reason we chose the Yoto player over the Toniebox (see more below about this) is that Yoto had a LOT more card options for older kids. They have a huge list of chapter books, advanced learning, and older kids content. In fact, they have content for kids up to 12 years old.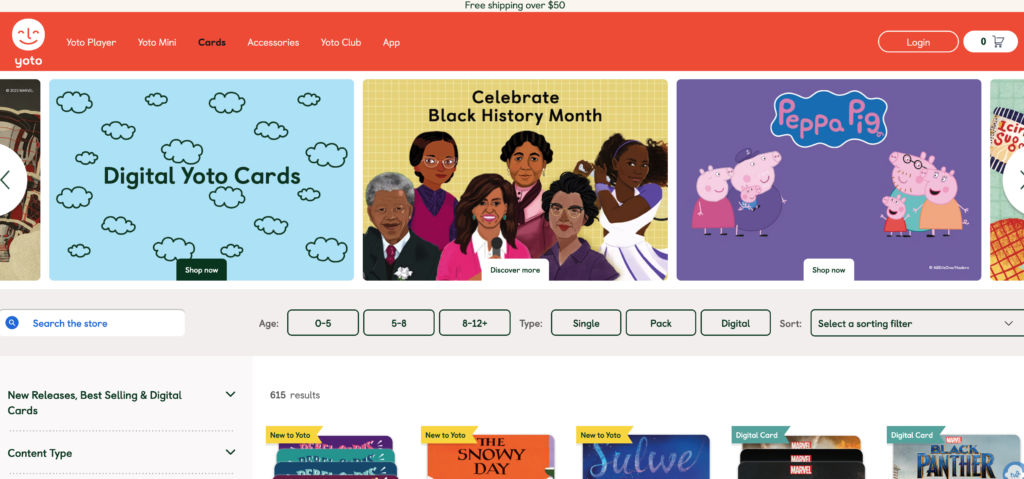 Our daughter who is six, immediately fell in love with the longer stories. One of her favorite series is the Magic Treehouse mystery series, and she adores the 8-pack card series from Yoto with Books 1-8 of that series.
---
Is the Yoto Player worth it?
This is what happened when we introduced the Yoto player to our home.
Yoto quickly replaced my daughter's desire for screen time. Yes, she still wanted to watch often. But, instead of her gut desire being "Can I watch?", she was asking "Can I listen to a story?"
My child became much more independent. I would find her listening to music and starting her morning chore chart early all on her own. She learned how to put herself to bed, because the Yoto gave her an evening routine. She also began using the alarm system to teach herself how to get up earlier than normal.
My daughter began experiencing advanced content. Instead of just filling her mind with more Paw Patrol and Disney stories, she began listening to Beethoven and Bach while dressing in the morning. She had easy access to our favorite podcasts and could learn easily from them all by herself.
The Yoto player replaces the CD Player, Bluetooth Speaker, and even iPods/Music Players.
---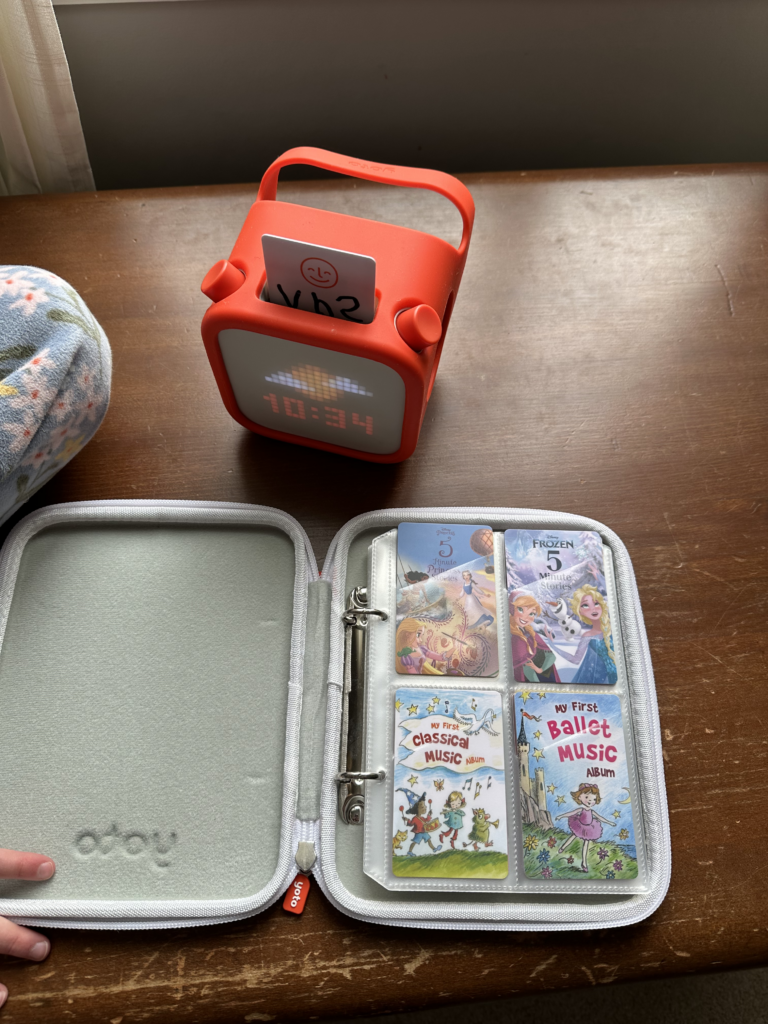 ---
Yoto Player for bedtime and morning routines
As a mom that has to get two kids out the door early for school, I love that Yoto has helped with my daughter's routines. She wakes up early just to listen to the daily Yoto daily podcast radio. She loves the drawing exercises, the Friday jokes, and even all the birthday shout-outs. You can hear a sample of this show here.
In the evening, she is allowed to listen to at least two stories and then her bedtime music. We also have downloaded a few podcasts to blank cards, and she loves listening to the latest episodes as they update on her cards. Yoto also has awesome yoto sleep radio options to help guide your child to sleep.
The Yoto audio player at bedtime helps with her evening routine, and it has been transformative.
---
Our favorite Yoto Cards and Accessories
The Yoto Player Starter Pack with Blank Cards – I highly recommend starting with this starter pack. I love the idea of buying on Amazon for quick shipping and easy returns. This starter pack is a steel with the free 7 blank cards. >> GET IT HERE.
Yoto Adventure Jacket – The Yoto really isn't complete without the adventure jacket. It adds personality, and the ability to carry it around easily. And it protects the Yoto player. >> GET IT HERE.
Yoto Card Portfolio – Let's be honest. Lots of cards can easily get lost, so I immediately bought this card portfolio to organize her cards. It's so well made, and holds up 64 cards. >> GET IT HERE.
Beatrix Potter Card Pack – We absolutely love the Beatrix Potter card set. They are some of our favourite books. My kids listen to these over and over again. >> GET IT HERE.
Classical Music Card Pack – I didn't know if my daughter was going to enjoy this Classical pack, but she listens to it ALL THE TIME. 10 cards of the most beautiful music. >> GET IT HERE.
Winnie the Pooh BBC Collection – We love this BBC card collection of almost 4 hours of Winnie the Pooh stories. >> GET IT HERE.

---
Which is better Tonie or Yoto?
We have never owned a Tonie Box, but after a lot of research we decided Yoto fit our family better. This is why how Yoto is different than Tonie:
Yoto has books and stories for older kids up to age 12. Tonie just has content up to age six.
Yoto has long chapter books and Tonie had very few long-form options.
Yoto has content that is NOT Disney or based on movies. I wanted more classic content.
Yoto's cards are a lot easier to store than Toniebox's Tonies. To me, Tonies look a lot like toys, and I didn't want our story content to get lost.
Yoto backs up all the stories/books/music to the app. If we lose a card, I can easily add the content to another card or play via Bluetooth. Tonie doesn't have digital files of the Tonies.
Yoto cards are a lot cheaper – starting at $2.99. Tonies start at $14.99.
---
What age is a Yoto Player for?
The Yoto player is for ages 0-12 with stories and content for all ages.
---
What is the Yoto Club subscription?
The Yoto club subscription is a free subscription that you can purchase for your child(ren). The subscription is $99/year and has the following features:
Free shipping on all orders. No minimum spend.
10% off everything, all the time. Even during sales.
2 new cards every month
LIMITED OFFER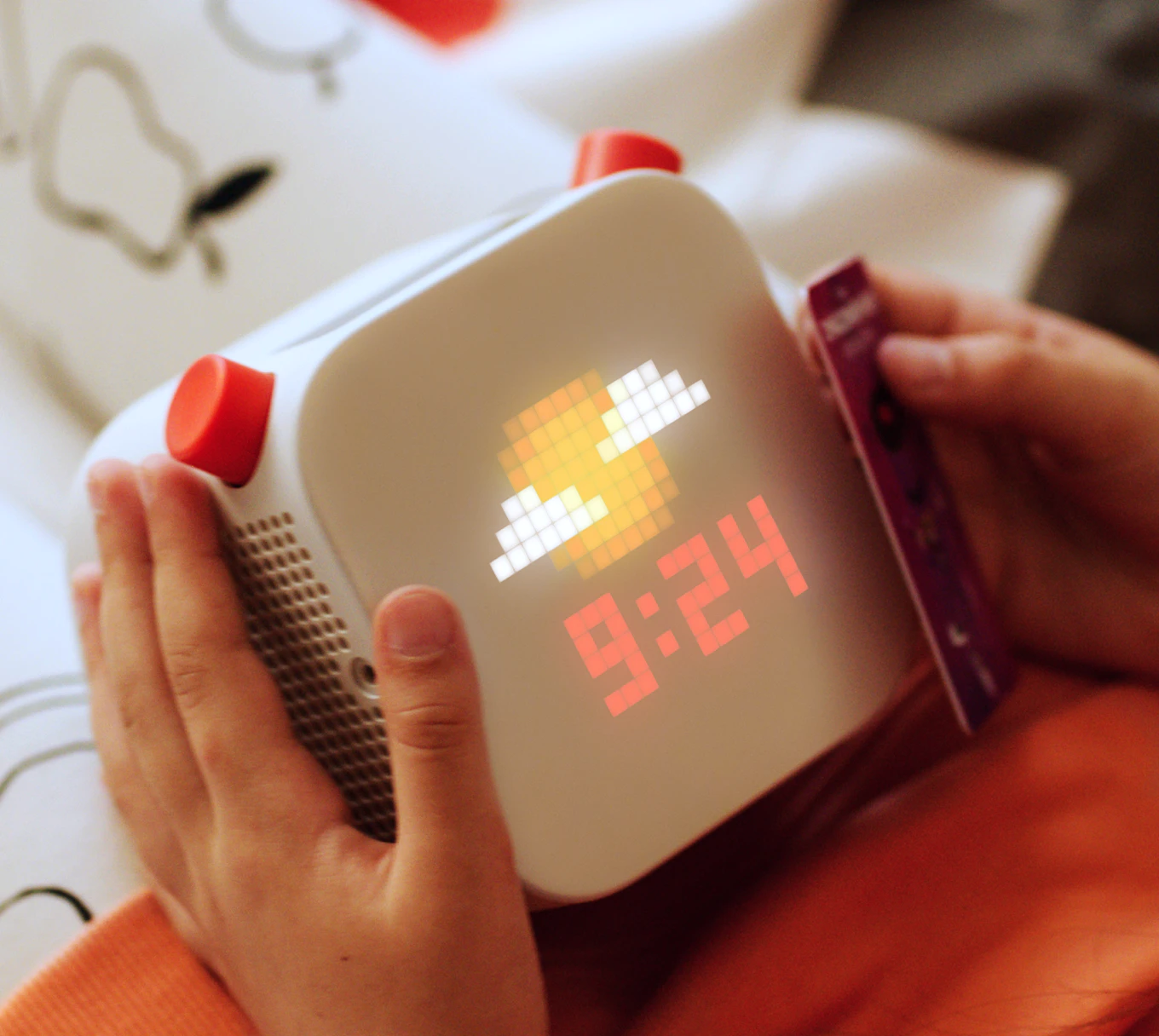 Get 10% off!
Yoto Player 10% Off
This Yoto player has almost replaced screens in our house. My kids love them for stories, jokes, radio stations, podcasts, and so much more. This audio player is for kids to age 12. Get 10% off your order!
---
You might also like:
ESSENTIAL GUIDE: Childcare help for working parents (Part 2)
How to foster independent play time by age (Must-Have WAHM survival guide!)
When do kids stop napping: 16 Foolproof Tips for Quiet Time and Naptime
---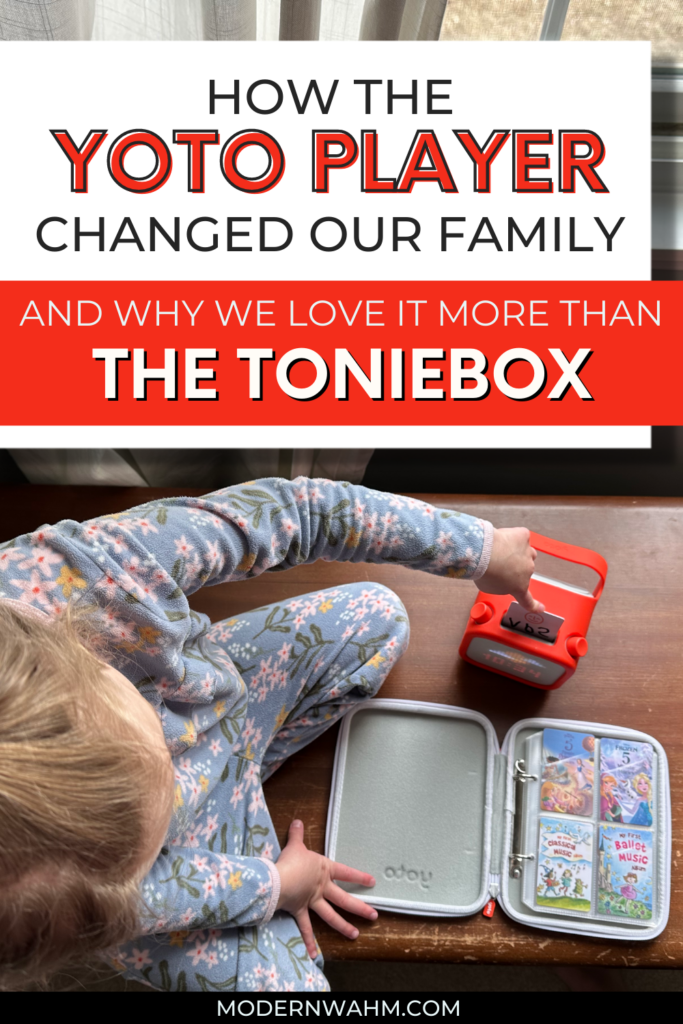 ---