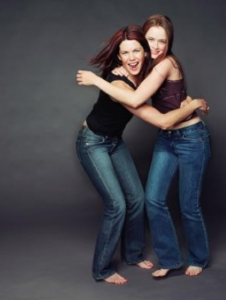 I grew up in non-fun jeans. You know the kind – elastic waist, short hemlines. I never believed I could be "that girl" in a pair of jeans (you know – her name is Lorelai Gilmore!). I bought my first pair of "real" jeans for $60 at The Limited one year – and they changed my life.
Since then, I have made it my mission to find the best jeans for women! This is FAR from a comprehensive post, but it is my attempt to bring you some denim basics! If you struggle with finding the perfect jean – this post is for you!


POCKETS ARE KEY.

Pockets are one of the KEY elements that can define the "MOM JEAN". They also single-handedly shape your butt. These are some things to take into account:
1. The size and placement of pockets are key. Pockets need to extend down past the curvature of your butt. Any jean whose pockets are high and stop before your butt stops, can pretty much be classified as a "mom jean". But also, any jean pockets that are too low can look really young and youthful. Find something in the middle!
2. The distance between the two pockets defines how large your butt appears. Too wide – and your butt looks wide. Too narrow, and your butt will look too wide. Make sure you get feedback in the dressing room – because it can be tricky seeing your backside in the mirror by yourself!
TIGHT – BUT NOT TOO TIGHT:
Most of you already know what jeans you love – but if you struggle with the feel of a tight jean, think about this. If your jeans are baggy – or skin-tight – in the thigh, your thigh will appear larger than it is. Find a jean that is flatteringly tight in the thigh. This will do wonders!

STRAIGHT AND DARK.
So, there are TONS of types of jeans out there – and everyone has their own preference. But, if you are wondering what a universally flattering color and shape is – it is the dark, straight jean. I own this bit of knowledge to Stacy and Clinton, who have changed the way I view jeans. Let's look at this. According to Stacy's interview with Ladies' Home Journal:
"Jeans with a darker wash are more flattering and look more polished than jeans in a lighter wash," Kelly says. "Color versatility will come in handy if you want to wear jeans when you go out at night or if you're trying to create a business casual look."
Personally, I think that a dark straight jean is the most versatile shape – and makes any size appear long and lean. Of course, it all depends on the fit of the jean – but 9 times out of 10, a dark wash and straight leg is a safe bet.

MY FAVORITE JEANS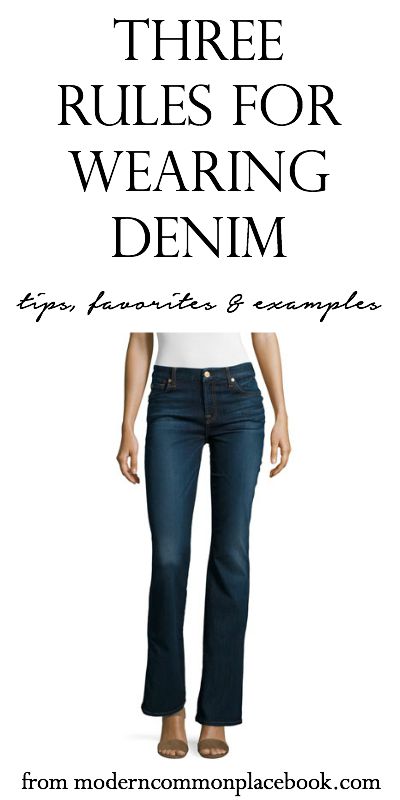 NOW YOUR QUESTIONS!

Question #1: I can't seem to find jeans in which I both look fabulous and can bend down with 2 children in my arms and lug out 2 20 lb. bags from the library without revealing more than I wish…I think I need a miracle, apparently…
Answer: I can think of four solutions for this TYPICAL mom quandary! One, get them altered perfectly. A good alteration will make your jeans fit perfectly snug in the waist. Two, try the High-Rise Artist Jeans above. Cute – but a little higher! Three, try an fun skinny belt! I have this one from Target – and it is perfect! Four, get some long camisoles from Forever 21 – they will cover up anything!
Question #2: I can never seems to find jeans that don't start to sag about half way through the day. I don't like to have to wear a belt all the time. Have a fix? Also, I have seen the "boyfriend jean" trend, but can't figure out how to pull it off without looking frumpy. Help!
Answer: I would give the same advice as above – and add this caveat. Quality jeans hold their shape. Maybe spend a little more on a designer set – it will change the way you think about jeans. I kinda am also scared by the "boyfriend" jean trend. Shay from Mix and Match Family did an AWESOME post on boyfriend jeans – check it out! This is my best advice on the subject :).

Question #3: Do you buy jeans a little long so that you have the option of wearing a little heel with them?
Answer: I have long and short jeans for this purpose. Personally, I wish all mine were short enough for flats – because they can be worn with heels as well. Longer jeans for just heels are less versatile for the flats and sandals. However, my pair of Sevens are longer – and when I wear them with flats I just roll up the hem. So, that is a good option!
SO – That's all I have, folks! PLEASE share your favorite jeans down below. And, if any more questions roll in – I promise to do my best answering. Or, I will just refer you to someone who does know the answers! ENJOY YOUR DENIM!
All comparison photos give full credit to Grasping for Objectivity who has fabulous denim posts. Check her out for an IN-DEPTH look at denim!
Read My Other Wardrobe Posts Here
My Capsule Wardrobe
My favorite basics from Forever 21
How to Buy and Sell Clothes on Ebay
The Perfect White Blouse
Just Call me Audrey | Must-Have Items for your Wardrobe
The Classic Pencil Skirt
The Perfect Nude Heel
That Sexy White One Piece
---
Make Your Week Easier with these Deals that Keep Me Going
LeTote
- I know the last thing on your mind is new clothes for you. But, seriously? When was the last time you shopped for yourself? Do you even have time to think about new fall clothes? Let me tell you what I do. I rent my clothes with Le Tote. Yep. I pick out a few outfits every month, wear them, LOVE them, and then send them back. Their prices are super cheap, and I don't have to buy anything. If you are pregnant, their maternity clothes are AMAZING.
Get a free tote here and love your FREE CLOTHES!
EveryPlate
- I know every mom in the world is talking about Hello Fresh - but let me tell you why
EveryPlate
is better and cheaper than Hello Fresh. EveryPlate provides fresh family-friendly meals right to your door - but for
less than $10/serving
. Their meals are the
same
as other providers, but they use less packaging (yay saving the environment!) so they can charge less. They also offer fewer meals per week with a wider rotation, so we never get sick of the same meals! I have used them for MONTHS, and we have loved every single meal. Stop meal planning today and try
EveryPlate
this week with a $20 discount.
Click here to get you first box at $1.66/serving!
KiwiCo
- Are your kids staying home this school season? Do you need something to keep your littles busy for HOURS? You need to get
KiwiCo Activity Crates
for your kids every month. These boxes teach your kids, provide 2-3 activities per month, give you a free storybook, and entertain your kids for
under $20/month
. We have loved them for years. Seriously, make this school year easier for you with
KiwiCo
.
Latest Posts: