Why you need a 2020 Plum Paper Life Planner
Are you looking for a beautiful customizable planner for you, your kids and your home? Plum Paper offers gorgeous designs, customizable formats, add-ons for fitness, meal planning, all at a completely reasonable price!
---
I'm in love with the trend of the pretty life planners.
Gone are the days of little "Day Timers" from Barnes and Noble – now it's all about Erin Condren, Whitney English – and my favorite Plum Paper Designs!
I hope this Plum Paper Life Planner review will be super helpful for you – and make sure you scroll down for a Plum Paper discount!
(If you are looking for a free homeschool planner, make sure you check out my post here with easy solutions for homeschooling and working full time. My homeschool mom friend shares her free homeschool planner and tracker!)
I am a paper person, and I love the idea of an all-in-one planner. And, with the dawning of the new calendar in iOS (which I hate – the calendar – not the phone), I started researching a planner to fit me. Not the busy mom of 4. Not a hair dresser with appointments every 30 minutes. But me.
I personally found several drawbacks to the Erin Condren Planner. One, it is $50. Two, I don't need an hour-by-hour schedule for each day. My days aren't that busy. Three, I didn't love the patterns. Call me a snob, but the crazy colors just aren't "me".
Alternatively, when looking at the Whitney English Day Planner, the price of $60 seemed crazy – and I knew the extensive "to do lists" and business planner aspects would go unused. I needed something a little more tailored to me.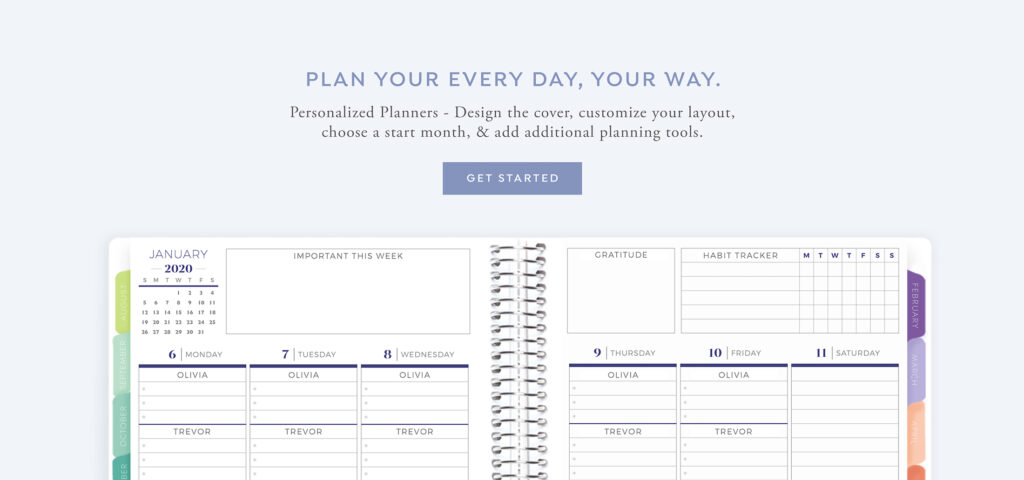 Their designs are so pretty! Their designs range from peppy prints to inspiring quotes. I love EVERY SINGLE one of these designs.
Let's talk about the price. Their planners are way cheaper than Erin Condren – starting at $29! Also they have ready-to-ship planners if you want an easy option that doesn't involve customization.
They are very similar to the Erin Condren: they are colorful, have monthly and weekly calendars are simply laid-out, are well-coiled, have a plastic cover for protection, and have thick side tabs for each month.
But, here are the things that set Plum Paper apart.

1. Plum Paper Life Planner Options
They sell more than one planner. Besides the Regular Planner, they sell the Family Planner, Teacher Planner, Student Planner, Meal Planner, Wedding Planner, Fitness Planner and Homeschool Planner. Each with the options for major customizations!
I am only showing you the customizations for the Regular Planner and Family Planner here. See the rest here.
2. Plum Paper Specs
These are the specs for the Regular Planner:
It can begin in ANY month you choose.
Planner Size: 7.5″ x 9″
12 Monthly LAMINATED TABS
Clear Frost Plastic Cover
Personalized Name on Cover
Week, Month, and Year-at-a-glance pages
2 Notes Pages Per Month
Contacts Page
Holidays
2 Sided Pocket Folder
The year on the cover will reflect the year/years of the planner ordered.
Did you see that? You can set each planner to start ANY month. You decide the beginning month, and the 12 months go from there. If you want to add months, each additional month is only $2. I started my planner in November of last year and added an additional month so it ends in December. GENIUS.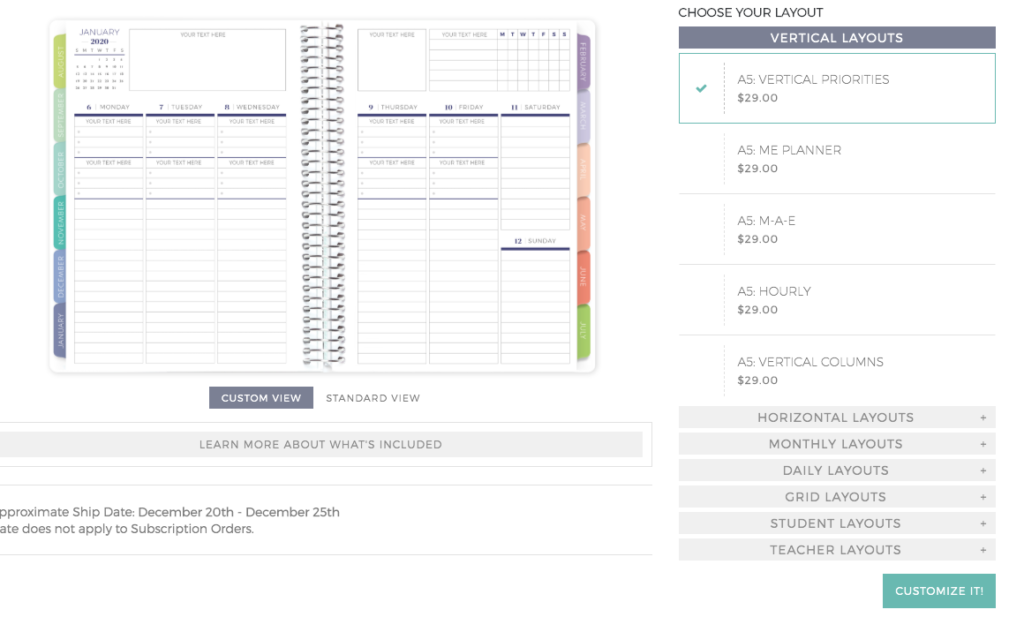 3. Plum Paper Layouts
There are SEVEN layout options for the Regular Planner. You pick between
Vertical Layout
Horizontal Layout
Monthly Layout
Daily Layout
Grid Layout
Student Layout
Teacher Layout
With each one, you can break it down by multiple weekly or hourly formats.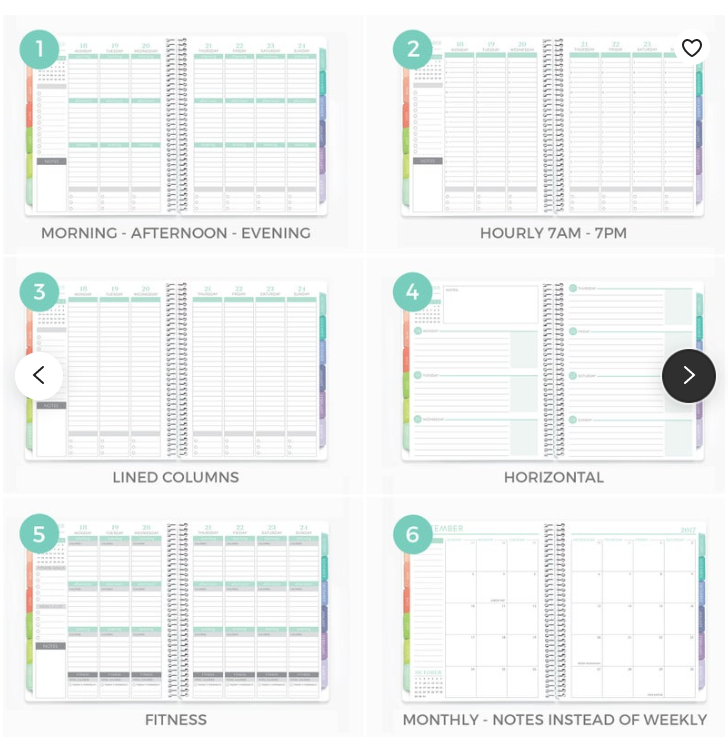 4. Plum Paper Add-Ons
There are tons of Add-Ons. You can add on up to 6 months, extra "notes" pages, added photos, a design proof, extra "checklist" pages, and extra "contacts" pages. Totally customizable!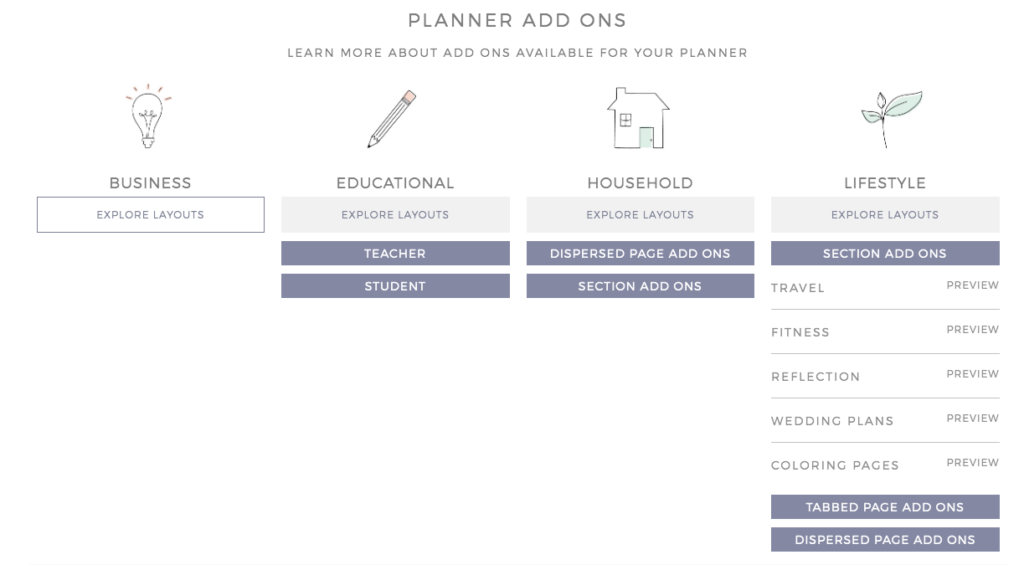 Seriously? This is AWESOME. I love the option to add a travel or fitness section! My favorite is the household add on – who doesn't need more household organization?
I am so excited to share these planners with you – because they truly are the most gorgeous, practical, and unique ones out there!
Do you want a discount? I know you do! I can send you 10% off an order of $30 or more!
**This discount will only work with email addresses that are not already associated with Plum Paper.
You might also like:
My favorite new hacks to boost your productivity
How to homeschool and work full time
10 new tips to work at home that really work!
Why you need a 2020 Plum Paper Life Planner today!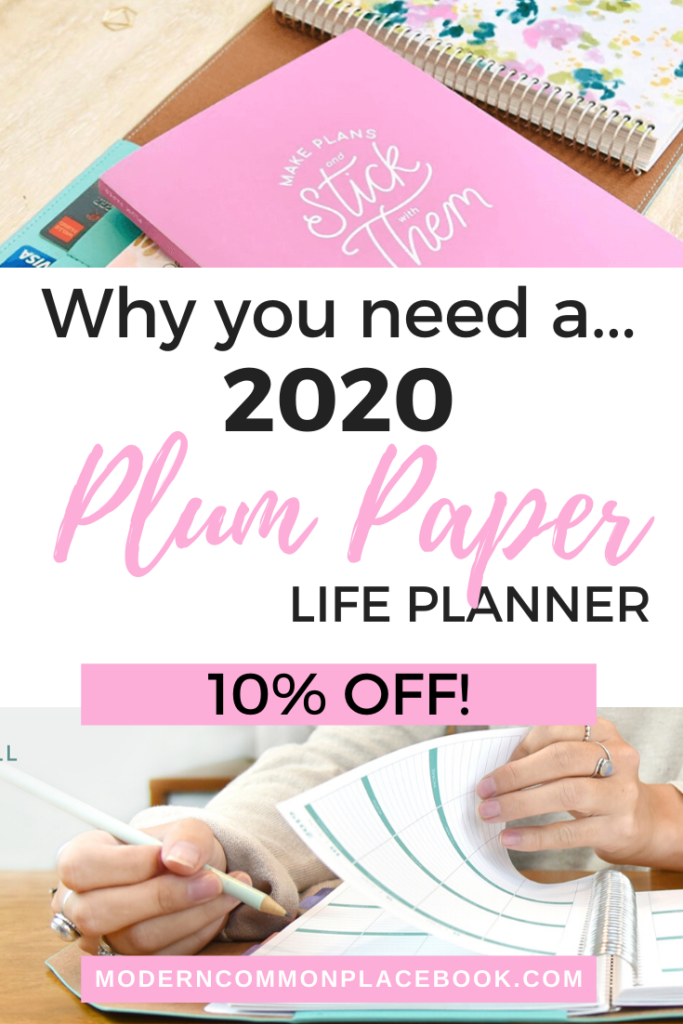 ---
Deals that are saving my hide lately...
🧒 For your kid - I found these printable activity packs for my toddler that are LIFESAVERS. My daughter literally wants to do these activities for hours every day. They are called the Ultimate Preschool Activity Bundles, and there are activities for every theme. Each activity has dozens of pages that are printable pages that teach number and letter recognition, colors, counting, patterns, and much more. These are my favorites:
🧹For your cleaning routine - I have started getting my cleaning products on Grove Collaborative - and they literally have changed my cleaning routine. Right now they are running their deal for my favorite Plastic-Free Cleaning Line for free, so make sure you check it out. Here are some tips to get the most out of this deal:
🧹If you already have a Grove account, use a new email address to get this deal...and then cancel.
🧹Make sure to set a calendar reminder to cancel the Grove VIP trial after a month. No harm no foul.
🧹 Choose the Plastic-Free Hand Soap Set ($45 value) and get all everything for free.
🧹Fill your cart with $20 worth of products you need anyway...
🌮 For Dinner - I know every mom in the world is talking about Hello Fresh - but I'm here to tell you that EveryPlate is better and cheaper than Hello Fresh. I have used it for years with my own pennies...and it really gives me life.
EveryPlate sends me dinner recipes and ingredients right to my door - but for less than $10/serving. Their meals are the same as other providers but HALF the price. It doesn't matter how many $90 off coupons other providers throw at you - this dinner box is still cheaper.
They use less packaging (yay saving the environment!) so they can charge less. They also offer fewer meals per week with a wider rotation. I have used them for over a year, and we have loved every single meal.
When I use EveryPlate, I can actually forget that I have to cook dinner. The ingredients are already in my fridge.
⭐ Stop meal planning and try EveryPlate this week with a $20 discount. Click here to get you first box at $2.49/serving!