I think Starbucks has us wrapped around its little finger. And who's complaining? With the million and one combinations they offer, pretty much everyone is happy. When I go to Starbucks, though, I am always looking for ways to trick the system. The same taste for less? A clever hack no one knows about? Here are some Starbucks tricks and tips you never knew existed!
Don't leave until you read the comments with all the pro's tips! They are gold.
Add a shot or sprinkle: Ask for a shot of mint or sprinkle in vanilla, cocoa or cinnamon at the coffee bar. Get that little twist for an additional $.55. Oh, and Christmas "red cup" season has Gingerbread syrup you can add! Read about more Cheap (under $3) Starbucks Drinks here.
Refills for $.50 all day: Get the Tall and then refill all you want! (*This only applies as long as you are in the store.*)
Bring your own cup: Bring your own cup and receive a $.10 discount!
Go healthy: Order the healthiest version of your Starbucks favorite! Use this list of the Healthiest Iced Starbucks Drinks here. My favorite? The Iced Skinny Mocha saves you 400 calories!
Free triple-filter water: Save yourself the bottled-water price!
French Press for a Few: Order a pot of french-pressed coffee and serve a few friends for less!
Got kids? Use this cheat sheet for the best Starbucks kid-friendly drinks! Who knew they had a "Babycino" that is an extra-foamy milk—like a cappuccino, but without the espresso. Ask for it bone-dry if you want the drink to be all foam.
Celebrate your birthday! Sign up for the Starbucks reward program (registration is free) and get a free drink when your birthday comes around. (You'll have to redeem it in the 30 days after your birthday.)
Design your own! This list is awesome! The Oreo Frappe? The Cinnamon Roll? What about the Poor Man's Chai Latte that is half the price?
There's another size! Order the "short" – even smaller than the "tall!" The "short" cappuccino has the same amount of espresso as the as its "tall" version, but for less.
Treat your Pup: Order a puppy latte or puppycino, and your dog will get a sample cup full of whipped cream.
And my favorite? Personally, I love to add a shot of caramel to my regular coffee (iced or hot). To me, this gives the same flavor as an (iced) Caramel Machiatto. I love this trick and save TONS of calories and dollars with it :).

Make sure you read the comments below! There are some awesome suggestions from real baristas!
*Disclaimer, I have only tried a few of these ideas. If you are a Starbucks Barista, feel free to comment on the validity of these ideas.*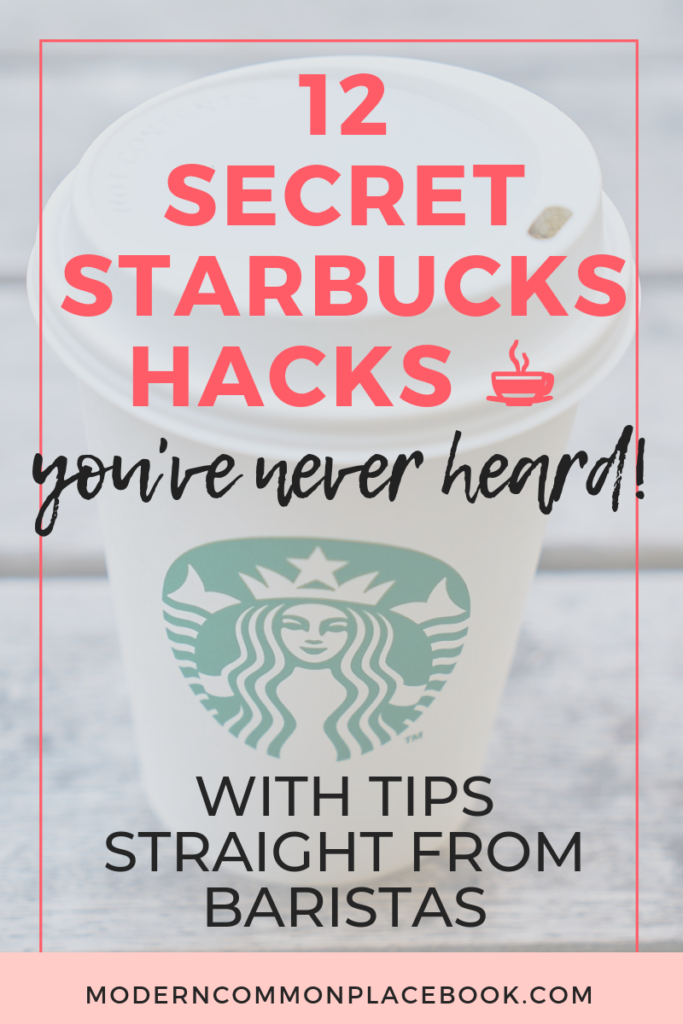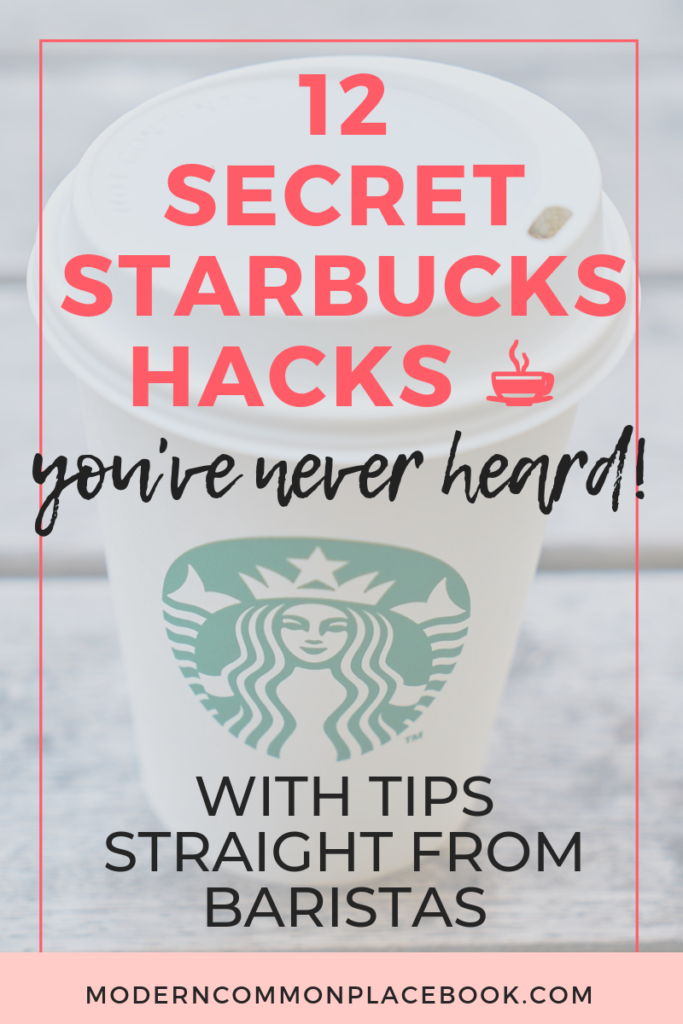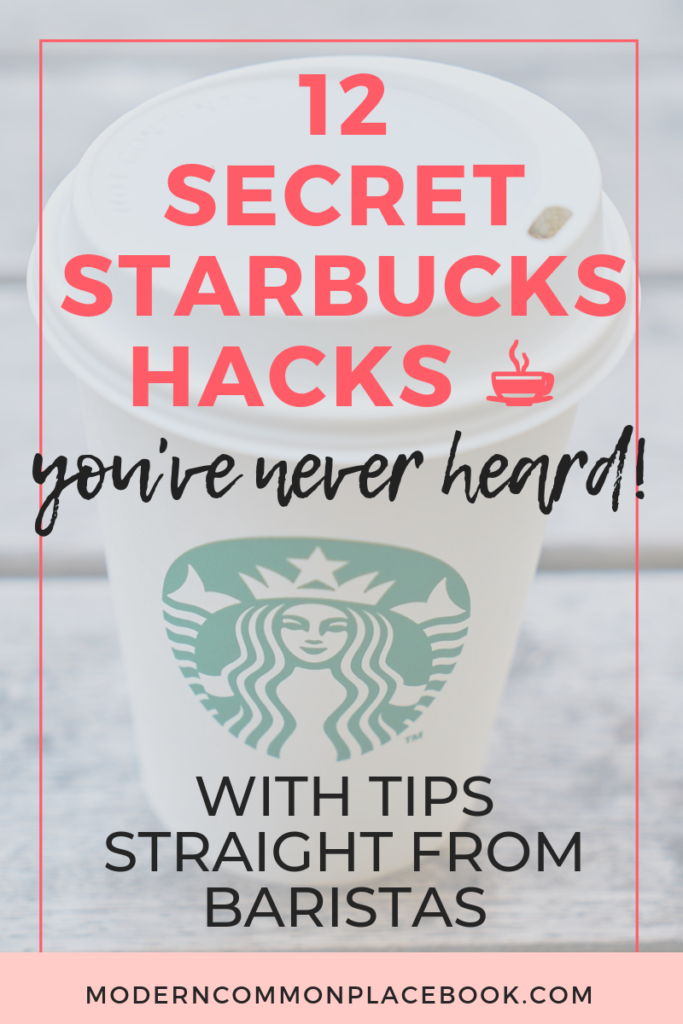 ---
Make Your Week Easier with these Deals that Keep Me Going
LeTote
- I know the last thing on your mind is new clothes for you. But, seriously? When was the last time you shopped for yourself? Do you even have time to think about new fall clothes? Let me tell you what I do. I rent my clothes with Le Tote. Yep. I pick out a few outfits every month, wear them, LOVE them, and then send them back. Their prices are super cheap, and I don't have to buy anything. If you are pregnant, their maternity clothes are AMAZING.
Get a free tote here and love your FREE CLOTHES!
EveryPlate
- I know every mom in the world is talking about Hello Fresh - but let me tell you why
EveryPlate
is better and cheaper than Hello Fresh. EveryPlate provides fresh family-friendly meals right to your door - but for
less than $10/serving
. Their meals are the
same
as other providers, but they use less packaging (yay saving the environment!) so they can charge less. They also offer fewer meals per week with a wider rotation, so we never get sick of the same meals! I have used them for MONTHS, and we have loved every single meal. Stop meal planning today and try
EveryPlate
this week with a $20 discount.
Click here to get you first box at $1.66/serving!
KiwiCo
- Are your kids staying home this school season? Do you need something to keep your littles busy for HOURS? You need to get
KiwiCo Activity Crates
for your kids every month. These boxes teach your kids, provide 2-3 activities per month, give you a free storybook, and entertain your kids for
under $20/month
. We have loved them for years. Seriously, make this school year easier for you with
KiwiCo
.
Latest Posts: