As I mentioned in my post Wardrobe Basics: Never Pay Full Price, I love shopping on Ebay. So many of my favorite purchases have come from Ebay. I am going to try to cover all the basics in this post, but don't hesitate to leave comments and questions :). I would love to know about your experience with Ebay!
I have bought coats, jeans, shoes, boots, and jewelry on Ebay. So far, I have not had any major bombs of purchases. But, there is always a first! See this post for some details about the items I have bought.
This post is part of the Wardrobe Basics Series – read all the posts here:
How to buy and sell clothes on Ebay:
BE CREDIBLE
The first step in being an Ebay-er is to set up an account and start growing credibility as a buyer/seller. The more you buy, the more positive reviews you get, the more credibility you get. Sellers sometimes have secret ways to manipulate their sales. It is easy for a seller to manipulate a sale away from a novice buyer that doesn't have many reviews. So, the solution is to be a perfect buyer and start accruing those positive reviews! Make sure you answer communications immediately and pay immediately – these do wonders to your credibility!

BE A SLEUTH
Search for items that you really want! This is made VERY easy with their searches that use filters. You can filter by size, brand, condition (new/used), location, color, material – anything! If you have a specific item in mind (ie. those Lucky Jeans you've been eyeing) then make your searches very specific. See Ebay's Advanced Search options here. When you start looking for an item, know your measurements for that brand! You can always run to the mall and try it on for perfect measurements.

BE RUTHLESS
I like to be very ruthless in my searches. I like to filter items by "US Only". This might weed out some good buys, but I like to prevent cheap Chinese and Korean knock-offs from showing in my searches. I also filter items by brand. I know what brands I do/do not want and this immediately excludes "Unbranded" or "Homemade" items. I also never buy Target clothes on Ebay. I usually only use Ebay for high quality clothes I can't normally afford.

BE SMART
I like to make a search once, and not have to repeat myself. Once you create a complete search, set up an email reminder! Ebay will email you every time an item becomes available – and you don't have to keep checking! I still get some notifications that are a few years old!

BE CLEVER
Before I bid, I add an item to my "watch list". This allows me to keep checking on the item, before I decide to bid. When I want to bid, I wait until the very end. I don't need to keep racking up the price – or let people know that there is a competitor in the hunt!

BE PICKY
I don't want any old pair of jeans. This allows me to narrow my searches and wait for the ideal item. Make sure the item and seller are credible. Sometimes I don't want to take a chance buying from a new seller with no reviews to his name. I also only buy clothes that have complete descriptions and great information. Check their review policies and shipping charges – you don't want to be taken by surprise!


BE LIGHT-HANDED
I have to be ok with the fact that the item I order may not be perfect – nor what I want. I hold these items lightly. If a seller doesn't have a good return policy, I have to be ok with losing the item – and potentially losing the money.

BE PATIENT
Don't shop on Ebay if you need an item by tomorrow! Again, I have been looking for some items for a few years. I am obviously not in a hurry :).

BE SOCIAL
I bought some of my best items after I communicated with the seller and asked questions! One girl and I became friends because we bonded over the Seven For All Mankind jeans I was buying. I love making connections – and it helps to know the seller. Also, there is always the possibility that you could negotiate the price.

BE INTUITIVE
Ebay has an Automatic Bidding System that will automatically outbid each bid until you reach your highest offer! This is cool if you don't have time to keep watching an item.

BE OPTIMISTIC
If you lose an auction, you can always write a note to the seller. Let them know you are still interested in the item if the first buyer falls through or if they have similar items for sale. If the wining bid falls through, the seller can send you a Second Chance Offer to buy the item.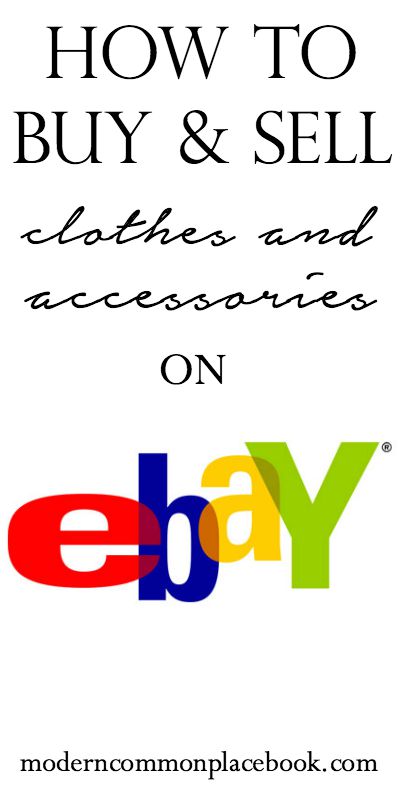 ---
Deals that are saving my hide lately...
🧒 For your kid - I found these printable activity packs for my toddler that are LIFESAVERS. My daughter literally wants to do these activities for hours every day. They are called the Ultimate Preschool Activity Bundles, and there are activities for every theme. Each activity has dozens of pages that are printable pages that teach number and letter recognition, colors, counting, patterns, and much more. These are my favorites:
🧹For your cleaning routine - I have started getting my cleaning products on Grove Collaborative - and they literally have changed my cleaning routine. Right now they are running their deal for my favorite Plastic-Free Cleaning Line for free, so make sure you check it out. Here are some tips to get the most out of this deal:
🧹If you already have a Grove account, use a new email address to get this deal...and then cancel.
🧹Make sure to set a calendar reminder to cancel the Grove VIP trial after a month. No harm no foul.
🧹 Choose the Plastic-Free Hand Soap Set ($45 value) and get all everything for free.
🧹Fill your cart with $20 worth of products you need anyway...
🌮 For Dinner - I know every mom in the world is talking about Hello Fresh - but I'm here to tell you that EveryPlate is better and cheaper than Hello Fresh. I have used it for years with my own pennies...and it really gives me life.
EveryPlate sends me dinner recipes and ingredients right to my door - but for less than $10/serving. Their meals are the same as other providers but HALF the price. It doesn't matter how many $90 off coupons other providers throw at you - this dinner box is still cheaper.
They use less packaging (yay saving the environment!) so they can charge less. They also offer fewer meals per week with a wider rotation. I have used them for over a year, and we have loved every single meal.
When I use EveryPlate, I can actually forget that I have to cook dinner. The ingredients are already in my fridge.
⭐ Stop meal planning and try EveryPlate this week with a $20 discount. Click here to get you first box at $2.49/serving!