---
Are you looking for tips for working from home with toddlers. This is such an important need among moms! Read my PRACTICAL tips for how to occupy your toddlers while you work from home.
---
This is the #1 Question I get. What are good tips for working from home with toddlers? Look at these questions that I have been asked from real moms:
WHAT DO YOU DO WITH YOUR "VERY ACTIVE" TODDLER?!?? 😆🤯 I have one too.
I have a very active 4 year old who is extremely active and talkative…like she doesn't stop talking. She is struggling with independence like going potty alone, sleeping alone, playing alone, pretty much anything alone. Any other advice, hack or tips you can share is great.
How do you work from home and get any work done during the day with kiddos who are extra clingy?
Working from home was going great until my kiddo turned 3 in August and now she won't leave me alone!
Look, I'm not going to state the obvious. Here are the obvious answers:
Create a work schedule
Prioritize your work
Work while they sleep
Take breaks
Eliminate distractions
Make a to-do list
WE KNOW ALL THESE THINGS. What about the real tips? Practical advice for real moms. Look. I'm right there with you. This is what work for me and my toddlers! Please make sure to leave a comment about works for you!
---
---
Tips for Working From Home with Toddlers
I have worked at home for over 10 years – and for 6 of those years, I have also had young children. I work for an actual employer from 8-5 – so those eight hours are not mine. My job isn't the kind of job I can "just fit in during nap times."
Yes, I have had some outside help, and now my children are in preschool/kindergarten a few hours a day.
But every day, I work eight straight hours while accommodating my kids' schedules, which are constantly changing.
Often my days are full of juggling toddler tantrums, grocery lists, hours in front of my laptop, trying to be a "clever Pinterest mom with all the mom tricks," stale coffee, bath time, episodes of The Office at night – and if I'm lucky – wearing actual clothes.
And, every few weeks, I adjust.
That's the key, I think. I am constantly re-adjusting, planning new schedules, trying new tricks, and figuring out what my kids need.
I basically adjust every three months to provide my kids with the best schedule and educational activities so that they can play near me.
---
✅ What should your workday routine look like?
I am the last person to tell you what your workday routine should look like. But, I do have some tips for finding hidden pockets of time.
Instead of paying money for a new planner that you will use just to "cross your fingers" that it will work out, use my system below to plot out the best ways to schedule your work day.
To begin, you will need to figure out how many kinds of daily schedules you are working with. If your M-W-F schedule is different than you T-TH schedule, you might have three types of daily schedules:
You might have only two daily schedules: weekdays vs. weekends. You might have 7 different schedules.
You will want to treat each of these daily schedules differently to maximize every minute. If you have 45 minutes for lunch on Mondays, but 1 hour on Thursdays, then you need to maximize on that extra 15 minutes on Mondays.
This exercise is perfect for actually looking at what your day looks like, and trying new ways to plan out your time.
To see my 40-hour work day routine with little kids, check out this article here!
To get started, sign up for my free printable here!
---
---
🏡 Where should you work with kids?
Because I work at home with kids, I am constantly looking for ways to work near my kids. I love for my kids to work independently, but I also need to be able to monitor them at all times.
How do I do this? In each of my houses, I have moved my desk to a central location.
In my old house, my desk was actually in my living room. This gave me a lot of space to work and be near my daughter.
Now in my new house, my desk is in our upstairs loft that is between our bedrooms, not a home office. There is enough room to fit my desk, a small sofa, and a play area for my baby.
Yes, I know, you are supposed to keep your work separate and have a "personal office workspace". But come on. My kids are under my feet all the time. So I try to intentionally make it practical!
I also sometimes work at the library or Chik-Fil-A play place because they have play areas. If my child is self-contained and entertained, I'm able work easily there.
Here's a photo of my actual desk. (It's not pretty! Be forewarned!)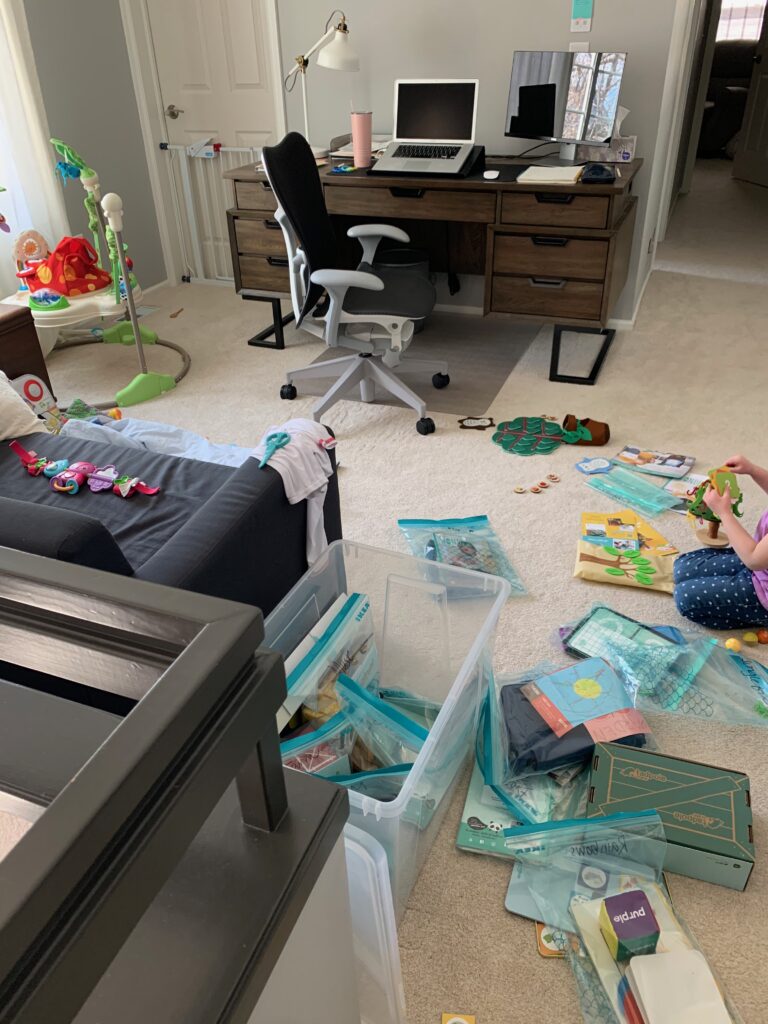 ---
👧 Toddler Gear You Need
1. Baby Gates and Fences
To set up a safe play area for my kids, I recommend buying a large "baby fence" to enclose a large area for your mobile to play in. I rotate toys, and this gives me a safe place to let my kid explore.
Another way I use baby gates is to separate small babies from older kids playing.
Very often, my daughter needs a barrier between her and the baby. Adding a baby gate to her door accomplishes this. This is an excellent way to separate kids and give them places to play – while they are still right next to my desk.
We use a large baby fence to enclose a large play space – or to block off part of the living room. I totally recommend it for kids of any age.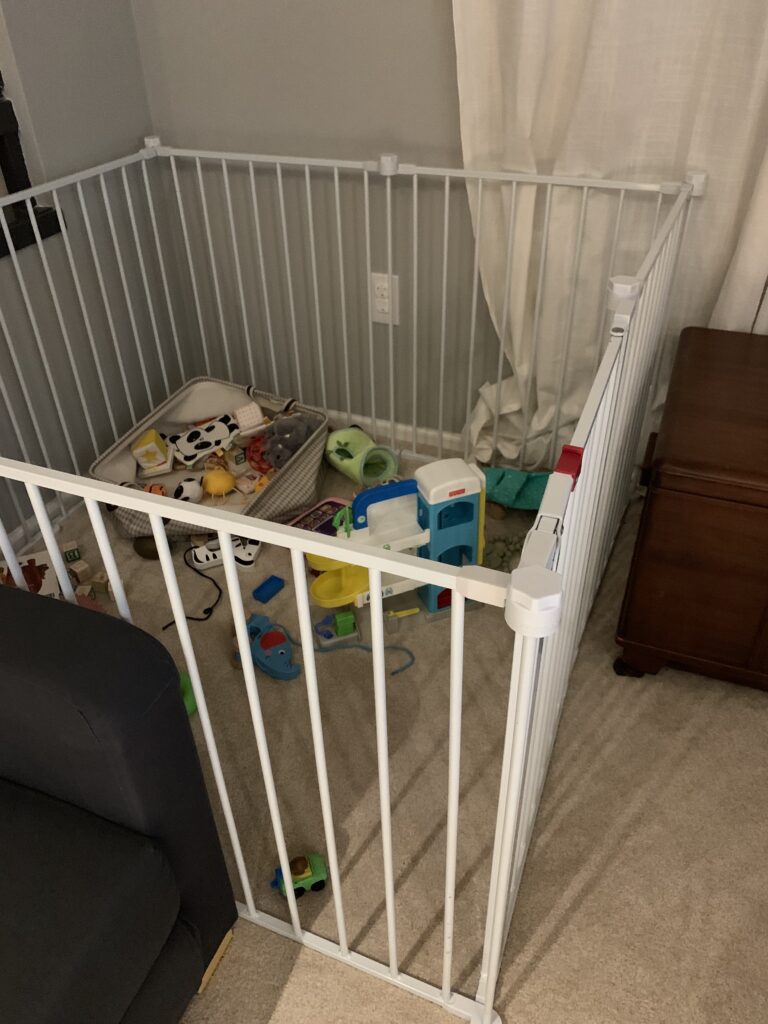 ---
2. Baby Monitors
Another invaluable tool is a baby monitor. I use mine all the time – even for my toddler!
I have our monitor set up in my son's room, and often put both kids in there to play. This allows me to watch them from down the hall, and love being able to see their play.
If you have toddlers in a separate room, this is an excellent way to keep an eye on them.
Also – a fun game to keep them occupied is to play Simon Says through the monitor. It's great entertainment that lets you work and "play" with your kids.
---
3. Child Alarm Clocks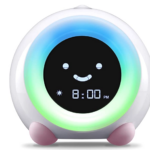 LittleHippo Mella Ready to Rise Children's Trainer – I realized very quickly that to keep my schedule on track I needed my kids to have their own morning and naps routine. This clock was SO HELPFUL for my 2 and 5 year old.
I love this clock because:
It has nap time settings so it "turns green" when it's time for kids to wake after sleep or naps
It taught my daughter how to wake up and have her own morning chores by herself
It taught my son to stay in his room at nap time.
The clock is teaching my daughter to tell time.
It made our bedtime routine so much better!
Read more: What to do when your kids stop napping.
---
---
🪁 What should your kids be doing?
1. How to teach your kids to play by themselves
I am a huge fan of teaching your kids to play independently.
Around six months old (yes, even before they can even sit up!), I put my babies in their room with a baby gate and some toys, and leave them to "play" for maybe 10 minutes. I repeat this every day to build up more time each day.
By the time my babies are around one year old, they are able to play by themselves for 30-40 minutes.
By the time my daughter was two years old, she was able to play by herself for up to two hours. Because she stopped napping at age two, I would place her in her room for two hours and call it "quiet time". Because she loves to play by herself, this worked great when she stopped napping.
Create a box of the best quiet toys for toddlers to teach them to learn independent play.
To be honest, I would probably practice this with my kids even if I didn't work from home. It is an excellent way to teach your child contentment and creativity!
Again, I am right next to my kids during this whole independent-play process. I check on them, watch them on the baby monitor, and encourage them with new toys.
To read my complete guide to teaching your kids to play independently, check out my guide here!
---
2. Screen Time Alternatives
Portable Bluetooth Speaker for Kids
My kids got this for Christmas and LOVE IT. It's the perfect size to hold, and to carry around while they listen to music. I stream music to it from my phone (usually a fun Spotify playlist!), or they listen to audio books!
My favorite way to get free audiobooks, is to use my library card and hook it up to the The Libby App. You can download audiobooks for free! This is great for older and young children.
TIP: Include these headphones for your kids which are our favorite!
---
Portable Top Loading CD Boombox
Remember CD's? YEP THEY ARE STILL A THING.
Especially in my kids rooms!
My kids LOVE this thing! They play cd's all the time – with books on CD from the library, lullaby's before they go to bed, old music cd's that I have found in storage…
I usually get one or two cd's for them for Christmas or their birthday, and their grandparents also love giving them books on CD. This gift is magic to them!
TIP: Get a CD player with Sleep mode. Then you can leave it in their room at bedtime, and it automatically turns off at night!
---
VTech® Touch and Learn Activity Desk
I don't know about you, but my kids love crafts and learning activities. They sit at this desk for HOURS. My kids pull this up to my desk and say "I'm doing my learning, mom. I'll talk to you later!"
The Touch and Learn Activity Desk Deluxe is an interactive desk and includes activity pages to learn colors, the alphabet, animals, parts of the body, and so much more. As a mom, I'm especially thankful for the writing pad that teaches the correct direction to write each letter. My kids learned so much with this!
If you are looking for a play and learning desk to set up near where you work, I really recommend this Touch and Learn Activity Desk!
(To see all my favorite VTech educational toys for three year olds, check out my post here.)
---
Playaway Launchpads (at your local library)
So, have you seen the Playaway Launchpads at your local library? These are so fun! Technically they are a tablet, so they kind of don't qualify for this section. But, they are an excellent alternative if you don't want to buy a tablet. They are educational, built for learning, and my kids adore them! They are perfect for a road trip, or just a week-long experience for your kids to be entertained while you work. Totally recommend that you look at your local library!
---
3. Screen Time for Toddlers
Yes, I let my toddler watch a few small shows. Usually, she watches just one or two that I strategically use during the day. Sometimes I know I have a meeting later, so I save her show until then. Some days my mornings are crazy, and I use the show to get through the first hour of the day. My goal is always to use the screen time to my advantage!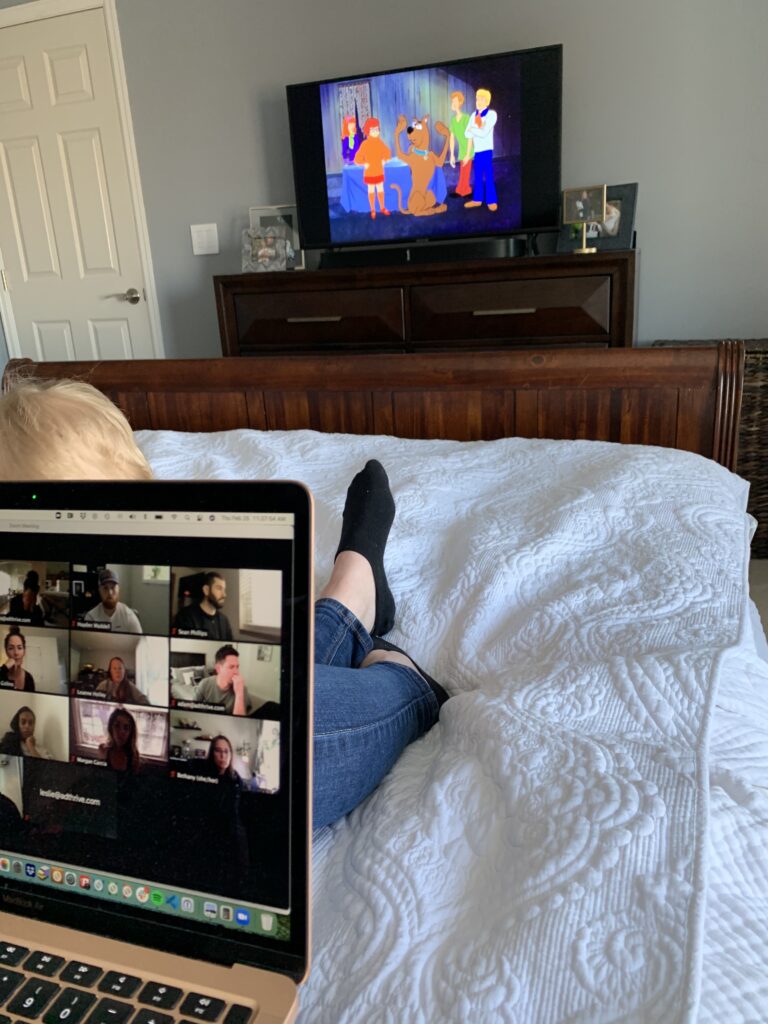 ---
🛌 How to do nap-time & quiet time
1. Replacing nap time with quiet time
As a busy WAHM that desperately needs a minute to myself, I need naptime. Or quiet time. Whatever I can get.
I bet you are the same.
So, when my daughter stopped napping when was 2, I cried and rebelled…and then shifted plans. QUIET TIME. We can do this.
The rules were the same: 2 hours. Be quiet. Don't bother mom.
---
2. Benefits of a rest time habit at home and school
The benefits of quiet time are so obvious. Moms get a break and a shower. Kids get rest and can recharge. Even if they don't sleep, they get rest.
Quiet time also forces kids to have independent play time…which in turn forces creativity. At 4, my daughter is able to play by herself for hours.
Of course, it didn't start like this. It started with 10 minutes. Then 30 minutes. Then 40. Then an hour.
Also, if you have more than one kid, I'd recommend separating your kids so they learn how to occupy themselves. I want my son to know how to be by himself, and not always need his sister around.
---
3. Expectations for Quiet Time
The most important thing is to set expectations or general guideline. When my daughter was 2, she was required to stay in her bed. She could have toys and books, but must stay in her bed. Now that's she's 4, she is allowed to play in her whole room. But she can't leave the room. Here are our basic rules:
Stay in your room/bed
Don't bother mom
Play with toys, books, puzzles, music
Get up after the correct time (my daughter gets up when the clock says "3")
Must put away some/all of toys at the end (this is kind of agreed upon when the toys are brought out.)
---
4. Activities for Quiet Time
This is when I DUMP OUT ALL THE TOYS. And then I regret it. But still – they ALL COME OUT.
I'm the kind of mom that believes "toys are cheaper than babysitters". Now, I'm not saying go buy out Target and pull out the trains, cars, marble track, legos, and blocks all at the same time. NOPE.
But often at quiet time I let her pull out one big thing (legos OR marble track), one smaller thing (a few puzzles), and a few books.
---
💓 How to Schedule Quality Time With Your Kids
So my blog says on the homepage: Helping working moms create space for what really matters.​
And honestly I've thought a lot about that statement. How hard is it to focus on the schedule and the routine, but forget to spend time on what really matters.
I didn't want my kids to look back on this time and think that mom was just stressed out all the time. Change the way you do the schedule. Have fun with the people that matter.
---
🙋‍♀️ Do you need childcare?
When thinking about childcare, these are the questions I ask:
"How much can I afford per month for childcare?"
"What season are we in? Do I need to watch them and work?"
"How will my childcare decisions weigh on our mental health or family dynamic?"
We have gone through every possible form of childcare during this roller coaster. We have had: no childcare, part-time playtime, part-time babysitters, full-time nannies, preschool, no preschool, family members help, neighborhood mother's helper, drop-off nursery/daycare….you name it!
Our budget decides a LOT.
I'm not just talking about full-time care budget. But just anything you can set aside per month.
Even if you can swing only $50/month, SET THAT ASIDE and use it for activity box subscriptions, learning education apps, craft materials, new toys, or baby equipment…anything to help you out.
This budget (even if its just a tiny amount) will give you freedom to get help.
Ask yourself what season are you in? If your kids are home, invest in toys and activities to make that easier. Can you get a 10 year old neighbor to help in the afternoon? Spend $20/wk on that. Lean into the season you are in!
If you are needing real childcare but can't afford traditional daycares/babysitters, here are some tips:
If your child takes naps, you might only need a babysitter/childcare for the morning hours. Start with this and see if it works.
My favorite place to find good babysitters & nannies is the NextDoor app for your neighborhood. Also, if you are religious, look at nearby seminaries and theology schools, because they might have listings for their students needing daytime babysitting jobs.
Ask neighborhood kids if they want to be a mother's helper – playing with your kids from 4 pm -5 pm after school/naps.
Look for drop-in nurseries or church childcare services (Mother's Morning Out) for flexible childcare morning hours.
The first thing that you need to realize is that you might not need traditional full-time childcare. If you are able to think outside the box and find something that is more custom to your family, go that route! But, if you are looking to choose a child care center near you, start here!
---
Dealing With Dinner, Homework And Bedtime
Let's talk about that 4pm – 5pm period. This is the hardest, right? Honestly, this is the best time to plan your work phone calls and conference calls. I let my kids watch one or two shows after quiet time, so I can minimize interruptions. Then, I take all my calls, finish my deadlines, and transition to spend time with each kiddo. It's not easy, but it's totally possible!
For that 5pm – 6pm period, we do all the things we couldn't do during the day. Play outside, clean up, do the laundry, get the mail, video calls with family…just pack it in!
When it comes to dinner, homework, and bedtime, my husband and I have a peculiar routine that works for us.
Here's a pattern that we are implementing right now that really helps our family. I'm not saying this is for everyone, but it works for us….for now.
Every week, my husband and I chat about what the other person needs. On top of our normal schedules, my husband is working on house renovations, I work on this blog, and we both have external obligations.
I might tell my husband that I need 3-4 hours extra that week, and he might need 2-3. We factor these "needs" into our schedules, and give each other the time the other person needs. (For us, these needs are outside of the work day, and reflect additional jobs or obligations.)
Here are some ways we give ourselves this extra time:
3-4 times a week, we feed our children dinner early by themselves. On these nights, we alternate who does the dinner/bedtime routines. When I take care of the kids, he has time to get his work done. The other nights he does the dinner/bedtime routine, and I have extra hours to accomplish my work. After the kids are in bed, we then have dinner and chill time together, uninterrupted.
2-3 times a night we eat with the kids, and do the bedtime routine together. After the kids are in bed, my husband and I split and work on our separate work projects. I manage several Pinterest accounts for clients, and complete this work usually between 8 pm – 1 am on these nights. (I also grab one of these for my self-care, early-to-bed night.)
On weekends, we find periods of time to give each other help when needed. It might be that my husband takes the kids to the park, while I stay home and clean the house. Or I might entertain the kids while he does house construction. If we do a family activity, then we alternate dinner time that day so we can catch up on our obligations.
This is a great way to fit in extra work time, if you need it.
These patterns aren't perfect, and if they ever get in the way of "family time", we adjust. But for right now, they work, and they give us extra time during an already-busy week.
---
Dealing With Sick Days And Sick Kids
A few months ago I was sick and the kids were sick. It was a sight. I was covered with snot, and I found myself laying on the living room sofa just bawling my eyes out.
My husband asked me what was wrong, and I ugly-cried about all the things I couldn't do. I couldn't work, watch kids, and try to keep every sick person away from the other people. I just couldn't. I couldn't keep my house clean. And please don't ASK me about making dinner.
Mascara was running everywhere. And I said "I'm supposed to be able to watch two kids and work. Heck, I even have a website telling moms they can do this. And, I'm totally failing!"
He looked at me and said "Maybe THAT'S what you need to be sharing with the other moms. That it's HARD."
So, I wrote a complete guide to how I deal with sick days with kids. It's raw, and it's tough. But, read the article for real-life solutions to help you out!
---
What are your tips for working from home with toddlers?
I want to hear your tips! I know I just wrote a whole encyclopedia, but I really want to hear tips that work FOR YOU.
Leave comments with your best tips for working from home with toddlers!
---
You might also like:
Mom-Friendly Alternatives to Screen Time (you need these ideas!)
ESSENTIAL GUIDE: Childcare help for working parents
9 EASY Tips for Working from Home Without Childcare (Save These Tips!)
Must-Read Tips for Working from home with a newborn – Modern Work at Home Mom