Who doesn't love Trader Joe's – and who doesn't love an easy meal plan?
I wrote up this simple Trader Joe's meal plan when my family and I were on a strict budget. I needed to keep my costs low – but I also wanted to be able to shop at Trader Joe's.
If you know anything about this favorite store – you know it's hard to not buy EVERYTHING in the whole store! So – keep reading to see how my husband and I keep our Trader Joe's grocery list under $50!
Are you looking for a cheap family-friendly meal plan that can be customized to your schedule? Check out my "No Plan" Meal Plan and get it today at a super low discount!
---
Now on to the The Trader Joe's Menu Plan!
This Trader Joe's Menu Plan is pretty easy to use! Just download the spreadsheet at the bottom of the post – and it gives you everything you need.
Just as a caveat – these prices are likely to fluctuate. These were the prices listed at my local store, but there is a possibility that items are priced differently at your store. Please leave any comments if you find discrepancies in any of these items!
---
Quick links to these dinner recipes:
Summer Fruit Bowl
How to Make an Easy Panini
---
---
Quick links to these dinner recipes:
Summer Fruit Bowl
How to Make an Easy Panini
---
PRINT MENU PLAN AND GROCERY LIST HERE
---
? Watch the video in the sidebar to see how I make the stuffed peppers!
---
---
---
---
PRINT MENU PLAN AND GROCERY LIST HERE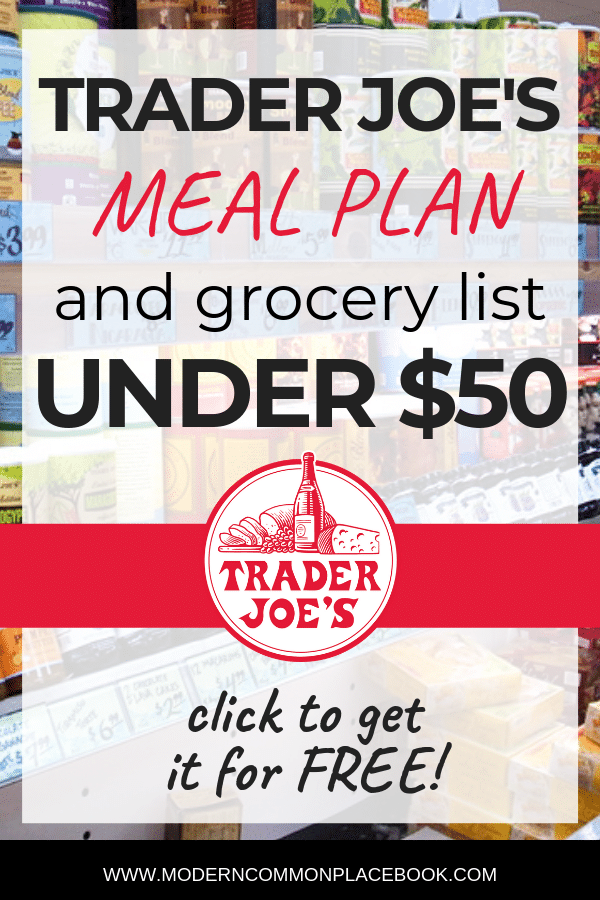 ---
Make Your Week Easier with these Deals that Keep Me Going
LeTote
- I know the last thing on your mind is new clothes for you. But, seriously? When was the last time you shopped for yourself? Do you even have time to think about new fall clothes? Let me tell you what I do. I rent my clothes with Le Tote. Yep. I pick out a few outfits every month, wear them, LOVE them, and then send them back. Their prices are super cheap, and I don't have to buy anything. If you are pregnant, their maternity clothes are AMAZING.
Get a free tote here and love your FREE CLOTHES!
EveryPlate
- I know every mom in the world is talking about Hello Fresh - but let me tell you why
EveryPlate
is better and cheaper than Hello Fresh. EveryPlate provides fresh family-friendly meals right to your door - but for
less than $10/serving
. Their meals are the
same
as other providers, but they use less packaging (yay saving the environment!) so they can charge less. They also offer fewer meals per week with a wider rotation, so we never get sick of the same meals! I have used them for MONTHS, and we have loved every single meal. Stop meal planning today and try
EveryPlate
this week with a $20 discount.
Click here to get you first box at $1.66/serving!
KiwiCo
- Are your kids staying home this school season? Do you need something to keep your littles busy for HOURS? You need to get
KiwiCo Activity Crates
for your kids every month. These boxes teach your kids, provide 2-3 activities per month, give you a free storybook, and entertain your kids for
under $20/month
. We have loved them for years. Seriously, make this school year easier for you with
KiwiCo
.
Latest Posts: