The best work from home hacks to boost your productivity include these new ways to clean your house, keep your schedule, make decisions, ask for help, and make goals. Try these 6 new ideas to boost your productivity!
---
Why is being productive so dang hard?
We all want to find the perfect planner, the best tips, the most efficient way of doing something. There are a hundred work from home hacks out there…and yet we are all still struggling. WHY?!?
Personally, I need a planner, ten apps, and three to-do lists just to roll out of bed in the morning! Currently I have one toddler – another baby due soon – and am working 8-5 at home. This means I have very little time to myself. For me, I have found that the most productive things happen before the day starts at 7 am, or after dinner around 9 pm. I have very little time in between. How is that possible?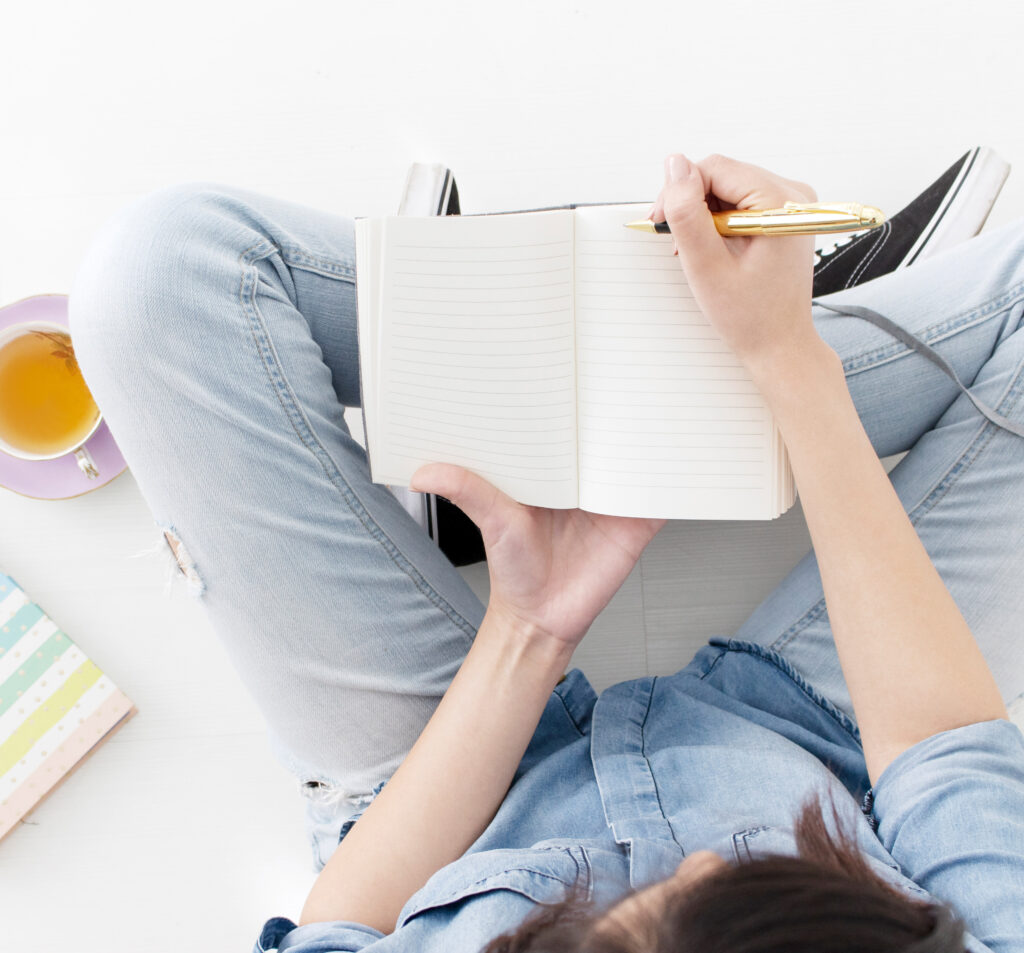 ---
1. Clean your kitchen before you clean your house
I think it is impossible to have your whole house clean all the time. Let's be honest. The sooner we realize this the better! Instead, I know that at least I always want my kitchen to be clean. If I can keep my kitchen clean, the rest of the house seems a lot more manageable.
I have recently resolved to not go to bed until dishes are done and the counters are wiped down. You think this would be easy. But no, I often just want to pile up my dishes in the sink during that after-dinner lull, and let them sit until the morning. But actually washing the dishes and cleaning the counters makes me feel like a hundred bucks.
My two favorite things for cleaning my kitchen are my dish drying mat and Mrs. Myers cleaning spray.
When I wash my dishes, I hardly ever dry them and put them away. But, if I leave them out on my dish drying mat, they are contained, clean, and my kitchen appears to be organized and clean. It's a win for me.
Also, using the Mrs Myers cleaning spray is pretty much divine! It makes my kitchen smell amazing, cleans all the dirty counters, and feels like I'm giving my kitchen a little spa. I love this stuff so much!
Even if the rest of my house is a total mess – seeing this one part of the house cleans refreshes my soul.
Check out these new tips for working remotely that will change your life!
---
2. Know when you are weary – and don't make decisions then
I have quickly learned that I am not a night person. I have spent too many nights in tears and exasperation because no conversation goes well for me at night. The best productivity planner can't change that. It's just a fact.
Instead, I have learned to tell my husband, "I can't have this conversation tonight. I know I will have a much clearer mind in the morning."
This one strategy has saved us MANY hard discussions and tears. I wish I had learned this a long time ago. I love this quote:
Don't make promises when you are in joy.
Don't reply when you are sad.
Don't make decisions when you are angry.
---
3. Use a Work+Life weekly planner to make lists
So – I know everyone has a favorite different planner. There are small Day Timers. Huge life planners. Academic planners. Goal-oriented planners. Basically, there is a planner out there for every single person.
Personally, I like one simple weekly planner that allows me to write out my weekly appointments and goals. Just one sheet for the whole week.
To get my favorite printable planner for work from home moms, just click the image below! This planner has a section for work, home and family, house and home, and priorities for each day. It is my favorite way to keep track of each week!
---
4. Ask for help
Know your limitations! Honestly, there is no way one person can do everything. One time I was watching a YouTuber explainer her schedule and day, and she said something like, "We have decided that something has to go – and for us that is me cooking."
This really resonated with me. Something has to go! Whether it is cleaning your own house, watching your kids, cooking your dinners, doing your errands – it's is ok to ask for help!
Currently I have childcare help – and I get my groceries and Target-run delivered. Not having to do my errands has saved me SO MUCH TIME.
Some of my favorite delivery services are:
Walmart Grocery Pickup/Delivery: My life is too busy to grocery shop. I currently have a toddler and am pregnant, and just walking through the grocery store makes my back hurt. Wal-Mart Pickup and Delivery is the ONLY way I function nowadays. I just order my groceries online – and then pick them up in my free time – with everyone staying in the car. It's a FREE service – and you can shop now and get $10 off your first order of $50 or more. Use code WOWFRESH.
Target Same Day Delivery: Once I got pregnant – and the summer got hot – and my daughter couldn't stay away from the toy section – I had to stop my fun weekly Target runs. Sad, I know. But, I was super happy to start using Target's Same Day Delivery! This has made my fun Target shopping hauls just as fun – and it gives me an excuse to shop online. Check it out and if you don't have time to shop.
Amazon Subscribe and Save: Subscribe and Save is my eternal lifesaver. I use this Amazon monthly subscription to order everything – diapers, soap, makeup, coffee, toothpaste, toilet paper… I love that some items come every month – some every 6 months. Also – if you have Amazon Family – diapers and baby products are up to 20% off when you use Subscribe and Save. It is EVERYTHING.
---
5. Identify one weakness and set a 4-6 week goal
Being human means that we know we can't do it all. And knowing you can't do it all is so freeing. I don't love to make a ton of goals because I know I will fail at them. I am not the best at making goals.
But, I love to make "long-term goals" that I aim to achieve in 4-6 weeks. This is totally do-able for me!
I will be alive and doing something in 4 weeks anyway, so I might as well be alive and have this one goal accomplished.
Some goals that I have set in the past have been:
Drink morning green smoothies – I still do this on and off
Use the Lose It App to count calories.
Begin the "No 'Poo" (no shampoo) method – this lasted three months
Improve my kitchen organization
Overhaul my makeup and beauty products supply – a great thing to do!
Begin a prayer/Bible journal
Complete the Jillian Michael's 30 Day Shred – done in WAY over 30 days
Find a solution for clear skin – this is on-going!
Find a solution for makeup organization
Find the best productivity planners for moms
Knowing that I have plenty of time to figure things out, I am able to spend time researching, coming up with the best plan for me, and creating a reasonable plan. This is WAY more reasonable for me than creating fast impulsive resolutions.
---
6. Write down one thing every day
Have you seen the movie About Time? It is a time-travel movie that I highly recommend. I watched it YEARS ago – and this one quote stood out to me so much:
I just try to live every day as if I've deliberately come back to this one day, to enjoy it, as if it was the full final day of my extraordinary, ordinary life.
Don't you love this? I know not every day is not worth repeating. There have been so many bad days, let's be honest. But viewing each day as it's worth repeating is such a refreshing perspective.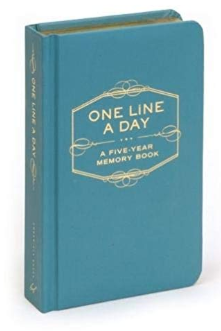 How do I live like this on a daily basis? I use the One-a-Day Journal!
I discovered this One-a-Day journal a few years back – and bought it on a whim. I am horrible at journaling, and didn't know if this concept would "work". Basically, every night before you go to bed you write one sentence about the day – what happened, what you were feeling – a memory. And that's it.
You do this every night – and then after a year you repeat the same process for a new year. And – you can look back on last year to see what happened "this time last year". I am now on my third year – and I can't tell you how precious knowing these memories has been. I hate that I didn't do this years before to keep those memories.
If you don't have time for a productivity planner, this journal is for you.
---
What are your favorite work from home hacks for moms?
I know being productive at home is SO HARD. I'd love to hear all the ways that you stay productive and get it all done. Make sure you leave a comment with your favorite productivity tips!
(See more awesome tips here!)
---
You might also like:
10 New Tips for Working Remotely (That Really Work!)
5 Reasons to be a Work-at-home Mom: Why I'll never go back
How to Keep your House Clean And Work Full Time
---