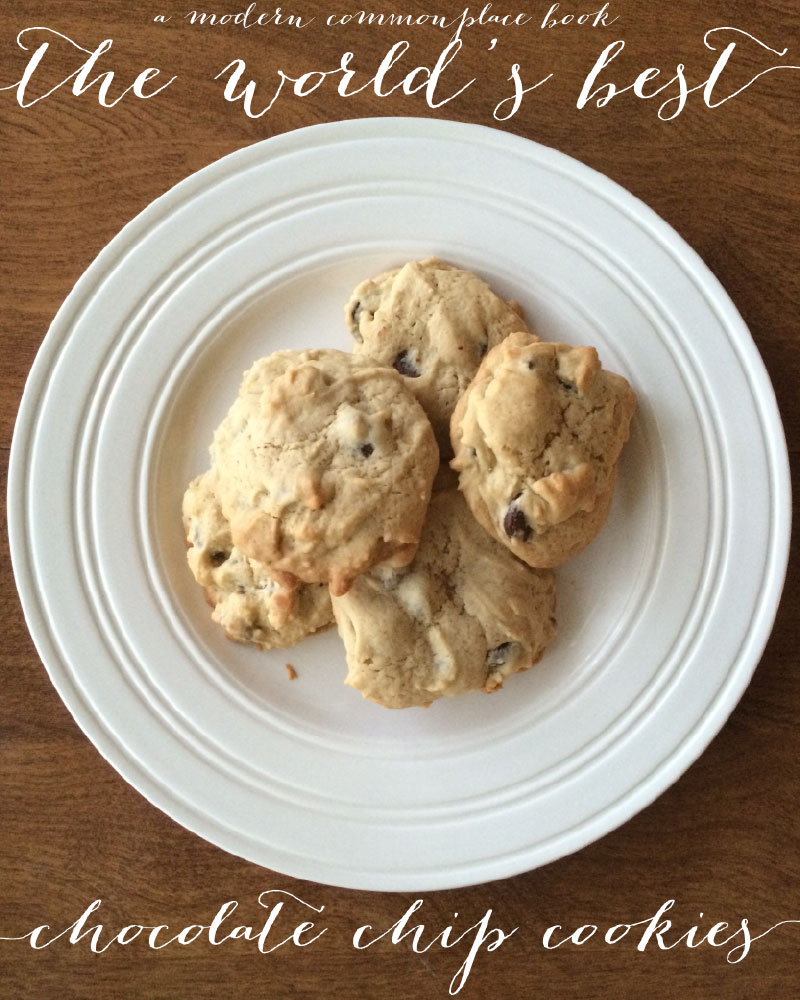 I didn't name these the "World's Best Chocolate Chip Cookies". They just have that name – because they are! These are a family recipe on my husband's side, and they are one of those recipes that stops you from looking for any other cookie recipe. This is it. Who needs something better than "world's best"?:)
I've tried sooo many chocolate chip cookies recipes, and I always come back to this version! These cookies are chewy, and hold their shape when they bake. They don't spread out like so many cookies do. Also, they are so full of chocolate chips, you won't have one bite that isn't full of chocolate. YES PLEASE.
These are those cookies you can't stop eating – CHOCK full of chocolate chips. They also are rather small (they don't spread out when you bake them) so are the perfect mouthful. Enjoy!
Tips for the Best Chocolate Chip Cookies
The World's Best Chocolate Chip Cookies
Ingredients
3/4 cup granulated sugar
1 cup brown sugar
1 TBSP vanilla
1 cup butter, softened
2 eggs, slightly beaten
3/4 tsp baking soda
3/4 tsp salt
3 cups semi-sweet chocolate chips
Instructions
Preheat the oven to 350 degrees. In a large bowl, combine sugars and add in butter and cream together until soft.

Add vanilla and eggs; mix together.

In a sifter, add the dry ingredients and then sift into the creamed mixture.

Mix well – the dough will be stiff. Stir in the chocolate chips.

Line your cookie sheets with parchment paper (or the Silpat!). Drop dough with a small scoop (or spoon) onto the sheets.

Bake 10-12 minutes at 350 degrees. Remove from oven and cool on wire racks.