PINTEREST RESOURCES FOR THE HOMESCHOOL NICHE
The only Pinterest resources out there JUST for the homeschool blogger.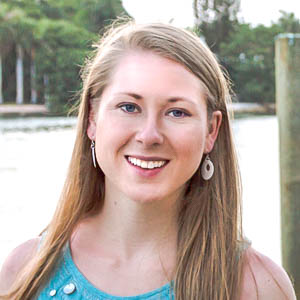 Hey! I'm so glad you are here. These resources are for you if:
📌 You want more traffic to your site from Pinterest.
📌 You have a blog or website in the Homeschool niche.
📌 You are too busy to try to understand Pinterest, but not ready to hire it out.
📌 YOU are my kind of person. Let's get going!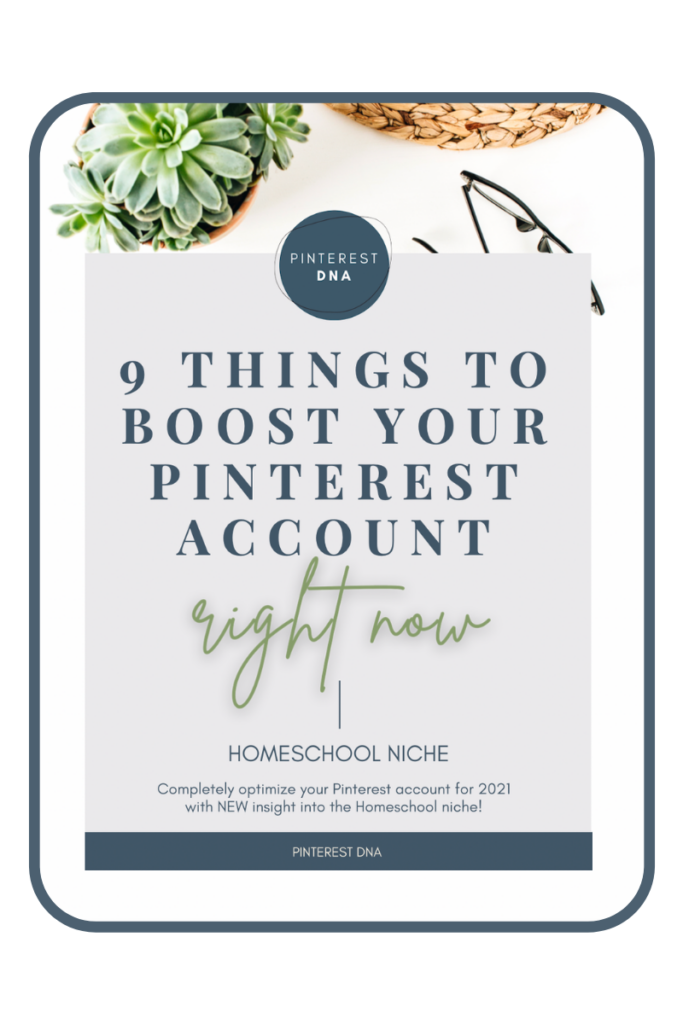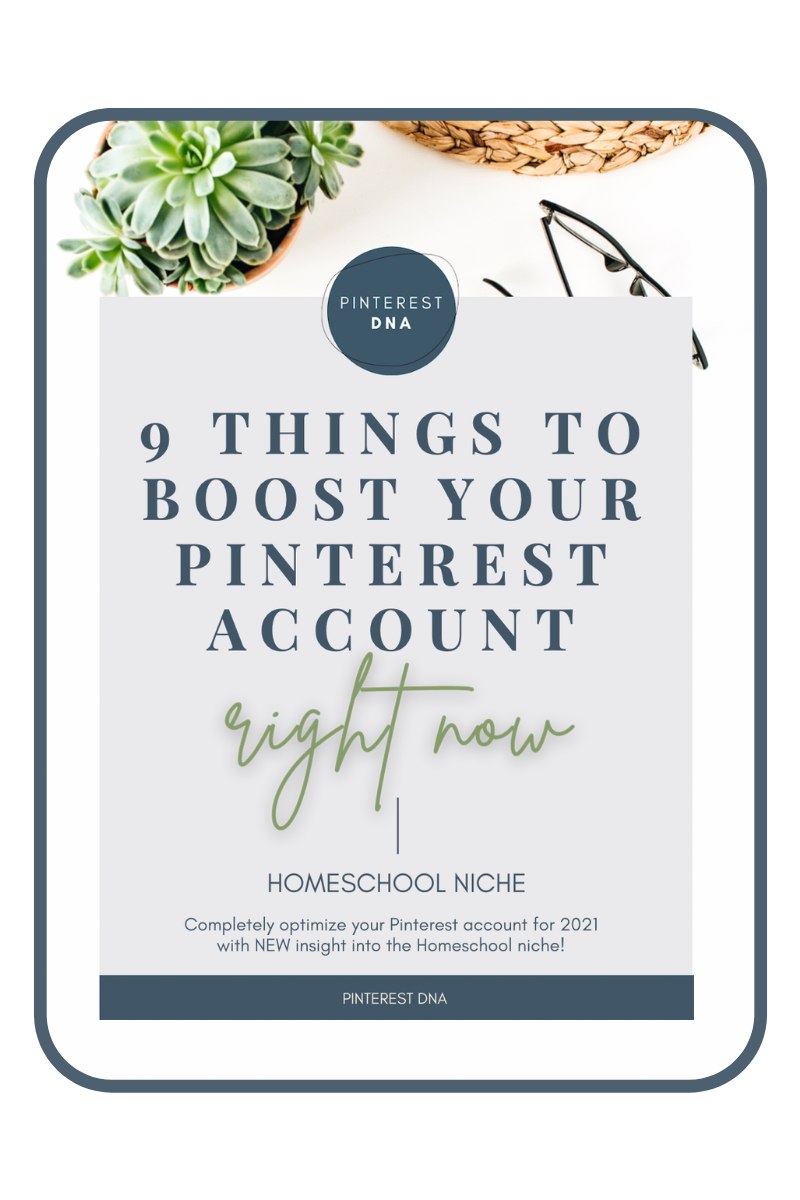 9 Things to Boost your Pinterest Account RIGHT NOW – FREE!
Grab this FREE resources to learn custom ways to boost your Pinterest account RIGHT NOW. Custom information just for the homeschooling niche.
Included: Top homeschool keywords for your Pinterest bio
Included: 4 must-have homeschool boards
Included: How to boost your boards
Included: Best practices to to re-pin your homeschool friend's best content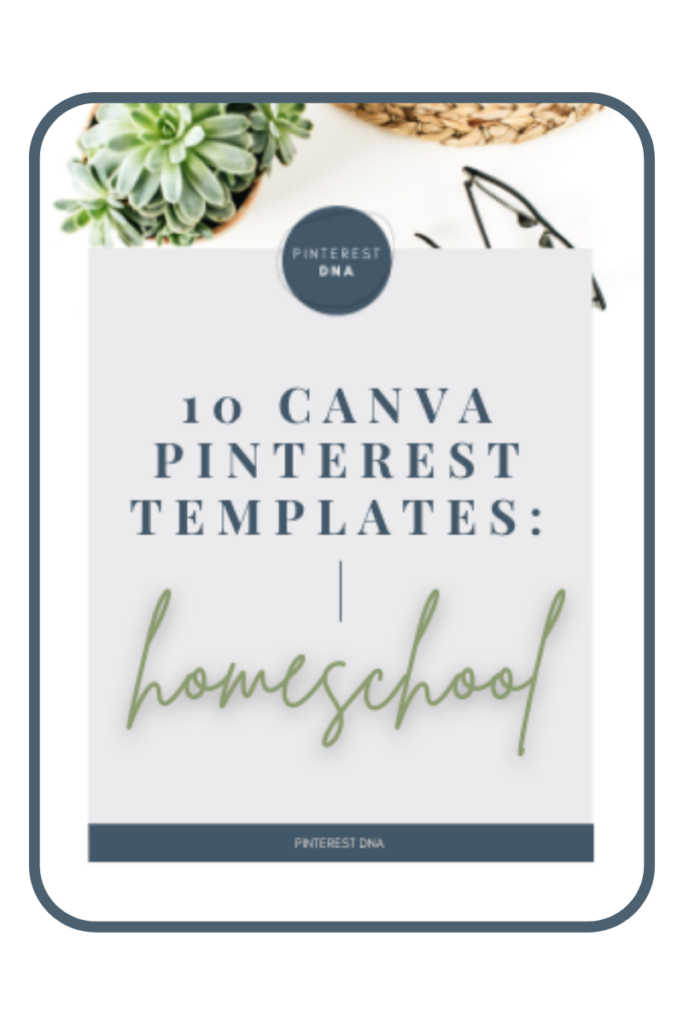 10 Clickable Canva Templates for the Homeschool Niche – $17
Want to know what pin templates are working right now for homeschool bloggers? Use these TEN TEMPLATES and tweak them using your colors and fonts to bring your site engagement!
Included: Specific COLORS to use for certain homeschool keywords.
Included: Clickable title hacks that do very well for the homeschool niche.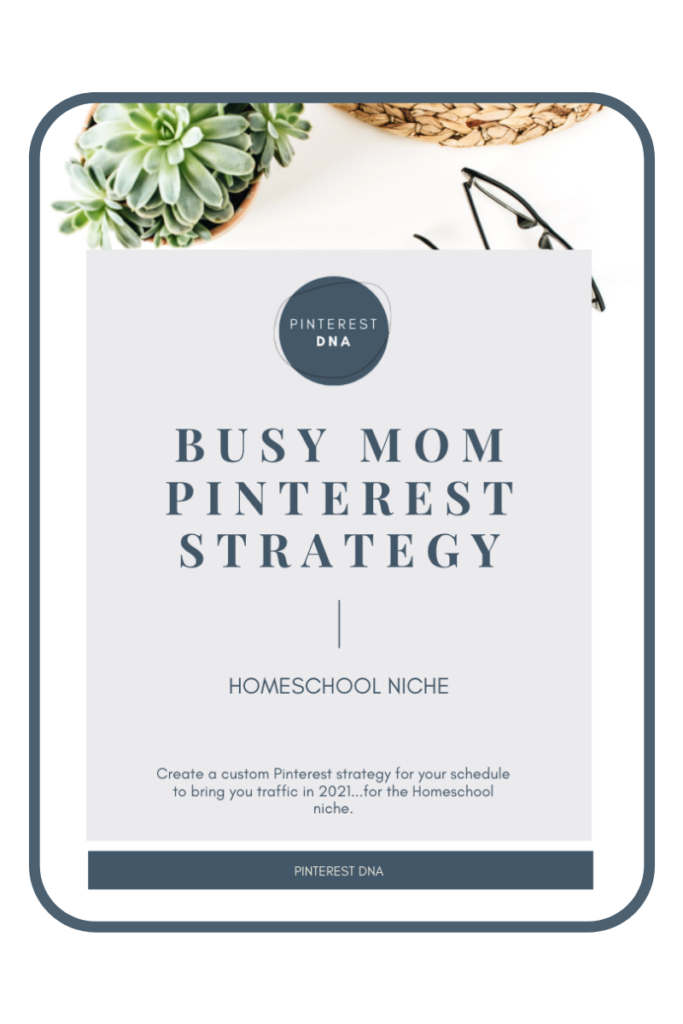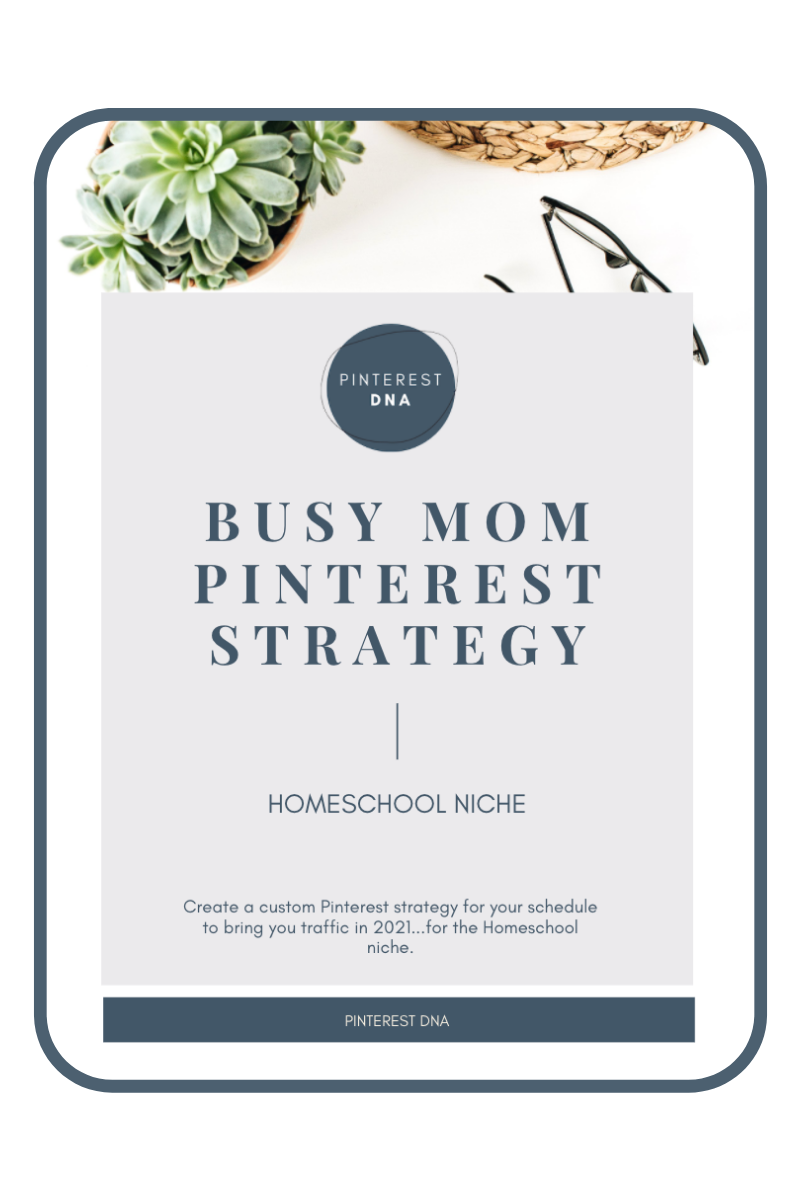 "Busy Mom" Pinterest Strategy & Google Sheet Scheduler – $47
Let me show you how to create a pinning strategy that works just for you – and that will bring you engagement in 2021.
Included: My custom Google Sheet scheduler JUST for homeschool bloggers and how to use it
Included: Homeschool Trends (and what to pin when!)
Included: How to write board and pin descriptions
Included: Best TIMES to pin for homeschool bloggers
Included: How to NOT use Tailwind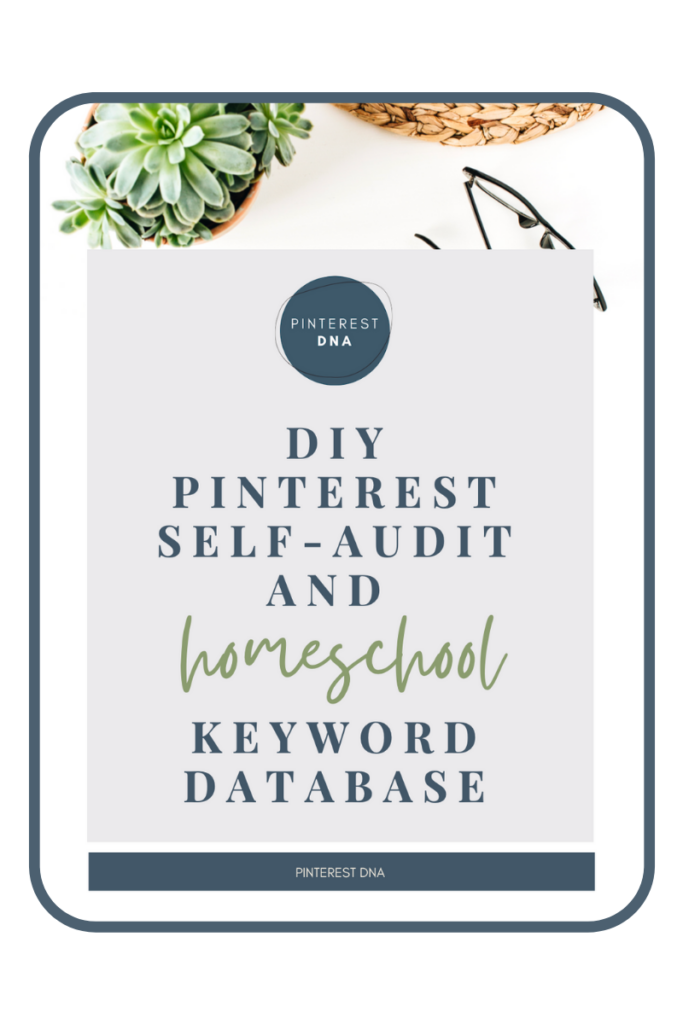 DIY Pinterest Self-Audit and Homeschool Keyword Database – Coming Soon!
This will be the OFFICIAL resource of Homeschool keywords for Pinterest. I can't wait to share this MASSIVE database with you.
Included: DIY Self-Audit to completely optimize your account
Included: Thousands of homeschool keywords – updated for 2021
Included: Hundreds of homeschool copy-and-paste homeschool board descriptions – updated for 2021
Included: Peace of mind and NO MORE GUESSING!

What makes these resources different:
These resources don't include every single tiny detail about algorithms and SEO and those crazy history lessons.
They just focus on practical steps to improve your account today.
These resources are written JUST for the homeschool niche. Things you will find in these guides:

Homeschool Pinterest trends
Homeschool must-have boards
Best times of day to pin for Homeschool sites
General Homeschool keywords
How to pin your homeschool friends' content
Best homeschool pin COLORS
Best homeschool seasonal content
Custom homeschool scheduling tactics
COMING SOON: A complete homeschool keyword DATABASE
And…some more!
With EACH of these resources (even the FREE guide!), you will be added to my Pinterest DNA newsletter
I send out monthly updates (I won't plague you, I promise!) of actual Pinterest information that actually affects you
I will let you know about relevant trends and algorithm updates as they pertain to your niche.
I will NOT try to upsell you on things that you don't need (ahem Tailwind).
You get ME. I will answer your emails. Find answers for you. Be your Pinterest person.

Enter your email address for free updates! Please reach out and say hello…I can't wait to meet you!
---