Pinterest DNA Resources for the Homeschool Niche
Pinterest Resources
for the Homeschool Mom
Cutting-edge Pinterest Resources from a veteran Pinterest Manager just for the Homeschool Niche.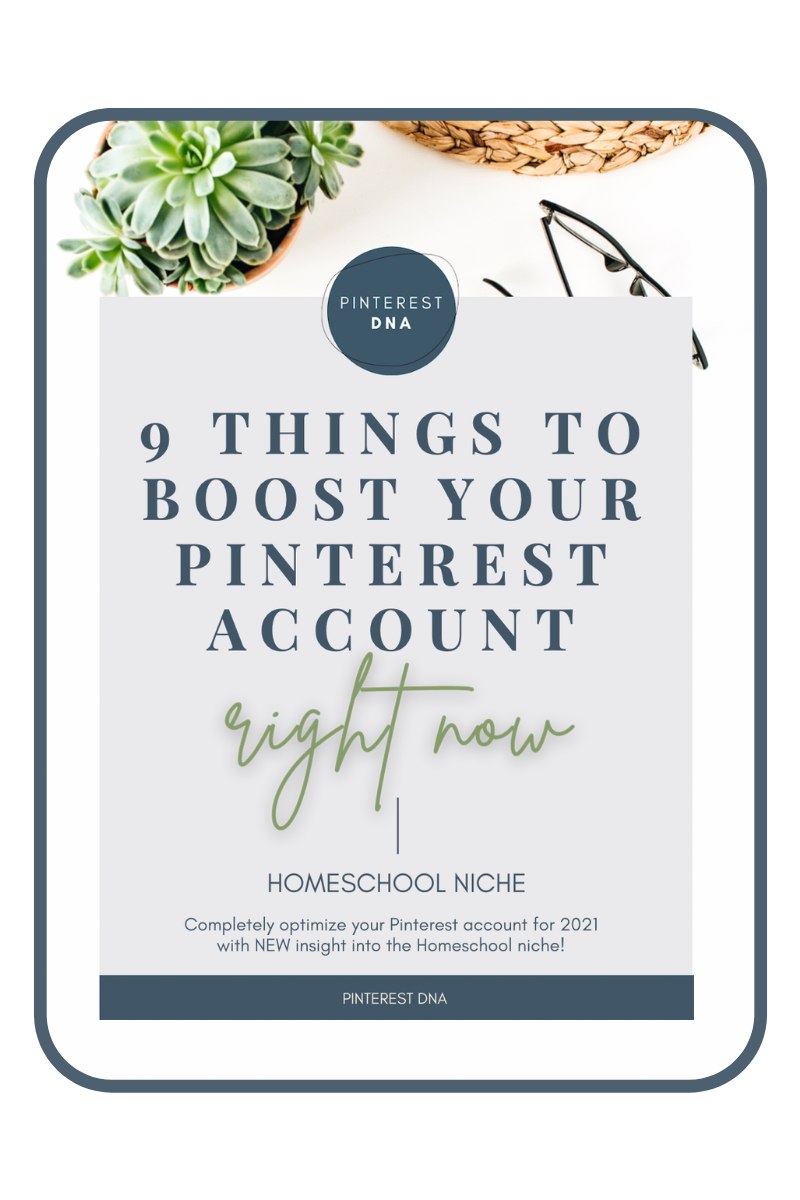 9 Things to Boost your Pinterest Account RIGHT NOW
Grab this FREE resources to learn custom ways to boost your Pinterest account RIGHT NOW. Custom information just for the homeschooling niche.
Included: Top homeschool keywords for your Pinterest bio
Included: 4 must-have homeschool boards
Included: How to boost your boards
Included: Best practices to to re-pin your homeschool friend's best content
Custom Resources just for the Homeschool Niche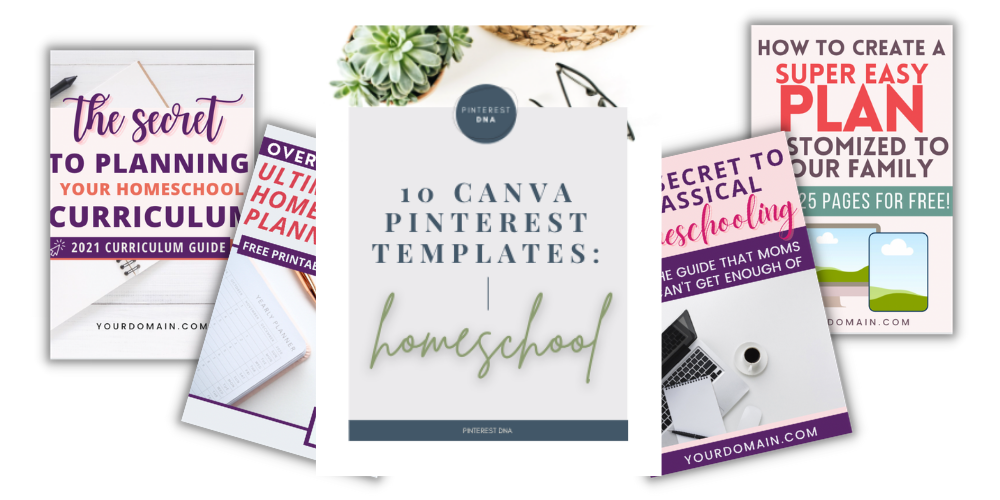 10 Clickable Canva Templates for the Homeschool Niche
Want to know what pin templates are working right now for homeschool bloggers? Use these TEN TEMPLATES and tweak them using your colors and fonts to bring your site engagement!
Included: Specific COLORS to use for certain homeschool keywords.
Included: Clickable title hacks that do very well for the homeschool niche.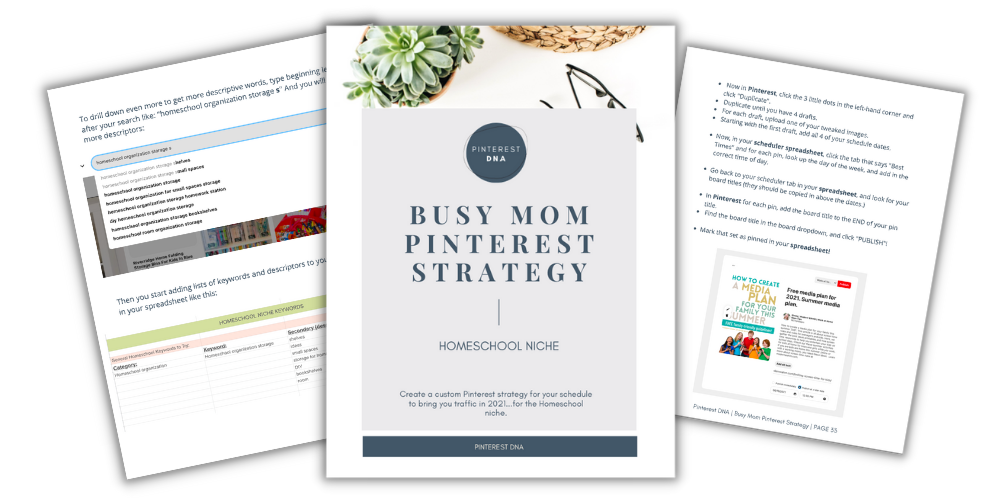 The Busy Mom Pinterest Strategy for Homeschool Moms in 2021
Let me show you how to create a pinning strategy that works just for you – and that will bring you engagement in 2021.
Included: My custom Google Sheet scheduler JUST for homeschool bloggers and how to use it
Included: Homeschool Trends (and what to pin when!)
Included: How to write board and pin descriptions
Included: Best TIMES to pin for homeschool bloggers
Included: How to NOT use Tailwind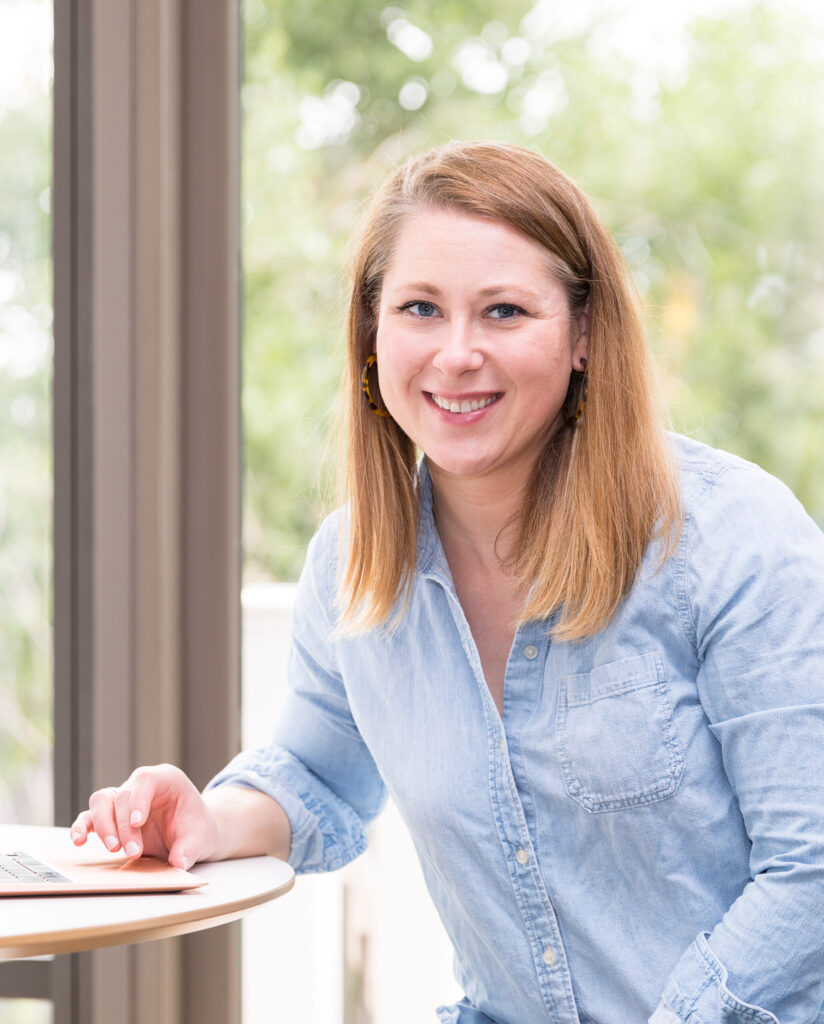 My name is Ginny and I am just a regular work at home mom of two kids. I work for a remote employer by day, and I master Pinterest algorithms by night. I do my best work in my pajamas in bed, while watching reruns of White Collar.
I started delving into Pinterest because nothing was working for my site. My blog was like a black hole when it came to Pinterest. Even the Pinterest managers I hired weren't getting anywhere.
Long story short, I learned Pinterest for myself, discovered a unique process to rank sites, took on clients, and now manage the Pinterest accounts of some awesome homeschool bloggers.
The homeschooling niche just kind of happened, but boy am I glad it did! Working with a range of homeschool websites has given me insight into how Pinterest interacts with homeschool niche accounts.
Join me as we dig deep and master traffic through Pinterest!
The Homeschool Keyword Mini-Course
Get the free 4-week Homeschool Keyword Mini-Course with trending keywords, homeschool pin colors, and weekly custom pinning strategies!