Pinterest Mini-Course for Homeschool Keywords
4 weeks of trending keywords, copy-and-paste boards, and custom Pinterest strategies!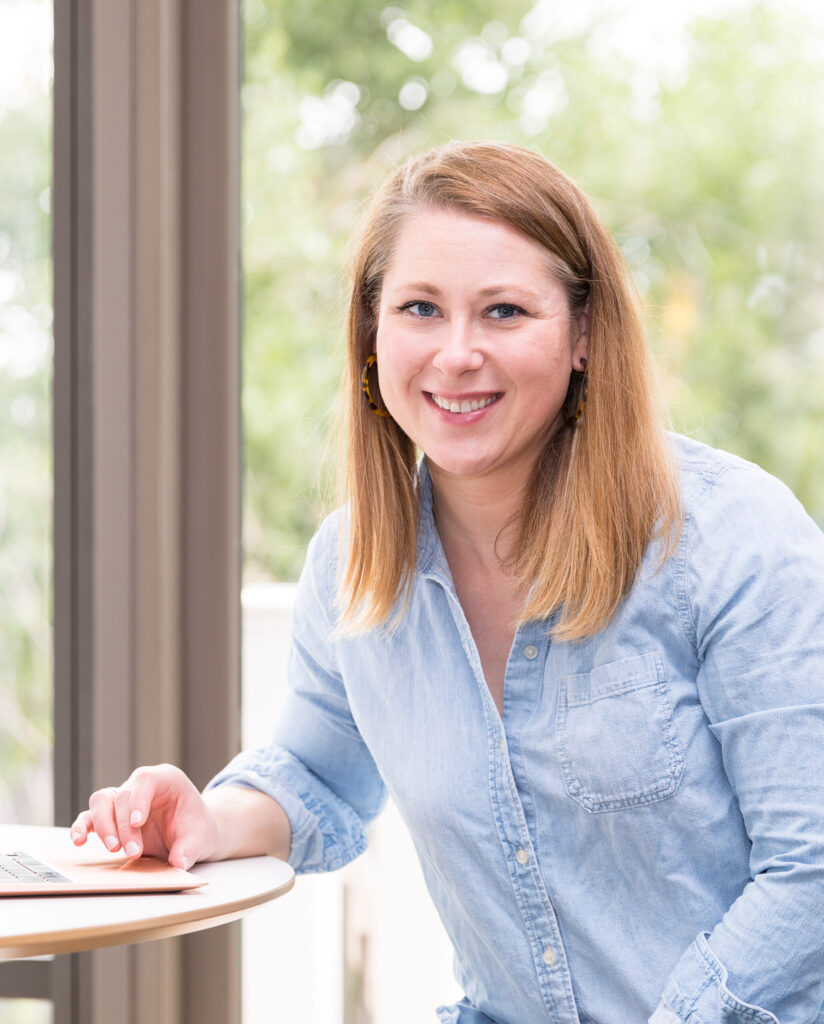 Join me for a 4-week mini-course on the Homeschool Pinterest Boards that you NEED for your Pinterest account to grow.
Each week you will get:
Specific trending Homeschool Keyword to target
Pinterest board title
Pinterest board description
Pin title format
Pin description format
Ranking colors for that keyword
Full instructions for how to use these!
SIGN UP FOR THE NEXT PINTEREST MINI-COURSE!
Your Weekly Pinterest Strategies
Click the links below to go to each week's course.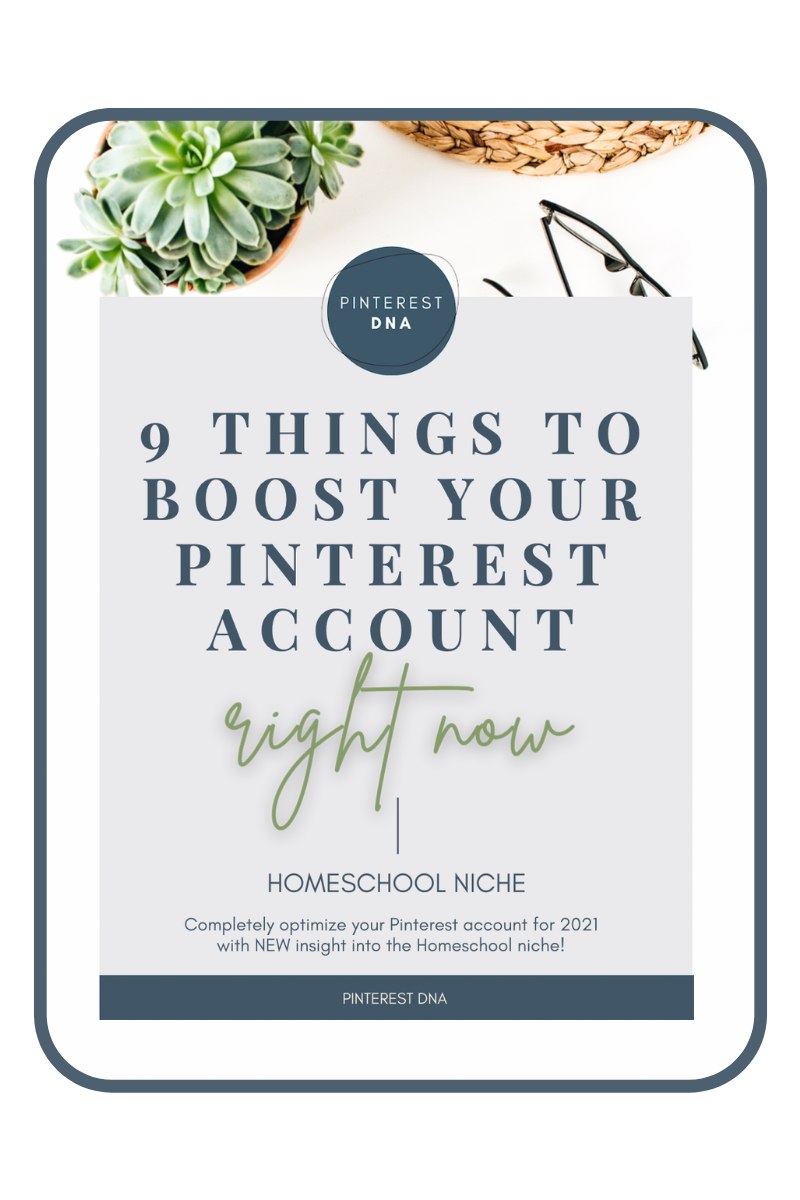 9 Things to Boost your Pinterest Account RIGHT NOW
Grab this FREE resources to learn custom ways to boost your Pinterest account RIGHT NOW. Custom information just for the homeschooling niche.
Included: Top homeschool keywords for your Pinterest bio
Included: 4 must-have homeschool boards
Included: How to boost your boards
Included: Best practices to to re-pin your homeschool friend's best content
Custom Resources just for the Homeschool Niche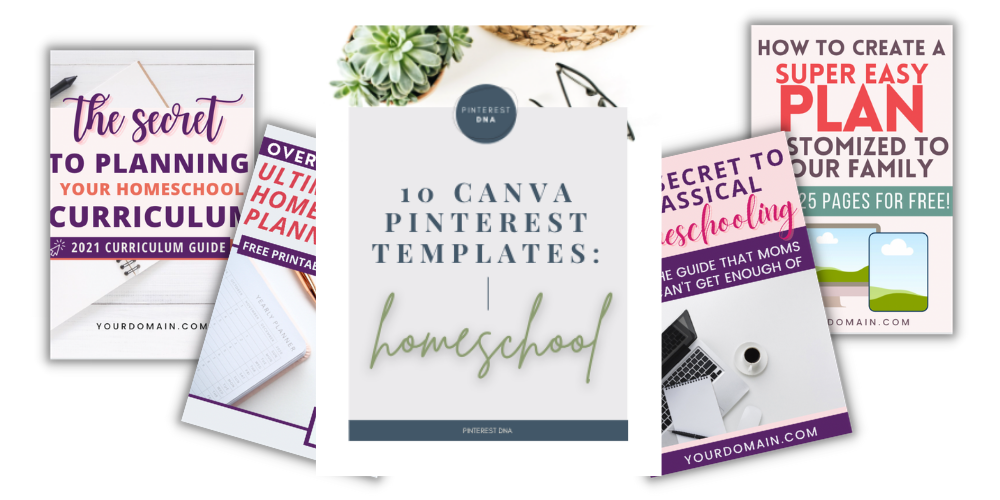 10 Clickable Canva Templates for the Homeschool Niche
Want to know what pin templates are working right now for homeschool bloggers? Use these TEN TEMPLATES and tweak them using your colors and fonts to bring your site engagement!
Included: Specific COLORS to use for certain homeschool keywords.
Included: Clickable title hacks that do very well for the homeschool niche.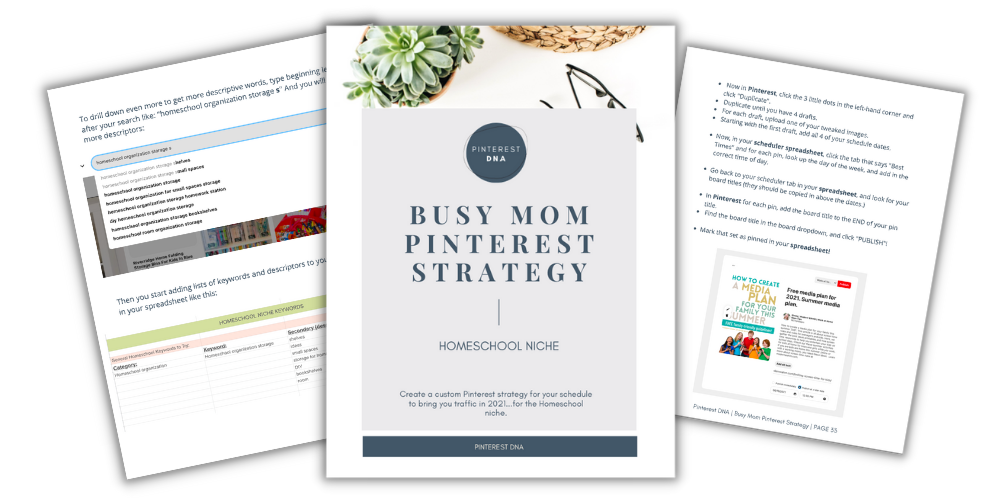 The Busy Mom Pinterest Strategy for Homeschool Moms in 2021
Let me show you how to create a pinning strategy that works just for you – and that will bring you engagement in 2021.
Included: My custom Google Sheet scheduler JUST for homeschool bloggers and how to use it
Included: Homeschool Trends (and what to pin when!)
Included: How to write board and pin descriptions
Included: Best TIMES to pin for homeschool bloggers
Included: How to NOT use Tailwind