Learn how limiting screen time for kids is easier than you think
The best way to implement limiting screen time for kids is to create media plan guidelines, have a collection of indoor activities on standby, try out new arts and crafts, and know what works best for your family!
This is a guest post by Christine Vann of Bumpsnbeyond.com. I am so grateful for her insight. Enjoy!
---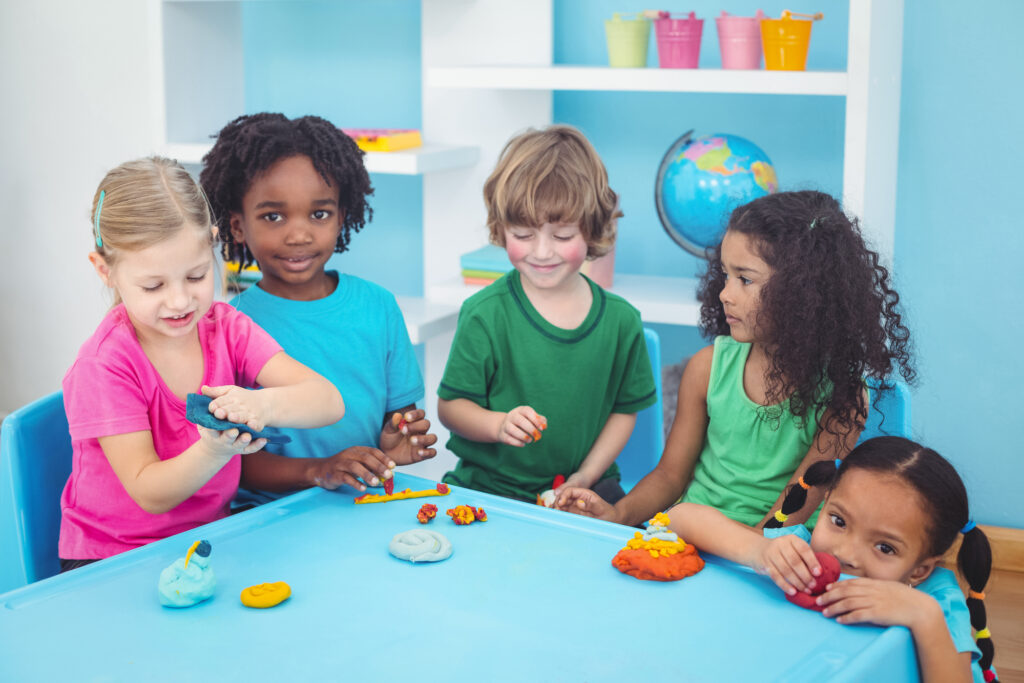 Have you lost the screen time battle? Does your child switch on her iPad before she brushes her teeth in the morning? Are you sick of her lockdown habit, but not sure how to break it?
You're not the only one. With homeschooling, working from home, and a ban on indoor playdates, most of us were handing out devices like ice pops. But now that our world is opening up, you might be thinking about limiting screen time for your kids.
If you're nodding yes – while feeling apprehensive at just the thought of saying no – don't worry. I've got your back.
In the house I share with my three under ten years old, I find the key to minimizing screen time is not focusing on the time they spend on screens. Instead of suffering from screen guilt, I provide fun alternatives and encourage our children to take them up instead. Once they see how much fun real life can be, they tend to lose the need to scroll, click and zone out so much.
Screen guilt is a thing
Raising children in a digital world is not easy. With 8-12-year-olds in the US spending between 4 to 6 hours on screens, parents, childhood experts, and GP's have expressed growing concerns about the effects digital devices have on children's development, sleep, and ability to focus. When you think about all the online articles telling us to watch excessive screen time, it's no wonder we feel guilty every time our children are gaming or streaming videos, especially when the sun is out.
Screen time vs other activities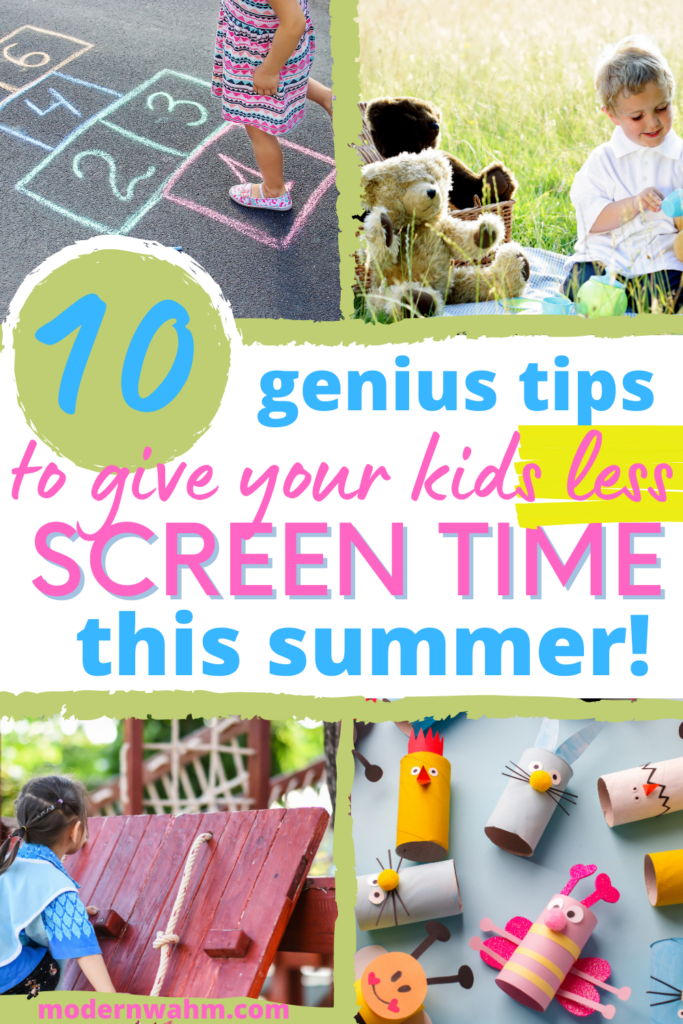 However, a new school of thinking says we should think about screen time, because it takes children away from other activities aiding their development: free play, spending time outside, bonding with friends, reading books, and independent work (for instance, arts and crafts, sensory activities).
In other words, if your kids get plenty of fresh air, play with their friends, get engrossed in a book or a great drawing regularly, give them a bit of leeway with their screen time. However, if you're not happy with them watching TikTok or Youtube on a loop, or hate them playing Fortnite, have a look at the guidance on safe content for preschoolers. If you have older kids, Common Sense Media is great for reviews of apps, games, and tv shows based on age.
That said, if you're wondering how much screen time is too much, then let's have a look at official guidelines, shall we? The American Academy of Pediatrics (AAP) famously recommended no screens for under-twos and a maximum of 2 hours of screen time daily for older children and teens for years. But since 2016, they have relaxed their guidelines, recognizing that not all screen use is equal.
So keep the following in mind, and you won't go far wrong.
AAP screen time guidelines
Don't throw out the good with the bad. Screens can give them positive experiences too. Say, your daughter might love listening to her grandmother telling her a story on Skype, or maybe your son turns out a surprisingly edible pizza margarita thanks to an online cookery class.
If your child is 18 months old or younger, use screens for video calling relatives or parents.
Only let your toddler between 18 and 24 months watch educational shows with you or another caregiver.
Are your kids between the ages of 2-5? Set a limit of non-educational screen time to around one hour daily and 3 hours on Saturday and Sunday.
Limiting screen time for kids age 6 or older? Try this.
If you're parenting kids of six and older, your best bet is to concentrate on making a media plan rather than focusing solely on the time they spend on their distraction device. These guidelines are handy:
Media plan guidelines
Switch off all screens during meal-times and family outings (yes, that includes your smartphone).
Keep non-screen zones in your home.
Turn off screens an hour before bedtime and keep them out of bedrooms.
Try to avoid using them as a pacifier. Just like a regular soother, this habit will be hard to break in the long run. (And don't we know it…)
Use parental controls if you feel it's necessary.
Teach your kids how to stay safe online.
Engage with your child to find out what she likes watching or playing. If you're not happy with the content she consumes, explain why and give her alternatives.
Concentrate on making a media plan rather than focusing solely on the time they spend on their distraction device.
Also, if you're tackling your kids' screen time, why not have a look at your screen habit? I totally get it; this is probably the most challenging thing for all of us. Ignoring my phone pinging while my son recounts his long-winded dream takes massive restraint. And even I get sick of hearing myself telling my husband to put his phone down at mealtimes.

Now, if you're wondering how you can keep them entertained while you're working from home, here are a few cheap and easy activities our kids love doing on rainy days.

Bonus tip: make sure you stock lots of (cheap) arts and crafts, plenty of engaging (library or second hand) books, and toys that will draw out their imagination, like Lego and Playmobil.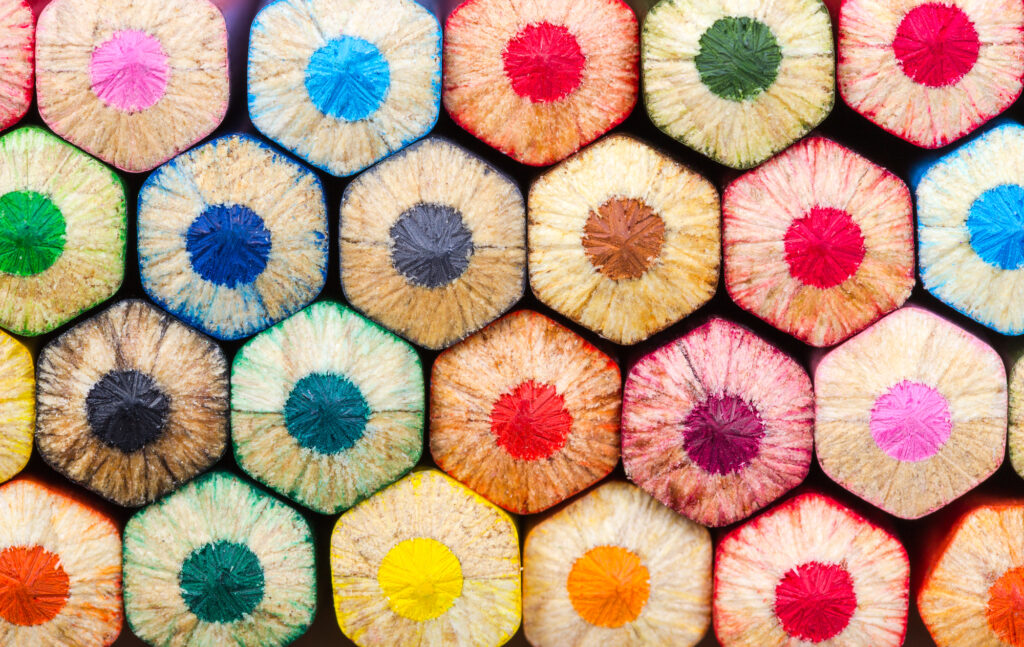 Handy indoor activities
Some of these are a bit messy, but if the house looks like a team of tiny bomb-makers had a ball, then make tidying up part of the fun. Whoever tidies up the quickest can decide on the next thing from the list.(If you
Make a nerf parkour with playmobil men and women. Although only attempt this if you can close the door on your working from home space.
Our kids love this. Arrange a mini indoor scavenger hunt. Get your kids to look for stuff that fits into a matchbox.
Gather all the cushions you can find, scatter them on the living room floor and play 'The floor is lava'.
Grab all the teddies you can carry, a picnic rug, and have a teddy bear picnic in the living room. Add interest by including a doctor set, so your kids can play the teddy doctor game.
Use masking tape to create a hopscotch play in the kitchen. If your children have kids' brooms and tiny teddies, they can turn it into a game of curling.
Do the 1-minute challenge. Set the oven alarm and see if how many clothes your child can put on, or how many balloons he can blow up, or even if she can whistle a tune for a minute while chewing a biscuit? You get the picture. Anything goes, as long as it's safe.
Love your kids, but hate tidying up after them? Download our free WFH survival guide for activities that won't turn your house into a hot mess.
Only for the brave!
Give the kids a couple of rolls of toilet paper or kitchen roll and let them turn each other into mummies.
Only do this if you're brave. Put a (child's) mattress on the stairs and use it as a slide. Kids will love you! We used to do this as kids and had hours of fun.
Set up a tent in your living room and have a sleepover with the kids. If you don't want to commit to a sleepless night, just let them have lunch and dinner in their new home.
Simple arts & crafts activities
Create a few busy boxes to keep tiny fingers occupied. How? Gather arts and crafts supplies (like a glue stick, googly eyes, popsicle sticks, pompons, stickers). Mix this up with pasta shapes, cut up egg boxes, safe scissors, finger paints, playdough, activity sheets. Vary the contents regularly, and she will have a surprise each time she opens it.
Let them make kites from twigs and bin liner material. Bonus: they get to go out and fly them after.
Find an old train set or toy cars your kids don't play with anymore and use them to finger paint. They'll have lots of fun.
I hope your kids love these activities as much as our kids do. You'll see. When you start to maximize fun, limiting screen time for kids comes easy.
PS – If you love the idea of limiting screens, but find it hard to get your kids on board, then download our free plan for a screen-savvy Saturday your kids will love.
Keep reading!
Non screen things to do with your kids this summer
New tips for working at home with young kids!
Learn how to implement limiting screen time for your kids this summer!
---
Christine Vann, book nerd and owner of Bumpsnbeyond.com has been a mum for nearly a decade and has the mental & physical scars to prove it. She loved watching them develop from broccoli slinging tots into curiously independent thinkers who even make their breakfast (only at the weekends, but she's working on it).

Being around other young children lost in devices triggered her to study how growing up in a digital world affects kids. Post-graduate courses in Cyber- & Consumer Psychology have given her a fascinating insight into the latest science on 'screen time' and marketing to kids. Coupled with a passion for raising children in a screen-savvy environment, she is on a mission to share her actionable advice, hacks & insights with you.
---
Deals that are saving my hide lately...
🧒 For your kid - I found these printable activity packs for my toddler that are LIFESAVERS. My daughter literally wants to do these activities for hours every day. They are called the Ultimate Preschool Activity Bundles, and there are activities for every theme. Each activity has dozens of pages that are printable pages that teach number and letter recognition, colors, counting, patterns, and much more. These are my favorites:
🧹For your cleaning routine - I have started getting my cleaning products on Grove Collaborative - and they literally have changed my cleaning routine. Right now they are running their deal for my favorite Plastic-Free Cleaning Line for free, so make sure you check it out. Here are some tips to get the most out of this deal:
🧹If you already have a Grove account, use a new email address to get this deal...and then cancel.
🧹Make sure to set a calendar reminder to cancel the Grove VIP trial after a month. No harm no foul.
🧹 Choose the Plastic-Free Hand Soap Set ($45 value) and get all everything for free.
🧹Fill your cart with $20 worth of products you need anyway...
🌮 For Dinner - I know every mom in the world is talking about Hello Fresh - but I'm here to tell you that EveryPlate is better and cheaper than Hello Fresh. I have used it for years with my own pennies...and it really gives me life.
EveryPlate sends me dinner recipes and ingredients right to my door - but for less than $10/serving. Their meals are the same as other providers but HALF the price. It doesn't matter how many $90 off coupons other providers throw at you - this dinner box is still cheaper.
They use less packaging (yay saving the environment!) so they can charge less. They also offer fewer meals per week with a wider rotation. I have used them for over a year, and we have loved every single meal.
When I use EveryPlate, I can actually forget that I have to cook dinner. The ingredients are already in my fridge.
⭐ Stop meal planning and try EveryPlate this week with a $20 discount. Click here to get you first box at $2.49/serving!