Do you have an Amazon Fire Table for Kids and have questions about Amazon Freetime or Amazon Kids Plus? Look no further! Start here to learn how to set up Amazon Plus for Kids, Change Parental Controls, Monitor Screen Time, find the best apps for kids, and use Amazon tablet WITHOUT the Amazon Freetime App.
---
If you are a working mom, it is SO HARD to juggle your family, work, and home WITHOUT screen time.
I get it.
When we decided to get the Amazon Fire Tablet for our kids, I had SO MANY questions. And many of the questions I had to figure out because the answers weren't easy to find!
Keep reading to find: how to set up Amazon Plus for Kids, change Parental Controls, monitor Screen Time, find the best apps for kids, and use Amazon tablet WITHOUT the Amazon Freetime App.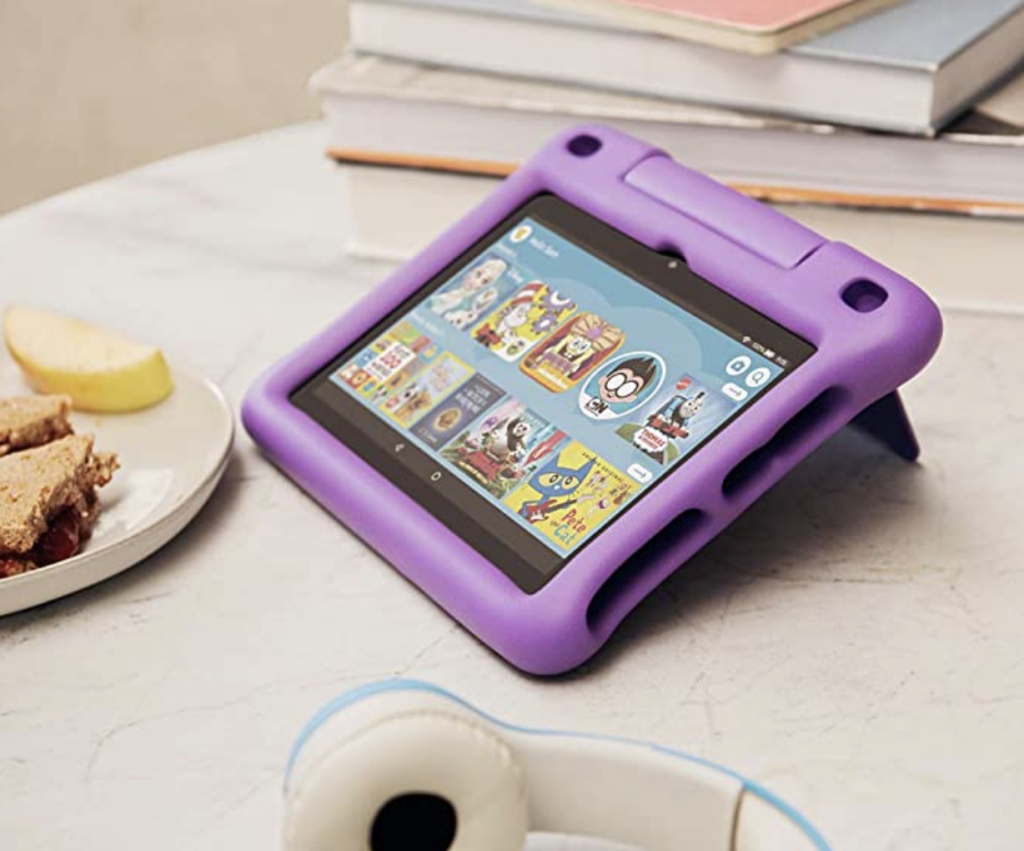 The Fire HD 8 Kids Tablet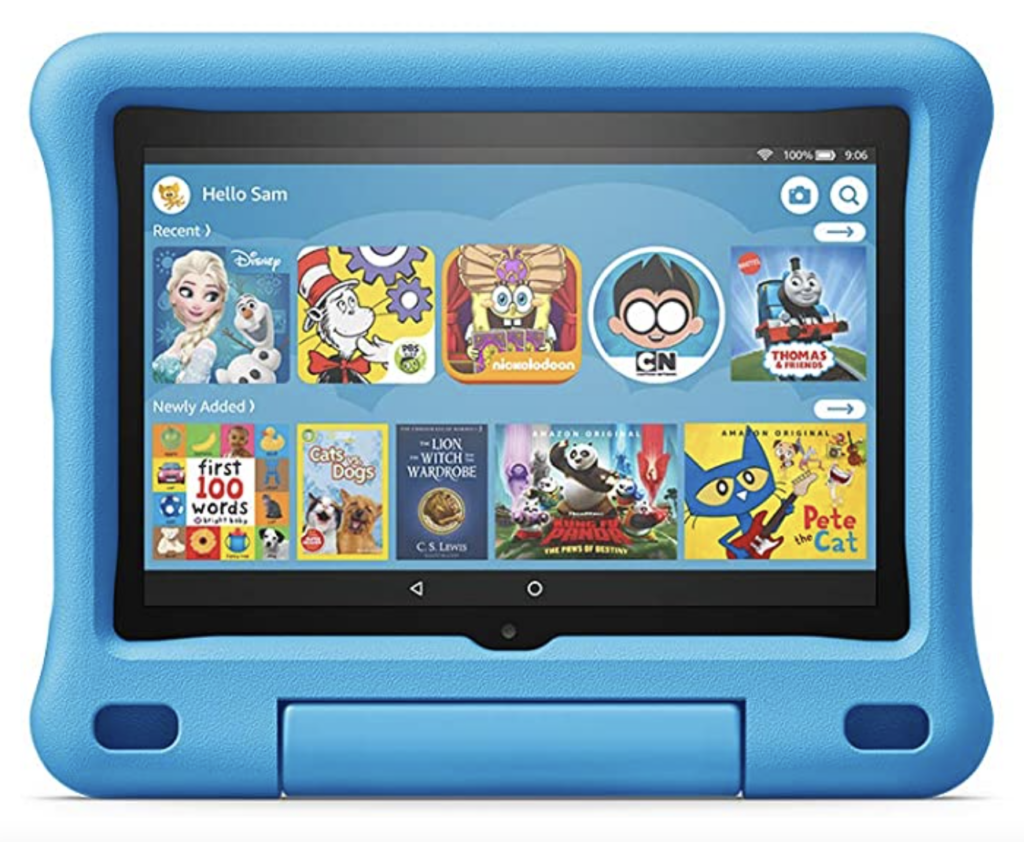 Let's talk tablets.
We finally bought one for our family, and spent a lot of time researching. Kids tablets? iPads?
We finally settled on the Amazon Fire for kids, because of a few reasons:
It is cheaper than other options (especially over Black Friday!), so I don't mind if my kids toss it around
It is a good "learning tool" for them to learn a tablet interface, before they jump into larger devices
To prevent my kids from becoming possessive and addicted, I only bought one so they could share it. And, I bought the blue one so my daughter didn't think it was just hers!
It was the best Android tablet we could find! And we couldn't afford an iPad.
They have a 2 year warranty if anything breaks
(To check out Amazon Kindles for Kids, click here)
If you want to hear more about how we use the Amazon Fire for kids, check out my video here!
---
Your Amazon Fire for Kids
Chances are that you have children at home and you need a break! The Amazon Fire HD 8 Kids Tablet is seriously THE tablet for young kids, and there is a reason it's so popular. It's kid-friendly, it's colorful and fun, it's large enough for young eyes, and parents love it!
But, I have found that setting up the Amazon Fire HD 8 for Kids can be tricky. And there are a lot of questions that need answering. So, please enjoy my notes here as a busy mom that loves the Amazon Fire HD 8 for Kids.
---
1. Your Amazon's Parent Dashboard
The first thing you need to do is register your Amazon product. This will sync directly with your Amazon account to create a family plan. For all Amazon prime members, you will have discounts for the Amazon Kids Plus (Amazon Freetime) subscription (see below). For non-prime members, you DO NOT need a Prime subscribers account, just a general Amazon account.
Then you need to create child profiles for your kids! This way they don't need their own Amazon account.
Open the Settings (gear in the top pull down)
Select Profiles & Family Library
Select Add a child profile
Enter your kid's information then select Add Profile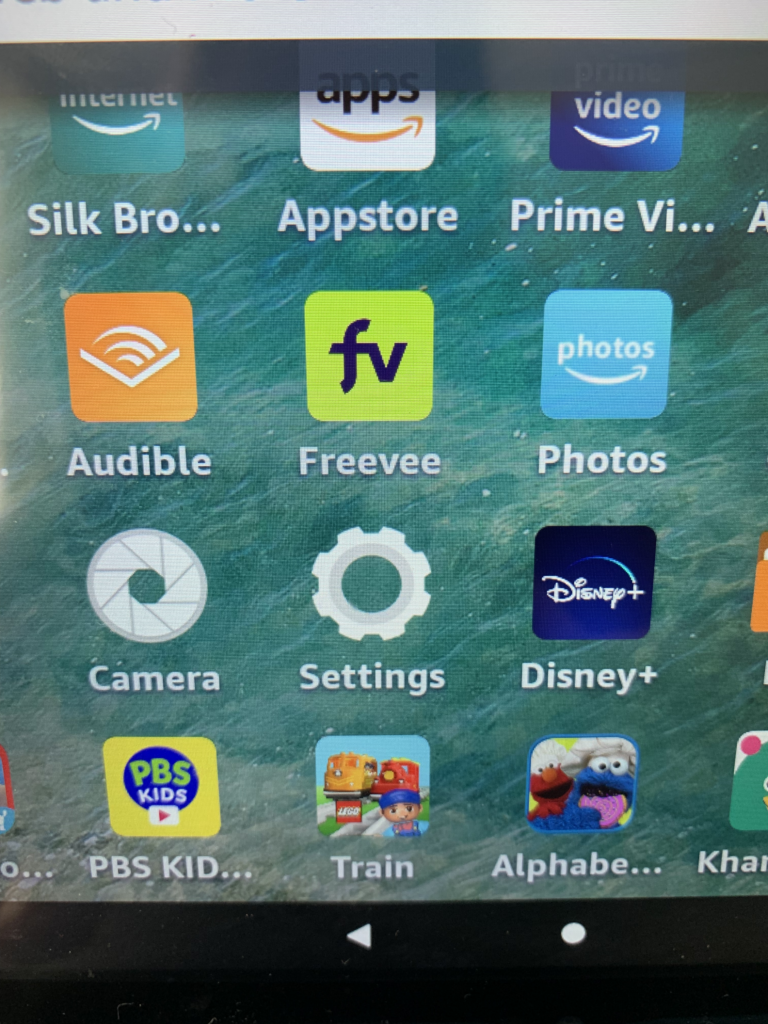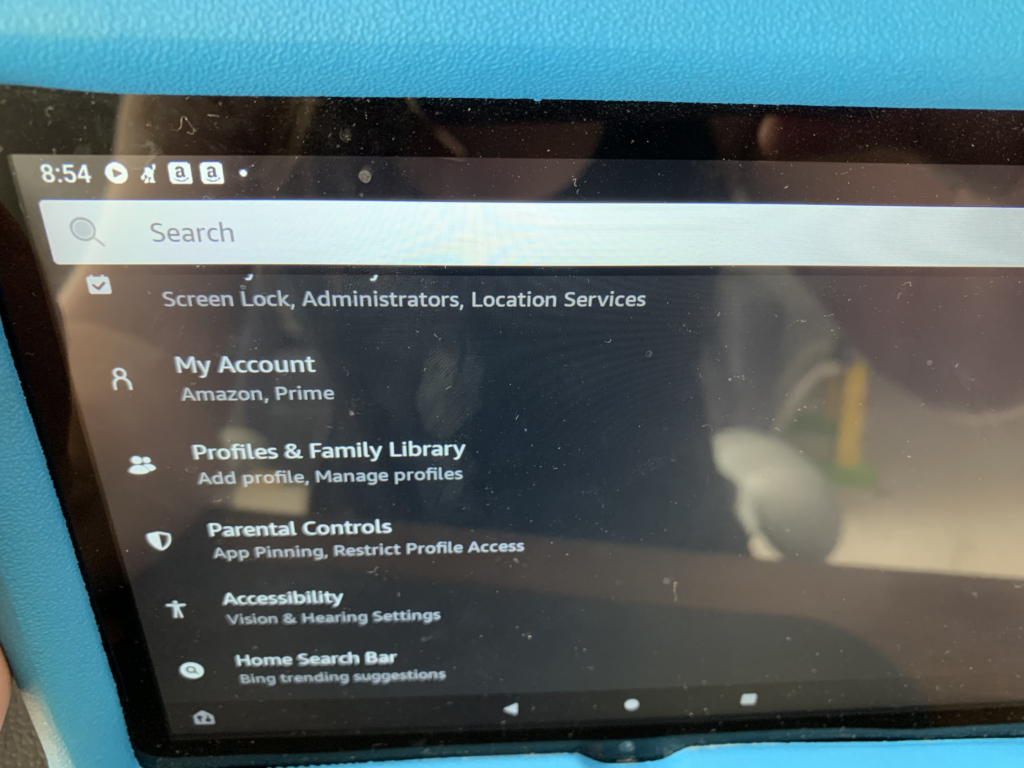 To access your Parent Dashboard on a desktop computer, just click here. This will give you access to your child's profiles, their parental controls, daily time limits, latest activity per kid, and current app settings. This is my favorite way to see my Amazon Parent Dashboard.
---

---
2. Set Up Parental Controls On Your Fire Tablet
I love the Amazon Fire for Kids Parental controls. You can set up daily time limits, change bedtime hours, weekend hours, age filters, and total screen time allowed. You can sync these with the educational goals for your family. You can set this up with these preferences below:
---
How to set up Daily Time Limits: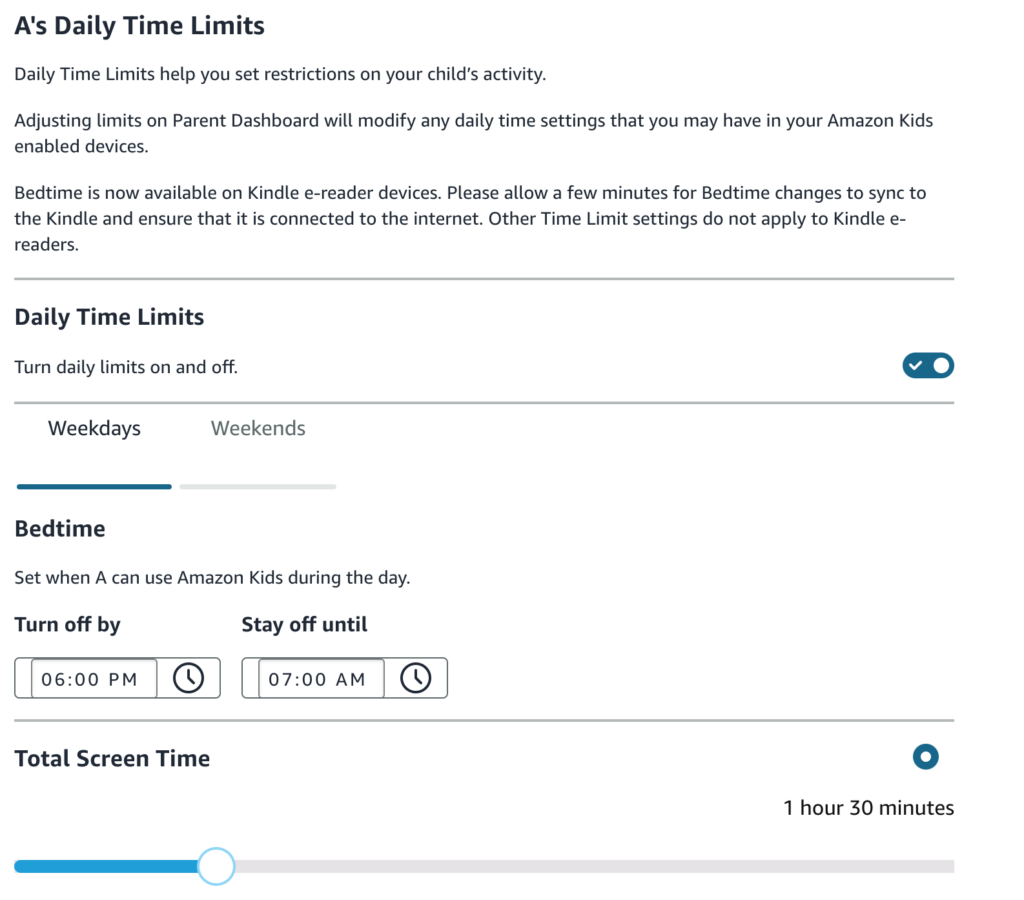 ---
You can also set up settings for what they listen to! Do you want to limit apps, their time on Audible, whether you want them to watch videos less than read kid-friendly books or use the web.
I also love that you can designate if you want your child to read books for a certain period of time before being able to watch or play games. I love this!
---
How to designate time by activity time: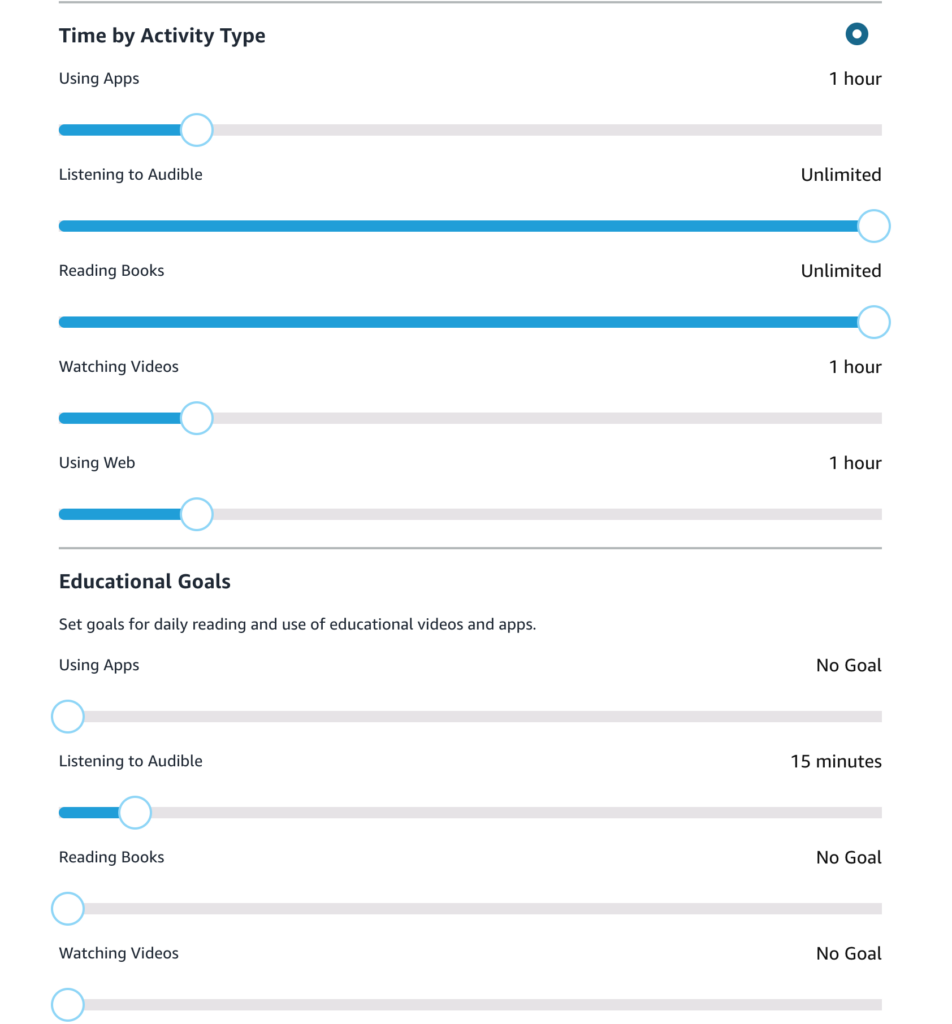 ---
3. Amazon FreeTime is now Amazon Kids Plus
And…if you were Googling "Amazon FreeTime", it is now called Amazon Kids Plus! You can see that name change info here. Here's a little news bulletin:
"We are changing our name to Amazon Kids and Amazon Kids+ from Amazon FreeTime and Amazon FreeTime Unlimited. You'll see this name change roll out over the coming months, but there is no action needed from you."
What is Amazon Kids Plus?
Amazon Kids Plus is a monthly/yearly subscription that lets parents pay for optimized kids content.
From the Amazon Kids Plus website here:
Designed for kids ages 3-12 to safely learn, grow and explore.
Features exclusive original content and brands like Disney, Nickelodeon, PBS Kids, Marvel, Lego and more.
If you buy a new Amazon Fire HD 8 Kids Tablet, you get one year of Amazon Kids Plus for Free.
After that first year, the pricing structure is as follows.
How much does Amazon FreeTime unlimited cost?
| | | |
| --- | --- | --- |
| | Prime Members | Non-Prime Members |
| Monthly | $4.99 | $7.99 |
| Yearly | $48 | $79 |
This is how much Amazon FreeTime Unlimited costs.
---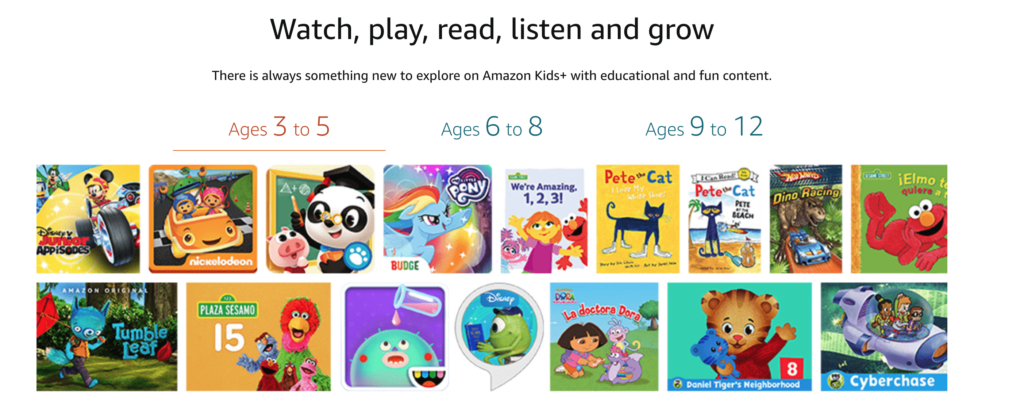 ---
4. Is Amazon Kids Plus worth it?
So…Is Amazon Kids Plus (Amazon Freetime) worth it?
This is a very personal preference based on your family and your kids. Personally, we loved Amazon Kids Plus for the first free year, and my kids DEFINITELY used it.
But, after the first year, my husband I decided that we didn't use Amazon Kids Plus as much as other apps. We found a lot of the content was "fluff" and not as educational or profitable as we wanted.
So, we looked for alternatives to Amazon Kids Plus. And, to avoid from making extra in-app purchases, we decided to tailor the content that was presented to our kids, instead of using Amazon Kids Plus.
And, good news! You can use your Amazon Fire for Kids and the SAME kid-friendly interface WITHOUT Amazon Kids Plus. Let me show you how you use it!
---
5. Add Content To Your Amazon Fire for Kids
So, let's say that you want to add your own content to your Amazon Fire for Kids.
First, let me say, that if you upload your own videos, they will only show on the adult profile, not the kids profile. You can not upload your own videos for a child's profile. I was a little disappointed by this, but it wasn't a reason not to purchase the Amazon Fire for Kids.
Download apps:
But, this is how you find alternate content for your kids!
First, log into the ADULT PROFILE
Access your Dashboard (with the apps)
Click on the "AppStore" App
Search for the app you are interested in
Download (see image below)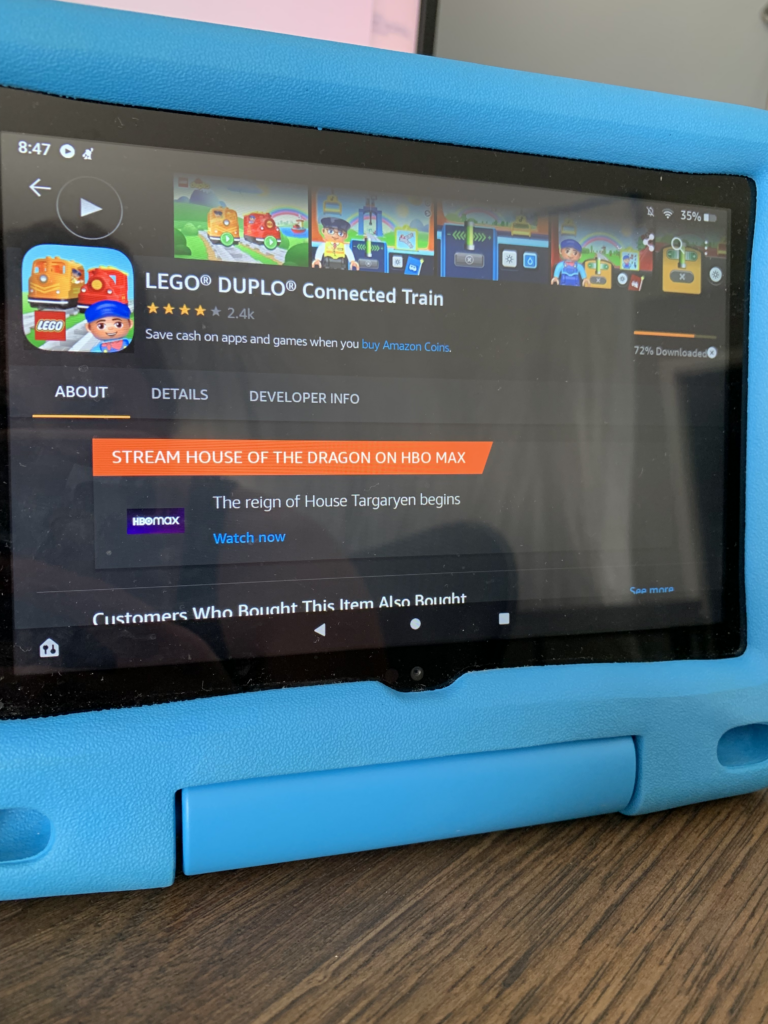 Add content to your child's profile:
Adding downloaded apps to your child's profile is really easy!
First, log into the ADULT PROFILE
Click Settings
Click Profiles & Family Library
Choose your child's profile
Click Add Content
Click Share Content
Scroll through your downloaded content and check what you want to share!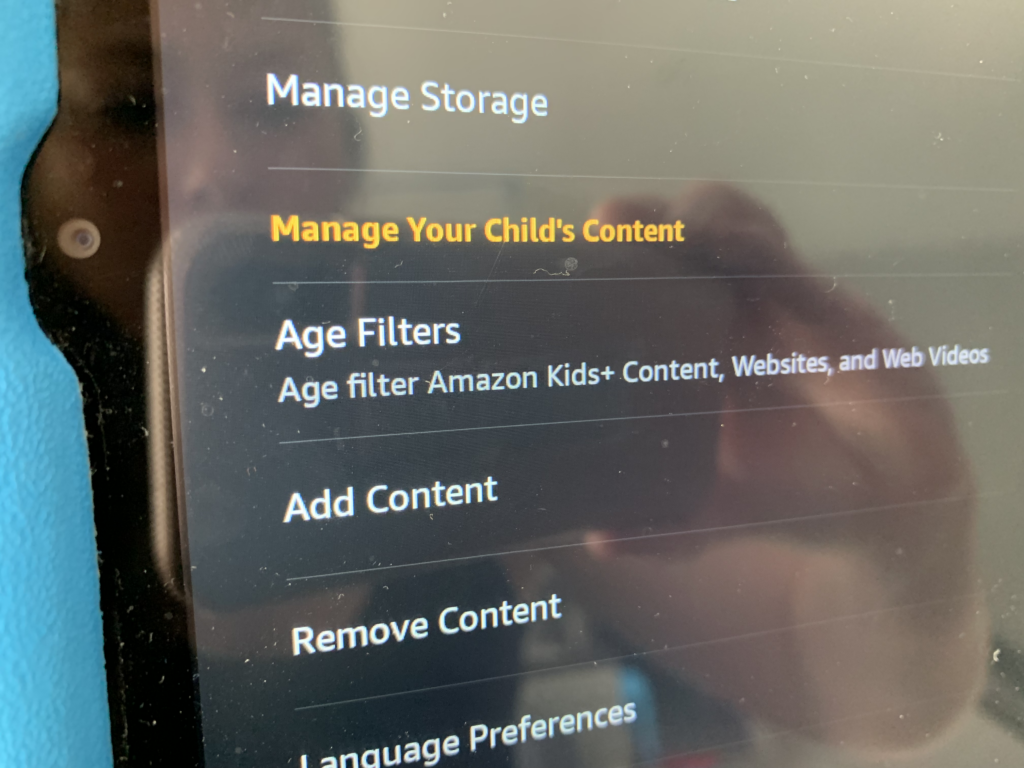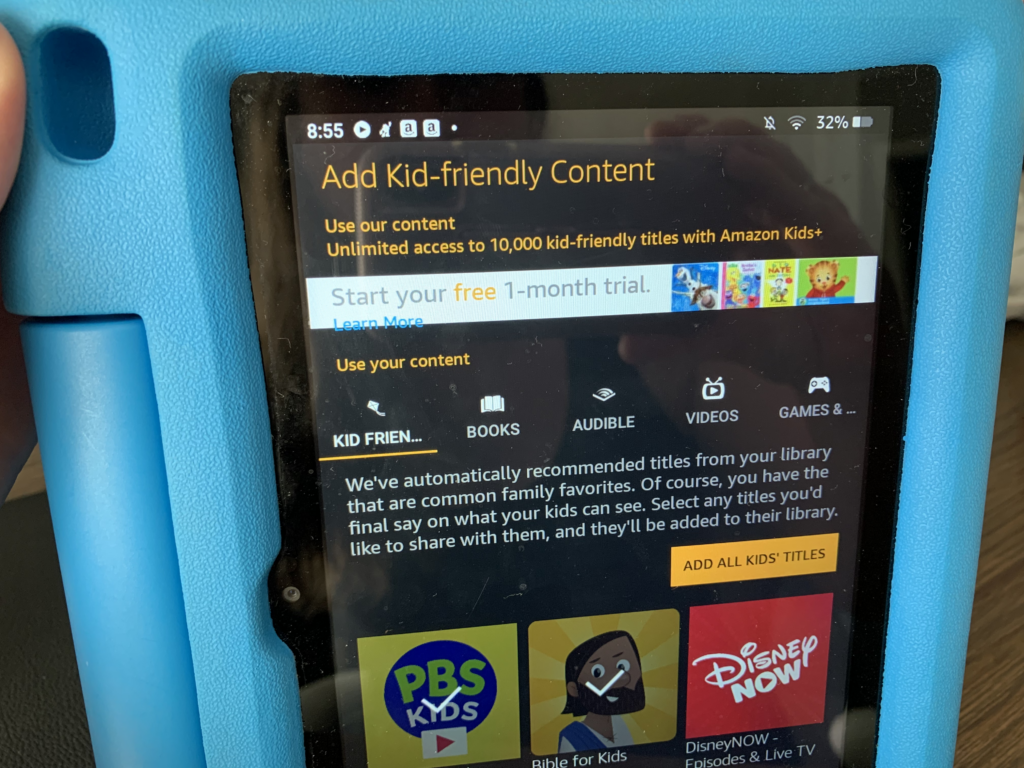 ---
6. Downloading Content to use without WiFi
Ok, let's say you want to go on a trip and need tablet time in the car without WIFI. What do you do?
Well, if you are using Amazon Kids Plus (Amazon Freetime), just make sure you are viewing your child's profile. Then, click and HOLD the app icon that you want to download, and click "download". To see the items that are downloaded for your child's account, just scroll all the way down on the child's homepage, and find the section called "On this device". This is where you can remove any apps you want off their device as well.
If you are downloading apps without Amazon Kids Plus, it's super easy! These items are already downloaded to your child's account, so you don't need to do anything else!
---
7. Using Amazon Fire Tablet for Kids without Amazon FreeTime Subscription
Again, you can use your Amazon Fire for Kids and the SAME kid-friendly interface WITHOUT Amazon Kids Plus. Let me show you how you use it!
If you decide to cancel Amazon Fire for Kids, your kids interface won't change that much. They will still see the same fun blue interface. The video and game content will be gone. And this is what they will see: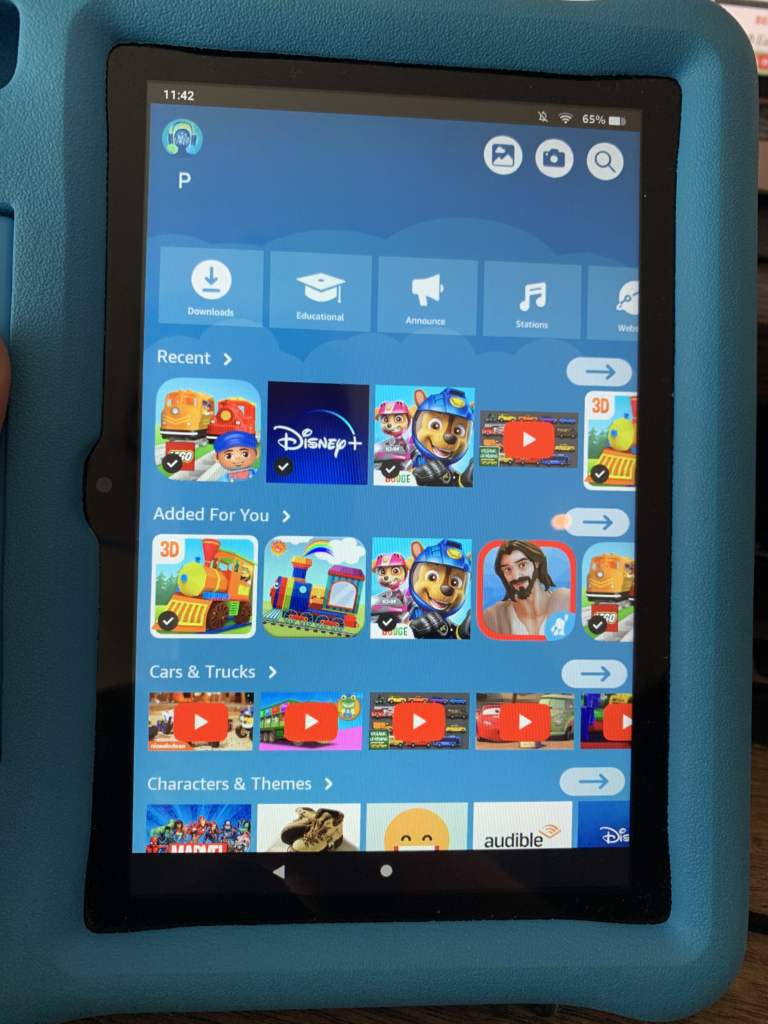 My kids honestly didn't even miss the Amazon Kids Plus content. They watch Disney Plus, Sesame Street games, and PBS Kids more than anything. And I have found some fun alternative apps for them! These are our favorites:
---
8. Alternative Free Educational Apps for Kids
Here are some of our favorite Educational Apps for Kids:
Homer Learning App
So…I've tried LOTS of online learning apps for my kids. I am tired of busy, loud learning programs that don't actually teach anything.
But the Homer Learning App has changed everything for us!
My 3-year old son asks me to learn his "alphabet letter game" because he loves it so much! I can customize the program with his favorite topics – trains, dinosaurs, and animals!
Each program is customized towards my child's age and learning abilities. Because my daughter is advanced with her learning, I can customize her program with what words/math she does and doesn't know!
Subjects include reading, math, SEL, creativity and thinking. I love their logic games!
Read my complete review of Homer Learning App here and see how we use it for our family.
Sesame Street Alphabet Kitchen
This is an alphabet/vocabulary building FREE app that my son (aged 3) loves! All the joy of Sesame Street, with a little more learning. See it on Google Play here / iOS App store here
Khan Kids Academy
I ADORE the Khan Kids Academy app. It's free. It's customized per child's age. And it's basically like a free homeschool resource. Totally recommend.
(Read more here about how to homeschool and work full time.)
PBS Kids Games
With PBS Kids free learning Games, my daughter doesn't miss Amazon Kids Plus at all. She adores these games, and they are 100% kid and parent approved.
---
9. Alternative TV Shows and Movies for Kids
Disney Plus
I know Disney Plus isn't free. But if you're already paying for it, you can add it to your child's app profile, and they can watch all the good stuff on their tablet! I love that they can watch Winnie the Pooh, Mickey Mouse Clubhouse, along with Bluey, Spidey, and all their favorites…
PBS Kids Video
In our house, we adore Daniel Tiger, Clifford the Big Red Dog, Elinora, Dinosaur Train, and Curious George. And I can add these with PBS Kids Video for free on their Amazon Kids tablet!
---
10. Alternatives to the Amazon Tablet for Kids
Let's talk alternatives to screen time. Kids want to be entertained. That's what they want. And sometimes it's possible without screens! Here are a few of my favorites:
---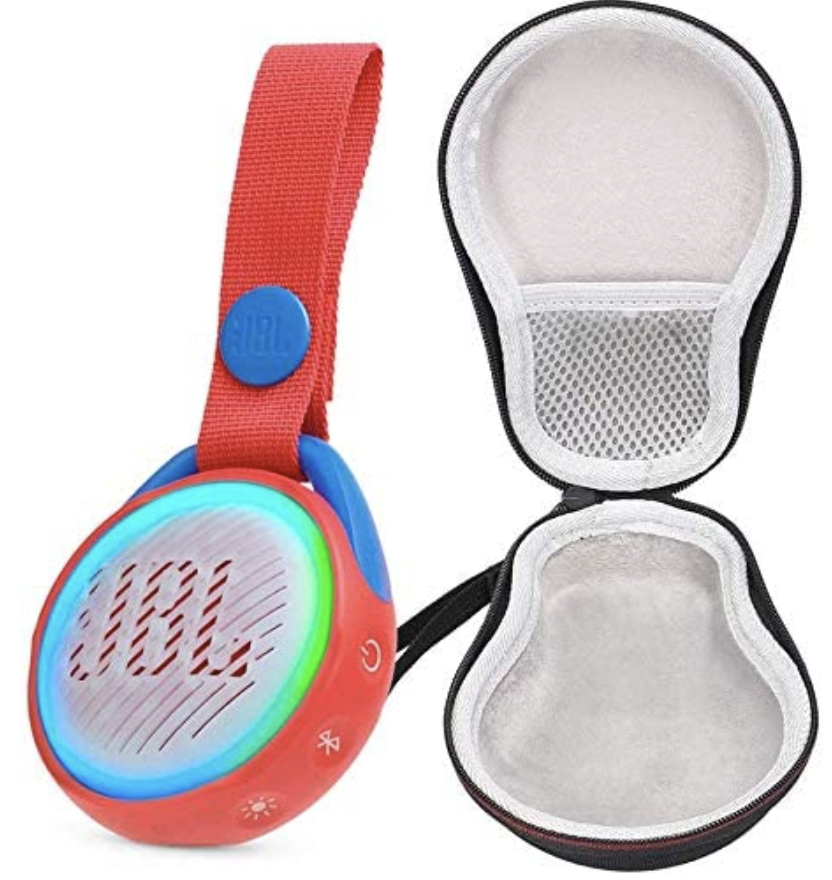 Portable Bluetooth Speaker for Kids
My kids got this for Christmas and LOVE IT. It's the perfect size to hold, and to carry around while they listen to music. I stream music to it from my phone (usually a fun Spotify playlist!), or they listen to audio books!
My favorite way to get free audiobooks, is to use my library card and hook it up to the The Libby App. You can download audiobooks for free!
---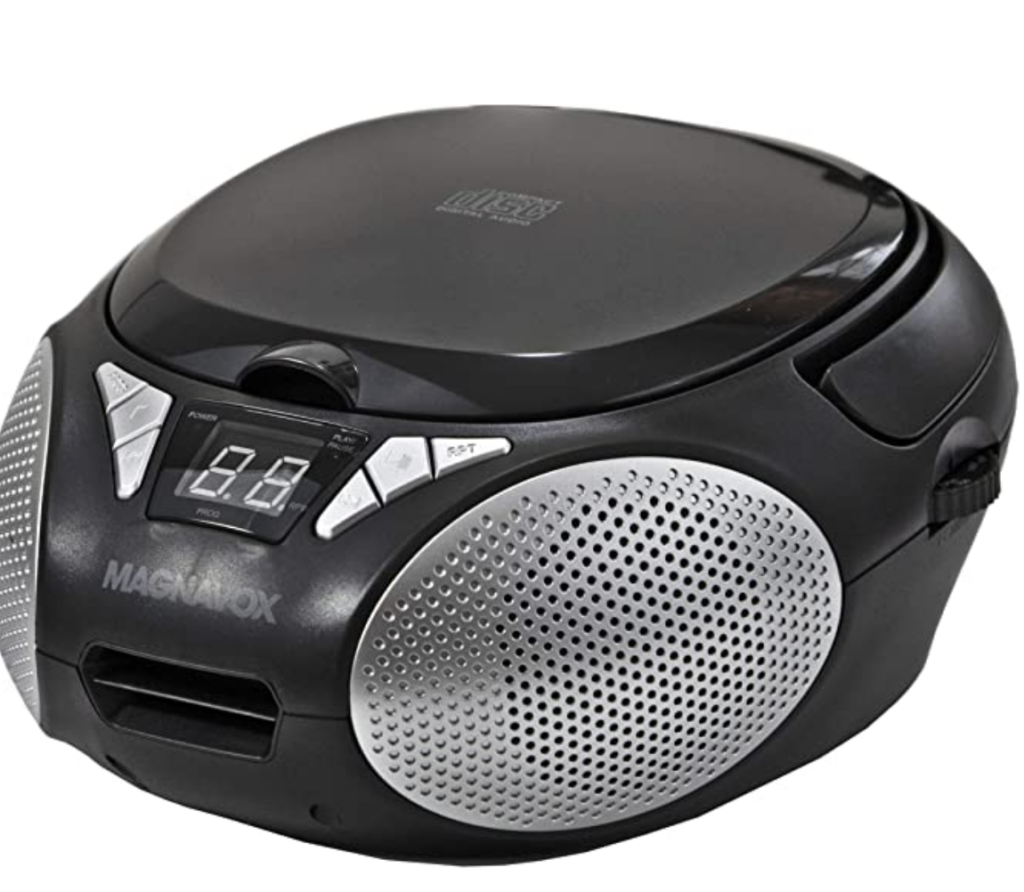 Portable Top Loading CD Boombox
Remember CD's? YEP THEY ARE STILL A THING.
Especially in my kids rooms!
My kids LOVE this thing! They play cd's all the time – with books on CD from the library, lullaby's before they go to bed, old music cd's that I have found in storage…
I usually get one or two cd's for them for Christmas or their birthday, and their grandparents also love giving them books on CD. This gift is magic to them!
TIP: Get a CD player with Sleep mode. Then you can leave it in their room at bedtime, and it automatically turns off at night!
---
11. You're Set! Enjoy Your Devices
I hope you enjoyed this tutorial for how to use your Amazon Kids Fire tablet, and how to set it up best for your kids. Enjoy!
---
You might also like:
Little Passport Monthly Subscription – Your Honest Quick-Start Guide
9 EASY Tips for Working from Home Without Childcare (Save These Tips!)
Must-Read Tips for Working from home with a newborn – Modern Work at Home Mom
How to foster independent play time by age (Must-Have WAHM survival guide!)
When do kids stop napping: 16 Foolproof Tips for Quiet Time and Naptime
Free 40 Hour Work From Home Mom Schedule Template
My honest review of the HOMER Learning App
---
What is Amazon FreeTime?

Amazon Kids Plus is a monthly/yearly subscription that lets parents pay for optimized kids content.

Is Amazon FreeTime now called Amazon Kids?

And…if you were Googling "Amazon FreeTime", it is now called Amazon Kids Plus! You can see that name change info here.

What all does Amazon Kids include?

Amazon Kids Plus is a monthly/yearly subscription that lets parents pay for optimized kids content. From the Amazon Kids Plus website here:
Designed for kids ages 3-12 to safely learn, grow and explore. Features exclusive original content and brands like Disney, Nickelodeon, PBS Kids, Marvel, Lego and more. If you buy a new Amazon Fire HD 8 Kids Tablet, you get one year of Amazon Kids Plus for Free.

What happens if I cancel FreeTime unlimited?

Can you use Amazon FreeTime without subscription?

You can use your Amazon Fire for Kids and the SAME kid-friendly interface WITHOUT the Amazon Kids Plus Subscription.

How much does Amazon FreeTime unlimited cost?

Monthly
Prime Members: $4.99
Non-Prime Members: $7.99

Yearly
Prime Members: $48
Non-Prime Members: $79
---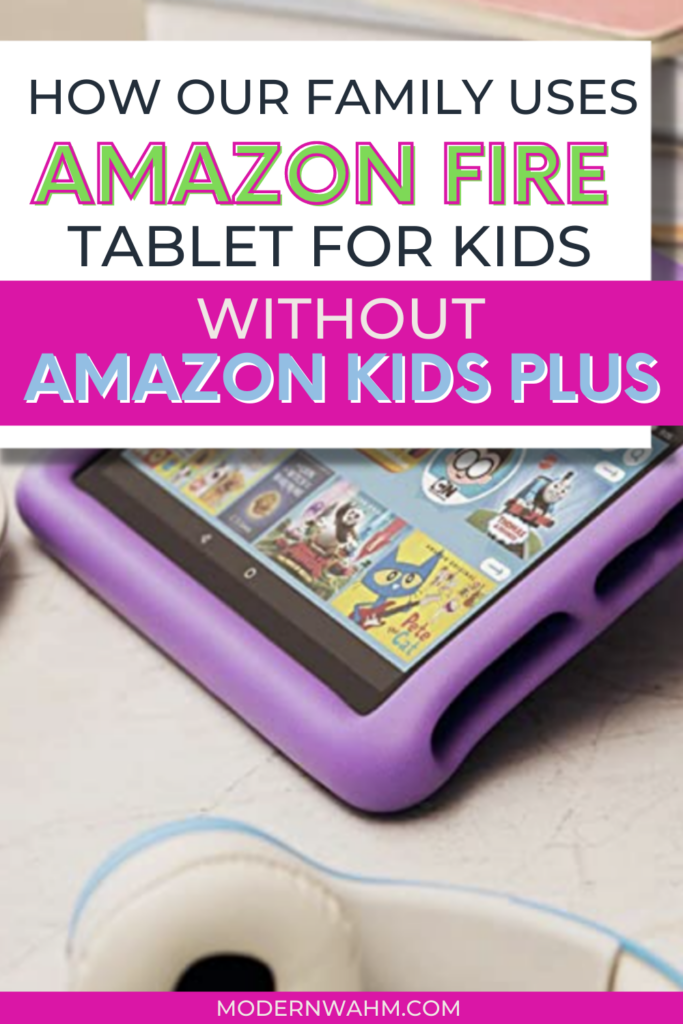 ---