Are you a new parent? Looking for new money saving tips for new parents? Yep, I've been there. Being a new parent means that you have no extra money. But I've got you! I've got some great money-saving tips to help you with this stage of being new parents.
---
---
---
1. Don't buy all the baby gear you think you need
The internet is full of lists of baby gear that people think you need. But you know what? You need very little to bring a baby into the world.
If you are trying to stick to a budget, then definitely wait to buy optional baby gear items. My advice is to wait until you have a child and see if they have a certain need.
Every single product can usually be purchased and in your house within 1-2 days, thanks to Amazon, Target pickup, and plentiful baby stores.
My babies never needed gripe water or gas products. So, I'm so glad I didn't "stock up" before they were born!
If you want to see my list of "must-have" baby registry items, check out my list here!
---
2. Rent your maternity and post-maternity clothes
When I was pregnant, my mom said "You better love your clothes, because everything else is going to feel gross."
She was so right.
If you are pregnant or a new mom, Le Tote Maternity is for you.
Get a box of hand-picked maternity clothes delivered to your door, and enjoy feeling pretty again! When you are done wearing them, just send them back. There is no need to buy and keep maternity clothes!
Before you keep reading, make sure you click below to get your free Le Tote box! Here is my official Le Tote Maternity Review.
Le Tote is a clothing subscription box – similar to the ones you see on the internet, like Stitch Fix and Trunk Club. But, instead of using the service to preview and order clothes – like those two options – Le Tote allows you to rent clothes.
That's right. Instead of paying a subscription price just to be your personal shopper. You pay a monthly fee and get to rent and wear the clothes you pick. (Spoiler – you get final say in the clothes sent to you!)
I love this because you are able to wear the clothes with just one Le Tote Cost – there is no additional purchase price necessary.
What You Get: Monthly boxes delivered one at a time that include a variety of clothing items and accessories. You get to hand pick each item that is delivered.
Contract: Month to month contract you can cancel at any time. You don't pay to ship either way.
Click here for a free tote to try it out!
I loved Le Tote during and after my pregnancy because it allowed me to have pretty clothes without spending money on transitional clothes. Check it out!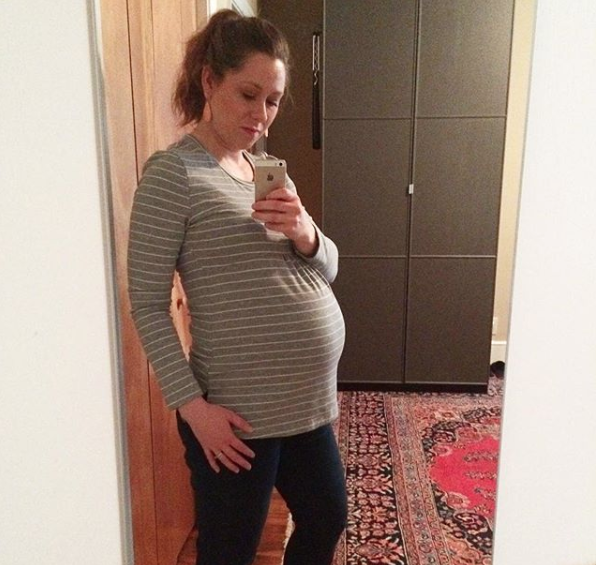 ---
3. Create rules for impulse buying
I have found that having solid money-spending rules keeps me from spending lots of money in impulse buying.
If you create money-spending rules now, then when you are tempted later, you will have an easy way to say "no". Here are my money-saving rules:
I never buy something directly from an Instagram ad/sponsorship link
I never buy textiles (clothing, linens) off of Amazon (poor quality, removes impulse buying)
I try not to buy unnecessary things from drugstores (many things can wait until I plan a Target trip)
I never buy anything from Walmart (poor quality)
I try to buy all-cotton and made in USA
Here are some other rules that you might like:
Not to buy things after 7pm
Not to store credit card information on your computer/phone
Not to buy things after drinking alcohol
If you create a few rules now, you will save money later!
---
4. Save money on your electricity bill
This one sounds crazy, but it works! Hear me out.
Recently we realized that our electricity bill had increased a lot, and we didn't know why. We discovered that they had raised the rate during the prime hours of the day (between 1-7pm). So for all of our electrical needs during that time, we were paying extra.
We started only doing laundry in the morning or overnight. This really helped me actually, because it help me schedule my laundry and pace the chore.
We also got timers for a lot of our lights, and set timers to turn off all our lights right before 1 pm. This really didn't affect things, because I usually am working then, and only need a desk light.
These two changes have saved us a TON of money!
Take time to check your electricity company for new expenses, and see if you can change your patterns to not use as much electricity during those times.
---
5. Make a list of future purchases and hold for 3 months
I have a note on my phone called "Things I want to buy". And, if I have something I really want (ie. ThirdLove Bras haha), I add them to the list.
I don't need these items now, but having a running list helps me compare needs and choose the best items for my budget.
This is REALLY helpful when you have a newborn. Instead of buying every possible thing for your child, just keep a list of things you want (or might need) during your baby's first year. This will really help pace your purchases, and stop you before you buy unnecessary items.
---
6. Shop consignment and garage sales
When I was pregnant with my first baby, I went to BuyBuyBaby and saw the most adorable pink flowered outfit and couldn't resist buying it.
Needless to say, I went back to the original store and returned the new onesie.
You guys, don't sleep on consignment, Goodwill and garage sales. You can find some like new items that can completely replace your registry list!
---
7. Add things to your Baby Registry just for the discount
Use your baby registry wisely!
Did you know that most baby registries give you discounts on items remaining on the registry? Even if you don't expect anyone to buy the expensive stroller for you, add it to your registry just so you can get the 10% discount! (Think car seat, cribs, breast pumps, high chairs, bassinets, diaper bag etc.)
I love the Amazon Baby Registry because Amazon is so universal. You can add any item from ANY store. You can add diapers to furniture – and everything in between. Just by clicking a button.
Here are some of my favorite perks that your Amazon Baby Universal Registry offers:
You get a free amazon baby registry welcome box valued at $35 full of baby freebies.
You can add any item with the Universal Amazon Extension.
After you have your baby, you will get 10% off with their completion discount!
They offer 365 day returns and free shipping.
They offer group gifts. Allow multiple people to contribute towards a bigger gift!
You can be gifted a gift card that can be used for baby products.
You can also set up a diaper fund!
I love that they have such a wide variety of items – from beautiful minimalistic toys, to the latest kid fads! It's free to sign up, so start your new baby registry here and enter your due date!
---
More money saving tips for new parents
---
You might also like:
Must-Read Tips for Working from home with a newborn – Modern Work at Home Mom
9 EASY Tips for Working from Home Without Childcare (Save These Tips!)
ESSENTIAL GUIDE: Childcare help for working parents (Part 2)
---