10 Things that You need to add to your Amazon Registry today
Beginning your Amazon baby registry? Make sure you focus on the most basic things that no one tells you about. Don't forget to stock up on the basics, stock up on doubles of burp cloths and changing pad liners, and anticipate all your travel and mom needs!
---
So you are having a baby. Congratulations!
So you don't know what in tarnation you are doing. Join the club.
Where do you start? What will you really use? How many burp clothes do you need?
Enter the Amazon Baby Registry. It will save your life.
When I had my first child I thought I was going to be that mom that only needed a couple of bottles, pacifiers, and blankets. Let me tell you – it only takes one baby for you to want to buy every single possible solution out there.
It might help with teething? Add to cart.
Fixes gas issues? Add to cart.
That's when Amazon is your best friend. I can't tell you the number of times I ordered more burp cloths just so I didn't have to do laundry.
So – I want to save you the time and confusion and tell you exactly what you need on your Amazon Baby Registry. I am not including obvious things like diapers, car seats, and a crib. Duh.
These are just my favorite things that I swear by.
---
I'm obsessed.
I love the Amazon Baby Registry because Amazon is so universal. You can add any item from ANY store. You can add diapers to furniture – and everything in between.
Here are some of my favorite things that your Amazon Baby Registry offers:
I love that they have such a wide variety of items – from beautiful minimalistic toys, to the latest kid fads! It's free to sign up, so start your registry here!
Sign up for your free Amazon Registry here!
And now to my favorite items. I've used these with two kids, and I can't tell you how much I love these. If you have any favorites, make sure you leave your favorites in the comments!
After you read this, make sure you check out my Ultimate breastfeeding and pumping guide. I spent over 20 hours on this guide – giving you every tip you need to incorporate pumping into your busy mom travel schedule.
---
These are my favorite must-haves you need on your Amazon Baby Registry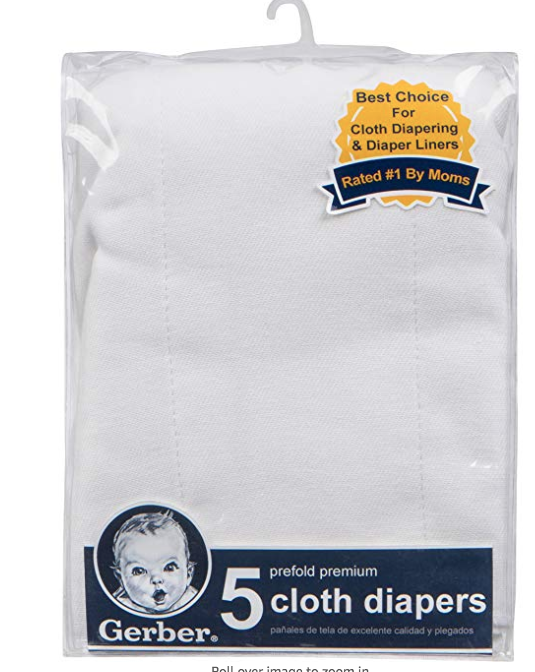 Gerber Cloth Diapers for Basic Burp Clothes
When I registered for my baby, I registered for two packs of those pretty burp cloths. But, I quickly found out that I needed multiple packs of thick burp cloths. Who cares if they are pretty? They are just going to get stained. I have since bought upwards of 6 packs of these. If you think 30 burp cloths is too many, then feel free to come do my laundry! So yes, we go through 2-4 cloths a day – and I have a steady supply. These are super thick and are perfect for whatever comes up (literally!).
---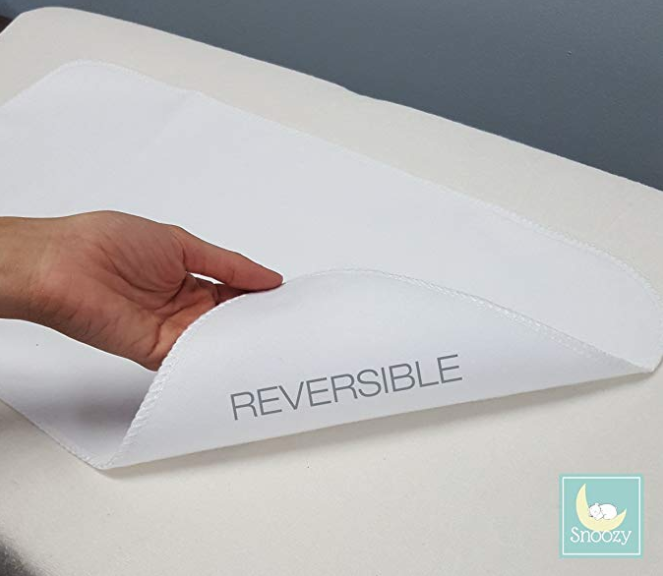 Snoozy 3 Piece Flannel Waterproof Reversible Changing Pad Liners
I have an entire dresser drawer of these pad liners. They lay on top of my changing pad, and are easily removed when there is an accident – which happens a LOT. This is another thing I've bought TONS of – at least 3 packs. Again, who wants to do laundry every day?
Also – I always have these in my diaper bag and when I travel!
I use these with this changing pad and this cover. (I love both of these because they are 30″ and a little smaller than normal sizes.)
---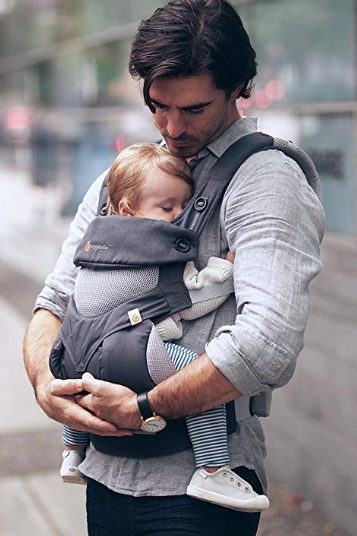 Ergobaby Carrier 360
There are a million baby carriers out there. But, I was talking to my friend who is a physical therapist, and she told me how the Ergobaby Carrier 360 is the only one that adequately supports your back.
I was sold.
I use this carrier at home, on trips, on hikes, on walks, in my front yard…EVERYWHERE.
---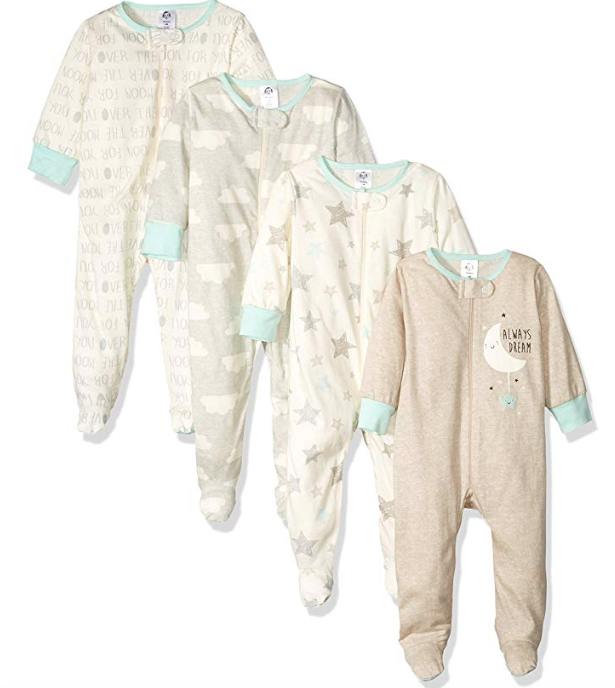 Gerber Baby 2 Pack Zip Front Sleep 'N Play
Another thing you go through A LOT with a new baby? Sleepers. Sometimes we go through 3 a night. At first, I thought 4-6 sleepers would be enough. That's a joke! And, when you need upwards of 10 sleepers, who wants to spend a lot of money? I've bought so many of these – and they are perfect!
They average about 2 for $10, and are perfect for night and daytime.
---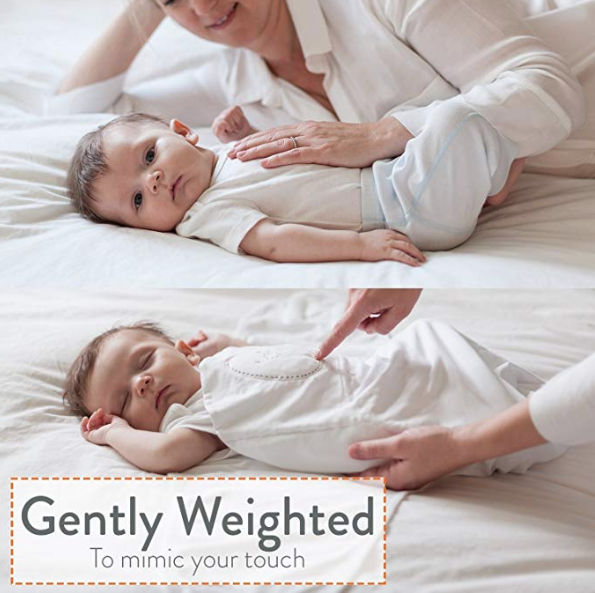 Swaddles and Sleepsacks
Raise your hand if you still don't know how to swaddle a baby.
Everyone can raise their hands except my husband – he's a master swaddler. ?
Me? I love these two swaddle options.
For a simple swaddle that zips from the bottom up, you need MANY of these Halo Swaddles and Sleep Sacks. I have many in each size – and use them every night.
These will save your sanity and your baby will sleep amazingly.
Looking for something more? I LOVE this Nested Bean Swaddle! It is weighted, so your baby feels "hugged" all night. This worked wonders for my son who liked to be held all the time. He also started sleeping really well around 2.5 months. Not sure if this was the reason – but I never stopped using it to test it out! ?
---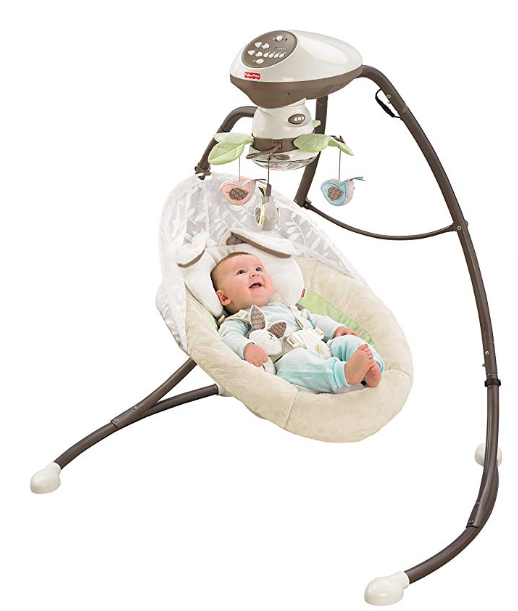 Fisher-Price Snuggabunny Cradle 'N Swing
Is your baby not sleeping?
This swing is the reason my babies sleep so well.
We bought this when my daughter was 3 weeks old, and wish we had bought it sooner. She slept in this swing during naps, and usually during the second half of the night. It prolonged her sleeping by about double. She was taking one hour naps – and then with the swing they grew to 2-3 hours. At night, she will sleep in this for 5-7 hours.
(BTW she didn't love the swing at first. It did take a few days for her to warm up to it. But, now she loves it!)
This website about baby sleep is my favorite and strongly advocates using a swing.
---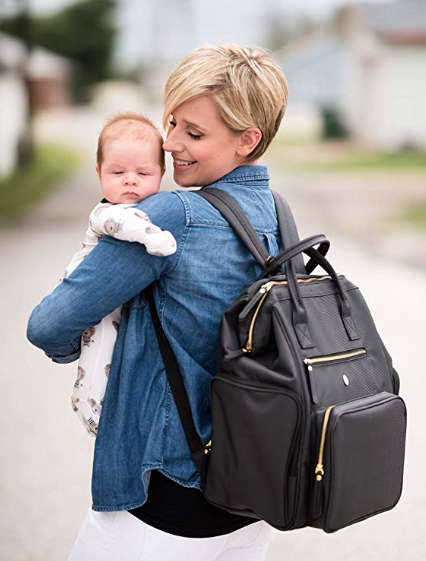 Idaho Jones Breast Pump Bag
As a working mom, I have been looking for the PERFECT bag. I recently got this bag, and it is now my go-to purse, diaper bag and work bag. I love it so much. (Also it is AWESOME for travel with little ones.)
The Idaho Jones Breast Pump Bag is awesome because:
It has room for my breast pump + laptop + diaper bag stuff
It is sturdy and holds SO MUCH STUFF
It can get dirty and be wiped clean
---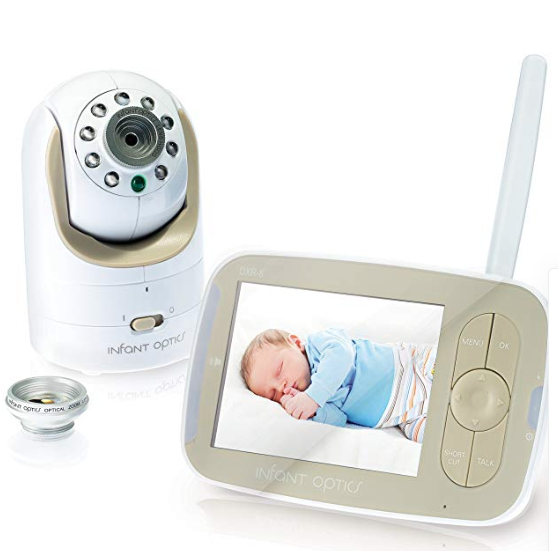 Infant Optics DXR-8 Video Baby Monitor
I researched baby monitors for about 8 months. No joke. I had dozens of lists and tabs open.
What was I researching? Physical monitor vs. phone app? Wireless vs. not wired?
We finally settled on the Infant Optics DXR-8 Video Baby Monitor because of the 35,000 5 ⭐️ Reviews on Amazon. It is definitely the highest-rated monitor on Amazon.
And – we LOVE it!
Why?
✅ Because I can keep it on all night without using my phone battery.
✅ Because it has a HUGE range.
✅ Because it is SO SIMPLE to set up and use.
✅ Because I can pass it to my mother-in-law and not need to set up an app for her.
✅ Because it has dark night vision.
✅ Because it zooms in and can pan the room.
So many reasons!
---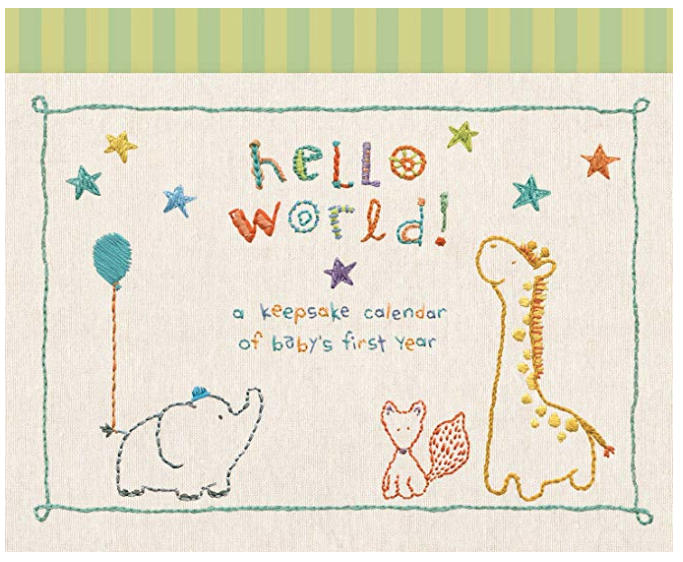 'Hello World' Baby Calendar
This is my favorite go-to baby gift. And you NEED one on your registry!
This is for all the mamas that are too busy to keep a baby journal or a baby book. But, for mamas that want to remember when their baby first walked!
Just hang this baby calendar above your changing table, and keep a pen close by. Write down any milestone, trip you take, or little memory!
Believe me – in a couple years you will be SO GRATEFUL that you wrote down things the first year.
---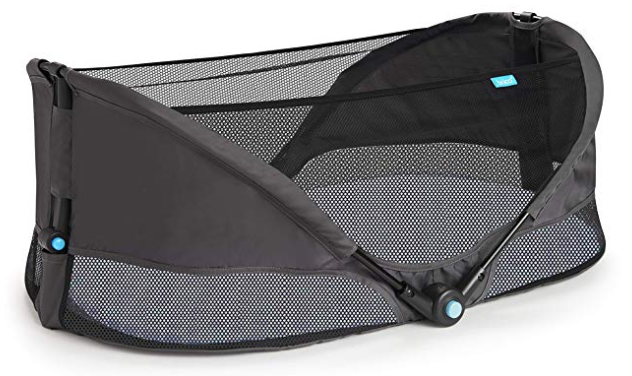 Brica Fold N' Go Travel Bassinet
If you travel at all, you need this.
It's the perfect bed for babies under about 6 months. We have used this for both kids – on MULTIPLE trips.
It is under $50, folds up in your suitcase, and is PERFECT for bedtime, naps, and just laying down your baby.
I am always sad when baby outgrows this – make sure you register for one today!
After you read this, make sure you check out my Ultimate breastfeeding and pumping guide. I spent over 20 hours on this guide – giving you every tip you need to incorporate pumping into your busy mom travel schedule.
---
You might also like:
Ultimate pumping and breastfeeding guide for travel
The Ultimate Maternity Leave Bucket List
10 Christmas Gifts for the Quarantined Mom
10 Things that You need to add to your Amazon Registry today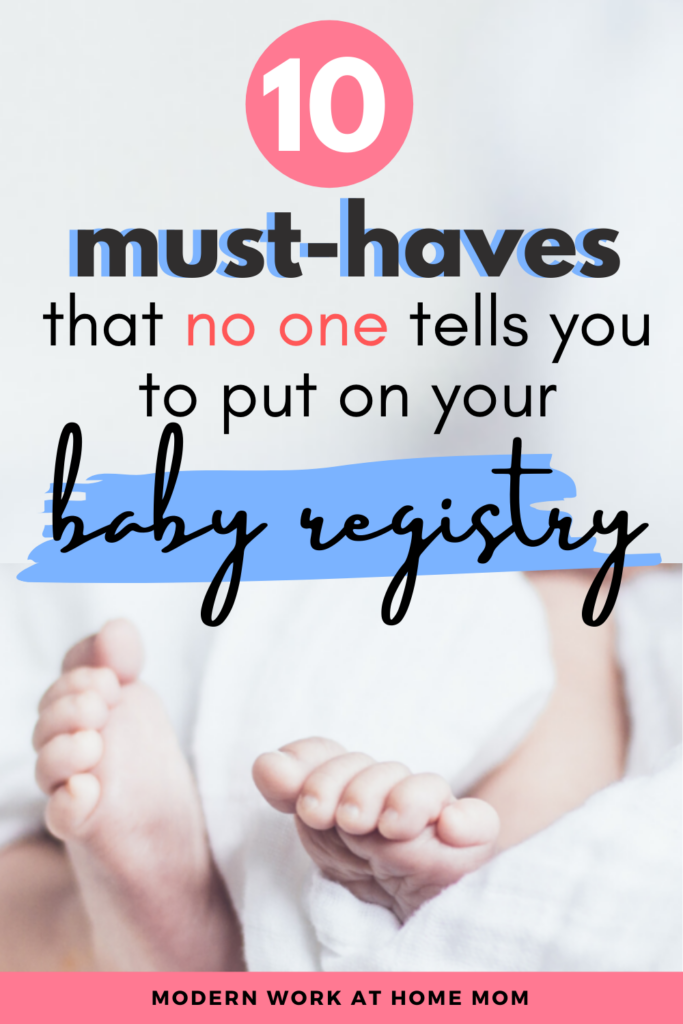 ---
Deals that are saving my hide lately...
🧒 For your kid - I found these printable activity packs for my toddler that are LIFESAVERS. My daughter literally wants to do these activities for hours every day. They are called the Ultimate Preschool Activity Bundles, and there are activities for every theme. Each activity has dozens of pages that are printable pages that teach number and letter recognition, colors, counting, patterns, and much more. These are my favorites:
🧹For your cleaning routine - I have started getting my cleaning products on Grove Collaborative - and they literally have changed my cleaning routine. Right now they are running their deal for my favorite Plastic-Free Cleaning Line for free, so make sure you check it out. Here are some tips to get the most out of this deal:
🧹If you already have a Grove account, use a new email address to get this deal...and then cancel.
🧹Make sure to set a calendar reminder to cancel the Grove VIP trial after a month. No harm no foul.
🧹 Choose the Plastic-Free Hand Soap Set ($45 value) and get all everything for free.
🧹Fill your cart with $20 worth of products you need anyway...
🌮 For Dinner - I know every mom in the world is talking about Hello Fresh - but I'm here to tell you that EveryPlate is better and cheaper than Hello Fresh. I have used it for years with my own pennies...and it really gives me life.
EveryPlate sends me dinner recipes and ingredients right to my door - but for less than $10/serving. Their meals are the same as other providers but HALF the price. It doesn't matter how many $90 off coupons other providers throw at you - this dinner box is still cheaper.
They use less packaging (yay saving the environment!) so they can charge less. They also offer fewer meals per week with a wider rotation. I have used them for over a year, and we have loved every single meal.
When I use EveryPlate, I can actually forget that I have to cook dinner. The ingredients are already in my fridge.
⭐ Stop meal planning and try EveryPlate this week with a $20 discount. Click here to get you first box at $2.49/serving!