---
My family loves to give family gifts for Christmas and the holidays! We often skip individual gifts, and plan to buy a few family-oriented gifts that every member of the family can enjoy.
Is this fun and budget-friendly? Yes! Is this always easy? NO!
It is very difficult to find a gift that every member of the fam loves.
Here are some of our favorites that we have given or received in the past. Have fun with these best family gifts of 2023.
Keep Reading: 5 EASY Holiday Activities for Parents who Work at Christmas
---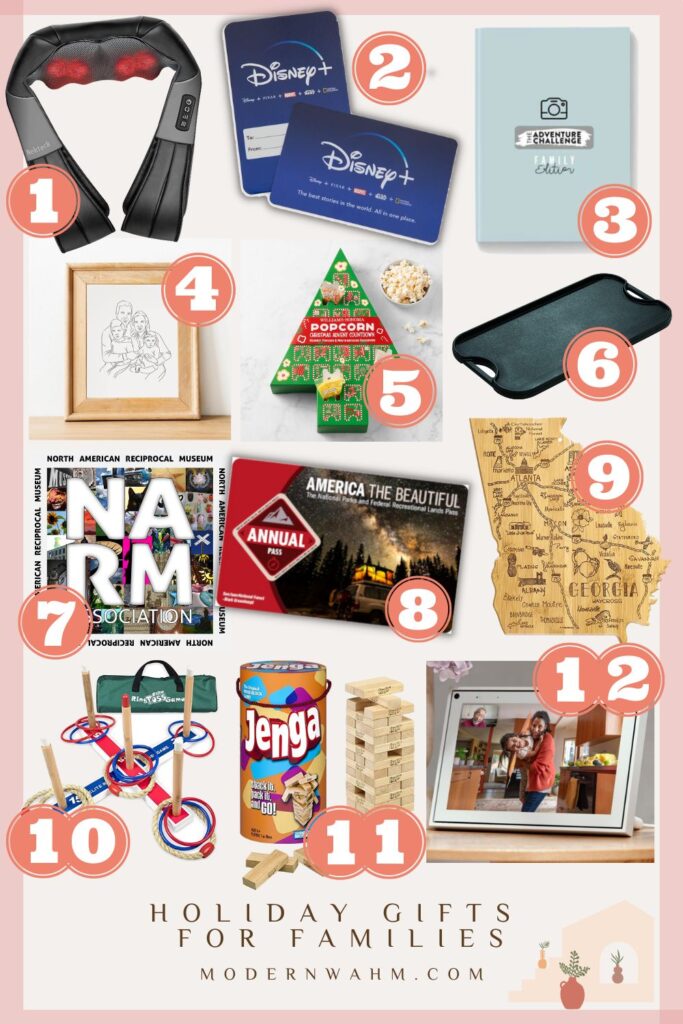 ---
Best Family Gifts for Families, Kids, and Parents
1. Back Massager
I gave this back massager to my husband several years ago. And let me tell you – we ALL enjoy it! It's the perfect family, mother, father, grandfather, or grandmother gift. It's ridiculously budget-friendly (see the latest prices here!), and is the perfect family gift if you want to give them some stress-free moments!
PS – Pair this with a movie night kit (below) and you have the ultimate Friday night treat package!
---
2. Disney Plus Gift Card
If your family friend doesn't have Disney Plus, this is the ultimate gift card! Give them the gift of Star Wards, the Avengers, Bluey – the ultimate movie night. Combine it with a few snacks, treats, popcorn, and movie night essentials, and they'll use it all year!
(PS – this is the gift i wanted last year and didn't get it. Believe me! It will be treasured!)
---
3. The Adventure Challenge Family Book
I gave The Adventure Challenge Book to all my family members – and we love it! They have Family Books, Friends Books, and Couple Books. Each book has scratch-off challenges that you can do through out the year. Each challenge gives you a hint (ie. this is free, can be done with kids, and takes less than 2 hours…) and then you scratch it off!
The catch? Once you scratch it off, you have to do the challenge! My kids love to do this over the weekends!
---
4. Family Portraits of the Whole Family
This was one of my very favorite best gifts that I gave last year. I gave this to my in-laws, and my sister and law and brother and law. I chose two photos of our families that I loved, and I had the Etsy Shop GrainAndDot create line drawings for my family.
There were tears. These pieces of art were so perfect. So lovely. And touched my family forever. She also creates home drawings if you want to honor someone's home!
---
5. Gourmet Popcorn Sampler
My parents LOVE popcorn. They eat it every weekend. I gave them a Williams Sonoma Popcorn Sample one year, and it was a huge hit! This Popcorn Advent Sampler is adorable, and perfect for the family that loves popcorn with their family game night.
---
6. Cast Iron Pancake Griddle
This pancake griddle was one of the family gifts we received last year, and we use it EVERY WEEk. What family doesn't make pancakes, french toast, or grilled cheese sandwiches as a family? We love this one and totally recommend it. Pair it with a fun pancake mix and you are set!
---
7. North American Reciprocal Museum Pass
Did you know you can get a Museum Pass to THOUSANDS of museums around North America? Just click here to see a map of all the museums that are part of this society. Then, you purchase a membership at the museum closest to the recipient. Once they use that museum pass, they will have access to all 1,000 of the other museums.
We have this membership and it's one of the best family gifts for when we are traveling and visiting family!
---
8. National Park Annual Pass
The National Park Pass is one of our favorite family passes. We use this all around the country, and love the family quality time it gives us. My kids love to explore, hike, see the outdoors, and this pass pays for itself super quickly. We totally recommend!
---
9. Customized Cutting Board
A few years ago we had a lot of family friends move, so I gave them customized state cutting boards and Totally Bamboo state coasters for their states. These are so easy to buy off of Amazon, but they are high quality and such a personalized gift. I totally recommend these with some kitchen treats as fun family gift ideas.
---
10. Family Backyard Games
My family LOVES backyard games! This ring toss is cheap, compact, and is the perfect game for friendly family competition. This backyard ladder toss is on my wishlist for this Christmas. These are the perfect (compact!) games to pull out at your next family event for great memories.
---
11. Family Indoor Games
We LOVE indoor games – like card games, puzzles, board games, and even super complicated games that take days to complete! Anything to feel that perfect family nostalgia.
One of my favorite gifts to give is a "DIY Family Game Night Kit" from Amazon that includes all of our favorite games. I love to include snacks, this card game (which is our favorite), and family-friendly game like Jenga that the whole family can enjoy.
---
12. (Facebook) Meta Portal
You guys, this device is a life-saver. The (Facebook) Meta Portal is a direct portal from one person's house to yours. You set it up, login with Facebook, and it gives a direct connection to anyone that has Facebook or WhatsApp.
Why do I like it? I am able to VERBALLY call my mother "Hey Portal, call Grandma!" and the Portal will connect and let my kids run around and talk to their grandparents while I make dinner.
It pans and zooms in, so grandparents can see the kiddos while they are playing cars, and running in circles.
It can "babysit" my kids while I work. My daughter can have play time or story time with her grandpa…all by herself with no parent aid.
I can call my kids' great-grandma (who is 90!) who has WhatsApp, and she can see my kids from her phone.
We bought one for our grandparents, and will probably give more this Christmas as family Christmas gifts.
Bonus: I use it play music, watch YouTube videos, and do Zoom calls – its a great screen for your kitchen!
---
These are the best family gifts for the holidays!
If you have any additional great gift idea presents for families, please let me know below! I'm always looking for the best ideas to give my friends and family. Happy Holidays!
---
You might also like:
9 BEST Christmas gifts for mom 2022!
How To Manage Childcare Over Christmas Break (Without Paying For It)