If you want to know how to meal plan cheap easy meals on a budget, the key is to keep a bucket list of your favorite meals in rotation, pick 5 dinners per week that revolve around a similar list of ingredients, and limit your ingredients to 20 per week. Each week, mix and match 5 dinner recipes to feed your family and keep your budget!
---
I hate meal planning.
There, I said it.
I hate to plan what I'm eating days in advance. I hate making lists of hundreds of ingredients that I will need for just one recipe. I hate spending hours planning something that will just disappear in a few days.
But, more than all this, I hate the 5 o'clock freak-out when everyone is hungry and there are only eggs and coconut and peanut butter in the house.
Has anyone else been there?
So, because I am a human that loves to eat – and also has four mouths to feed – I have figured out the perfect way to cheap easy meals on a budget – without getting takeout every night.
---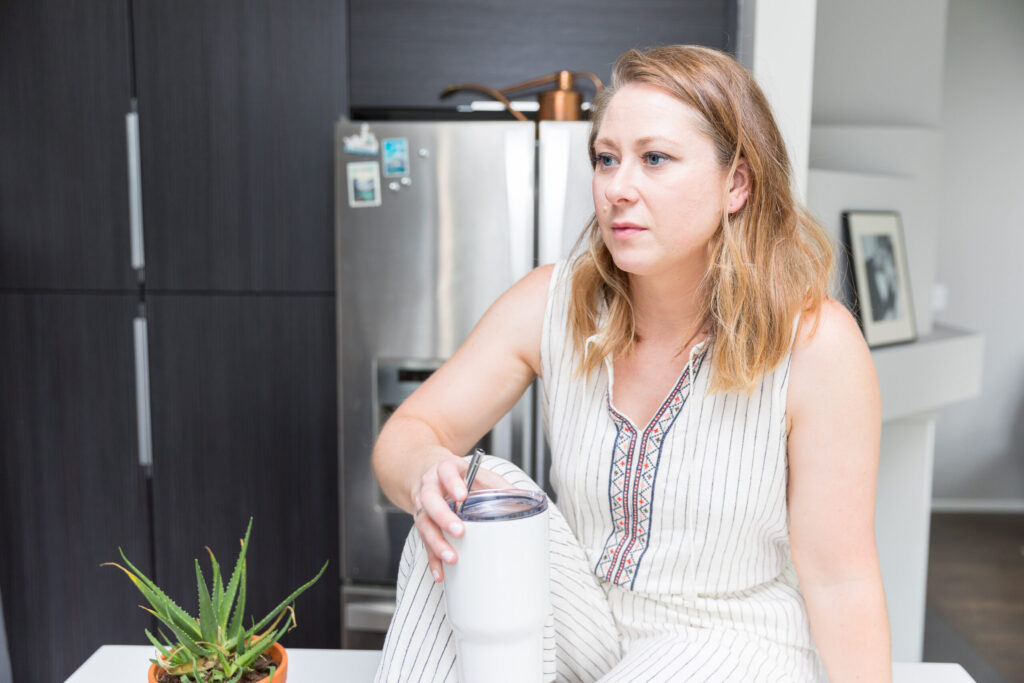 Cheap easy meals on a budget for the Modern Work at Home Mom
1. List your Meal Plan Goals
First you have to ask yourself:
What matters to you? Why do you want to meal plan?
You have to know your meal-planning non-negotiables before you start.
For me, one of my goals is to avoid desperate restaurant runs. I always cook. If I don't "feel like cooking", eating out is still not an option.
I would rather eat random ingredients piled on a tortilla and call it "Mexican Pizza" than get fast-food.
But for you, cooking might look a little different. You might love gourmet recipes that use whole ingredients. No mixes, no boxes.
You might need to prioritize your dietary restrictions over your budget.
You might need family-friendly recipes for your 5 kids.
You have to figure out what matters to you.
Ask yourself these questions:
How many times a week do I want to eat at home?
How many of these meals need to be easy?
How many meals need to have meat?
How many meals need to have special dietary restrictions?
What is my budget per meal?
Do I like to pay more for specialty or simple ingredients?
What is more important – shopping at one store for ease or multiple stores for variety?
---
2. Categorize your classic favorite meals
The only way to be successful at menu planning cheap easy meals on a budget, is to have a store of "ready-made" ideas available. These are different for everyone, and I recommend making a list (written or mental) broken down by category.
You can choose any categories you want: type of food (Italian, American, Mexican), level of cooking (easy, crock-pot, difficult, spur-of-the-moment) or health-level (high-cal, low-cal, low-carb).
I like categorizing my favorites based on types of protein, because, for me, that is the wildcard. My meat options are limited, so I have to make dinner based on what is available. These are my categories:
Chicken (shredded, pre-cooked)
Chicken (boneless, skinless breasts)
Ground beef
Fish
Meatless
Eggs/Breakfast
Other meat (stew meat, ham, etc)
I like keeping this list on-going on my phone. When I see a recipe that looks amazing, or eat a stunning meal in a restaurant, I add those ideas to my categorized list, and now that recipe idea is in rotation.
---
3. Find new dish recipes for your rotation
To find your basic recipes, ask yourself some questions:
What do I crave the most?
What do I order the most at restaurants?
What are my favorite types of food?
What ingredients do I always have on hand?
What do my spouse/children always request?
What seems easiest to make?
Also, use Google and Pinterest to your advantage. To find easy meals, be specific with your searches.
Google Recipe Search:
Google ideas for recipes, not titles: "easy chicken dinner with rice", "pizza crust with no yeast", "easy lasagna with no ricotta"
Learn Google boolean operators:

AND for including all keywords
OR for searching optional keywords
" " for searching whole phrase
– for excluding a keyword
+ for including a keyword
Here is a search for a chicken casserole without a cream soup and with the ingredients for a white sauce:
"chicken casserole" –cream soup +flour AND milk
Pinterest Recipe Search:
Pinterest pins are searchable based on their description, not their image, so search based on possible descriptions: "favorite meal for kids", "best dinner ever"
A lot of pins include the actual recipes in the descriptions, so search for ingredients: "rice and beans", "chocolate chips"
Create Pinterest boards for your categories – you could have boards for chicken, ground beef, meatless, breakfast, etc.
Be clever with your Pinterest board names: "crock-pot", "spur-of-the-moment", "non-chocolate desserts"
Follow me on Pinterest here for easy family-friendly recipes!
---
Save your recipes!
Bookmark recipes on your internet browser toolbar.
Pin recipes from the web onto your Pinterest boards.
Print your most-used recipes and store (and organize!) in an accessible binder.
Do some research! Wondering how to cook five meals from one chicken? Always wanted to make a homemade lasagna? Interested in couponing and shopping sales? Research leads to knowledge which leads to confidence in the kitchen, so start researching! Seriously, it can be kind of addicting.
---
4. Mix-and-match 5 recipes a week
To make the perfect meal plan of cheap easy meals on a budget, choose 5 recipes to mix-and-match each week. Don't assign them to days. Don't stress about it.
But pick recipes based on your categories.
Does your grocery store have a sale on chicken? Pick 3 chicken recipes!
Do you have 3 soccer games this week? Pick 3 meals that are crock-pot ready!
I shop sales and like to plan one week at a time. Because my budget is limited, I cook what's on sale. I never find recipes and shape my shopping around them, I shop sales and shape my recipes around them.
If ground beef, frozen vegetables and rice are on sale, guess what we are eating this week? We will be eating meatloaf, red beans and rice, and Mexican casserole – all with veggies on the side. I might vary it up, but my options are limited because I didn't buy the more expensive fillets over the ground beef.
---
Create a category-based meal plan
Instead of making a meal plan that looks like this:
Monday – Lasagna, salad, bread
Tuesday – Salmon and couscous
Wednesday – Pork Loin and Rice and Veggies
Thursday – Grilled Chicken and Roasted Veggies
Friday – Hamburgers
Saturday – Leftovers
Sunday – Eat Out
(This menu plan has 5-6 different meats going on. I can't afford that! We doing well if we have 1-2 different meats per week.)
I make a menu plan that looks like this:
Monday – Huevos Rancheros (meatless option #1)
Tuesday – Chicken Fajitas (chicken meal #1)
Wednesday – Jambalaya with chicken & Veggies (chicken meal #2)
Thursday – Leftovers
Friday – Barbeque chicken over rice & Veggies (chicken meal #3)
Saturday – Homemade pizza (meatless option #2)
Sunday – Soup (possibly meatless, possibly with leftover chicken, possibly canned)
Did you see what I did there? I made a whole week of meals on one bag of frozen chicken breasts. That might seem crazy to you…or boring. But hey, I like chicken!
---
5. Shop for the basics
Make sure you shop for basic ingredients! Here are a few things that influence my grocery shopping.
Know your numbers: I know that I can make a week's worth of meals with about 2-3 meats and 4-5 vegetables. This helps me stay prepared for the whole week, come what may.
Shop the sales and stock up: If ground beef is on sale, buy enough for the week and focus on ground beef recipes all week. And, you can always buy more to freeze.
Go without: This sounds minimalistic, but I go without a lot of ingredients. A lot of recipes include ingredients that are really very optional. Vanilla? Often optional. Olive oil, Onions or garlic? Sometimes optional. Nuts in cookies? Optional. I can still make a good meal without them if I need to.
Make your own: I make my own baked goods and don't buy mixes. I often buy one whole chicken instead of several packages of boneless, skinless chicken breasts. I make white sauces instead of cream soups. This helps me need fewer ingredients.
Stock back-up meals: I always keep certain ingredients on hand for back-up meals. Here are a few:
Salsa, tortillas, cheese, refried beans (for Mexican)
Cheese and pepperoni (for pizza)
Jambalaya rice mix
Pasta and tomato sauce (for Italian)
Potatoes and root vegetables to roast
Rice and beans
Super fast meal ideas from scratch: oatmeal, yogurt, cereal, ramen noodles, tomato soup (any soup!), chicken sausages, mac and cheese, spaghetti, and of course the sandwich
Fruits/Vegetables I always have on hand: black beans, green beans, carrots, bell peppers, apples, lentils, sweet potatoes, corn, broccoli, peas, spinach
And lastly…have fun! Food is amazing. Being creative is amazing. Enjoy the awesome privilege it is to plan your food. Enjoy!
---
6. Meal Plan Systems I Recommend
Ask yourself these questions:
"What part of cooking do I actually like? What can I hire out?"
"Does my monthly budget have room for grocery delivery, meal delivery, etc.?"
"Do we need to improve the food we are eating"
My Solution: I have a love/hate relationship with cooking. I like creating good food. But, I have being creative, coming up with ideas, and shopping.
My life-goal is to have a personal shopper that will just fill my fridge for me. Ok? Thanks so much.
So, I love for our family to eat healthy food (we are switching to the Mediterranean diet…I think), to be in control of what we eat (no surprise 1500-calorie tacos, please), but for it to require NO trips to the store and NO extra work.
Haha I know.
So, there are three meal planning options that have worked for us in the past. All of these have my full recommendation!
---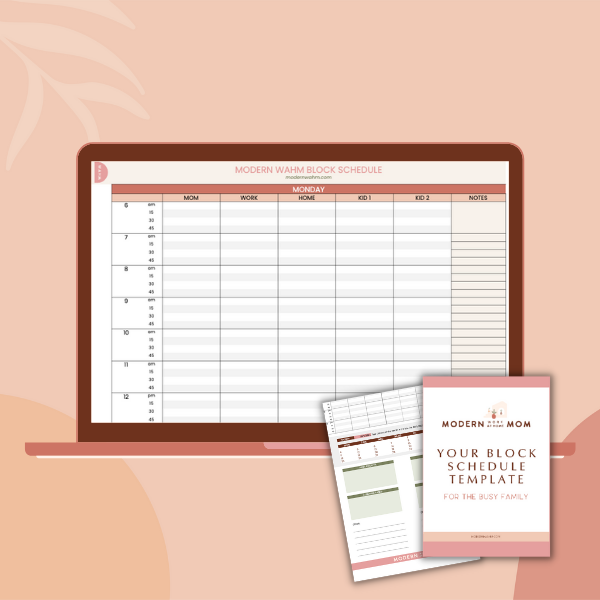 My Block Schedule Template
My block schedule template is designed to help you create a master list of your favorite recipes, and rotate them weekly.
Just imagine if you had 25 recipes that were easy, low-ingredient, and family-friendly, and every week you picked your favorite 5. Yep, that's the perfect solution.
Imagine EVEN MORE that I GAVE you 25 easy recipes right now that you could just plug in your weekly schedule?!?
That's how easy this system is! Just click here to get your customizable digital weekly schedule, complete with a master list of 25 perfected recipes. Choose 5 for this week….and you are done!
Price: $27 one-time cost
Unique feature: Use pre-created recipes, and your own master list to drag and drop into your own schedule!
Effort: Minimal – select recipes, grocery, cook
---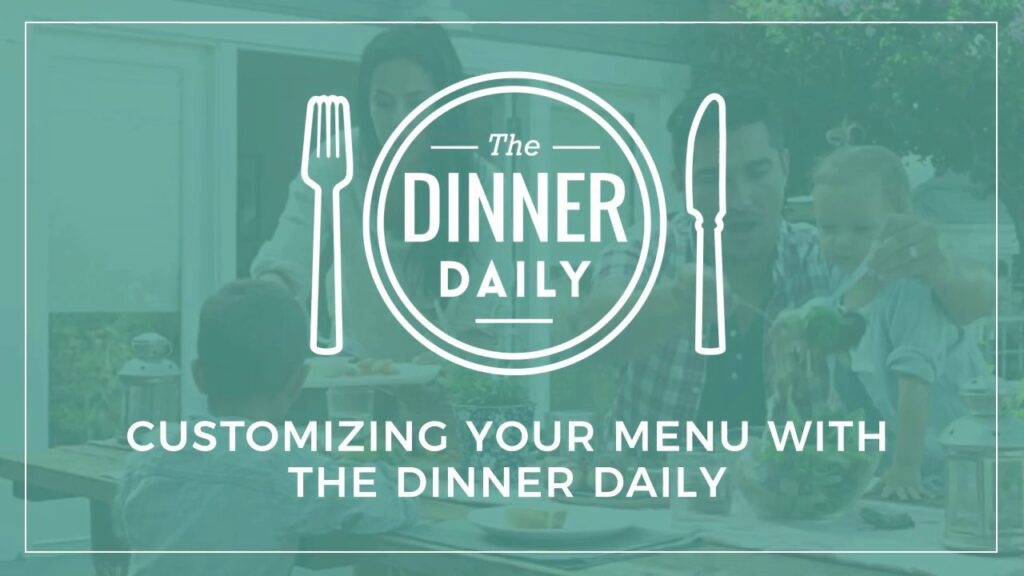 Dinner Daily
I started using Dinner Daily when we moved and I wanted an easy way to meal plan with my new grocery store's deals.
Most meal plans don't take your weekly grocery deals into account, and that frustrates me. With Dinner Daily, you enter your city, preferred grocery store, and diet (vegetarian, all-beef, you like chicken 2/week) and they give you a selection of weekly recipes using on-sale ingredients! All you have to do is pick which recipes you want to use, print off the grocery list, and cook.
I saved SO MUCH TIME and MONEY using this plan. I used it for over 2 years, and it is definitely amazing.
Price: $18/3 months ($1.50/week) or $48/year ($1/week)
Unique feature: Uses grocery sales, lets you save and choose recipes
Effort: Minimal – select recipes, grocery, cook
---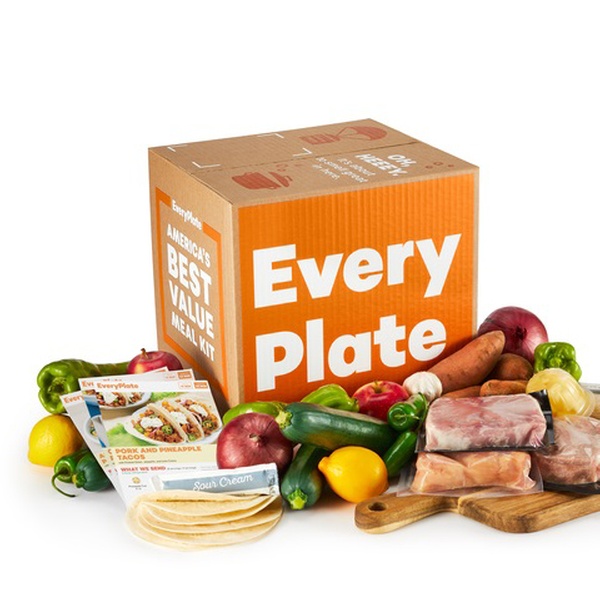 EveryPlate
If you want the Home Chef or Hello Fresh experience, but want it at a fraction of the cost, you have to try EveryPlate. I've been using this for over two years, and love it.
It is a dinner delivery plan service, that delivers you the recipes and ingredients for 3-5 recipes a week. It's JUST like Home Chef and Hello Fresh, but is so much cheaper.
For a regular box of 3 meals for 2 people, I pay $38.93 including shipping. The same plan for Home Chef starts at $49.95 plus delivery. EveryPlate doesn't have "Oven-Ready" meals, but every single meal I've made (and I've made over 100!) has been incredibly delicious, easy to make, and under 30-40 minutes. I totally recommend them!
Price: $38.93 including shipping per week
Unique feature: Recipes and ingredients included, priced low, variety of meals
Effort: Low – select recipes and cook
---
Cheap easy meals on a budget for busy moms
---