How to keep your house clean when you are never at home? It is almost impossible to keep your house clean while you work full time. I KNOW. But, there are a few tricks that really work, and will help you keep a clean house. To keep your house clean while you work full time you need to Start small, Save steps, Set a timer, Use magical supplies, Have friends that clean, and Go Slow.
---
I wish I could say that I am a house-cleaning pro. I have tried EVERYTHING. Apps, lists, programs, printable PDFs…nothing has stuck.
Keep reading!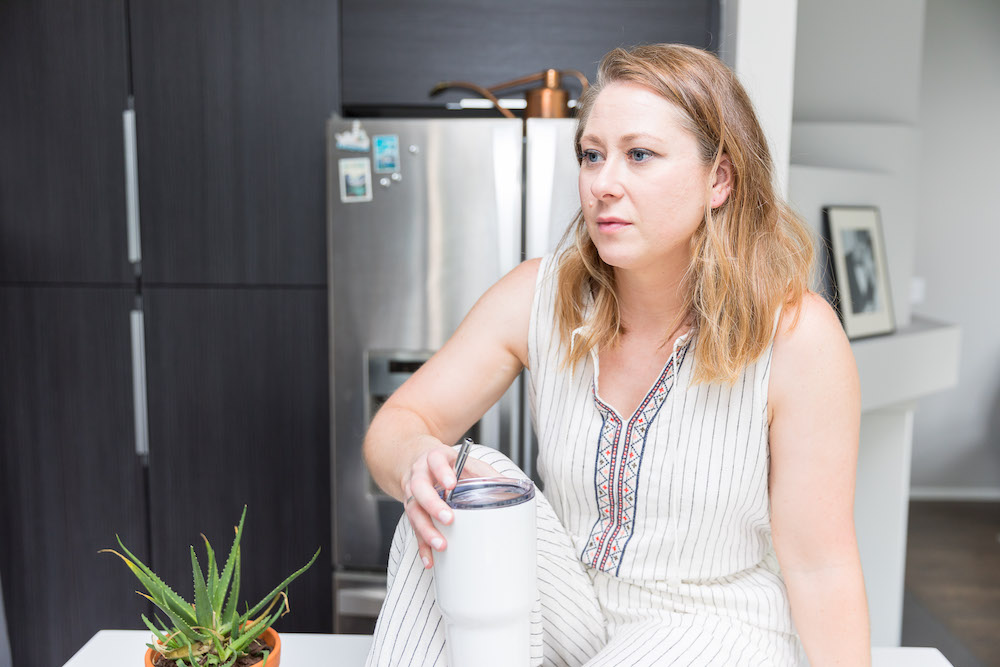 ---
---
How to keep your house clean when you are never at home –
I have tried everything to keep my house clean. I wish I could just hire someone and make it magically be done. But honestly, I like cleaning, and I want my kids to see their mom clean. So, I keep trying everything.
Just like everything in my life, I ask myself questions to figure out what kind of solutions I need. If you don't know what matters to you, you won't know what solutions you need. Here are the questions I ask myself:
Cleaning Questions to ask yourself:
"What does 'a clean house' mean to me?"
"How can I save steps when I'm cleaning?"
"What is my monthly cleaning budget for cleaners/cleaning?"
"What are the pain-points with my cleaning routine?"
So, instead of just buying all the pretty cleaning products at Target, ask yourself these questions to create a mental shift for you. Changing how you think about a clean house might make all the difference in the world!
---
1. Start Small
Start by asking yourself "What is a clean house?". For me, a clean house is an empty sink with no dirty dishes, no clutter, and wiped down countertops. That's it. I don't really care about cleaning my shower, or dusting, or mopping. I mean, I do all those things because I have to.
But, if I really want to feel like I have a clean house, I focus on: Dishes, Clutter, Counters.
So you do it! Start small. Write down everything that makes your house feel clean. Don't worry about laundering your curtains and cleaning your ducts. Don't add more than 5 items to your list.
If you only cleaned 5 things each week, what are the 5 clean things that matter the most to you?
My 5 that I focus on each week are:
Washing all the dishes and running the dishwasher each night
Cleaning up toys in the living room
Cleaning up the clutter in the kid's rooms
Wiping down all counters (kitchen counter and bathroom counters)
Vacuuming kitchen, dining room, and living room every 2 days
Everything else? It might not happen. But do these 4-5 things on a regular basis, and it will be enough to make me feel clean.
---
2. Save Steps
What does "Saving Steps" mean? It means that I literally do everything I can to save the number of times I walk between rooms and up and down stairways.
I know we want the exercise. But, if I have to walk across the house just to get the bathroom spray, I probably won't do that!
Here are some ways that I save steps while I clean:
Have bathroom cleaner, microfiber towels, toilet brush, and mirror cleaner in every bathroom. I don't have to lug around cleaner from room to room. (See my favorite re-fillable cleaners below.) Because of this, I don't really need a cleaning caddy.
Have hampers in every room (including the kitchen). If I'm undressing the kids in my daughter's room, all clothes go in her hamper, no matter "who's" it is. Use a kitchen hamper under the sink for wet towels and for stripping the kids after dinner. LIFE-CHANGING
Clean the kid's bathroom while they are bathing. 5 minutes. Quick wipe. Fast. (Want to know my cheat way to wipe down a bathroom counter? I use the hand towel that is hanging up, and grab it, spray the counter down, and use the hand towel to wipe it down. I make sure to use only used towels, but they do so well cleaning all the grime off!)
Keep the carpet cleaner upstairs near the carpet. I was so tired of running downstairs to get it.
Keep the laundry stain remover in the kitchen where I strip kids' dirty clothes, not the cleaning cabinet.
Every sink (bathroom and kitchen) has underneath it: cleaning spray, microfiber cloths, extra hand soap, extra hand towel.
Just keep a mental note! Every time you have to walk somewhere to get a cleaner, just leave it where you used it. Did you have to walk to the basement to get your cleaning rags? Move them to wear you actually need them!
Less steps and less remembering equals More Brain Space.
---
3. Set a Timer
This is my magic solution that works for me and my kids.
When I need to clean the house quickly, I give myself 30 minutes and see how much I can do in that amount of time. Honestly, so much can get done in 30 minutes!
With my kids, I tell them that we are going to play two songs and clean during just two songs. Right now they are loving the Sing Soundtrack, so we turn that on and clean just during two songs. It works!
Another cleaning tip for Kids: Give the instructions to clean "like toys". For instance…clean up all the yellow toys! Or all the books! Or all the things that have arms and legs. This "game" makes it easy for them to focus on just a few things to clean.
This really works well if you have a few time-saving cleaning supplies in your arsenal! Keep reading for my favorite cleaning supplies that work FAST.
---
4. Use Magical Supplies
| The best products for busy moms. | Why I love them. |
| --- | --- |
| | I HATE dusting. But these Swiffer Dusters make dusting so easy! Instead of using microfiber cloths or old socks, I use one of these for the whole house. It works perfect for tall shelves, low-to-the-ground baseboards, and every nook and cranny. I also give these to my kids, and they can dust almost the whole house! This one thing solves all my dusting issues. Totally recommend! |
| | I am OBSESSED with Grove Collaborative's Refillable Glass Bottles and Multi-Purpose Cleaners. And now you can get them at Target! I have a spray bottle in every bathroom and my kitchen. When I need to wipe down a counter, I just pull one out and wipe quickly. They work amazingly. Smell divine. And are so easy to re-fill. Also, I've had the bottles for over a year and they are holding up great. These are the re-fills I use. I also just add water and white vinegar to these bottles for a quick kitchen clean. |
| | When it comes to your counters and bathrooms, skip all the fancy brushes, paper towels, the damp cloth, and all the battery-powered spinning brushes. Get this Scotch Non-Scratch brush instead. I use this on my sinks, bathtubs, and showers, and anything with tile or countertop covered in sticky grime. These are the refills I use, and it works perfectly. Again, keep one of these in every bathroom and kitchen. Game changer! |
| | You know what works just as well as the non-stick brush above? These kitchen sponges. I always have extras, and using one in the bathroom, tub, shower, or kitchen is an excellent option! |
| | I also keep a pile of these microfibers in every bathroom and kitchen. They are perfect for the easy quick clean-up for stains when all you need is a fresh clean counter. They are better than paper towels by 100%! |
| | I also hate to mop, but when I try to do it semi-regularly. This spin mop makes it SO EASY. I use warm water and powdered Tide detergent. YEP. Its the best floor cleaner. The spin peddle rinses out the water perfectly, and the mop head comes off and is machine-washable in the washing machine. |
| | Ok, so I can't forget when everyone is sick. I'm a huge believer in Lysol and Bleach, and sometime your house is just germ-heaven, and you need to kill those germs. I love this Lysol spray, and I keep it on my counter the entire week people are sick. I use it with my microfiber clothes for all doorknobs, counters, door jams, light switches, and anything that little people touch. I'm never without this bottle. To read all my tips for when my kids are sick, read this post. |
The best cleaning supplies for busy moms.
---
5. Be friends with people who clean
I know this is going to sound crazy, but I like to surround myself with friends that are real about how they clean their house.
This includes friends in real life, and social media accounts that I follow.
For instance, I read somewhere that a mom paid their house cleaner to teach her kids how to clean a house. This is fine if that works for your family! But honestly, this doesn't encourage me with where I am right now. Surround yourself with people that talk about cleaning, want to teach their kids, and share tips on social media!
On Instagram, I love the account Lauracleanaholic! I get awesome product ideas and tips for how to save time. Her account is calming and encouraging. Totally recommend.
I also love the account cleanthatup. This guys is a 3rd generation janitor that LOVES cleaning. And his tips are kind of life-changing!
For printables, a weekly cleaning schedule, and other schedule options for your family, I recommend Get Organized HQ and this Spring Cleaning schedule.
I also am obsessed with Clean Mama, and love everything that she creates!
---
6. Go Slow
I remind myself often that my whole house doesn't have to be clean all at the same time. It's almost unrealistic for everything to be clean at the same time.
Instead, go slow! Just do one thing a day. Or do a quick cleaning spree over the weekends. Don't put pressure on yourself to get it all done at the same time.
Also, enjoy focusing on your top 5 cleaning tasks that make you feel clean, and ignore the rest!
That dirty refrigerator can wait!
How to keep your house clean and work full time
Please stop by our Facebook Group and share your top cleaning tips! I can't wait to meet you.
---
You might also like:
25 Genius Sick Ideas & Activities when Kids are Home Sick
When do kids stop napping: 16 Foolproof Tips for Quiet Time and Naptime
Foolproof Tips for Combining Office and Playroom
---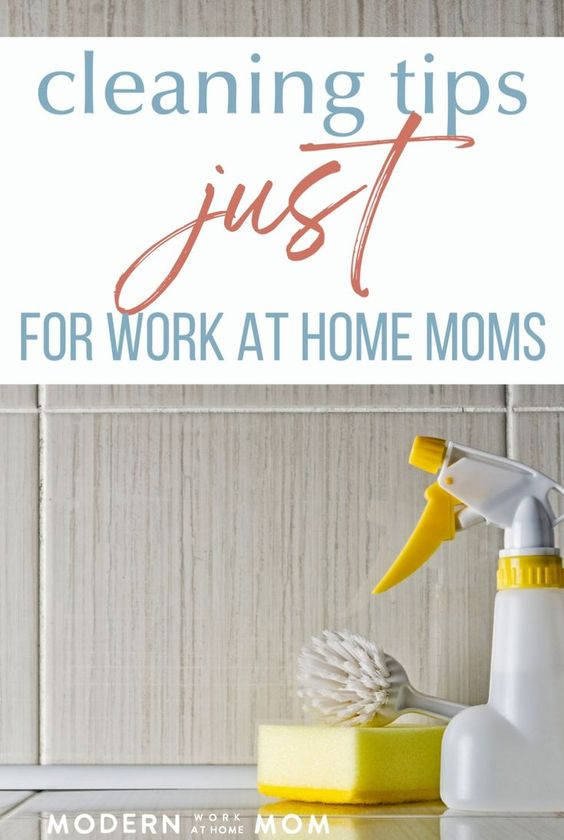 ---