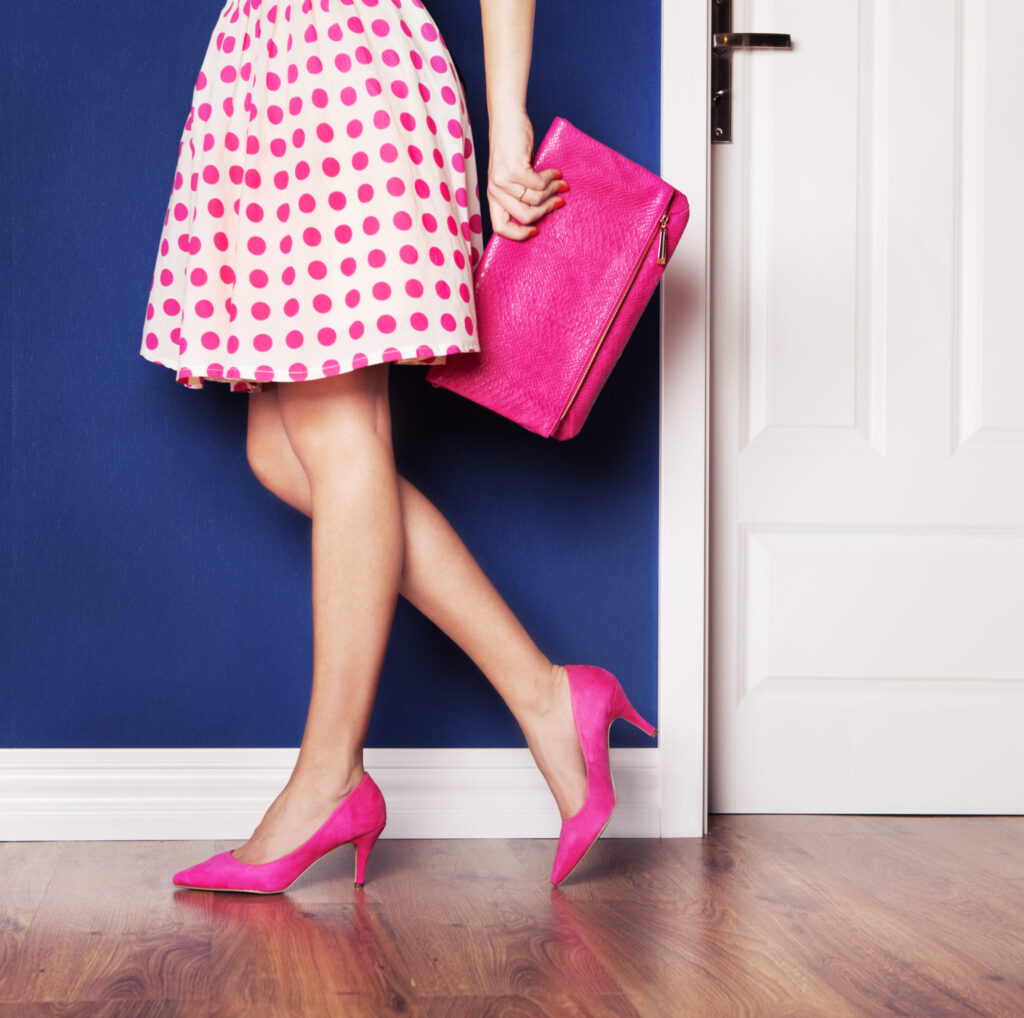 I love heels. I don't own a ton of pairs – but I love them. To me they carry a classic elegance that makes any woman stand out. And, who doesn't love making their legs look like a million miles high?
Unfortunately, some heels just are inherently uncomfortable. Even if you research your favorites to death (like my research for my nude heels), it's always a possibility that your well-chosen beauties will just hurt like crazy! Even if your heels don't hurt, there is a high chance that your feet slide around in them. No one wants to wear slippery shoes!
Years ago, my friend Jen once passed on a killer solution for slippery shoes. Her solution was to put heel cushions in the toes of your pumps. These heel cushions are like little long rectangles, and they perfectly fit under your toes in a pair of shoes. This little trick keeps your feet from sliding forward every time and cushions your toes! This is my number #1 tip for how to make your heels comfortable all day.
I have done this for every pair of heels I own – and often in my boots as well. The BEST brand for these heel cushions is Foot Petals. (Don't even try to use something from the grocery store like Dr. Scholl's. I have found Dr. Scholl's to be much smaller in size – and their adhesive budges within the first few days of use.)
Foot Petals, on the other hand, makes the BEST brand of shoe insoles. I order them from Amazon, and just assume I will add on $3-4 to my total price for a pair of shoes. A package of three pairs is only $13.69 here from Amazon.
For the Heavenly Heelz, place one toe cushion right under your toes in your pumps. It is a little tricky to gauge where that is, but make sure they press up against your toes – keeping your feet from sliding. These last forever!
I have also used Foot Petals Tip Toes (perfect for all-over cushioning), Amazing Arches (for arch support), Killer Kushions (for full-foot cushioning), and their Sole Stopperz (a traction pad for the bottom of your shoe). Each of these has worked just as advertised, and worth their weight in gold. They have made some unbearable shoes worth wearing again!
By the way, this post in not sponsored in any way by Foot Petals – I just really love them! (This post does have Amazon affiliate links).
Read My Other Wardrobe Posts Here
My Capsule Wardrobe
My favorite basics from Forever 21
The Perfect White Blouse
Just Call me Audrey | Must-Have Items for your Wardrobe
The Classic Pencil Skirt
The Perfect Nude Heel
That Sexy White One Piece
---
Make Your Week Easier with these Deals that Keep Me Going
LeTote
- I know the last thing on your mind is new clothes for you. But, seriously? When was the last time you shopped for yourself? Do you even have time to think about new fall clothes? Let me tell you what I do. I rent my clothes with Le Tote. Yep. I pick out a few outfits every month, wear them, LOVE them, and then send them back. Their prices are super cheap, and I don't have to buy anything. If you are pregnant, their maternity clothes are AMAZING.
Get a free tote here and love your FREE CLOTHES!
EveryPlate
- I know every mom in the world is talking about Hello Fresh - but let me tell you why
EveryPlate
is better and cheaper than Hello Fresh. EveryPlate provides fresh family-friendly meals right to your door - but for
less than $10/serving
. Their meals are the
same
as other providers, but they use less packaging (yay saving the environment!) so they can charge less. They also offer fewer meals per week with a wider rotation, so we never get sick of the same meals! I have used them for MONTHS, and we have loved every single meal. Stop meal planning today and try
EveryPlate
this week with a $20 discount.
Click here to get you first box at $1.66/serving!
KiwiCo
- Are your kids staying home this school season? Do you need something to keep your littles busy for HOURS? You need to get
KiwiCo Activity Crates
for your kids every month. These boxes teach your kids, provide 2-3 activities per month, give you a free storybook, and entertain your kids for
under $20/month
. We have loved them for years. Seriously, make this school year easier for you with
KiwiCo
.
Latest Posts: