Looking for tips to keep your kids healthy the winter months? I've got 3 tips that work for my kids and keep them healthy at school during the winter. If you are looking for new ideas to try to keep your kids healthy and keep off the germs, try these ideas: keeping hand sanitizer in the car, BeeKeeper's Natural Propolis Immunity Support, and my everyday immunity smoothie.
---
If you are like my family, the beginning of the school year basically means the beginning of cold and flu season. For several years, my two kids (preschool and early elementary) would come down with some sickness every 3 weeks.
Let that sink in. We were sick almost every month for YEARS. Yes, I know we were coming off of the Pandemic when our immunities were low. But honestly, we had no life. We were home sick, or about to be sick, for the whole year.
Last year I really dug deep to find things that WORK. I'm not going to buy a million vitamins that might help us ward off germs and any illnesses.
Instead, I did the work to find specific habits and patterns that were sustainable for our family.
And so, far we are healthy! We have gotten only one cold this past year (for the last 10 months).
FULL DISCLAIMER. I am not a doctor. Do not take this as medical advice. Do not assume that because this works for my family, it will work for yours. These are just forms of prevention to boost immunity, not treatments or medical recommendations based on medical data.
But, if you are looking for a few new ideas to help you boost your immune system, try these ideas!
---
Table of Contents
---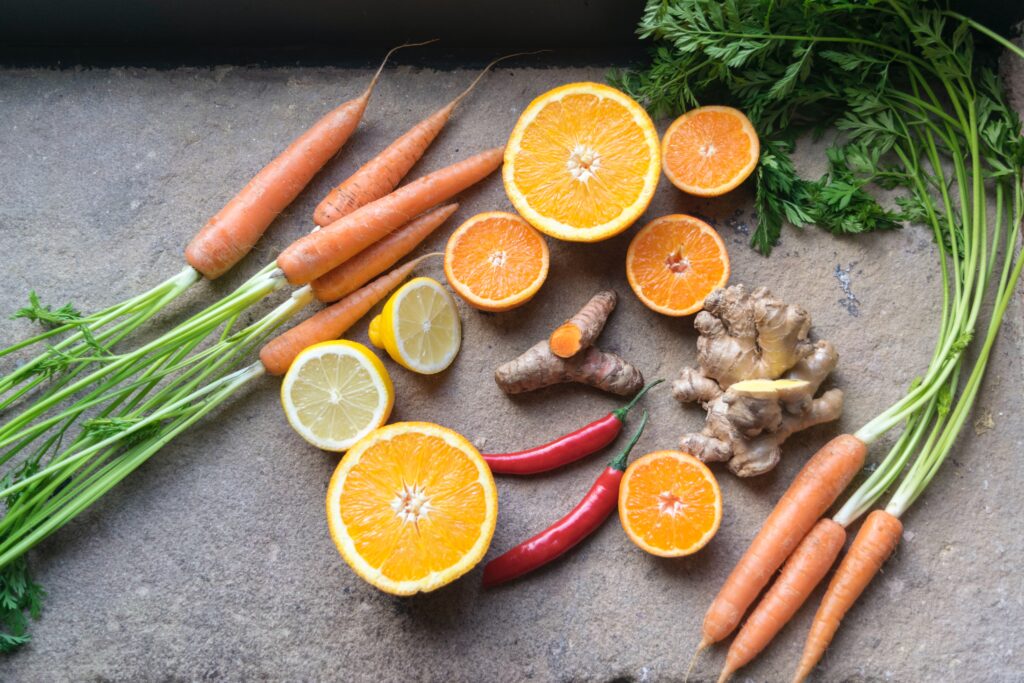 ---
Tips to Keep Your Kids Healthy the Winter Months
If you are entering the winter months, then you know that every germ is lurking around every corner.
When I was trying to find new things that worked for my kids and keep them healthy the winter months, I realized that they key was to find easy habits that would make a little difference.
I didn't need for them to never get sick. But I wanted small changes that would make a little difference for the long-term.
I have a 7 year old and a 4 year old, and I work from home for 40 hours a week, so I don't have time (and money!) to mix up ten different vitamins to cover all of our basis.
I need scalable easy habits, and these are what work for us!
---
1. Make hand sanitizer a habit
Kids are horrible hand-washers. That's a fact.
And before this year, I did not consistently use hand sanitizer in my car. But, this year I made a goal to keep a big bottle of the basic Purell sanitizer at all times. I usually buy one a month.
(This is the one I get from Target!)
We use this EVERY TIME my kids get in the car after school. We use this multiple times a day with all of our car time.
When my kids get home, they have a habit now of washing their hands with soap and water immediately when they enter the door. We do this every morning, bedtime, after they play with toys, and when they come in from outside.
I know this is a small change, but I really believe it helps!
---
2. Use Beekeeper's Naturals Propolis Immune Support spray daily
If you have you seen Instagram ads for this Beekeeper's Naturals Immune Spray, then the ads are true. This stuff works.
I started using this spray because it's hard to find a throat spray for kids when they are sick. We keep bottles of this around our house (in bedrooms, in bathrooms, in the kitchen) but also in the car. It's a great remedy when kids have a scratchy throat.
But then I realized that it was actually improving our healthy immune system. This is what their website says:
With 300+ beneficial compounds, propolis is the bodyguard of the beehive. Bees use it to line the walls of their hives to keep the germs out. We use it to support our immune systems, soothe scratchy throats, and combat free radical damage in the body.
This all-star ingredient contains antioxidants and other immune-boosting compounds with every spray. It supports your immune system with antioxidants, vitamin C, zinc, iron, B vitamins, and over 300 other beneficial compounds.
My kids take 3-4 sprays of this every morning before school, and they love it! (It tastes like honey.) But I have found that since taking this daily, we are warding off colds.
In fact, many times my kids have started getting a sore throat or had sneezes, and when they take this, they wake up the next day with no symptoms. This was a great thing to implement as we entered the cold weather last year.
I repeat: I am not a doctor. This is not medical advice. It's just what I've noticed as a mom.
FEATURED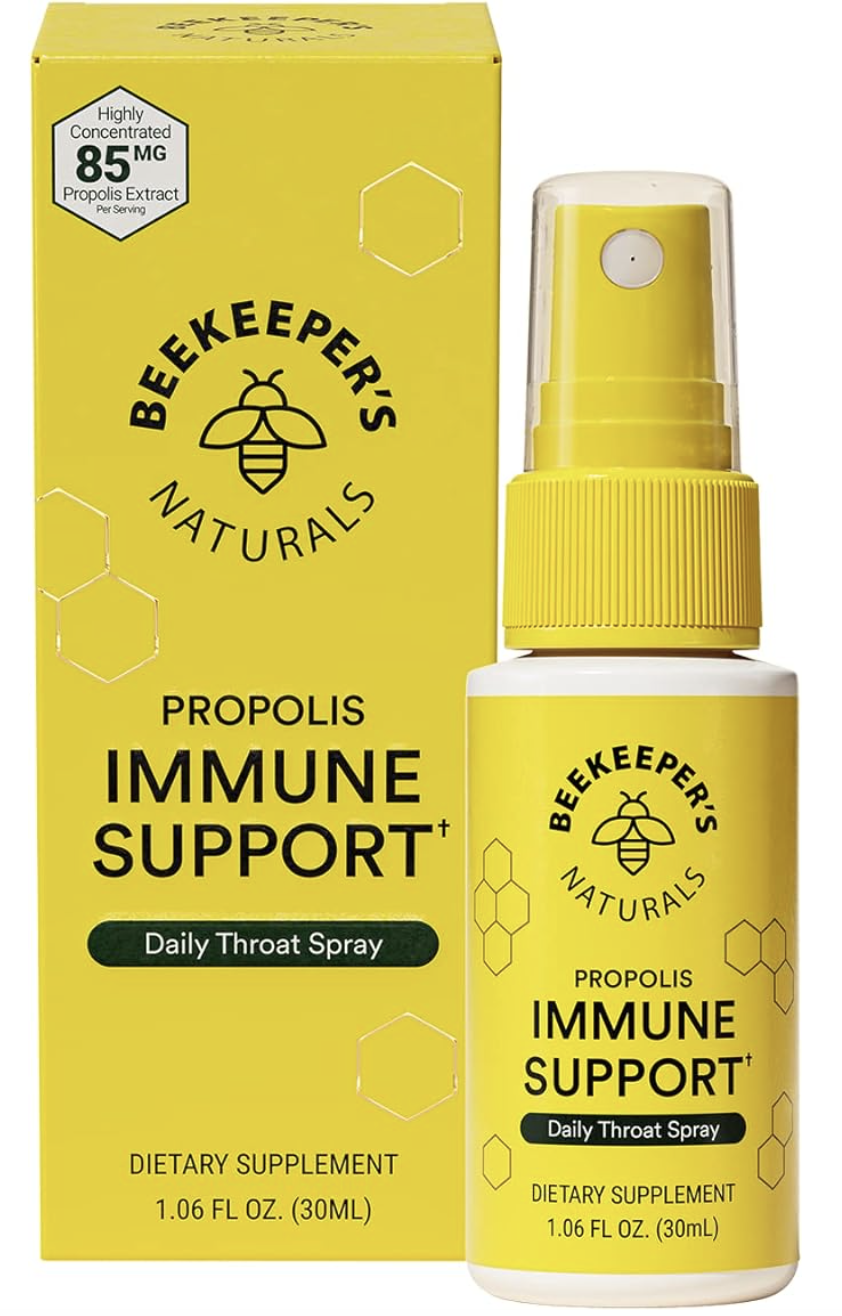 See the Deals Here
Beekeeper's Naturals Propolis Throat Spray
PROPOLIS IS THE DEFENDER OF THE HIVE. Bees use it to line the walls and keep germs out. We use it to support our immune systems, soothe dry, scratchy throats, combat free radical damage in the body, and feed the good bacteria in our gut.
---
3. Make a daily immune support smoothie
I started making my children a daily smoothie when my son was struggling with his gut health. I had some doctor's advice about what to add for his health. But, when I found myself making these daily smoothies, I wanted to add additional ingredients that would improve our immune system.
I am including our smoothie recipe below. But honestly, you can include any fruits and vegetables you like! (When the winter months come upon us, I like to add an orange or other citrus fruits to boost the vitamin c.)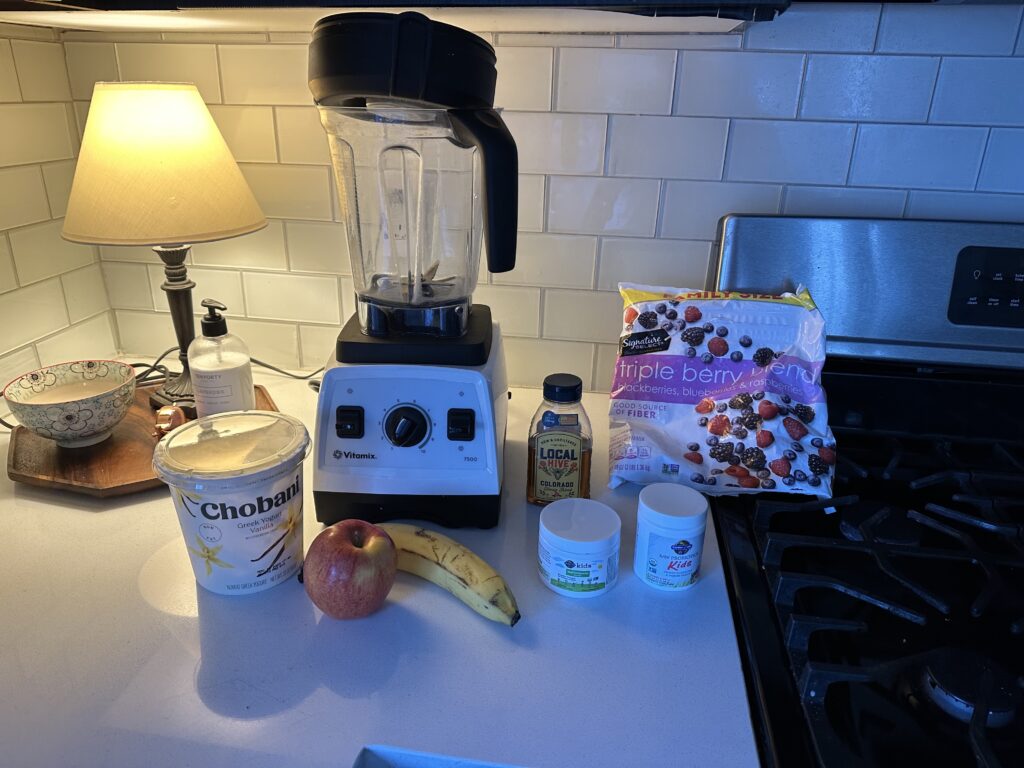 Kids Immunity Booster Smoothie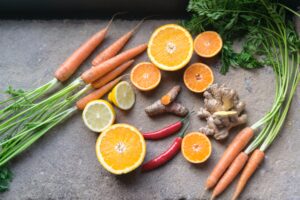 This is the perfect kids immunity booster smoothie for keep your kids healthy those winter months.
Type: smoothie
Recipe Yield: 2
Preparation Time: 5 minutes
Total Time: 5 minutes
Recipe Ingredients:
2 cups water
1 apple
1 banana
1 cup yogurt
1 T. honey
1 cup frozen berries
1 serving: Garden of Life Raw Probiotics Kids
1 serving: Garden of Life multivitamin powder
Recipe Instructions: 1. Add all ingredients to blender and blend! Variations we like: 1. Add 1 handful spinach or a few carrots 2. Pear instead of apple
---
Vitamix 7500 Blender
I can't share this recipe without sharing how much I love my Vitamix Blender. I've never really invested in a blender, but after making this smoothie everyday, I knew that we needed the perfect blender to puree everything perfectly.
The Vitamix 7500 Blender has ten speeds allow you to refine every texture with culinary precision, from the smoothest purées to the heartiest soups. My kids love this because there are NO SEEDS. A perfect puree.
This size is perfect for family meals and entertaining, while fitting comfortably under most kitchen cabinets.
We use this blender everyday. Totally recommend!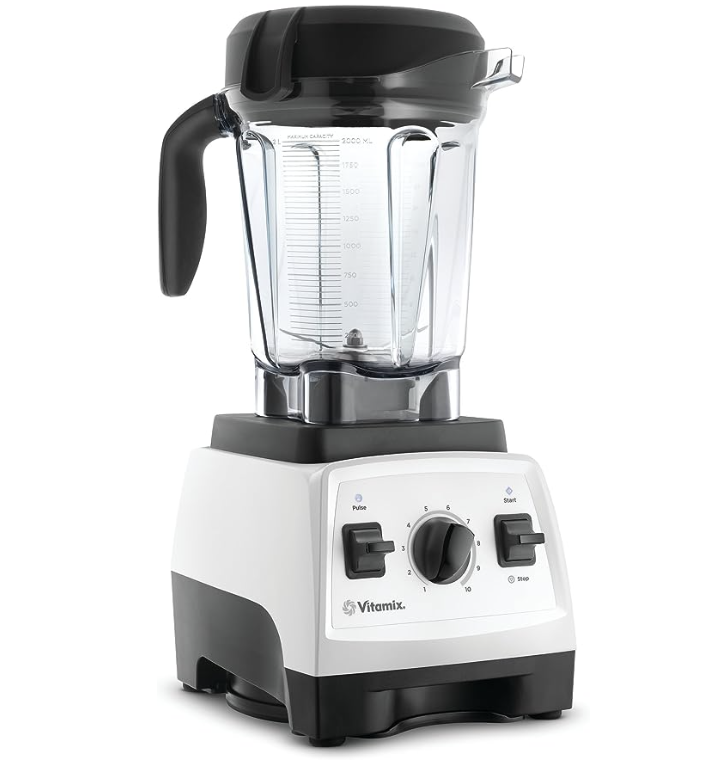 Get the Deal Here
Vitamix 7500 Blender
Ten variable speeds allow you to refine every texture with culinary precision, from the smoothest purées to the heartiest soups.
---
Garden of Life Probiotics and Multivitamin Powder
Every mom wants to know the best vitamins to give your kids.
Grocery store brand or some expensive influencer-approved brand?
Well, I like neither haha. I don't want to spend $50 a month on candy-like vitamins that either get stuck in my kids teeth, or trick them into thinking that vitamins are "breakfast dessert".
Instead, I my criteria for kids vitamins are:
no sugar
last a long time
super effective
And guess what? I found the best brand for kids (and adult!) vitamins: Garden of Life.
Garden of Life products are:
USDA Organic
Non-GMO Verified
Certified B-Corp
On their site they say: Our third-party certifications require rigorous standards because we believe in truly clean products you can trust. These certifications ensure we're getting all the good stuff from foods grown without any of the bad stuff.
I have found all their products to be amazing and highly effective!
These are our favorites: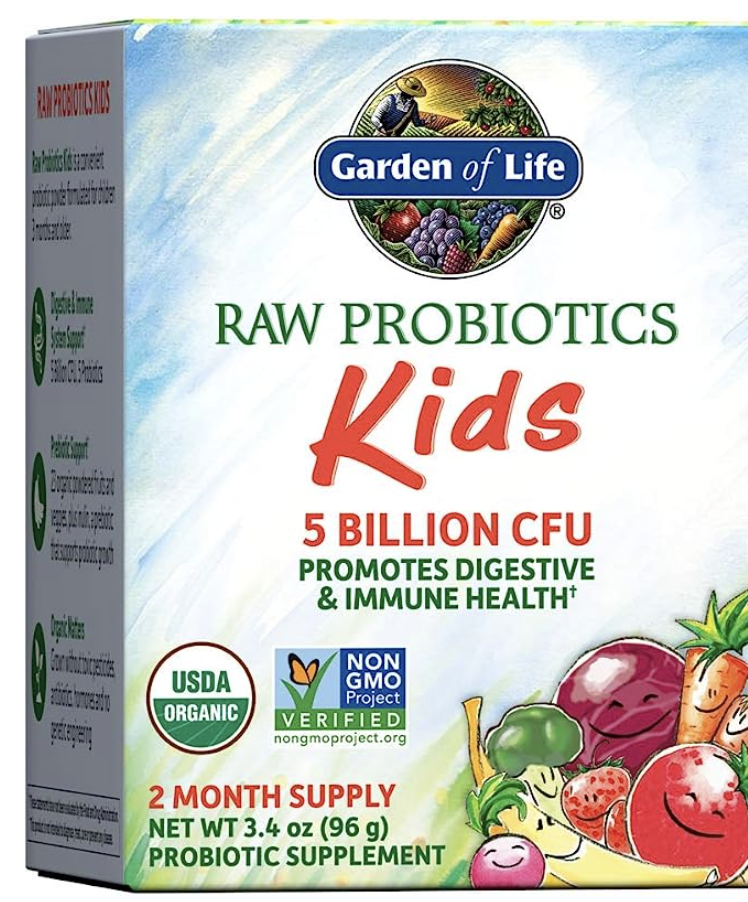 Get overnight delivery here
Garden of Life | RAW Probiotics Kids
This probiotic and prebiotic supplement contains a Prebiotic Blend of 23 Organic and Raw Fruits and Veggies including Banana and Strawberry—plus inulin, a prebiotic that supports the growth of good bacteria in the gut.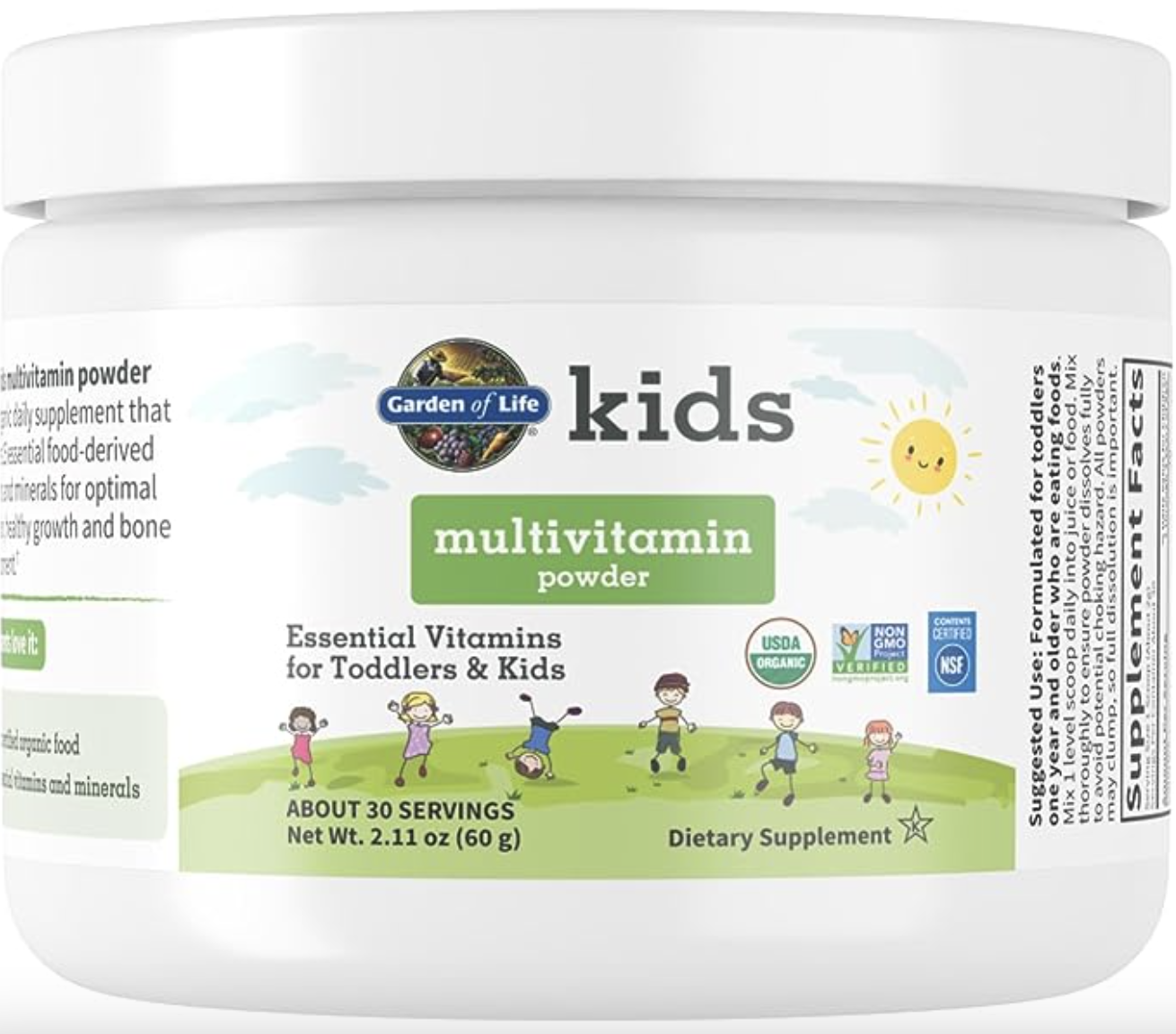 Get it now
Garden of Life Kids Multivitamin Powder
Organic Kids Multivitamin powder—a daily supplement formulated for toddlers one year and older who are eating foods—delivers 15 essential food-derived vitamins and minerals for optimal nutrition, healthy growth & bone development.
For both of these vitamin powders, I add them to smoothies, yogurt and milk. My kids don't even know they are taking them, but yet they are taking the best vitamins every morning.
When I add to smoothies, I only add one serving period – no matter the smoothie size. I don't want one kid to accidentally get more than one serving. Even with half a serving, these vitamins work!
---
BONUS – What to do you when you get sick?
Your Amazon Sick List – You need an Amazon list for all your medicines! See my list here for all my favorite cold and cough medicine for my kids.
Ok, let's talk about medicine. I am ALWAYS looking for medicines that will make things easier. I have tried A TON, and not all live up to their claims (or reviews!). I'm the mom that is ordering medicine on Amazon at 4 am because I just can't take it anymore!
In fact, did you know that Amazon has OVERNIGHT delivery with an order of $35 or more? Many times I order medicine at 4 am, and it's delivered by 9 am. MAGIC I TELL YOU.
Add these items to your Amazon Overnight Delivery to get them first thing in the morning.
Bedroom Quarantine – Right now my kids have separate bedrooms, so I make sure that every bedroom is prepared. Each has a trash can, a new tissue box, a hamper, and a humidifier.
We try to keep kids separated when they are sick, so I make sure my daughter has a table set up in her room for snacks and meals. She is 7 years old, and loves eating "like a big kid in her room". This allows her to stay separate from my 4 year old. It doesn't always work, but we have definitely had colds come and go where both kids didn't get sick. It's a WIN.
I also do the exact same thing in my kitchen. I keep a "medicine station" on both counters. This way I don't have to go upstairs/downstairs if I need to give the next dose. I often have doubles of medicine bottles, so consider getting two bottles if possible to make this easier for you.
Don't forget to buy tons of lysol wipes and put them in EVERY ROOM! I keep them out and try to clean the doorknobs, switch plates, and anywhere we touch…every night.
See all my genius sick ideas and activities when kids are home sick here!
Regular Winter Precautions: What kind of mom would I be without mentioning the obvious tips to keep in mind this winter:
Get your flu shot and vaccinations!
Use an air purifier and humidifier to make sure you don't have dry air in your home. Dry air can cause dry noses and throats in kids and infants which can cause cold symptoms to last longer.
Remove wet clothing and wet boots as quickly as possible. Add an extra layer of clothing when going outside.
---
What are your tips to keep your kids healthy the winter months?
What is your vitamin and health routine like? Any tips you want to share with other parents? Please share all your tips for keeping kids healthy this winter season!
---
You might also like:
Your Master Guide: Tips for Working From Home with Toddlers
How do you get kids to play by themselves? (5 NEW ideas that work!)
25 Genius Sick Ideas & Activities when Kids are Home Sick
---