Are you looking for an online color analysis and are interested in Created Colorful? I had an incredible experience with Created Colorful, and would love to answer all your questions about online color analysis and especially the Soft Summer palette!
---
About 3 years ago I heard about Created Colorful, an online color analysis company, and was immediately sucked into their incredible results and reviews. Honestly, I thought it was too good to be true, and didn't purchase their analysis immediately. But for years I had this on my bucket list of things I wanted for myself. I kept coming back to it – that's how you know you want it in your life!
When I finally bit the bullet and purchased the Created Colorful package, I was giddy with excitement. It was like Christmas morning.
Let me tell you about it!
$15 OFF
Created Colorful Discount
Step into your main character era & ditch the colors that don't do you justice.
What is online color analysis?
Online color analysis, according to Created Colorful, is "shortcut to loving how you look right now—and finding clothes that love you back!"
Basically, this virtual color analysis analyzes your "colors" (skin, undertones, cool undertone vs warm undertone, features), and gives you a guide to how to style, buy clothes for, and see your body.
This might sound crazy.
At first I was like "I know what colors I like! You can't change that"
But then, as I shopped, I realized that I didn't know what looked good on me. All those outfits I bought off the mannequins? Yep, they didn't look good.
So, I knew that this would be an amazing step for knowing myself.
---
How do I find out what color palette I am?
I know you've seen those apps that tell you "what color palette you are." I've even tried some of them!
Let me tell you. NO APP can give you what Created Colorful can. Created Colorful is more than just a pdf with a single color phrase on it.
(It's way more than just a selfie, color wheel and quiz.)
Created Colorful saw into my soul. They identified that I had cool romantic features and that I could lean into soft, romantic looks. To be honest, I've always wanted to lean into my softer side. But, because I didn't know how colors work, I always just bought black.
This is the beginning of the consult email I received. Talk about feeling amazing about yourself! The way that the image consultants saw my natural beauty and praised – that was worth it right there!)
(To be fair, finding your right shades is more than just eye color, skin color, and hair color – this email made me feel like a million bucks.)
We're so glad we got to work with you on this! Wow girl – you are STUNNING! I can't get over your soft, romantic look. Your eyes are truly exquisite with their gorgeous shade of blue and brilliant sparkle!
Before I go further, these are the color season analysis palettes:
Clear Spring
Warm Spring
Light Spring
Soft Summer
Light Summer
Cool Summer
Soft Autumn
Warm Autumn
Deep Autumn
Clear Winter
Cool Winter
Deep Winter
---
In personal colour analysis worth it?
Is it worth it?
For about 2-3 years, I didn't think that spending $180 would be worth it just for "more information so I can shop for myself and spend more money."
But then I found myself in stores just frozen – not know if certain clothes and colors would compliment my best colors.
I would find myself not really happy about the clothes that made me feel comfortable, and not bold enough to try the colors I liked.
The deciding factor was when I started shopping exclusively at Goodwill.
That's right. I shop at Goodwill.
And you know what Goodwill has? A MILLION RACKS OF EVERY SINGLE COLOR.
I decided that if a virtual color analysis could give me insight into how to really shop for myself, it was worth it.
(Spoiler: It was!)
$15 OFF
Created Colorful Discount
Step into your main character era & ditch the colors that don't do you justice.
---
How expensive is a color analysis with Created Colorful?
Created Colorful costs $180 for a complete color analysis.
WHAT YOU'LL RECEIVE:
A detailed, personalized results email, including:
20 shades that compliment your features
An explanation of your skin tone
Tips on which colors do and don't work for you
Personalized makeup and nail polish recs (U.S. brands)
Access to a facebook community for your palette
Links for clothes in your palette (U.S. brands)
$15 OFF
Created Colorful Discount
Step into your main character era & ditch the colors that don't do you justice.
---
What colors to drape for color analysis?
To be honest, draping colors was the hardest part.
These are the instructions I received:
In addition, send a minimum of 4 personal photos that you've previously taken in decent lighting. Photos that you feel reflect YOU. This is very important in helping us confirm your best colors across various lighting scenarios. If your hair is dyed, include a pic of your natural color, too, if you have one.
They gave very specific instructions about which colors to use, how to stand in the light, what to do with my hair, smile, and how to submit the photos.
After the first submission, I did have to submit a second round. It was totally worth it – just harder than I anticipated!
Do you need to own fabric/clothes in all the colors to submit photos?
I was able to find most of the colors around my house – I used fabric from my daughter's clothes, my husband's shirts, a few blankets, and some of my clothes. I was able to find enough to submit my photos!
Here are a few of my images of NON-FLATTERING colors:
(Do you see how red my face is, and how puffy and shadowed it is?)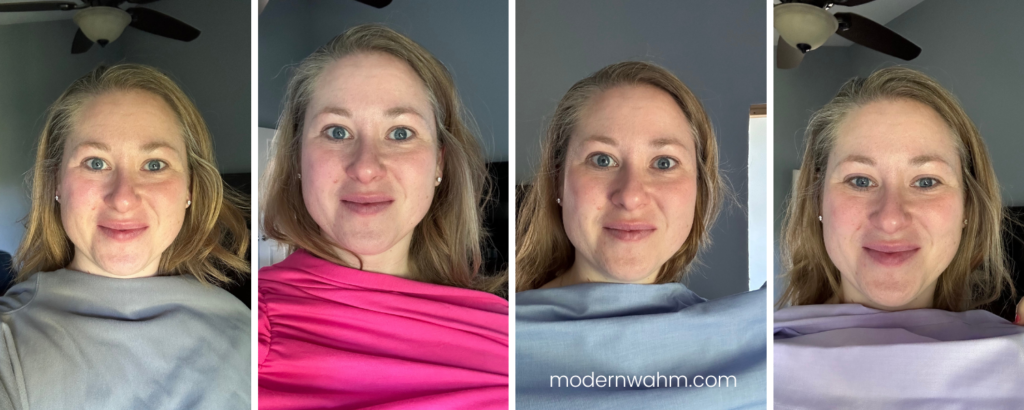 Here are my FLATTERING colors (now that I know I am a soft summer!) See the difference?
You can see the comparison of greys, pinks, blues, and purples here. Huge difference!
All these photos are with the SAME LIGHTING.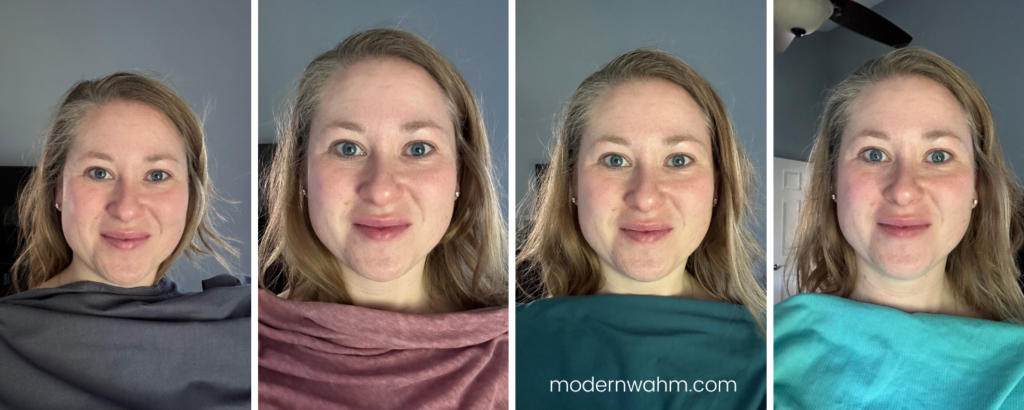 ---
My Soft Summer color analysis
Waiting for my analysis email was so hard! I could see myself with several color palettes, so I was so interested to see what my color palette was.
And…I was a Soft Summer.
You guys, I love Soft Summer so much! Here are some of the graphics and descriptions Created Colorful send me: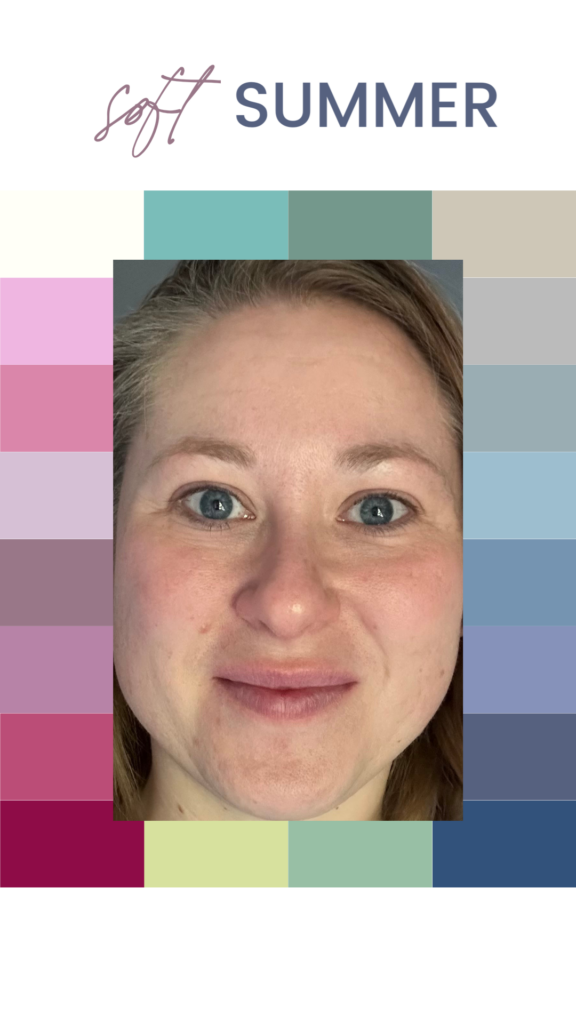 ---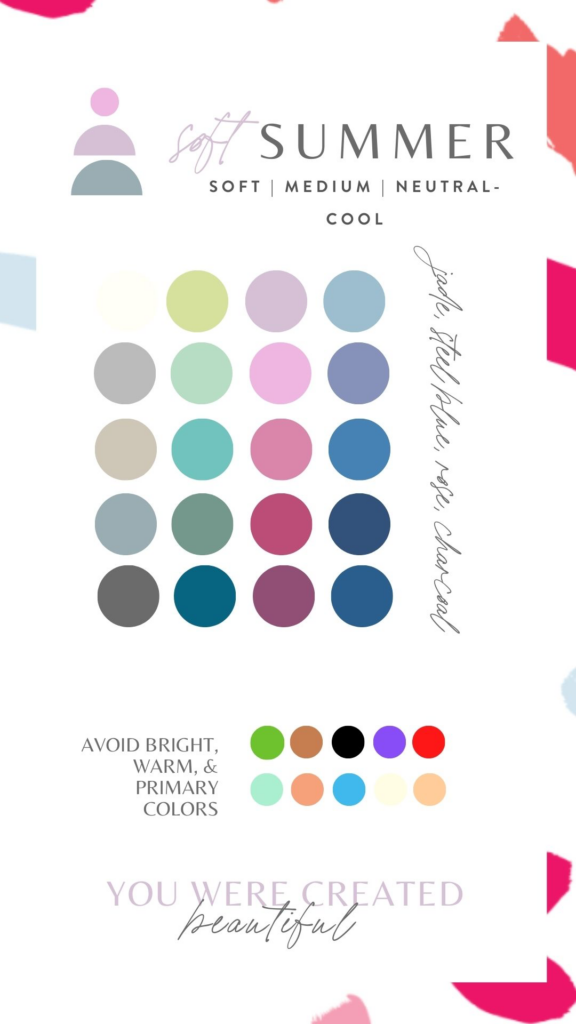 ---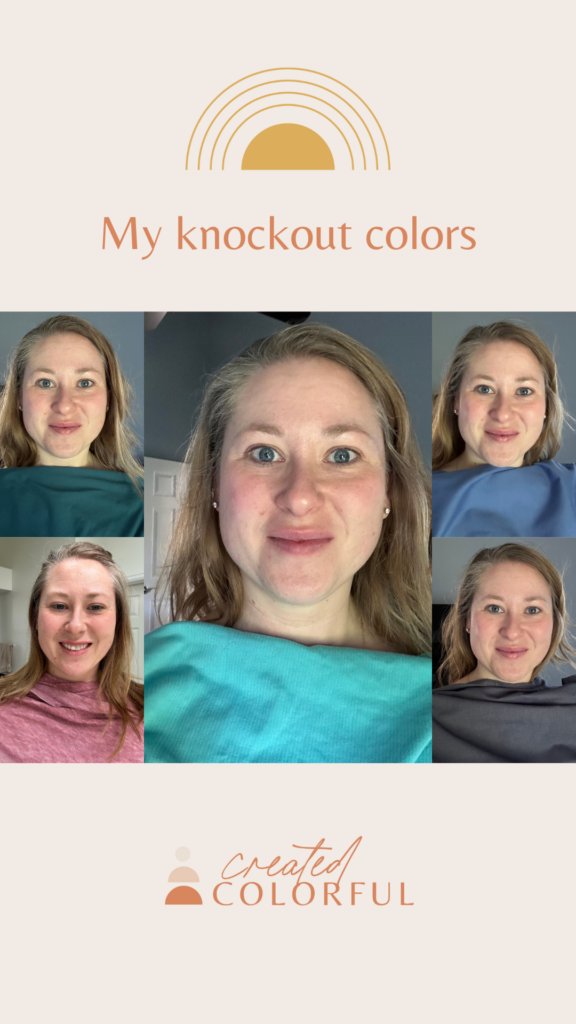 ---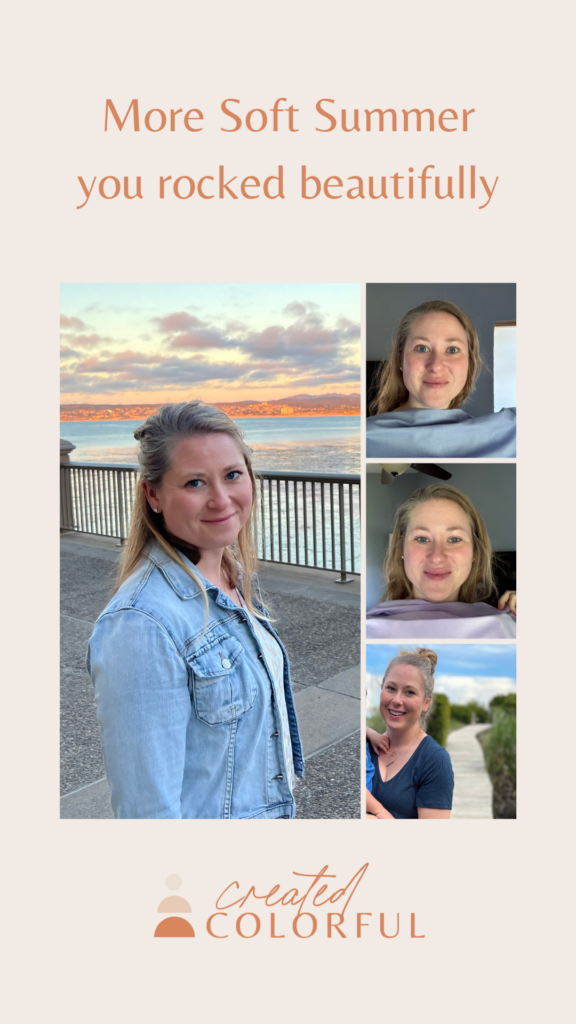 ---
Here is an example of their wardrobe guides they give you:
They also sent me:
Hair color ideas
Capsule Wardrobe links for all seasons
Amazon clothing lists that are soft summer
Links for: accessories, lipstick, makeup, shoes, jewelry, and so much more!
To see all the resources Created Colorful offers by palette, click here.
---