---
I was the same way for years, and always thought "I can make the same activities at home by myself! Why would I pay to have craft boxes come to my house?"
Well, if you think that too, keep reading! I want to show you how my husband pushed to buy these boxes for my kids – and why we still order them 5 years later.
We have now been able to experience both KiwiCo and Little Passports – and love both for different things! Keep reading to see how we use them in our house…
---
---
Why do you need a kid monthly subscription box?
If you are like me, you are probably budget-friendly, and you probably don't want to buy something else. ESPECIALLY if it is baby toys for your kids. Your house is FULL of toys…and now we need to buy a new set every month?
I get it. But, my husband was the one that wanted to buy this box for my daughter – and who was I to stop him? I thought it was too "extra"….until I saw his reasoning. And now our kids have repeatedly monthly activities that we all look forward to.
This is why we now buy Kiwi Crates for our kids every month:
It fits our "$50/month" childcare budget. Seriously, if you can't afford childcare, but can swing $20 or $50 a month, use that childcare money on a subscription box that repeatedly gives you childcare relief! Read more about how we childcare budget here.
It goes beyond "toys" or "crafts". It gives our children educational outlets before they hit school-age. I love how the Kiwi Panda Crate starts shaping baby's and toddlers minds early.
It gives my daughter something to teach her younger brother. Not only is she "helping him", but she can grasp the concepts and teach him!
They are smart gift ideas to give our kids at holiday time. Instead of just buying plastic crap from Target, we actually give these boxes as gifts, and our kids think they are the coolest!
We keep the activities and re-use them when our kids are bored and need new toy ideas. The easiest toy rotation resource!
It removes decision fatigue about "what to do with your child today". I'm all about removing the need to make daily decisions!
They are changing what my kids think is "fun". Instead of playtime only being plastic toys and more Sesame Street, my kids want to learn and experiment on their own.
---
---
---
---
KiwiCo: Themes
KiwiCo has different boxes for the following ages. But we are going to focus today primarily on the Panda Crate.
Panda Crate: Ages 0-2 (24 month olds)
Koala Crate: Ages 2-4
Kiwi Crate: Ages 5-8
Atlas Crate: Ages 6-11
Yummy Crate: Ages 6-14
Doodle Crate: Ages 9-16
Tinker Crate: Ages 9-14
Maker Crate: Ages 14-ff
Eureka Crate: 12 – ff
Each of these boxes is designed to bring STEM learning to each of the age groups. There are very few thematic subscriptions. Instead, each age group will receive a variety of themed boxes that include science, engineering, letters and alphabet, technology, art, crafting, and more.
They do have a really cool quiz that let's you pick the right subscription kit based on your child's interests. This is what it looks like: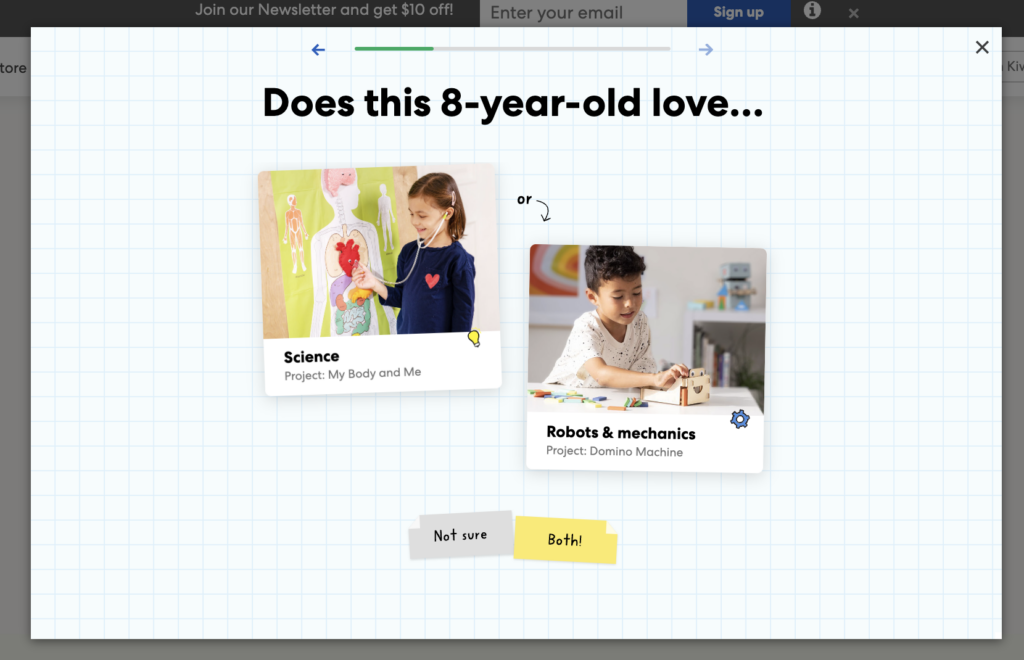 ---
KiwiCo: Cost, Packaging, And Shipping
Monthly subscriptions are $23.95 per month for most lines (Koala Crate, Kiwi Crate, Atlas Crate, Yummy Crate, Tinker Crate, Doodle Crate). Maker Crate and Eureka Crate are $32.95 per month. Panda Crate is $43.90 per crate (shipped every 2 months). All subscription boxes include free shipping.
You can also receive a discount on the per-crate price by signing up for a 3, 6, or 12-month subscription. (here) You can also upgrade for the "Plus" version of a box for more advanced activities for the age group for a higher price.
KiwiCo also has a really cool store for single craft boxes or gifts for each age group. These items don't require a subscription and start at $8.95. See the latest store discounts here.
Everything is always packaged well, in strong boxes we have kept for years. Sometimes these boxes accompany the activity, and are required to make the craft (ie. the box becomes a refrigerator for the kitchen activity.)
---
What's In A KiwiCo Subscription Box?
Each age group's subscription includes a different set of instructions and activities. We have only used the Panda, Koala, and Kiwi Crates, and each of these has included:
Panda: 4–6 stage-specific products or toys
Koala: 2-3 science and art projects per crate, inspirational booklet, "Explore!" Magazine, Online DIYs
Kiwi: 2-3 science and art projects per crate, inspirational booklet, "Explore!" Magazine, Online DIYs
Personally, I have found that each box includes enough activities for 3-4 days of fun. The crafts and games last a long time, and our children enjoy spreading them out for days.
---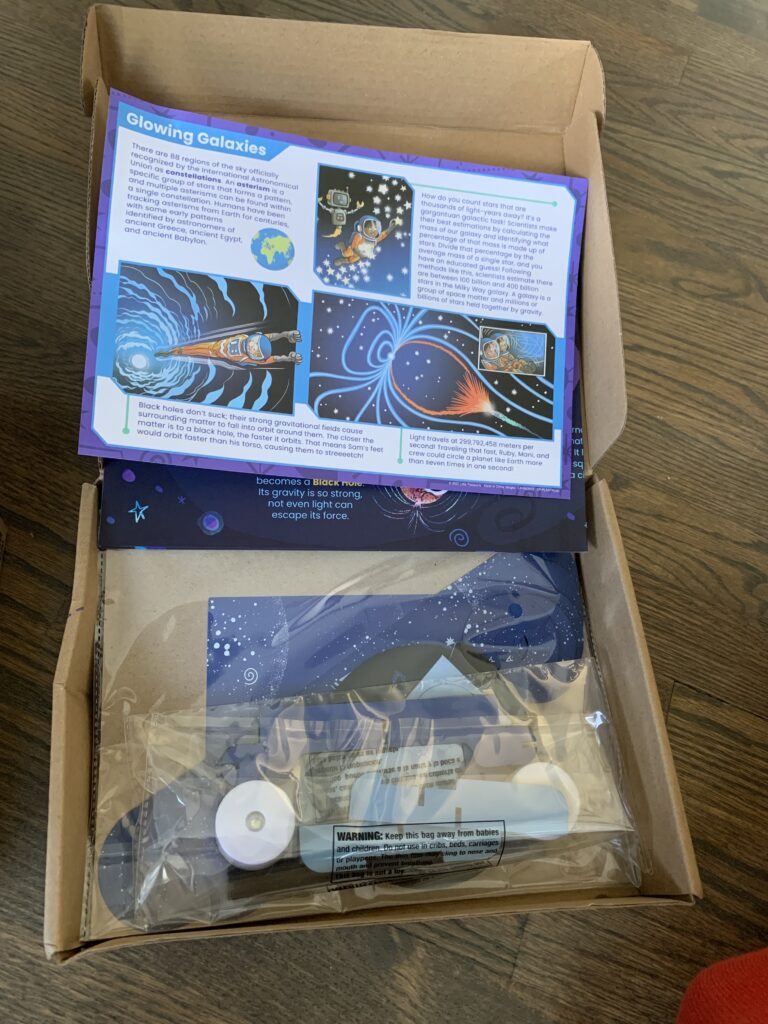 ---
2. Little Passports
I want my kids to learn, explore, and be challenged. I just don't have the time to plan or organize the activities. That's where Little Passports comes in!
Once you sign up for the monthly frequency subscription, you'll receive monthly packages based on your child's age.
The packages are filled with fun and educational toys, activities and souvenirs designed to spark your child's curiosity. (info here)
---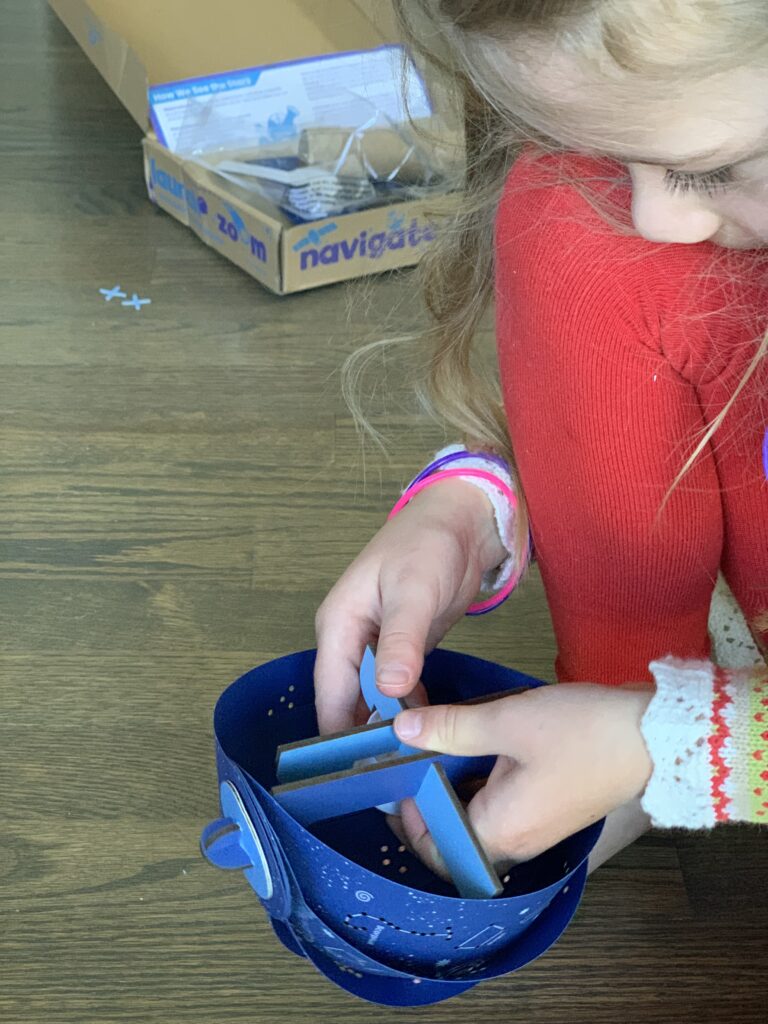 Little Passports: Themes
Here are the themes for each Little Passport Monthly Subscription:
| | | | |
| --- | --- | --- | --- |
| | Discovery | Culture and Geography | STEM |
| Ages 3-5 | Animals Wild | Early Explorers | Science Junior |
| Ages 5-8 | Space Quest | | |
| Ages 6-10 | | World Edition | |
| Ages 7+ | | USA Edition | Science Expeditions |
Little Passport Monthly Subscription Themes
The first package for each subscription gives you everything you need to get started: A colorful suitcase, an age-appropriate passport, souvenirs, and the exact items to spark your child's interest.
Each additional monthly box will explore a different topic. You can purchase either a monthly box, or they have 6-month or 12-month plans. There is no contract and you can cancel at any time.
The first delivery comes packed with everything they'll need for the very first adventure.
This is what is included with Early Explorers:
Their very own Little Passports suitcase
A wall-sized world map to chart their travels
A welcome letter from pen pals Max, Mia, and Toby
A pop-out playset and stickers
An activity booklet packed with puzzles, games, and fun facts
These are the themes included with Early Explorers:
Traveler
Oceans
Food
Space
Animals
Art
Landmarks
Science
World Celebrations
Weather
Dinosaurs
Transportation
Music
Toys & Games
Habitats
Natural Wonders
World Discoveries
Insects
Sports
Rocks
Plants
World Coins
Homes
Jobs
---
Little Passports: Cost, Packaging, And Shipping
We received the Growing Galaxies Space Quest you can see here. This was packaged neatly in a small cardboard box. It included 2 activities, an instruction guide, and a fun poster.
Everything was packaged well, but the cardboard box was not strong enough to keep to store the items in. I immediately disposed of it. This is just a head's up in case any moms out there plan to store the contents long-term.
Also, because this subscription box was not the first box as part of a subscription, it did not come with the colorful suitcase or first-delivery additional items.
---
What's In The Little Passports Subscription Box?
Our Growing Galaxies Space Quest box included included 2 activities, an instruction guide, and a fun poster. These were created for ages 5-8, and my 5-year old daughter completed them easily with some parental help!
We completed both hands-on activities in about one hour, and my daughter loved the cardstock planetarium and mini flashlight projector. She played with both for many hours later.
But, honestly, the thing that my kids have been in love with the most was the "Life Cycle of a Star" poster. They hung this up in our kitchen, and we read it and talk about it every meal. It's fascinating! I appreciate how Little Passports includes a post in their kids boxes.
---
3. The Pros and Cons of KiwiCo
Our family is a regular subscriber to KiwiCo Crates and have used them for years. So I would like to compare Little Passports to KiwiCo as I talk about their pros and cons.
KiwiCo boxes are FULL of activities. They often include 3 crafts, a storybook, and online variations that can last for days and weeks. You definitely get your bang for the buck. If you are looking for a subscription box that includes a large number of activities that can last awhile, KiwiCo does a great job expanding your child's mind and filling up your days with activities.
KiwiCo brings a lot of variety to the table. Every month is different, and your child will love guessing what's coming next month. If you are looking for a subscription box that includes a variety of themes, KiwiCo brings that to the table.
KiwiCo has included board books and comic-book like stories in every box. You can also upgrade to get a new hard-back book for your child every month. These books have definitely expanded our library, and given us some of our most previous books. If you are looking to receive new books, check out KiwiCo's book options.
Now here are the cons that I see with KiwiCo. From one mom to another, I hope this helps!
KiwiCo sometimes includes SO MANY activities, that I feel like the boxes and all their ingredients sit on my kitchen table for weeks before we are done. They are so full, that the clutter can sometimes seem overwhelming. My kids also repeat these activities a lot, so I easily get overwhelmed with 12 boxes hanging out in my house once they are done, but still being used.
Because each box includes so many options, we often have a backlog of boxes that we haven't gotten to. This is great for when this busy mom needs to pull out an activity. But often there is a perpetual pile on a shelf just waiting to be used.
---
4. The Pros And Cons of Little Passports
Pros of Little Passports:
Little Passports is a compact activity box, and gives your kids just the right number of activities for their age-group. They narrow the child's focus on just the topic at hand. Sometimes, as a mom, you just really want to focus on 1-2 ideas, and then be done. Little Passports does a great job focusing your child's attention on one theme every box.
I love Little Passport's focus on geography, the United States, scientific mysteries, the world, and the passport idea to string everything together. Having one theme to connect all twelve months of activities is genius. Little Passports does a great job focusing your child's mind on one theme all year long.
I mentioned this above, but our family LOVES the poster that was included with the box. My kids have become addicted to reading it and reciting it. This has stuck around much longer than the comic book pamphlets that have come in KiwiCo boxes. Little Passports does a great job promoting long-term learning.
Now here are the cons that I see with Little Passports. This is just one's mom opinion, but I hope this helps!
If you are looking for a subscription box with TONS of activities, and prompts to keep creating more activities, you might be disappointed with Little Passports. Little Passports delivers fewer activities than KiwiCo, and does not include a booklet giving follow-up activities for each theme. This definitely does not mean the box is lacking, just that it doesn't include as many elements.
The box that Little Passports comes in is weak, and isn't to be used for storing the activities long-term. If you receive their first-delivery package, than the colorful suitcase can be used for storing. But, if you like to keep your activities in individual boxes like I do with KiwiCo, you can't do that with Little Passports.
The instruction guide that comes with Little Passport is a single poster sheet of paper that is a little less polished than the guide book for KiwiCo. This is totally ok with me, but just expect fewer characters, stories, activity books, and questions for kids.
---
---