Here is your simple Bluehost WordPress Tutorial. Are you looking to start a new website for under $3/month? Then look no further than Bluehost. Get started with Bluehost and let their extraordinary service set up WordPress for you and get you started! Keep reading to learn the cheapest way to start a blog or niche website today.
---
Your Simple Bluehost WordPress Tutorial
Let me start this by saying, creating a blog doesn't earn you an income right away. It might take YEARS. Starting a blog is playing the long game.
But, it is definitely is a great way to plan ahead and use your knowledge to create passive income.
I know from experience, that blogging works. There is money on the internet and it can be yours.
But, for every website that has succeeded and made thousands of dollars, there are a dozen more that have failed.
Let me tell you how to succeed with Bluehost.
You might also like: How do I start a blog with no money? (REAL tips that work)
70% OFF
Bluehost Deal 70% OFF
Get started today for only $2.95/month. This includes your new domain!
10 GB SSD Storage
Free CDN
1 Website
Free Domain 1st Year
Custom WP Themes
Free SSL – 1st Year
---
My Story
In 2013 (yes, TEN YEARS ago), I was working as an office manager for an engineering firm, and the office we worked in had a fire and our office burned. We ended up moving out of our office building for a year. During that time, I worked from a temporary table in the middle of my living room….my first work at home job.
If you can imagine, it's really hard being an office manager without an office manage. So, during my slow long days in my living room, I started my own blog on the side.
Everyone was doing it, so why not me?
I loved this place to show up every day, and made lots of blogging friends – some that I even have today!
Around 2019, I decided that I needed to pivot. And that's when I rebranded from A Modern Commonplace Book to Modern Work at Home Mom. I realized that I needed to either really try to earn money with my site, or let it die. So, I pivoted to this new site…and this is where I am today.
During this same time, I started an LLC to design websites for bloggers. I became fluent in HTML, CSS, WordPress, Wix, Squarespace, Blogger, and every other blog platform out there.
I did this for a few years, and designed custom blog templates and themes for my WordPress site and Blogger, and offered hosting support services for any site on any host.
You can trust me because I have worked personally with dozens of hosts, and have seen firsthand what makes a good site host. Not only have I used to multiple hosts for my site – but I have been on the phone at midnight with tons of other hosts.
This is why you can trust me.
---
What is hosting?
Let's think about your website like a house. Your website is the house. The website files are your bricks. The domain is your address. WordPress (or Squarespace, Blogger, etc.) is your door. The design is the paint and pretty siding. Your host is your location.
Your host holds and stores all your website files, making the actual site possible in the first place! Every host has a server, server space, and security to make sure your files are safe and secure.
If you have a hosted framework like Squarespace, Wix, WordPress.com or Blogger, you are essentially renting space. And that framework is also your host. They possess and own your files.
If you use WordPress.org, you own your files. And, just like someone who owns a house, you have to shop around and check out the real estate of who will be good enough to house your files. Make sense?
70% OFF
Bluehost Deal 70% OFF
Get started today for only $2.95/month. This includes your new domain!
10 GB SSD Storage
Free CDN
1 Website
Free Domain 1st Year
Custom WP Themes
Free SSL – 1st Year
---
WordPress.ORG vs. WordPress.COM
This is very important: You need to know the difference between WordPress.ORG and WordPress.COM.
If you are interested in starting a new site, or if you are transferring a site from Blogger, Wix, or Squarespace, do not purchase a domain on WordPress.com and connect your site to that WordPress option.
That is NOT a self-hosted WordPress site. WordPress.COM acts as a rental host – like Squarespace or Blogger. For instance, if you start on Blogger, and then redirect to WordPress.COM, then you will transfer your payment to WordPress.com, but your site will still be hosted on Blogger. Instead, you need to move from a rental scenario – to an ownership scenario.
If you use WordPress.COM, you will not have access to your full files. You will not be able to run ads, add HTML code (for affiliate, plugins), and you probably won't be able to use most of the plugins you want to.
To start on WordPress.ORG for an ownership model, you need to start with a hosting plan. Rent space from them. And let them set up WordPress INSIDE THEIR HOST. This allows you full access to your files.
To learn how to do that, keep reading.
---
Why Bluehost?
I have used so many hosts, and not all are created equal! If you are wondering what is important with a host, here are my top criteria that I have found with Bluehost:
1. Look for Excellent Customer Service.
2. Look to grow with a host.
I assume you want your site to grow. Look at the options. Does the web host top at 50,000 pageviews/month? Does the hosting account only have limited space? Transferring between hosts is very complicated and time consuming, so start off well! Don't start small and prevent yourself from growing.
3. Look for a reasonable price, but high quality
I have tried SO MANY HOSTS – and Bluehost's pricing is incredible for what they offer. I totally recommend!
---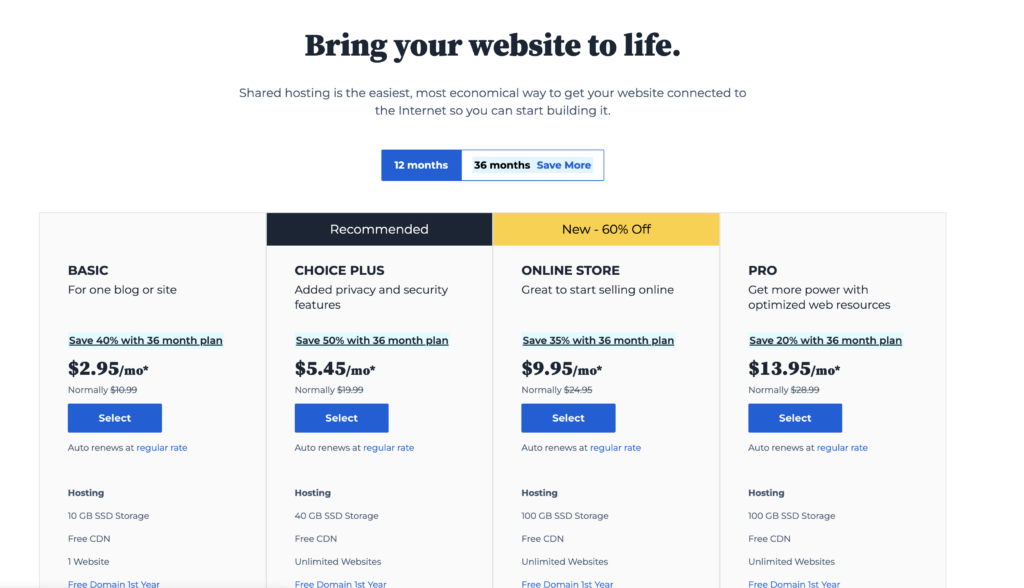 Choosing A Bluehost Account
Bluehost has plans starting at $2.95/month for the first year. That's CRAZY cheap. I mean, crazy cheap.
These are the Bluehost plans available:
| | | | |
| --- | --- | --- | --- |
| | Basic | Choice Plus | Pro |
| Price | $2.95/mo | $5.45/mo | $13.95/mo |
| Storage | 10 GB SSD Storage | 40 GB SSD Storage | 100 GB SSD Storage |
| Number of Websites | 1 | unlimited | unlimited |
| Daily Website Back Up | no | yes | yes |
| Domain Privacy | no | yes | yes |
| Malware Scanning | no | yes | yes |
Bluehost WordPress Tutorial – Bluehost Plans
Personally, I recommend starting with at least their Choice Plus plan.
This plan is $5.45/mo for the first year, and includes domain privacy and free daily backups. Even if you choose the smaller basic plan, you should include these two services. So, considering that Choice Plus includes these both WITH 40 GB SSD Storage – I recommend Choice Plus.
---
Creating a Bluehost Account
Creating an account with Bluehost is incredibly easy.
First, click here to choose an account. This page will let you choose an account based on your needs. Once you click through with the plan you choose, you will be prompted to create a new free domain name or transfer one that you already own.
(Personally, I prefer purchasing my domains from Namecheap and transferring them when I'm ready. If this is something you are interested in, you can read my step-by-step guide here.)
If you already own a domain, Bluehost makes it REALLY easy to transfer over your new domain name.
Just choose your domain situation, and let Bluehost walk you through either purchasing a domain, or transferring one over.
Then create your account, save your password, set up your billing, chose your plan, and finalize your account! (Note: when you choose your password, that will be the password you use to login to your site every time you access it!)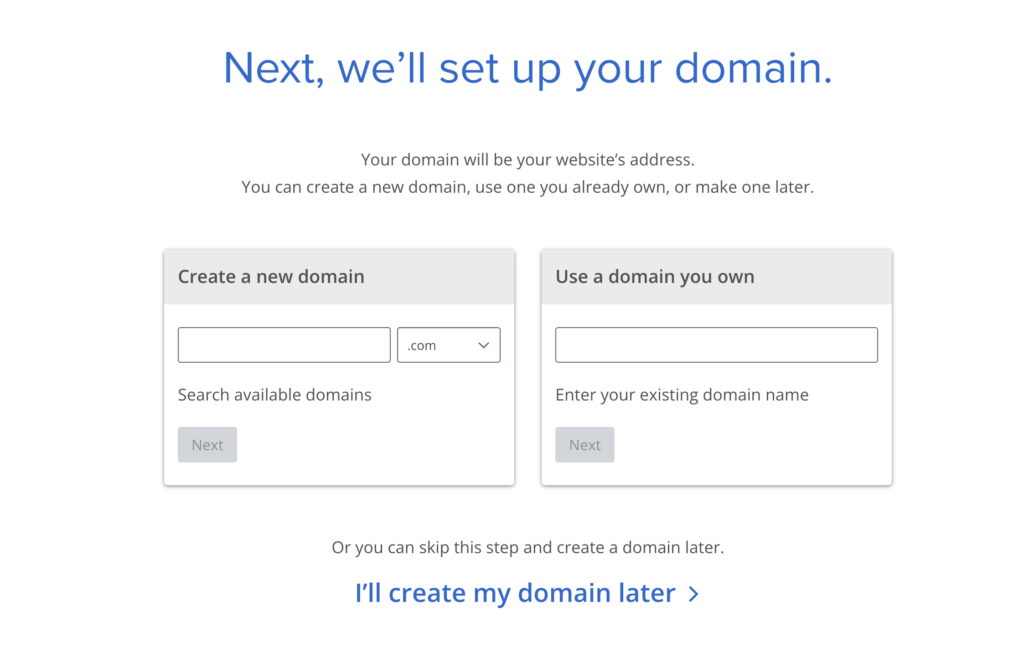 ---
Installing WordPress In BlueHost
It will prompt you to pick a theme, but don't worry! You can just pick something temporary now, and come back this. It might take days, weeks, or months to find a theme you like! To see my favorites, scroll down to the bottom of this article.
Then, Bluehost will lead you through the process to install WordPress, verifying your username and login, and sharing with you your login page.
---
Your WordPress Dashboard
Your WordPress dashboard will be sent to you. But you can also find it by using the URL:
www.yourdomain.com/wp-login.php
This will lead you to your new WordPress dashboard where you can test themes, add plugins, and start writing new blog posts and content.
Congratulations! Your new wordpress blog is setup and you are officially a website owner!
70% OFF
Bluehost Deal 70% OFF
Get started today for only $2.95/month. This includes your new domain!
10 GB SSD Storage
Free CDN
1 Website
Free Domain 1st Year
Custom WP Themes
Free SSL – 1st Year
---
BONUS – My favorite WordPress Themes
Once you have WordPress hooked up to your site, what next? Now it's time to make it pretty.
There are SO MANY WordPress themes out there for your enjoyment, and I have personally used DOZENS. I have used free wordpress themes, high-quality expensive themes, and everything in the middle. Here are some of my favorite:
---
BONUS – My favorite WordPress Plugins
There are millions of WordPress plugins out there. It's hard to know which ones are best! Take my advice, and use minimal plugins. Each one adds extra code to your site, and can slow it down. Be incredibly picky when installing plugins, and only add plugins that are regularly updated. Here are some of my favorite essential plugins:
---