Looking for sick ideas for when your kids are home sick? Or mom sick ideas for when you are sick and your house is full of kids and you just can't work? You've come to the right place! I want to share my top sick day activities, kids medicines, sick kid tricks, and everything that keeps me going when we have a sick day with my kids at home.
---
You guys, my kids have been sick 8 times in the last 4 months. EIGHT TIMES.
I work from home for 40 hours a week (with a real employer!) and every time they get sick, I try my darndest to keep working while they are home sick.
Does it work? Not always. I have taken my fair share of sick day this year for sure.
But sometimes it does! I have a LOT of tricks of my sleeve to make my kids comfortable, entertained, and sometimes even happy while they are sick…and while I work.
Ready to hear all my sick ideas and fun family activity sick ideas? Keep reading!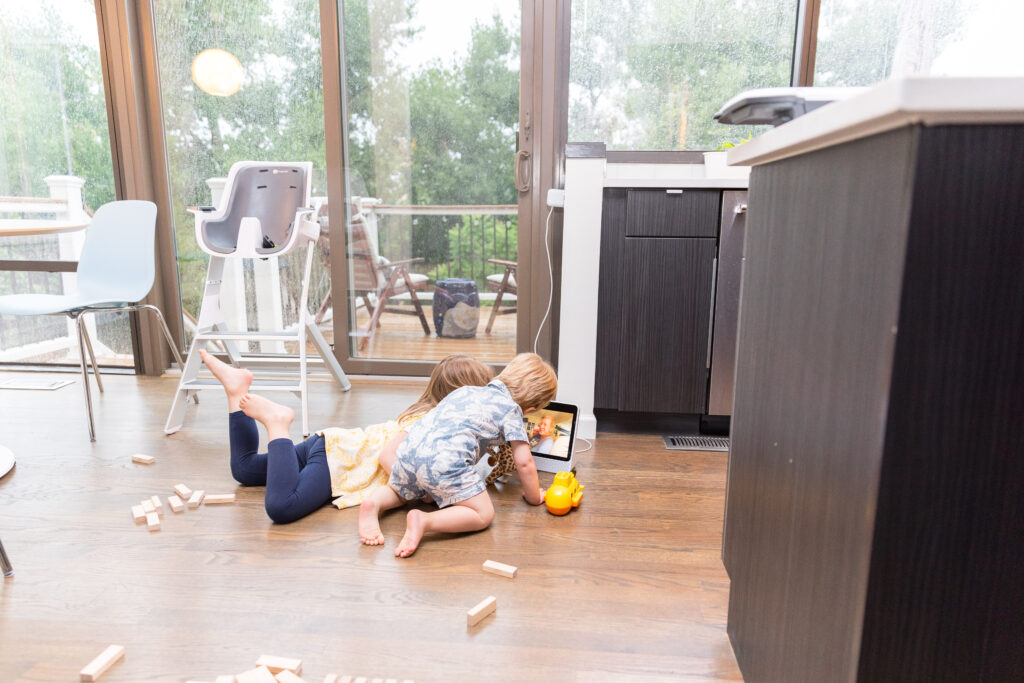 ---
Your Sick Ideas Shopping List:
---
Cold Medicine that Really Works
A few months ago I was sick and the kids were sick. It was a sight. I was covered with snot, and I found myself laying on the living room sofa just bawling my eyes out.
My husband asked me what was wrong, and I ugly-cried about all the things I couldn't do. I couldn't work, watch kids, and try to keep every sick person away from the other people. I just couldn't. I couldn't keep my house clean. And please don't ASK me about making dinner.
Mascara was running everywhere. And I said "I'm supposed to be able to watch two kids and work. Heck, I even have a website telling moms they can do this. And, I'm totally failing!"
He looked at me and said "Maybe THAT'S what you need to be sharing with the other moms. That it's HARD."
So, there you have it. I'm not actually going to share a video of me sobbing with mascara running down my face. But, if you want a picture of what goes on really behind the lens. That's it.
In the words of my friend Lindsey from The Family Money Mentor: "There is no such thing as a perfect week. Our time and schedule is almost never the 'ideal' that we think M-F should look like. There's always a night of wrecked sleep, or a broken water heater…or a sick day. Learn to expect the unexpected and these things won't throw you off mentally so much. We know in winter living with little kids there will be sick days, so just expecting them and building in some slack to our work schedule is a nice way to help!"
---
Ok, let's talk about medicine. I am ALWAYS looking for medicines that will make things easier. I have tried A TON, and not all live up to their claims (or reviews!). I'm the mom that is ordering medicine on Amazon at 4 am because I just can't take it anymore!
In fact, did you know that Amazon has OVERNIGHT delivery with an order of $35 or more? Many times I order medicine at 4 am, and it's delivered by 9 am. MAGIC I TELL YOU.
As I write this I have a 5 year old and 2 year old. I have tried everything on the market for babies, toddlers, and preschoolers. Here are my favorites that I repeat-buy for fever and colds.
Just a note – I am only including things that I think actually work. I have tried other things I am not listing here (and even things that we are currently testing out), but I'm not including just because I don't actually know if they work. Don't want to lead you astray!
---
---
---
---
---
---
---
---
Sick Ideas and Tricks for At Home
After your medicine cabinet is complete, it's time to make sure your house is sick-proof. This is my favorite way to make me feel equipped. It doesn't make a sick week perfect, but it helps!
How to prep each room
Bedroom Quarantine – Right now my kids have separate bedrooms, so I make sure that every bedroom is prepared. Each has a trash can, a new tissue box, a hamper, and a humidifier.
We try to keep kids separated when they are sick, so I make sure my daughter has a table set up in her room for snacks and meals. She is 5 years old, and loves eating "like a big kid in her room". This allows her to stay separate from my 2 year old. It doesn't always work, but we have definitely had colds come and go where both kids didn't get sick. It's a WIN.
Clothes Hampers – Also, about the hamper thing. I don't keep a strict hamper rule like "the hamper in my daughter's room is just for my daughter's clothes." Instead I keep a hamper in every room so I don't have to move just to strip clothes off of kids. If we are in her room, all clothes go in that one. If we are in my son's room, all the clothes go in that hamper.
Like I mentioned here in my work at home mom guide to cleaning, the key to cleaning is LOCATION. Let's agree to not take more steps than we need to!
---
How to prep your bathroom/kitchen
Medicine Stations – Now is the time to get out all your cold (or flu/viral/antibiotic) medicines and put them in a designated area. I have a plastic tray like this one in the middle of my kids' bathroom counter, and I use it to hold all the medicines, the NoseFrida, the medicine dispensers, and anything else that is floating around.
I also do the exact same thing in my kitchen. I keep a "medicine station" on both counters. This way I don't have to go upstairs/downstairs if I need to give the next dose. I often have doubles of medicine bottles, so consider getting two bottles if possible to make this easier for you.
Don't forget to buy tons of lysol wipes and put them in EVERY ROOM! I keep them out and try to clean the doorknobs, switch plates, and anywhere we touch…every night.
Kitchen Hamper – Let's talk about your kitchen. YOU NEED A HAMPER IN YOUR KITCHEN. This solution has saved me so many times. I keep a mesh trash can like this under my kitchen sink (all the time, year round.) I often strip my kids after dinner, and all the dirty clothes go right in this can. It's also the best for sick clothes, and snotty rags. I usually wash it once a day (along with towels or sheets) so it doesn't build up.
Ways to keep sick kids entertained
Raise your hand if you try to keep working when your kids are sick. 🙋🏽‍♀️
It's the HARDEST.
About half the time I'm able to keep working (at my home office desk – see working with kids looks like here) while my kids are sick. The other half of the time, I take a sick day because it's just so dang hard.
I'm going to share below my favorite sick kid activities (so you can keep working and living your life!), but if you want to explore even more sick ideas for kids, check out these posts:
---
---
---
---
---
Water Activities
When in doubt, water fixes everything.
Mid-day Baths – When kids are sick, I LOVE mid-day baths for the kids. My kids love a warm bubble bath, and it feels so good when they are sick. I add some bubbles, some of their Paw Patrol pup toys, and they could play there for hours. Ok, maybe not hours. But a long time.
I sit in the bathroom with my laptop and get some work hours in!
CHANGE IT UP > give them a Pedialyte popsicle in the tub. It's the best!
---
Craft Activities
Accessible Craft Cabinet – I have a VERY extensive craft cabinet – one that my daughter can open and explore by herself. Because I work at home, I find the best qualification for a craft cabinet, is that it is KID-FRIENDLY.
My daughter is able to open the cabinet, find what she wants to play with, and have a system for doing crafts herself. I usually open this up on sick days and let her pick anything she wants. Little kids are often distracted with crafts that I find in the back of the cabinet (even ones that she's done before!) so they are a great way to distract on sick days.
To see how I set up our craft cabinet for my daughter's independent play, check out these vidoes here!
Favorite craft cabinet supplies for toddlers and preschoolers:
---
Cuddle Time
This year I have been more and more convinced that I let work and "productive time" get in the way of just hanging with my kids. When my kids look back, I want them to look back on sick days and feel spoiled. Movies. Games. Cuddle time. Bubble baths. Special dinners.
(PS – Don't forget to make piles of blankets, pillows, and cozy things in the living room for kids to feel comfy on the couch!)
But, when you are working at home, it is SO EASY to put them in front of the TV, and just keep working.
Let me suggest an alternative!
Two Monitors – I have two monitors set up on my desk. One is just my laptop, and the other is a large monitor that is hooked up via HDMI to my computer.
I love this monitor anyway, because I use it everyday for all the programs I'm working on.
BUT, when my kids are sick, they love to sit on my lap and watch a movie on my laptop. I'm able to hold them and keep working on the other monitor. It allows me to work and hold them at the same time. It is invaluable!
---
---
---
Pretend Play
My entire goal as a work at home mom is to teach my kids how to play by themselves. This works when they are sick too! Sometimes they definitely need more hand-holding and creative sick ideas and activity ideas than just toys, but don't just assume that sick time = screen time.
Here is my complete guide for teaching kids to play by themselves!
Need ideas? My favorite ideas are board games, looking through photo albums, lego and building block sets, making tent and blanket fort activities, cutting out of old magazines, attaching magnets to cookie sheets, and play dough.
This is also the best time to have an activity kit available. My kids get KiwiCo boxes (they have for years. We pay, this isn't sponsored!).
I like to save a box for sick days, so I always have something to pull out!
Every month my kids get an age-appropriate activity box that has 3-4 craft/activities that uses the STEM process (science, technology, engineering, math) to give you smart, hands-on sick ideas activities to do with your child. They have awesome boxes that are age-appropriate for all ages.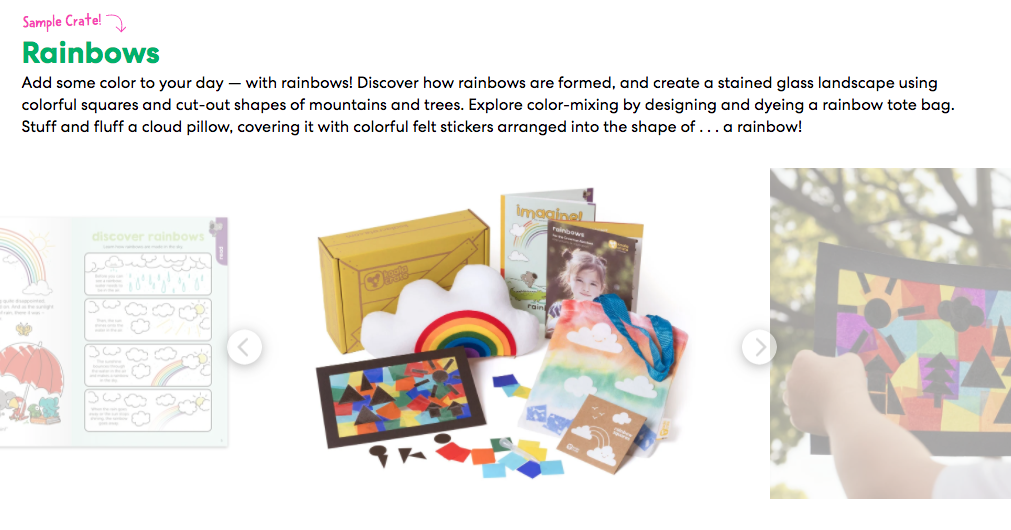 I also love keeping all the previous boxes so I have a supply of activities I can rotate year-round. I keep all her old activities in an organized plastic box and pull out one or two a week. ("Do you want to do your doctor kit or dinosaur matching game this week?")
To see how I store and re-use our KiwiCo activities, see my Insta Stories here.
To try out KiwiCo for one month with a 15% discount, click here and use the code LEARN!
Read my full KiwiCo and Kiwi Panda Crate review here. I share an unusual perspective!
Alternatives to Screen Time
Ok, before we get into screen time….let's talk alternatives to screen time. Kids want to be entertained. That's what they want. And sometimes it's possible without screens! Here are a few of my favorites:
---
---
---
Movies and Screen Time
Screen time. This is a buzz words for moms. Pro? Con? It's complicated, and every season is different.
In our homes, we try to tow a fine line. A little screen time…but play and toys first. But, if mom needs a "babysitter" while I get dinner ready, you'd better believe we do a little screen time.
That said, when kids are sick, I am PRO screen time. I remember as a kid being able to eat dinner on the couch and watch the Andy Griffith show. It was the one time there were no rules!
In our house, like I mentioned, I like to keep kids quarantined (even if it's just a cold!), so we allow tablet usage in the bedroom.
Let's talk tablets.
We finally bought one this week, and spent a lot of time researching. Kids tablets? iPads?
We finally settled on the Amazon Fire for kids, because of a few reasons:
It is cheaper than other options (especially over Black Friday!), so I don't mind if my kids toss it around
It is a good "learning tool" for them to learn a tablet interface, before they jump into larger devices
It already comes preloaded with content for the first month. I love downloading kids shows, but was really impressed with the repertoire.
To prevent my kids from becoming possessive and addicted, I only bought one so they could share it. And, I bought the blue one so my daughter didn't think it was just hers!
They have a 2 year warranty if anything breaks
If you want to hear more about how we use the Amazon Fire for kids, check out my video here!
Snacks and Drinks
As soon as my kids start getting sick, I put in an Instacart order for all the necessities. The medicines. The food. The treats. Here are some of our favorites:
Oyster Crackers (or Saltine Crackers)
Ginger Ale
Chicken Soup
Eggs and bread for toast and jam
Dried fruit, applesauce pouches, bananas, yogurt, favorite fruit
I like having easy options that don't make me cook – that taste good to sick tummies. One of our favorites is breakfast for dinner, and I love making these banana pancakes! They only require two ingredients (eggs and bananas) and taste so good when you are sick!
TIP – Brew a bunch of Throat Coat tea, and keep in the fridge. Mix with juice or water and let your kid drink it all day! It really does feel great cold for little kids.
Mom tricks to keep it together when everyone is sick
That's what we do, right? Just keep it together. Sleep. Rest. Clean the laundry. Make the food. Wipe up the kitchen. Clean the bathrooms.
Do you have any tricks for keeping it together? Share please! We need all the help we can get.
Sick Ideas for Kids of Working Parents
9 GENIUS Tips for Working from home with a newborn
How to foster independent play time by age (Must-Have WAHM survival guide!)
When do kids stop napping: 16 Foolproof Tips for Quiet Time and Naptime
Free 40 Hour Work From Home Mom Schedule Template
---