Are you looking for easy ways to start working from home with kids? Well, you came to the right place! Start here to learn how to decide your priorities, teach your kids to play independently, find the right learning toys for where your kids are now, identify your fringe hours, cut out your household chores, and complete your home chores! You've got this!
---
Working from home with kids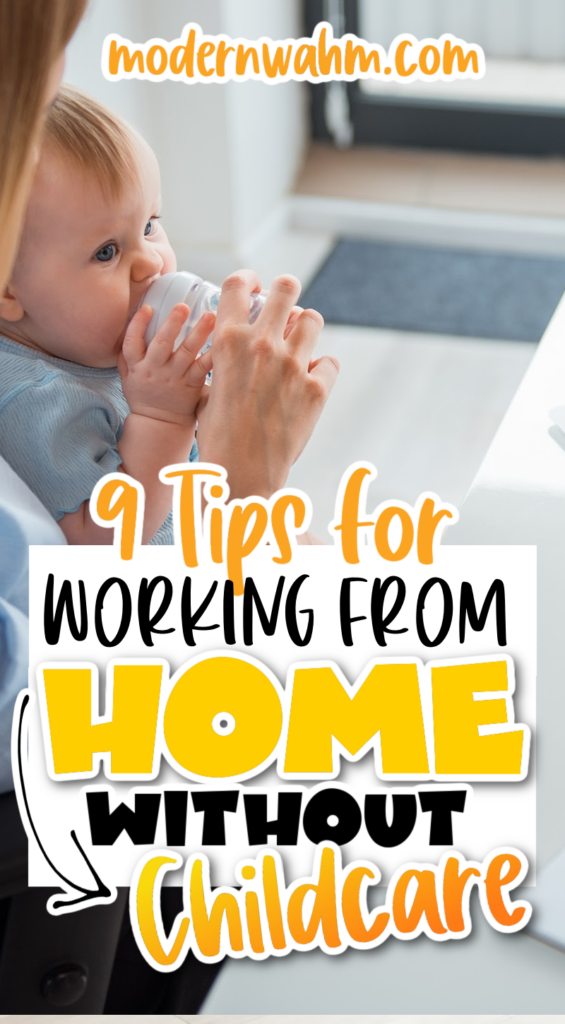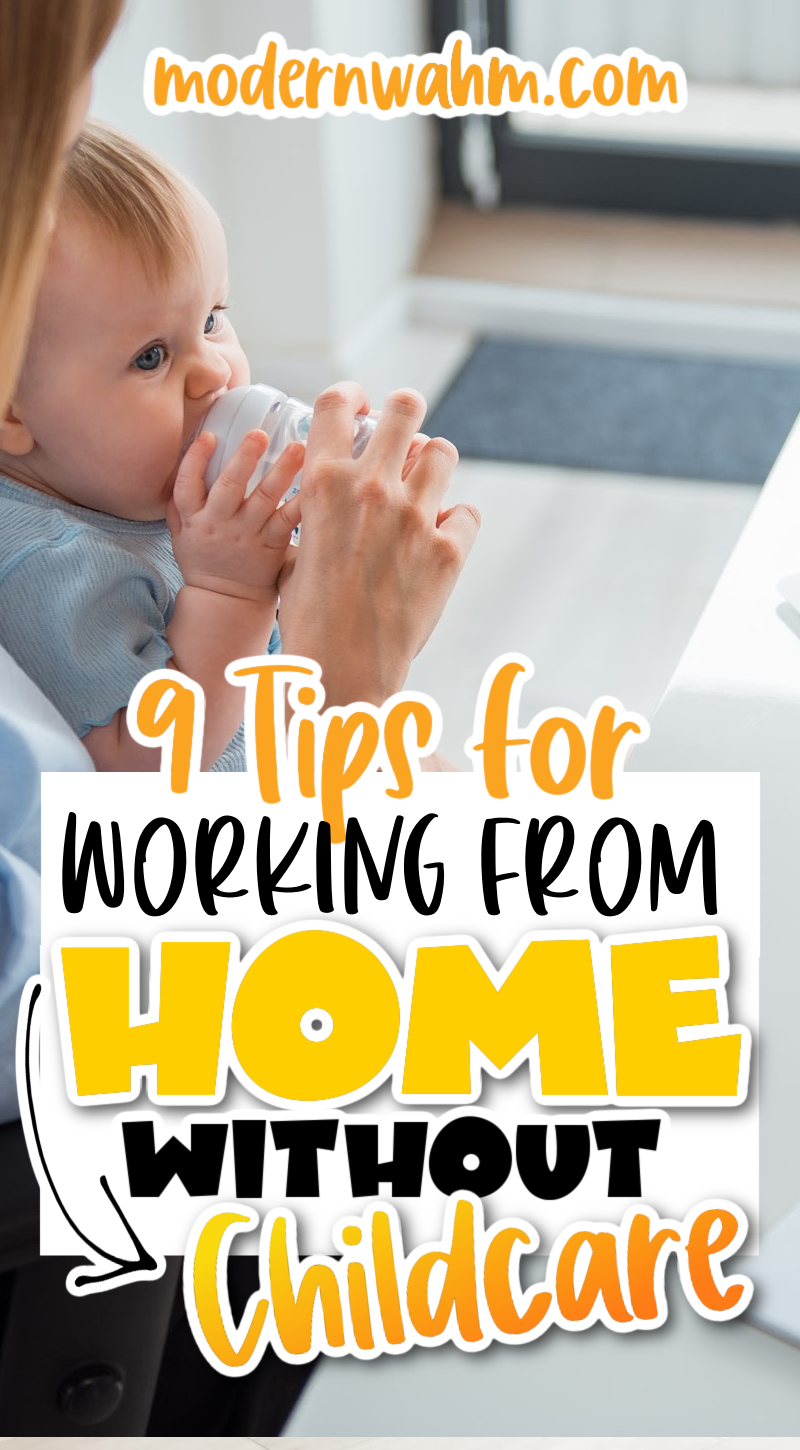 Working from home with kids is hard.
Don't anyone tell you differently.
I have worked for over 6 years at different at-home jobs – and 3 1/2 of those years I have had children.
Yes, I have some help from grandparents and my husband – and now my daughter is in a preschool for 2 days a week. But most of each day is spent working quality work hours (8-5 for a real employer) while accommodating my daily schedule that revolves around my kids. Every day, I have to come up with clever ways to survive working from home with kids.
The best way to work at home with kids is to continually find clever tricks to do both at once. And to adjust every day.
Every few days or weeks I adjust. I research new tips – new toys – new schedules. I heard somewhere that kids change every 3 months. This is definitely true for infants – and I totally believe its the same for toddlers and preschoolers.
I basically have to adjust every 3 months and strive to provide my kids with the best educational activities that they can play near me.
Here are my best tips! To learn more, sign up above for my free exclusive guide: 5 Secrets to Being a Work-at-Home Mom…and Staying Sane!
---
1. Before you Start – Decide Your Priorities
No one wants to decide between their job and their kids. But – you have to. Every day you will be making decisions that favor one over the other. And making that decision early on helps with the mom/work guilt.
I decided early on – before I had my daughter – that work was going to be my priority. Because I love my job and we needed the money – I decided to prioritize my employer and give my unadulterated focus to work.
This means – that I was willing to find extra (paid-for) care for my daughter if/when I couldn't handle both. I would find childcare before I would sacrifice work.
Now hear me out. You aren't really choosing your work over your kids. No one is holding a gun to your head. If they did, you would choose your child OF COURSE. But finding childcare if you need it, is sometimes the best decision.
---
2. Teach your children to play creatively alone for short increments of time
This is my favorite and best tip. Teach your kids to play independently. Of course, this looks different at different ages.
Babies
At the beginning, babies just lay and coo and roll around. This is an easy stage to handle! When my children are young, I just have a play mat set up near my desk so they can roll around – and I would work.
I have been able to "train" my kids to occupy themselves with little baby toys for short periods of time – and then I would stretch it up to an hour between naps. Starting when they were young, I have been able to quickly teach them how to be happy by themselves.
(Honestly, even if I didn't work, I'd probably want to teach her this same thing. To this day, she is very content learning and playing by herself. She didn't grow up with me as a built-in babysitter.)
At 4 months, I transition my babies to play in the jumparoo. This is the BEST stationary toy for this age – and allows them to jump and play near me independently. My babies usually jump in this up to an hour or two a day. They love it – I love it. It's my favorite toy at this age.
You can get the Jumparoo pretty cheap on Amazon here.
(Hey, make sure you bookmark my post here about teaching your kids to play by themselves!)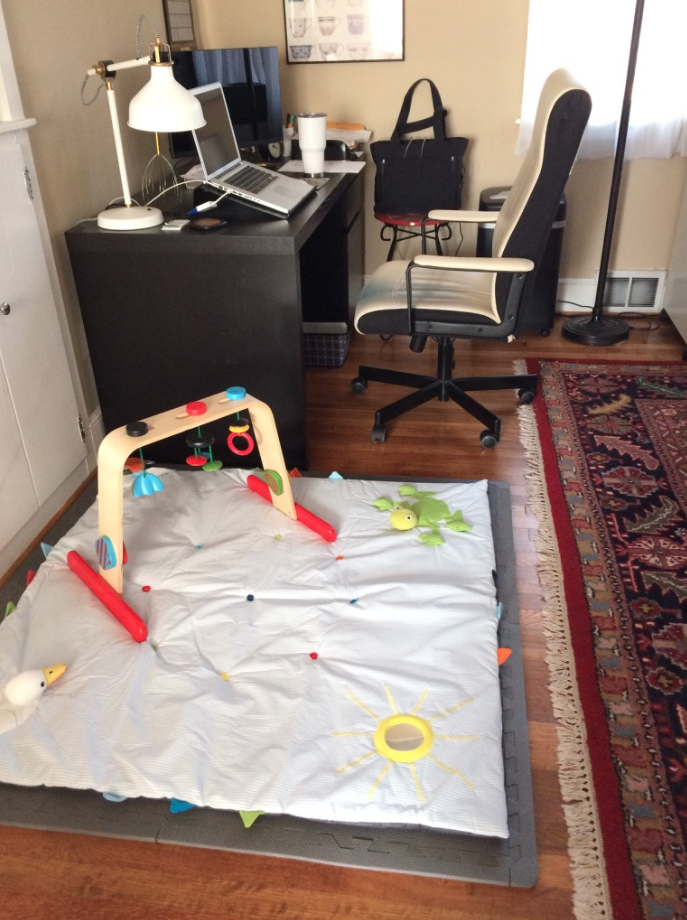 Young Infants
When my kids get older, I create a gated-in baby playing area where they can walk around and play with all their toys. It is right by my desk, and my babies honestly love this area and looked forward to playing in it. Again – they have everything they need and it is completely baby-proof.
This is the baby gate/fence that we have, and I love it! We use it to enclose a large play space – or to block off part of the living room. I totally recommend it for kids of any age.
To see how I made my living room play area, check out this post where I share my super-cheap solution using a foam play mat and the best baby gate to make an enclosed space.
Toddlers
Toddlers are harder. All the time! But, by the time my daughter was over 1 year, she was happy playing by herself for long periods of time.
Currently, her bedroom and play area are right by my desk. And in her bedroom, she has a play kitchen, lots of toys, games, crayons for drawing, and several cabinets where I can rotate toys.
In the morning she usually watches a little show while I start work. And then by mid-morning, she is playing with a game or toy that I have set aside for her.
Currently, she is very into puzzles. She builds and re-builds puzzles many times over – sometimes up to 30 or 40 minutes. I am always just searching for the best education ideas for each age group.
Read my complete Naptime Guide here!
---
3. Buy new learning toys for each stage
I am constantly searching the internet for "best toys for 1 month olds", "best toys for 4 months old", "most educational toys for toddlers". With every stage, I want my kids to be engaged and have clever, learning toys to entertain them.
When my daughter was a baby, this was her favorite toy that she would stare out and play with for hours. I loved how it hung in her crib or car seat.
Other toys that we supplement with are:
KiwiCo Crates
We also REALLY love KiwiCo activity boxes. These come to our house every month – and give creative, age-appropriate activities for your child. My husband started buying this for our daughter over a year ago – and we have bought them every month for both kids since. We pay for them with our own money – this isn't sponsored!
The subscription is so great because it uses the STEM process (science, technology, engineering, math) to give you smart, hands-on activities to do with your child – for all ages. We love it because my husband watches my daughter a lot while I work – and it gives him activities that are more than just "go to the park". (He's an engineer and loves how it teaches her so much.)
Click here try it out and get 30% off your first month.
(Read my full KiwiCo and Kiwi Panda Crate review here. I share an unusual perspective!)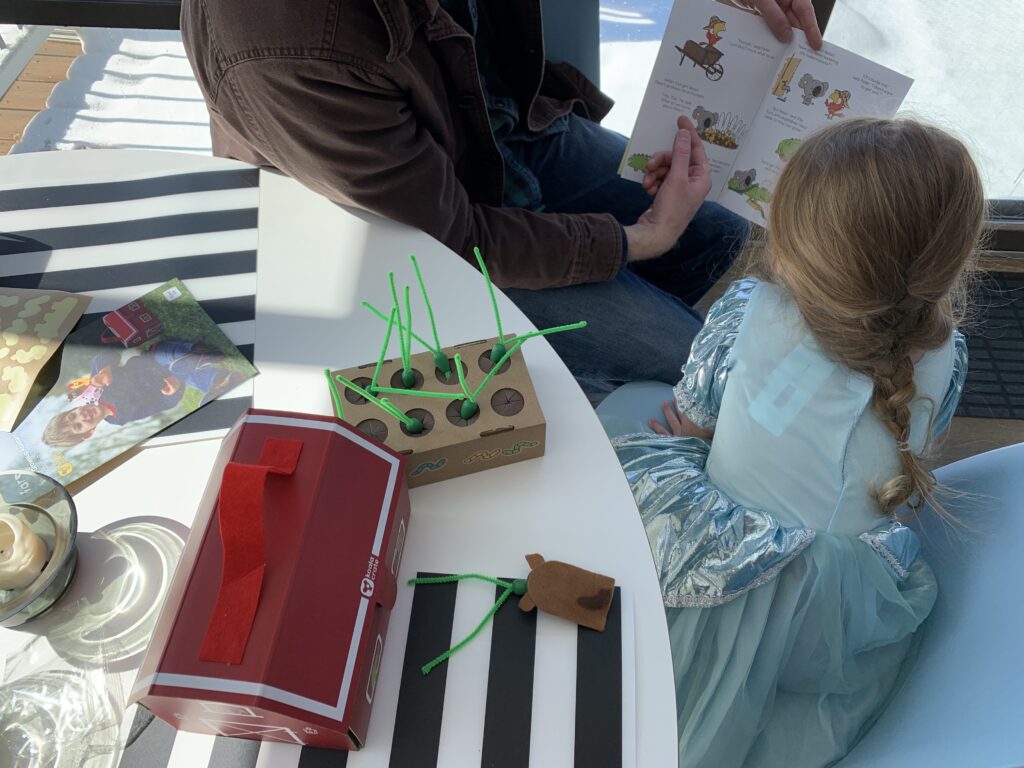 ---
4. Use your silent meetings and phone calls wisely
If you have any work periods that involve just listening (meetings you join in, phone calls, training sessions) use that time to multi-task. Either nurse/feed your baby during those periods – or use those periods to empty your dishwasher! I would often be able to care for my daughter while fully listening and engaging in the meeting/training.
My favorite tool for my meetings is these bluetooth headphones. They are WAY cheaper than most on the market, and I've loved them for years.
Check out the current sales here.
I started using them when I was breastfeeding, I asked my husband for bluetooth headphones that were comfortable (as opposed to the Bose ones that give me headache. Anyone else?) – and I also didn't want them to be sound-deadening. That freaked me out – not being able to hear my child. He did the research and got me these – and I use them all the time. I've even been asked by a man in Starbucks what kind they were – because they look cool. Totally recommend.
Are you homeschooling your kids while you work? Check out how to homeschool and work full time here.
---
5. Identify your Fringe Hours to Improve Working from Home with Kids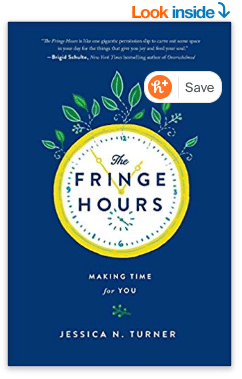 I listened to the book The Fringe Hours by Jessica Turner (listened – because didn't have time to read!) and loved her concept of finding the tiny areas in my day that were wasted.
Now, I know we all need to use our mornings and nap times wisely. That's so obvious, I'm not even including that in my article.
But, I found that I had some un-used time around certain lunchtimes – and also between 5-6pm. I started using my time more efficiently because of this discovery – and it made my days so much easier! I also was able to (magically) fit in some exercise, because the time spent wasn't interfering with either work or being a mom!
To start identifying your fringe hours the easy way, start here!!
Spend a few hours writing out how to divy up your time. How many hours of work will you need? How many hours to focus on your kids? How many hours will your children nap? Do you need to have alone time? Time to work out? Time with your family?
Spend this time to focus on your new life, and working from home with kids without childcare will fall into place.
Let me introduce my free block schedule that works for just this.
WITH THIS FREE SYSTEM YOU CAN…
Keep separate schedules for you, your kids, your home, and your work.
Compare every day of the week to see where you have extra minutes to optimize and use wisely.
Prioritize your top to-do items, and and say "no" to what can be saved for next week.
Add in cleaning chores and kids activities based on how much extra time you have.
Grab your free block schedule template here and start today!
---
6. Cut out household chores
I quickly realized I couldn't keep up with my personal chores during the week. I started ordering my groceries for pick-up, and having all my household items delivered from Amazon or Target.
Wal-Mart Pickup and Delivery is the ONLY way I function nowadays. I just order my groceries online – and then pick them up in my free time – with everyone staying in the car. It's a FREE service – and you can shop now and get $10 off your first order of $50 or more. Use code WOWFRESH.
I would save my cleaning and household chores for the weekend – when I could knock them out during her naptime.
This often meant that my house would get a little dirty during the week. But, that was a sacrifice I was ok with. I quickly learned I couldn't do everything!
Another option is to hire a house-cleaner. I might still do this down the line – but right now it's not in our budget. But, I LOVE the idea of making household chores as easy as possible.
---
7. Complete personal and home tasks during family time
Another sacrifice I made were "family meals". For breakfast and lunches, I would feed her, and I would complete a lot of tasks while she eats in the kitchen.
I keep my makeup and hair dryer in the downstairs bathroom (or in the kitchen) and I get ready while I'm watching her eat – and I simultaneously often eat standing up.
I also use this time to fold clothes, empty the dishwasher, and clean up a few rooms.
When my husband and I have time in the evening, I often just catch up with him in the room that needs work – either the kitchen or bedroom so I can do chores while we chat.
We made sure to still have quality family time – but multi–tasking during meal times and "hang out" times really helped my schedule.
---
I hope this helps give you some ideas on how to work at home with a baby! I definitely treasure both my jobs as mother and employee – and am thankful every day that I can earn a living and spend time with my family.
Do you have friends that are trying to survive working from home with kids? Please SHARE this with them!
Doing this on a daily basis can be so isolating – so please send them these encouraging tips to know they are not alone.
---
More tips about working from home with kids:
9 EASY Tips for Working from Home Without Childcare (Save These Tips!)
9 GENIUS Tips for Working from home with a newborn
How to foster independent play time by age (Must-Have WAHM survival guide!)
When do kids stop napping: 16 Foolproof Tips for Quiet Time and Naptime
Free 40 Hour Work From Home Mom Schedule Template