If you are looking for some of the most beloved IKEA must haves products, check these favorites – including smaller items like their umbrella, slippers, drying rack any my favorite bathroom organization. Also use these tips to get the most recent IKEA coupons!
---
I am obsessed with IKEA.
I have always loved the store – but lately have perfected my IKEA game. I am always looking for the best things to buy at Ikea.
As everyone knows, IKEA is a a mecca for awesome European home goods at super reasonable prices. The problem is that, most often, a trip to IKEA always costs hundreds of dollars more than expected. Or, is that just me? Whoops.
I have scoured the internet for the best buys at IKEA, and I feel that blog posts in this regard are lacking. I mean, I know about the furniture, polished kitchen organization, and dishes and cribs. What about the rest?
So, the last time my husband and I went to IKEA, we purposefully walked every aisle. EVERY AISLE.
We intentionally considered everything. Do we need to re-do how we organize our kitchen? Do we need a clock in our bathroom? When was the last time we bought towels? We pretty much touched every room in our house, and it was pretty glorious.
Let's get started!
GET 45 DAYS FREE!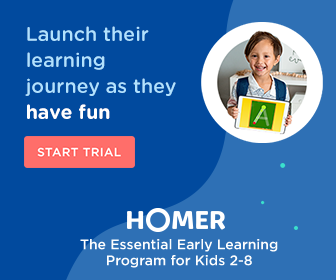 Homer App Limited Offer
Tailored to age, learning level, and favorite interests
1,000+ activities for reading, math, SEL, and more for independent play
Just 15 minutes a day proven to increase early reading scores by 74%
Developed by experts, their research-based, four-step approach goes beyond rote memorization to build confidence, promote problem-solving, and foster a lifelong love of learning.
---
IKEA MUST HAVES – TIPS
This is free, and acts like a grocery VIP membership. You get access to the month's family membership prices. You also get cool things like free tea & coffee at all times in the cafe and extra time for your kids in their play area.
They make this membership really easy. You can sign up at home, and then print off a membership card in the front of the store. You can also sign up in the store, but there is often a line so it takes some time. If you forget you membership card, there is a phone number in the checkout line where you can text and receive your membership number by text. Then you can just give it at the register. Brilliant.
---
Plan on spending more than $250? Grab this coupon and get a discount and more moving bonuses!
Also always make sure you look for the most recent IKEA coupons here!
---
3. Make a Shopping List before you go.
This is key to stay sane while in the store. Check out their awesome website the days before your trip, and add anything that interests you to a shopping list. I add more than I plan on buying, just so I don't miss anything! Then, select your preferred store for your account. When you print off the pdf, you can select that the list be organized in order of location in the store. This means, it will tell you the aisle and bin for your own specific store. This makes it SO EASY when you are shopping. And you won't miss anything. Here's an example of a shopping list PDF for the store in Charlotte, NC.

---
4. Be practical.
Wear comfortable shoes. Eat frequently. Know your budget. Wear a pedometer :). Have FUN!
---
10 best things to buy at Ikea – While walking through the entire store
1. KNALLA Umbrella.
---
2. TASJON Slippers
---
3. FROST Drying Rack
---
4. FIXA picture hook set
---
5. SVAMPIG Sponges.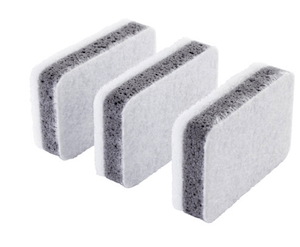 These sponges are a fabulous deal at 3 for $0.99! I bought several packages and have been pleased. To be honest, they aren't my favorite sponges – the white sponge is a little felt-like? But, they work great and I love how cheap they are! Worth trying. These are in the kitchen section.
---
6. ISTAD Plastic Bags
These are my FAVORITE food storage bags! They come in six sizes (these purple ones are the 1 qt. and 3 qt. sizes). They also have 13 oz, 34 oz (green bags) and 6 qt. 4.5 qt. (blue bags). Each set is $2.99, and you get either 30, 50, or 60 bags, depending on the set. I honestly only want to use these for the rest of my life – they are amazing!

---
7. BRADA Laptop Support
This lap desk has changed my life. I bought it for car use (I work a lot in the car!) but now use it all over the house. It is SUPER comfortable, keeps my laptop from overheating, and is the perfect angle. I love it even on my desk, because my wrists can rest at a comfortable angle, instead of being flat. It is $4.99 and is in the table section (top level), if I remember correctly. 🙂
---
8. Ikea Gift Wrap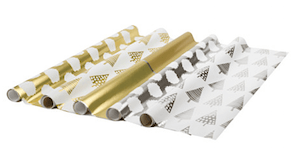 ---
9. SINNLIG Candles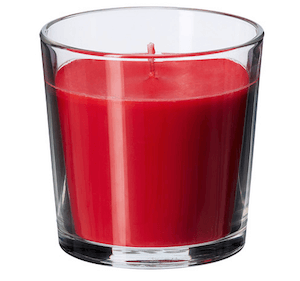 I am kinda a Yankee Candle snob. But, these IKEA candles are quickly becoming my favorite! They come in multiple sizes and amazing scents. And, they start at $1.79. I really love them and might completely switch from Yankee. I mean, these are awesome.
---
10. DRAGAN 2-piece bathroom set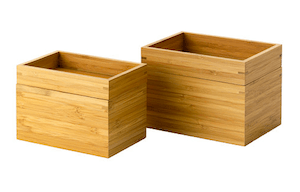 This doesn't really fall into my category of unusual items, but I am ending on one of my favorite IKEA things ever. I just bought the Dragan IKEA bathroom set, and it's so perfect for any bathroom. It really has 4 parts – two boxes and two tops, and is perfect for holding everything! They are so classy, simple, and uniform looking. I really love this set. Well done, IKEA.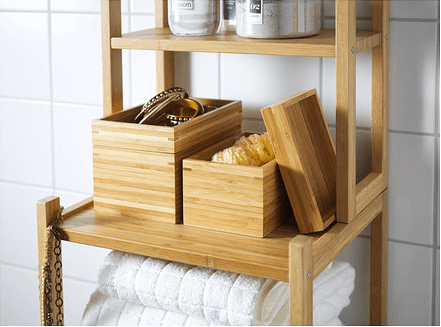 ---
All links to IKEA are for the US Store.
Other posts you will love!