Hey! I want to welcome you to A Modern Commonplace Book. This site is a complete guide for the work at home mom. Are you a mom that needs some encouragement? I'd love to meet you! Just follow me on Instagram here, because I am always sharing my latest mom hacks.
I also wanted to let you know about my latest post: The ultimate breastfeeding guide for working moms. I share EVERYTHING that the traveling mom needs to know – from TSA guidelines to how to pump on a work trip. I'd love it if you shared this with your working mom friends! We need all the encouragement that we can get. Thanks for being a cheerleader of the working mom! Now, back to the show…
---
Looking for what to do with old candle jars? Wanting to clean and recycle your empty candle jars – and reuse them? Or better yet – melt down the wax to make new candles! For 2 easy steps – keep reading!
I have a weakness for Yankee Candles. I know they are cliche and expensive, but I have yet to find another brand that lives up to Yankee's standard. Call me a brand snob, I can take it. A typical mall date for me and my husband will inevitably find us in the Yankee Candle Store smelling things. It's true. We have a list of candle scents that we will buy once they go on sale. And, that picture in the top left corner is my current candle collection – except now it has five candles in it total.
Sad, I know.
Just for the record, I never buy them full price. I wait until they are at least 50% off. Oftentimes I can find them cheaper at other stores. (One time I bought one at Ulta with a gift card I had. Don't judge. I get more excited about candles than I do with new mascara.)
If you are looking for the latest candle sales – always make sure you check out their sales online! I always can find sales for 50% off.
This addiction of mine leaves me with MANY used candle jars over the course of a year. I hate to just throw them away, so here are some tricks I have to clean out your Yankee Candle jars! I love using the beautiful clean Yankee Candle jars for other organization purposes. Never know what to do with old candle jars? Read on!
(Yankee Candle, if you are listening, I would totally be down for a recycling program that gives me a discount for every jar I turn back in! That, or a Candle of the Month club…)
1. MELT AND REUSE THE WAX FROM THE JARS
I wait until I have at least four used jars and I melt them down and create one new candle. Brilliant, right?
This is what you need:
Melt Down Your First Jar
First, you will need to melt down your first jar. This will give you a clean jar to use for your new candle.
Put your used candle jar in a saucepan of water and heat it until it boils.
Let it boil until the wax is completely melted. BTW, your house will smell amazing!
Once the wax is melted, use a potholder and pour the hot wax into another used candle. This will combine smells for this first step.
Now to create your clean candle jar, just heat up more boiling water and fill the old jar to the brim. Let it sit until cold. The old wax and pieces will melt, come to the surface, and re-harden into a little wax disk. When it is cool, just pull that old wax out!
To clean it further, I clean the jar with steel wool, Dawn dish soap, and some elbow grease to scrape and clean those jars out. It took some time, but it works. Also – try using some rubbing alcohol! Test out the glass – and apply with a cotton ball.
Create Your New Candle
Cut a wick and tape it to the bottom of your clean jar. Tape works just fine – you don't need the wick bottom thingys. Wrap it around a pencil laid on top of the jar (see above photo). Cut and tape the other end of the wick (after wrapping it around the pencil) to the outside of the jar.
Begin melting your second used candle jar just like you did with the first.
When it is melted, hold the jar with a pot holder, and pour the wax around your new wick. You don't need to remove the old wick or strain it. That stuff won't really pour out. Set old jar aside.
Let wax harden a bit. I have found that Yankee Candle wax hardens much faster than other brands. But this works for all candles!
While it is hardening, start melting your next candle.
Repeat with all candles. Each layer will harden so you have a layered colored candle!
When you are done, let it completely harden overnight and cut the wick. You have a new candle!
2. CLEAN YOUR CANDLE JARS
When you are done with melting them down, you still have used jars with some wax bits in them!
Heat up more boiling water and fill the old jars to the brim. Let them sit until cold. The old wax and pieces will melt, come to the surface, and re-harden into a little wax disk. When it is cool, just pull that old wax out!
You can repeat this step twice if necessary. At this point, there will still be some junk in the jars. I used steel wool, Dawn dish soap, and some elbow grease to scrape and clean those jars out. It took some time, but it works. Also – try using some rubbing alcohol! Test out the glass – and apply with a cotton ball.
To get the soot off, use a Magic Eraser!
I soak the jars and use more Dawn dish soap to remove those labels. Give it enough time, and they will be clean and spotless.
Update – I most recently used Denatured Alcohol for this and it worked best.

3. REUSE YOUR CANDLE JARS
These old jars are perfect for bathroom or garage organization. Use them for cotton balls, Q-Tips, or try them out to organize your makeup! The possibilities are endless.
Let me know if you have any ideas for other uses!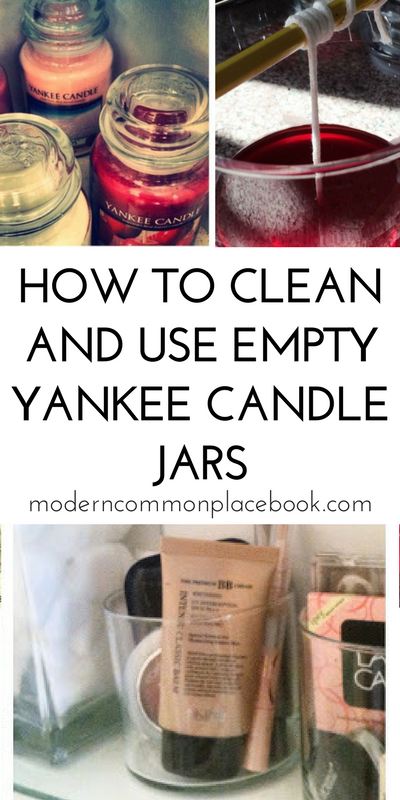 ---
Make Your Week Easier with these Deals that Keep Me Going
LeTote
- I know the last thing on your mind is new clothes for you. But, seriously? When was the last time you shopped for yourself? Do you even have time to think about new fall clothes? Let me tell you what I do. I rent my clothes with Le Tote. Yep. I pick out a few outfits every month, wear them, LOVE them, and then send them back. Their prices are super cheap, and I don't have to buy anything. If you are pregnant, their maternity clothes are AMAZING.
Get a free tote here and love your FREE CLOTHES!
EveryPlate
- I know every mom in the world is talking about Hello Fresh - but let me tell you why
EveryPlate
is better and cheaper than Hello Fresh. EveryPlate provides fresh family-friendly meals right to your door - but for
less than $10/serving
. Their meals are the
same
as other providers, but they use less packaging (yay saving the environment!) so they can charge less. They also offer fewer meals per week with a wider rotation, so we never get sick of the same meals! I have used them for MONTHS, and we have loved every single meal. Stop meal planning today and try
EveryPlate
this week with a $20 discount.
Click here to get you first box at $1.66/serving!
KiwiCo
- Are your kids staying home this school season? Do you need something to keep your littles busy for HOURS? You need to get
KiwiCo Activity Crates
for your kids every month. These boxes teach your kids, provide 2-3 activities per month, give you a free storybook, and entertain your kids for
under $20/month
. We have loved them for years. Seriously, make this school year easier for you with
KiwiCo
.
Latest Posts: