Need best moms working from home hacks? Part of managing a home business is having the right workspace. Lack of a good home office can really hamper a good business. Things that make a good home mom office are: Space for distractions, comfortable and practical work area, smart office and desk furniture, technology that works, places for your children to play, and knowing your work style.
---
Amidst all the scheduling, kids routines, cleaning the house, organizing life, and actually taking a shower…sometimes we forget that we have to work. Like actually work.
Some of us put in 40 hours. Some of us have fluid schedules – long weeks here and short weeks there. Some of us get paid according to how much we work. A slow week = less money.
At the end of the day, the working is what keeps everything going. Want to afford your kids shoes? Put in more hours. Want to take a vacation? Find a new way to make money on the side.
It doesn't stop.
Fortunately though, there are ways to make it easier. Let's dive in.
---
Making A Good Home Office for Moms working from home
I have had a lot of different at-home work scenarios in my time.
I have set up a temporary card table in my living room with cords going every which way.
I have used a tiny antique secretary desk in my living room, with a hard dining room chair.
I have worked on my bed in my room while the babysitter and kids took over the house (that's where I am now!).
I have had an actual desk and task chair in our loft near where the kids play.
Surprisingly, I have never actually had a dedicated office. I need to get on that…
Regardless of what your house and office/desk situation looks like, there are several tools (and questions) you can use to make it whole thing practical and profitable.
Let's dig into all the options, so you can find what works best for you.
THESE ARE THE QUESTIONS TO ASK YOURSELF:
What kid ages are we working with this season?
What new toys/baby contraptions/seats/play areas do we need?
Are my work resources working right now? Does my laptop keep a charge? Do I need new cables that extend longer? Car connectors?
Can I adequately get all my hours in with our current setup?
---
Workspace Location
In each of my houses I have moved my desk to a central location.
In my old house, my desk was actually in my living room. I had room to push my desk near the wall opposite my sofa. And this gave me a lot of space to work and be near my daughter.
Now in my new house, my desk is in our upstairs loft that is between our bedrooms. There is enough room to fit my desk, a small sofa, and a fenced in play area for my baby (see how to set this up below!).
Remember this: you can move your desk to suit your family best. You don't need to keep it in a traditional office room.
---
Work at Home Office Tools
I am so grateful for the discipline of working at home. It's during times like these that I realize how tricky working from home can be! Here are some of my favorite NEW work-at-home tips that I have perfected in the last 5 years.
Toggl: One of the hardest things about working from home is clocking in. It is so easy to sleep late, spend extra time eating breakfast, give into every child's crazy morning schemes. I have found that clocking in forces my hand. Toggl's basic plan is always free – and it has extensions and apps to make it easy to use on any device or browser. And it makes you literally clock in with your literal hands. This really helps keep you going in the morning.
Personal Emails: I do a lot in a day. I work. I watch children. I make meals. I clean my house. But two things I cannot add to my daily tasks are personal emails and mail/bills. Those are evening and Saturday chores only. I mute my email notifications from Gmail and don't check the mail until the end of the day. Of course, I still receive texts, but often leave them unopened if I know I can respond to them later.
1Password: I have used 1Password for years now, and don't know how people do it without a secure password vault! 1Password is a secure password vault that will create long-form passwords for you, save every one of your passwords for every site, and sync across all your devices. On my phone, 1Password will auto-populate the password it has saved for a site, so I don't have to remember anything!
---
There will be Distractions
Every mom knows that working at home will have it's ups and downs. Instead of thinking "How can I do this with few distractions?", ask yourself "How can I keep working with the distractions?"
The biggest distraction will be your kids, of course. And honestly, that's what we signed up for.
But that doesn't mean we can't have tricks up our sleeve for when the distractions happen!
Check out this guide for activities that your kids can do while you work!
---
What Is The Best Desk?
I have had all kinds of desks! Right now I have a huge desk that can hold both my monitors (see more about that below!). But, it's so easy to use an old work table, your kitchen table, or even something cheap from Facebook Marketplace.
I absolutely love having mom's desk in a central place, so think about your living situation and what fits easily into your lifestyle!
Here are some of my favorite desks:
I had this IKEA desk for YEARS and it was so good to me. I love the storage options, the cord organizer in the back, and the price point!
This is the desk I have now and I love it!
I have a huge crush on this living room leaning desk! I really would love to own it one day.
---
Computers And Monitors
This year I have been more and more convinced that I let work and "productive time" get in the way of just hanging with my kids.
But, when you are working at home, it is SO EASY to put them in front of the TV, and just keep working.
Let me suggest an alternative!
Two Monitors – I have two monitors set up on my desk. One is just my laptop, and the other is a large monitor that is hooked up via HDMI to my computer.
I love this monitor anyway, because I use it everyday for all the programs I'm working on.
BUT, when my kids are sick, bored, or frustrated, they love to sit on my lap and watch a movie or show on my laptop. I'm able to hold them and keep working on the other monitor. It allows me to work and hold them at the same time. It is invaluable!
---
---
---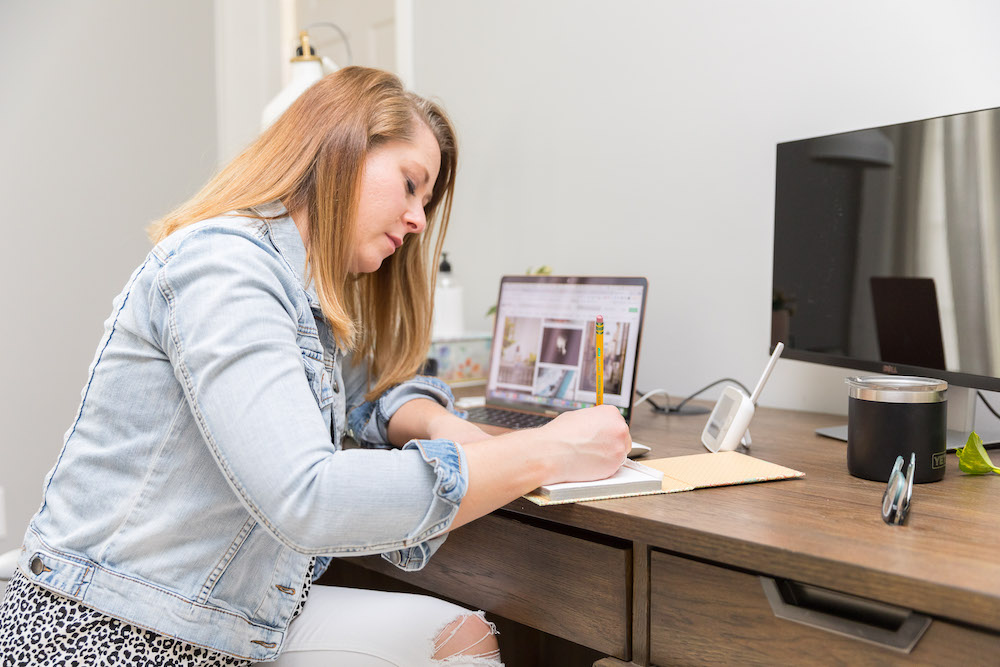 ---
Mom Office Accessories
Every season or so I invest in something new to make my work easier. It might be my earbud/AirPod situation, or my phone and computer chargers. Here are some of my favorite must-haves.
AirPods: I got a pair of Apple Airpods few years ago, and they have changed my life. Because I have a lot of work meetings, I use these the most during my work day when I need to switch between work meetings and music or a phone call I am taking. But, I also listen to SO MANY audio books. And, every day I pretty much wear these around the house and listen to a book. While I am washing dishes. Giving baths. Taking out the trash. Cooking dinner. I am not exaggerating. They are the best.
Car Adaptor: If you work in the car, this car adaptor is a must-have. I work a lot in the car. If we are taking a road trip, my husband will drive and I work. This car adaptor is perfect for keeping my laptop plugged in for hours upon hours.
Long Phone Charger: I don't what mom can function with just the short charger that comes with new phones. A 6 foot charger is a necessity for every mom. This one is super cheap, and has lasted me though years of trips, hotel nights, times in the hospital – and all those days string across the play room. If you are having a baby soon, you definitely need this in your hospital bag!
Leather Desk Pad: I loooove this leather desk pad. I use it under my laptop, my coffee cups, my mouse, and all the lunch plates I eat with at my desk. It's a luxurious way to keep messy dishes on my desk…for a steal.
YETI Coffee Mug: Hear me out. I am not a Yeti snob. I could care less who makes this coffee mug. But it is hands-down the ONLY coffee mug I use. The coffee stays hot all day and tastes just as good the 10th hour. It doesn't spill. Ever. Perfect for over carpet, in living spaces, near computers…I have a gorgeous cabinet full of beautiful mugs and this is the only one I use.
---
A Safe Space for your kids to play
The goal is to have a safe space for your kids to play – near your workspace if needed.
This is often accomplished by just making a few adjustments to make your living area (and combined mom office/play area) functional for both needs.
I love using rugs for soft spaces for my child, bookshelves to organize child books, and lamps (safely above where my child is), so I can feel like the room's house décor and room feel are beautiful, and I can enjoy it as much as my child. I love a perfect place that feels homey and cozy, but is totally baby-proof.
I always set up a baby gate on my young child's bedroom door. This gives a second play area that I can trust my baby to play in.
This is my favorite baby gate that is safe, cheap, and has worked for years.
I am a huge fan of teaching your kids to play independently, and this is my greatest tool for that. Even though your child might nap for hours a day, you still need time and space to work with them being quiet.
I set up this gate as soon as I want to begin teaching my child. Around 6 months old (yes, even before they can even sit up!), I put them in their room with some toys, and leave them to "play" for maybe 10 minutes. I repeat this every day and build more time.
By the time my babies are around 1 year old, they are able to play by themselves for 30-40 minutes. By the time she was 2 years old, my daughter was able to play by herself for up to 2 hours.
Again, I am right next to my kids this whole process. I check on them, watch them in the baby monitor, and encourage them with new toys. But, the practice of teaching them to play by themselves is invaluable.
To see my complete guide to teaching kids how to play by themselves, check out this post.
---
Childcare, daycare, and nap time
The first thing that you need to realize is that you might not need traditional full-time childcare. If you are able to think outside the box and find something that is more custom to your family, go that route! But, if you are looking to choose a child care center near you, start here!
Ask yourself these questions:
Do I need full-time or part-time?
Close in proximity, or is there space for me to look for good options far away?
Do I want a nanny or caregiver, daycare, group childcare, early learning program, or mother's helper?
Do I need child care assistance or financial assistance?
Can I use my relatives or grandparents?
What quality of child care am I looking for?
Long term or short term?
What are my options considering child care expenses?
How much time do I have for enrollment?
Do I need a low income solution for my family?
Do I just need temporary assistance?
Do your research and read reviews! I love using the Next Door app, local reviews, and Facebook Groups to help me find the best in my area.
Once I'm ready to start touring schools, daycares, and child care centers, I set up tours and visits with the top locations that I want to visit. This process can take weeks and even months, so allow time to visit all the different locations.
Looking to keep your child home instead? Then you need to use your nap times wisely!
To read my complete naptime guide, check it out here.
Also, my kids know how to independent play well. As I write this, it's 5:30 pm and my kids are probably hungry. But instead, they are playing behind me making a fort out of pillows, blankets, and some random stick they found in the closet. (Actually, I better grab that…be right back.)
Anyway, I have spent time with them teaching them to play independently. This allows them to go to sleep independently. They are the same thing.
If you have a hard time with them napping, try practicing independent play every day for 10-20 minutes. See if that helps!
See how I teach my kids to play by themselves here!
---
A WAHM Schedule that WORKS
Instead of paying money for a block schedule planner, just download my free block schedule template above and get started!
To begin, figure out how many kinds of daily schedules you are working with. If your M-W-F schedule is different than you T-TH schedule, you might have three types of daily schedules:
You might have only two daily schedules: weekdays vs. weekends. You might have 7 different schedules.
You will want to treat each of these daily schedules differently to maximize every minute. If you have 45 minutes for lunch on Mondays, but 1 hour on Thursdays, then you need to maximize on that extra 15 minutes on Thursdays.
Print as many templates as you need to match up with the number of daily schedules that you need.
To grab this free schedule, just sign up below and I'll send you a free video tutorial!
---
The best flexible jobs for moms working from home
Here me out. I'm all about starting a blog and making passive income. Use those search engines they say! But, at the end of the day, being a blogger can take YEARS to come to fruition. Look for flexibility, something that fits your passion, and something that pays extra money NOW.
Some are full-time job options, some are part-time. Even if you just need a small side hustle. These are stay-at-home jobs that let you be the boss! Brush off the resumes. Have an internet connection? Start today!
---
Teach English – Earn up to $22/hour teaching English online to kids! The awesome company i-to-i TEFL lets you set your own schedule, reach the idea student, and work as many hours as you want. It's the best for how to make money as a stay at home mom.
Click here to get your TEFL Diploma online. i-to-i TEFL has several teaching and diploma options depending on the amount of time you want to invest. They offer the world's largest TELF community – so check it out. Click here to get your free TEFL Guide.
Skills Needed – whatever knowledge you have!
Time Commitment – as many hours a week as you want
Estimated Earning Potential – $15-$22/hour
---
Proofreader – Are you passionate about words and reading? If so, proofreading could be a perfect fit for you. Check out here how you can create a profitable freelance business as a proofreader.
Skills Needed: Reading, Writing, Grammar
Time Commitment: as many hours as you like
Estimated Earning Potential: $17.82/hour
Get started with this free course
---
Transcriptionist – Sign up today for a free 7-day mini Transcriptionist course to see if a transcriptions online job is right for you.
Choose Transcribe Anywhere because you're ready to learn everything you need to know. Choose them because you want hands-on experience. What Transcribe Anywhere offers:
high-quality education without breaking the bank;
lifetime support from real people who care;
to learn not just how to get clients, but
how to keep them;
to build an excellent reputation and
grow your business.
Skills Needed: Typing, paying attention to detail
Time Commitment: as many hours as you like
Estimated Earning Potential: $16/hour
Get started here for free here
---
Bookkeeper – If you are good with numbers, business smarts, and data, you should look into being a bookkeeper!
Udemy makes it so easy to take courses on the programs you need to know. They have an awesome list of courses from the best teachers. It's like getting a custom college education – from your living room. Check out their courses here.
Skills Needed: Data entry, Quickbooks, attention to detail
Time Commitment: as many hours as you like
Estimated Earning Potential: $17.45/hour
---
Selling on Facebook Marketplace – You don't need to create any products to be able to sell and earn money. In the last 6 months I have made over $2000 just by selling used items on Facebook Marketplace. (You can also sell using Facebook group communities!) See how I did it here!
Skills Needed: None!
Time Commitment: as many hours as you like
Estimated Earning Potential: As much as you want!
Get started on Facebook Marketplace
---
Offer at-home childcare – Right now work-from-home moms are DYING to have childcare help. All you need is great references, proof that you took a Red Cross course, and a car! Give those mamas a break, love on their kids, and make good money!
Skills Needed: Good with kids!
Time Commitment: as many hours as you like
Estimated Earning Potential: Beginning at $10/hour
---
Moms working from home – YOU CAN DO IT
I'm telling you. You can do it. If you are looking to quit being an employee that has your own schedule, does legitimate work, and works for yourself, you can do this!
Don't let a small house stop you. Don't let having kids stop you. Don't let laundry stop you.
Check out the stay-at-home mom jobs above, and work on that work/life balance to find the best work-from-home opportunity for you.
You can do this. I believe in you!
---
You might also like: