Are you stuck at home this Valentine's Day needing stay at home date ideas for Valentines? Join the club and try out these at home date night ideas for tired couples. Add these fun ideas to your repertoire and repeat them every week! Have fun making your relationship a priority.
---
This past year my husband and I have really tried to make at-home dates a priority. It's so hard when you are quarantined and can't easily grab a babysitter.
But, we have found out that our stay at home date nights are the most important thing we do all week. We feel rejuvenated and happy that we ended the week having fun.
Honestly, there is just something about take-out tacos on a Friday night to make the previous week ok!
So here are my favorite stay at home date ideas for Valentines! Please make sure you send me your favorite ideas so I can add them to my weekly stay at home date idea list!
Check out my other favorite ways to focus on your marriage and partner when things get busy.
---
---
1. Appetizers and Puzzles
Who wants to cook on date night? My at-home solution? Appetizers and Puzzles. Let me set the mood:
You actually clean you kitchen and living room and light a candle. Lets not go crazy here.
Raid your grocery store (or Instacart!) and grab up all your favorite frozen appetizers. Mozzarella Sticks. Barbecue Meatballs. Buffalo Chicken Dip. Taquitos. Loaded Baked Potato Skins. Chips and Guac. You get the idea. ALL OF IT.
Pop it in the oven and you are done.
Run upstairs and jump in the shower. Throw on a slinky tee-shirt and *gasp* no pants. Make sure you shave those legs.
Grab a glass of wine. Open a new puzzle.
(Remember you thought ahead and ordered this romantic puzzle from Amazon?)
And just chill. The day washed off of you. Wine and taquito in hand.
Want to up the stakes? Mix up an adult beverage (grab a recipe from my friend Booze Magic here!) and pull out a romantic *uncessored* game and…
---
2. Take-Out and a Pillow Fort
One year when my daughter was 6 months old, I surprised my husband with a pillow fort in our living room by the fire. I was just coming off of hospitalization and being bed-ridden, so romance was NOT expected.
I ordered a bunch of fun romantic things from Amazon – these date night cards, this $15 lingerie that is still my absolute favorite, and other things that I really can't mention here…
I pulled out our sofa bed, added candles, and pillows, and blindfolded him.
Sidenote: if you know me at all this was a HUGELY out-of-the-ordinary event. I am normally so basic and tired, that I was really proud of this.
Oh – and order take-out because you have to eat.
It was the best – so relaxing. So simple. And – we were right by the baby monitor the whole time. Score.
---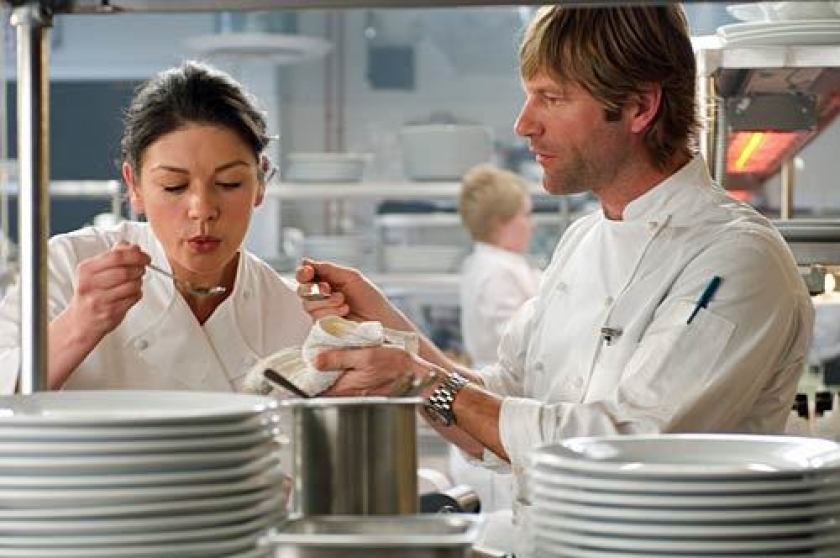 3. Make (Out) Dinner Together
You know what I mean. Barefoot in the kitchen. The perfect spread of vegetables sliced on the counter. Letting each other taste the spaghetti sauce right out of the pot. You know what I mean.
Personally, my husband and I LOVE making Italian Arancini (Risotto Rice Balls). An Italian dish like this is perfect for whipping up with your hubby in the kitchen.
BTW, you HAVE to watch this Arancini recipe with the gem of a cook Gennaro Contaldo. We still quote this video ALL THE TIME and have all the ? for this guy. This will be the best thing you watch all year:
I think the perfect date night in (think VALENTINE'S DAY at home) would be to cook Italian in the kitchen together.
Not a cook? Then you have to try the awesome stay at home date ideas using the meal dinner service EveryPlate.
Why I love EveryPlate more than Home Chef
Have you ever heard of Home Chef or Hello Fresh? This Home Chef alternative is amazing and SO MUCH CHEAPER.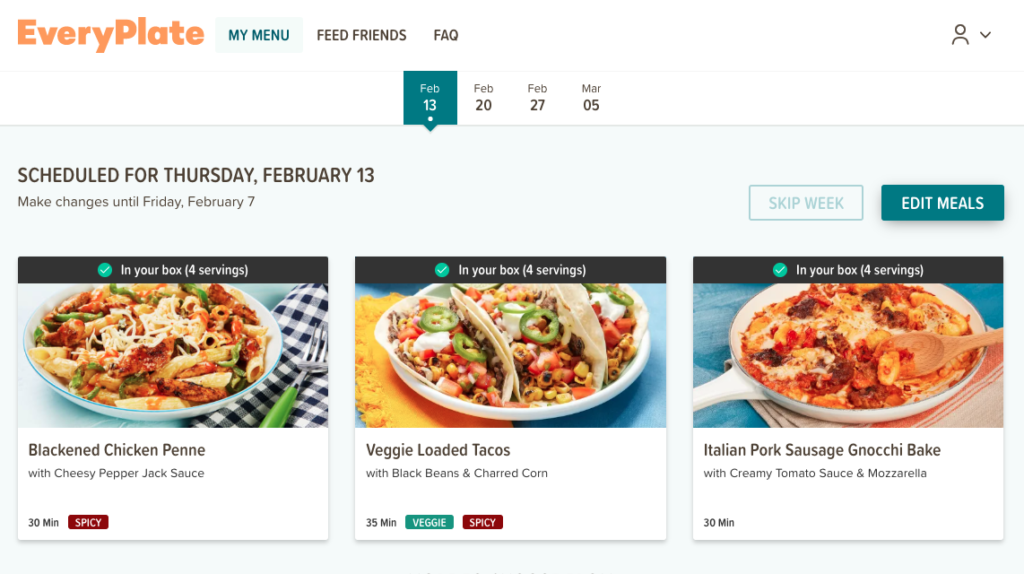 EveryPlate is a dinner cooking service that sends you recipes and ingredients for 2 or 4 people – starting at $4.99 a serving.
Order this for Valentine's Day – and be ready for a little romantic canoodling in the kitchen. Just open a bottle of wine and…voila. Stay at home date ideas.
4. Stay at home date ideas: Re-Live a Memory
My husband and I honeymooned in a cabin in December amid the snow – and those memories still are some of those romantic ones in our history. Several times we went up to the local ski lodge and had this AMAZING kettle chip nachos. I'm telling you – amazing!
When I want to take us back to those days, all I have to do is make those nachos, give our house a little "winter cabin" vibe, and we are there!
Do you have any memories that center around food that you love to recreate? Even if you can't actually rent the cabin, book a sitter, and re-create the trip – food will take you back!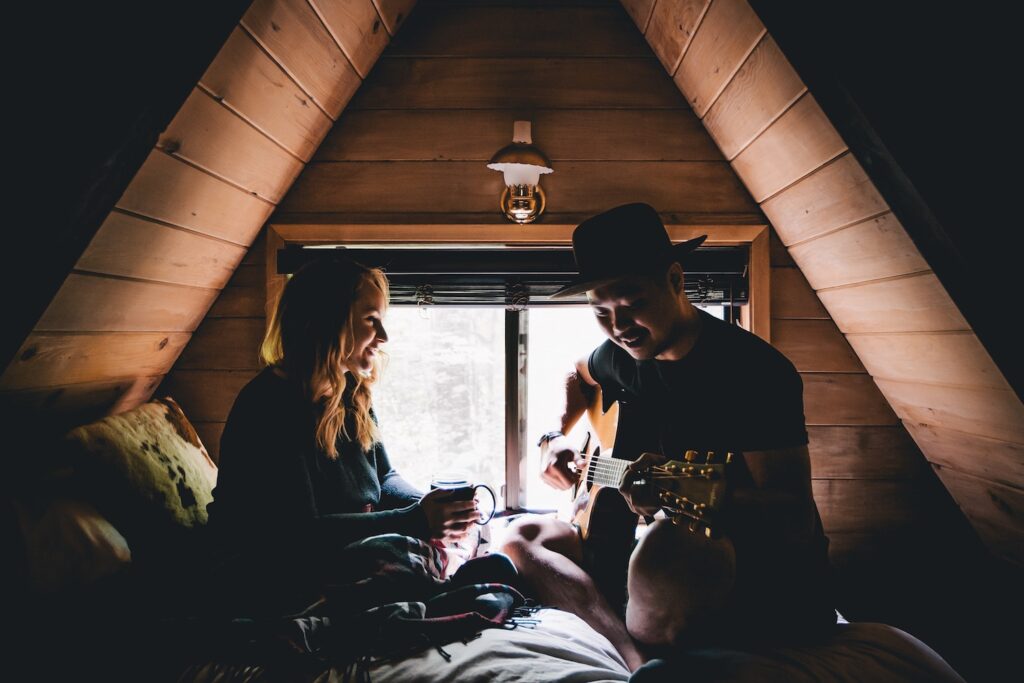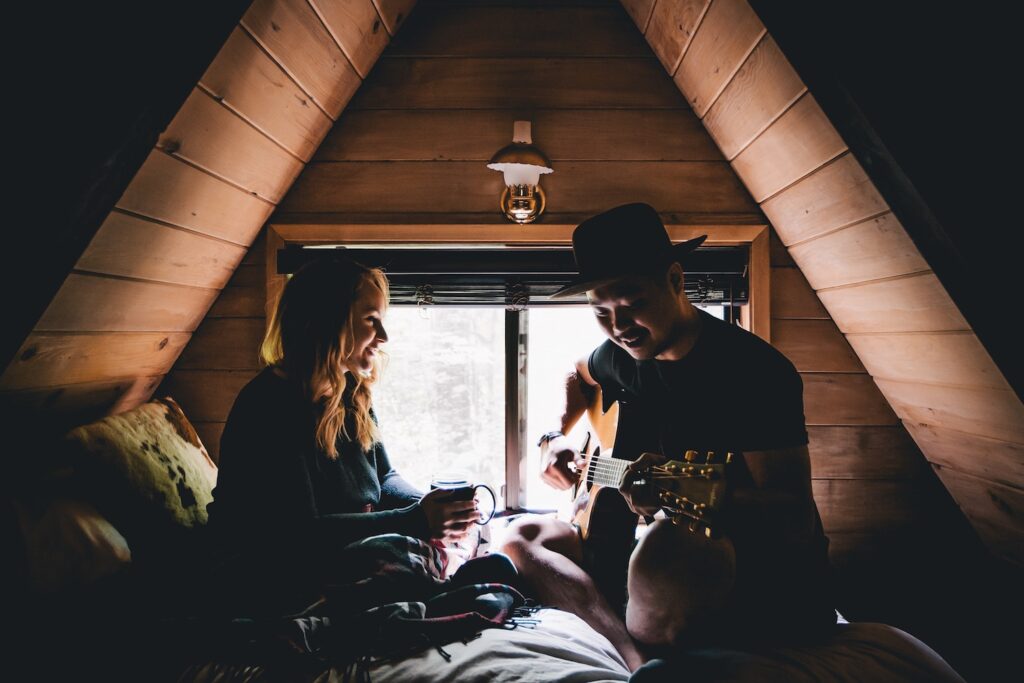 5. Experience Disney at Home
Some of you are die-hard Disney fans. I mean. I see your Instagram stories!
Why not re-create your favorite Disney experience at home? This is also an awesome way to "date night" with the kids.
Are you into theme nights? Perfect. I'm feeling Aladdin. Who doesn't love some Persian silk and belly dancing?
Want a little adult drink situation? What about recreating Epcot's Drink around the World at home? Just pick up a sampler of your favorite international drinks, and have your own sampler!
Turn on your favorite movie, add a long wig, and whip out that drink around the world! This is your night.
---
Are you a tired couple? Share your romantic Stay at home date ideas for Valentines Day!
I'd love to hear your favorite at home date night ideas! Please leave a comment so we can all add more creative ideas to our repertoire.
Happy Valentine's Day! ❤️
---
You might also like:
Can two people work from home in the same house? (HINT: They can!)
Self Care for Working Moms – 30 Incredible Tips from Real Moms
Making mom friends – 6 New Tips that ACTUALLY work
---