---
Looking for work from home jobs that make you money today? Then you are in the right place.
I don't know if you are looking for a full-time remote job or a part-time job. But this list should have so many options for you.
I have seen so many friends rise above difficult circumstances by earning income at home. Whether it is a supplemental part-time income, or a full-time income, I have seen first-hand how it is possible to earn a living at home.
I myself remember the days when I would tutor Latin for a student in my town, and then take that $50 in cash to the grocery store and only used that for the groceries that week. I didn't have savings. I just made what I spent that week.
It's hard. I get it. But I also believe that you will be able to find the home or online job that fits your needs.
Ok! Let's get into it.
Quick Question: Are you a mom? Join our private Facebook Group where moms like you chat about what is working for them! Join here.
LIMITED OFFER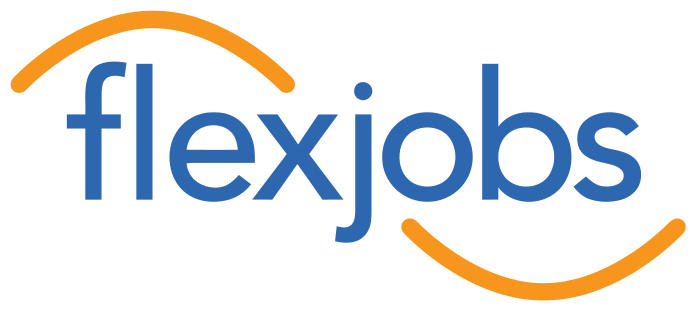 Save 30% with code SAVE30
FlexJobs 30% Discount
The #1 job site to find remote jobs – no ads, scams, or junk. Find your next flexible, hybrid, or work from home job. Take advantage of this amazing offer to find your next job!
---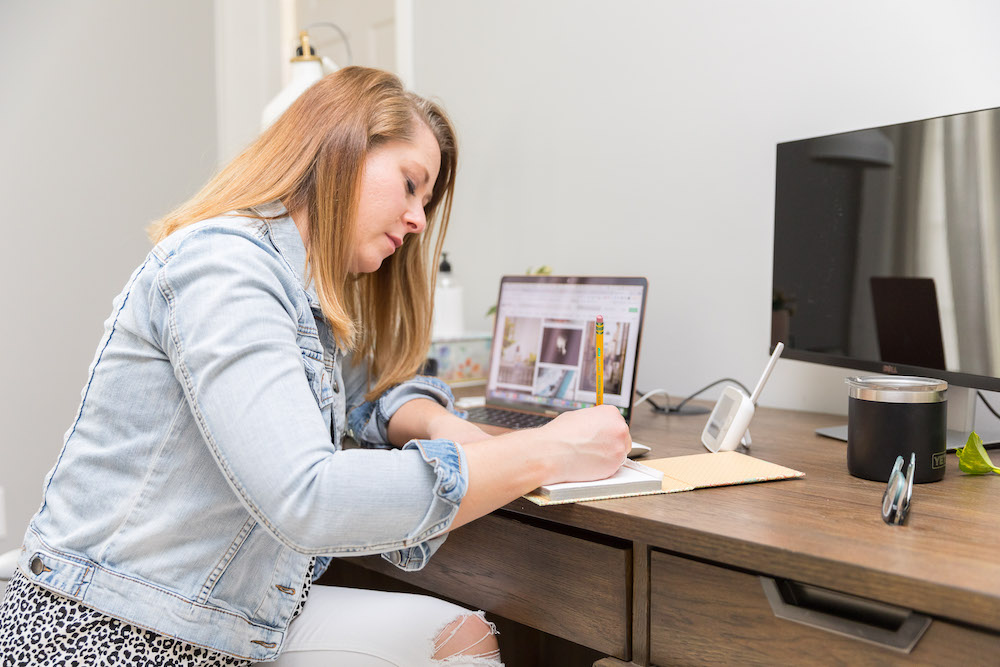 ---
Make money with a part-time job
FlexJobs Job Finder
FlexJobs is one of my favorite sites to find the best online jobs. I have found that FlexJobs takes the work out of finding easy online jobs. They give you a scam-free way to search for any remote legitimate work you are interested in.
This is what they say on their website:
Work is changing, and remote and hybrid jobs are becoming a new normal. Now, "the office" is often a home office, hybrid workplace, or wherever you want to set up shop. As the #1 job site to find the best remote, work from home, and flexible jobs for over 14 years, we know how to help you have a faster, easier, and safer job search. Just as we've helped millions of people, let us help you! (here)
This is what Forbes says: "FlexJobs sifts through the dross to find remote employment gold."
Flexjobs is a job board that provides all kinds of remote and flexible work – including part-time, full-time, entry-level, hybrid, freelance, and flexible work. The service is $9.95/month, but you can get discounts for a longer subscription.
This is what I found when I searched for "data entry job":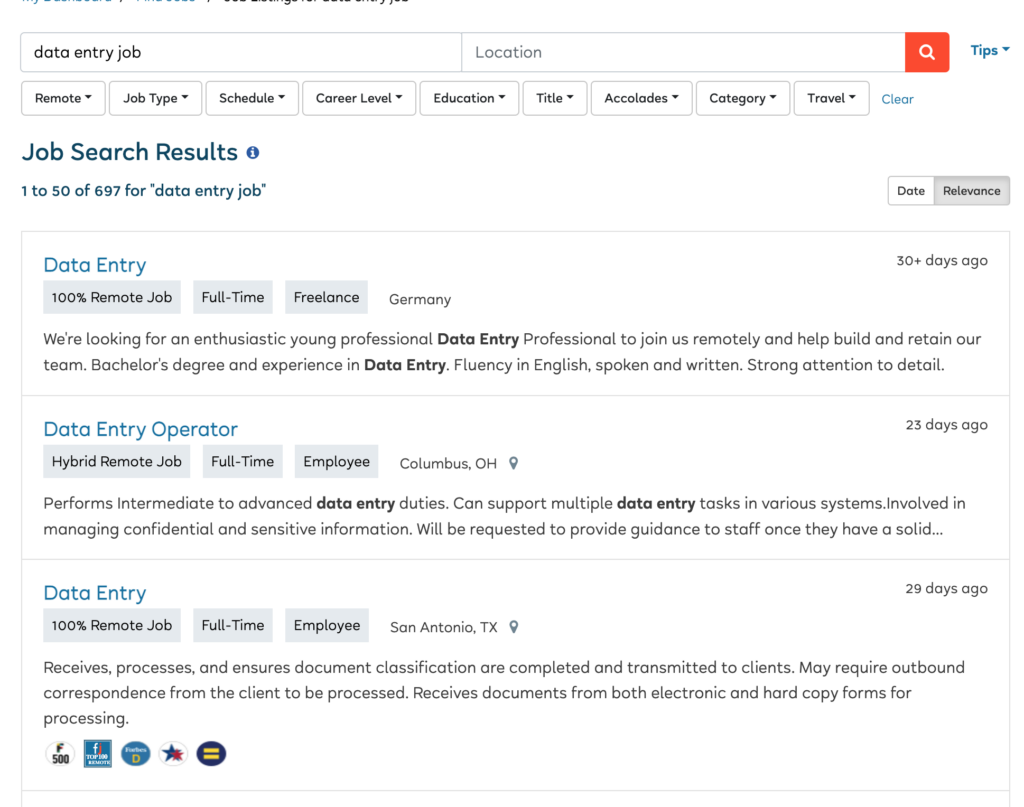 LIMITED OFFER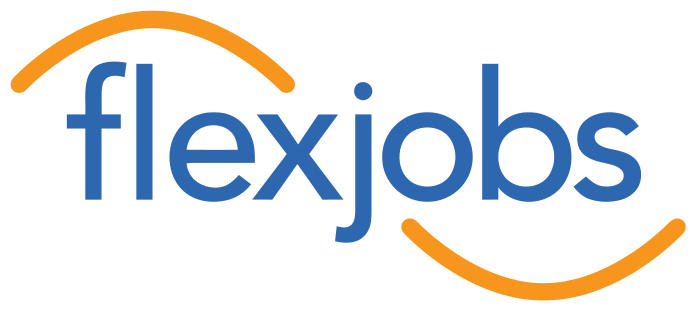 Save 30% with code SAVE30
FlexJobs 30% Discount
The #1 job site to find remote jobs – no ads, scams, or junk. Find your next flexible, hybrid, or work from home job. Take advantage of this amazing offer to find your next job!
---
Make money tutoring or teaching
Teaching English
Earn up to $22/hour teaching English online to kids! The awesome company i-to-i TEFL lets you set your own schedule, reach the idea student, and work as many hours as you want. It's the best for how to make money as a stay at home mom.
Click here to get your TEFL Diploma online. i-to-i TEFL has several teaching and diploma options depending on the amount of time you want to invest. They offer the world's largest TELF ESL community – so check it out. Click here to get your free TEFL Guide.
---
Tutoring
I have tutored with Wyzant for years. Wyzant is an easy way to match your skills with students that need online tutoring in your area. I have tutored English, Spanish, and other subjects – and have always found awesome students in my zip code.
Just fill out a profile, add your qualifications, take a few quizzes, and you will be matched up with potential students in your area. I have always found excellent students – and the money is really good. I totally recommend for how to make money as a stay at home mom!
---
Make money by learning a new skill
Being a Virtual Assistant
If you are good with details, organization, and helping people, being a virtual assistant should be your NUMBER ONE JOB CHOICE.
There are so many options when you are virtual assistant! You can work with as many clients, and as many hours as you want. Here are some options for finding work from home jobs for moms!
---
Being a Social Media Manager
I have been a Pinterest manager for years, and it was so wonderful having a part-time job that I could work in the evenings to make extra money! At the height of my Pinterest manager career, I was making about $2000/month for managing the accounts of 6 accounts. Totally recommend.
If you are looking to be a Facebook Manager, I have huge respect for Rachel Miller, and her course is the best!
If you know of a good Instagram Manager Course, let me know! I'm looking for a course or a manager that knows social media platforms.
---
Becoming a Data Proofreader
Are you passionate about words, reading, and grammar? If so, proofreading could be a perfect fit for you. Check out here how you can create a profitable freelance business as an online proofreader.
Use her this free course to see if Proofreading is right for you! Learn how proofreading can be your ticket to work from anywhere. It's the surprisingly easy way to attract your ideal proofreading prospects. Check it out here!
---
Becoming a Bookkeeper
If you are good with numbers, business smarts, and data, you should look into being a bookkeeper! It's one of the best jobs out there.
Udemy makes it so easy to take courses on the programs you need to know. They have an awesome list of courses from the best teachers. It's like getting a custom college education – from your living room. Check out their courses here.
---
Transcription Proofreader
Sign up today for a free 7-day mini Transcriptionist course to see if transcription stay-at-home jobs are right for you.
Choose Transcribe Anywhere because you're ready to learn everything you need to know. Choose them because you want hands-on experience. What Transcribe Anywhere offers:
high-quality education without breaking the bank;
lifetime support from real people who care;
to learn not just how to get clients, but
how to keep them;
to build an excellent reputation and
grow your business.
---
Make money re-selling items you own
Flipping Items from Flea Markets and Thrift Stores
You don't need to create any products to be able to sell and earn money. In the last 6 months I have made over $2000 just by selling used items on Facebook Marketplace. (You can also sell using Facebook group communities!) See how I did it here!
---
Make money selling creative products you make
Selling Printables On Etsy
Now THIS is the part-time job I can't wait to try. In fact, I'm already planning how to sell printables on Etsy.
Gold City Ventures (with Julie and Cody) has the perfect free seminar to learn how to start selling on Etsy. It's fascinating!
---
Make money with an Online Marketplace
Starting a Baby Equipment Rental Business
This is one of those flexible jobs that is so available because of a simple internet connection. There are so many companies like BabyQuip that helps you start a baby gear rental business. Check it out to learn how to rent equipment to moms that travel!
---
What about blogs, social media, and search engine optimization?
Here me out. I'm all about starting a blog and making passive income. Use that SEO they say! But, at the end of the day, being a blogger can take YEARS to come to fruition. Today I wanted to share remote work ideas that could immediately give you flexibility and money now.
---
What is the easiest work from home job to get?
---
You might also like:
Self Care for Working Moms – 30 Incredible Tips from Real Moms
6 Easy Tips for Parents Working from Home (Part 1)
ESSENTIAL GUIDE: Childcare help for working parents (Part 2)
---