Are you looking for the best mom workouts to get you in shape…while you have kids, work, and are incredibly busy? Well you need to check out these incredible mom workouts that will meet you where you are. I'm loving the program MommaStrong and the Gorowingo Water Rower. Both of these workouts are cheap, easy to integrate into your life, and are perfect for busy moms!
---
The Best Mom Workouts for 2022
I bet you are here because you need to find a great mom workout for your busy life – and don't know where to start.
I am right there with you.
I hate working out. I hate finding new workouts that fit my schedule. And I just really hate being a responsible adult! Please tell me I'm not alone.
In the past, I have tried all these exercises:
Pilates classes
Gym membership
Fitness swimming
Accountability groups
Fitness apps at 5 am (read more about my morning routine here!)
Zumba classes
Spin classes
You name it – I've tried it!
I really have loved most of these – and they have all fit my life at different times. But, I really think that when I became a mom, my physical abilities changed. I was dealing with postpartum recovery, weird prolapse body issues, and just a complete lack of time and motivation.
Let me show you a few mom workouts that have fit into my busy work at home mom life perfectly!
---
Finding Safe Exercises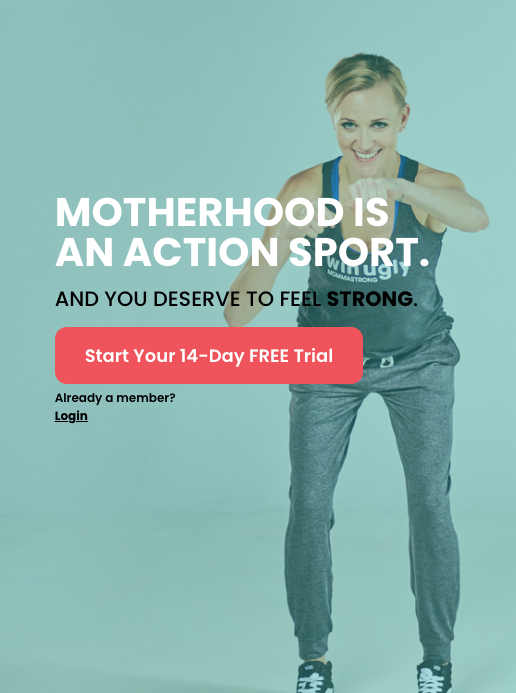 To start, ask yourself these questions:
"What kind of exercise does my body need?"
"How much of my budget am I willing to spend on exercise?"
"How much time can I allot to exercise?"
Do I have a specific goal, or just to "show up" and be healthy?
---
So, I've been testing out a few exercise mom workouts to find one that fits my life. This is what I need, and how I answered those questions above:
No goal-oriented exercise. I don't want to work towards a specific weight goal – I just want to be healthy and strong.
Realistic trainer/teacher that is relatable and makes me want to show up.
Exercises for women that take into account prolapse, diastasis recti, etc.
Something I can do in 10-20 minutes.
When I found MommaStong, I knew it was different and special. The trainer Courtney was doing exercises around her kids toys. She encouraged moms to just show up and do their best. She offered specific exercises for women's issues, pregnancy, and all her exercises keep mom issues in mind. She had tons of SUPER short workouts for specific needs (ie. for when you have been sitting all day or when you aren't feeling well). She also has an awesome nutrition program. She offers:
Pelvic floor workouts
Strength training
Resistance Bands and hand weights alternatives (no equipment needed)
Yoga cool-downs
Home workouts for all stages of motherhood
Mommy and me exercises for with kids
Upper body exercises
Lower body exercises
Planks, crunches, and push-ups modified for women
I could go on and on…but you need to check it out.
This isn't an affiliate link or referral link. That's how much I love this program.
To see how I use this program, check out this video below!

---
Standup exercises at your Desk
Years ago, I worked at a customer service job in the back cubicles of the office. Along with my fellow employees, we scheduled "Stand up. Sit down." exercises every hour at our desks. It was great!
To do this, we set a timer for the top of every hour. For one minute. we would stand up and sit down 30-40 times. It really wears you out! Try it! This is an excellent way to do some mom workouts and keep your blood circulating while staying "seated" at your desk.
---
Walking
Right now (while I am writing this), my son is home with me for 2-3 days a week. I have discovered that I can put him in the stroller (give him a quick lunch IN the stroller), and get in a little walk during my lunch break. This quick walking option for mom workouts gives me the chance to get in some cardio, raise my heart rate, and sweat a little.
BONUS: I listen to my latest audiobook while I'm walking!
Last year, I got a pair of Apple Airpods, and they have changed my life. Because I have a lot of work meetings, I use these the most during my work day when I need to switch between work meetings and music or a phone call I am taking. But, I also listen to SO MANY audio books. And, every day I pretty much wear these around the house and listen to a book. While I am washing dishes. Giving baths. Taking out the trash. Cooking dinner. I am not exaggerating. They are the best.
Try it! Take a walk! Listen to your book!
---
Why GoRowinGo Water Rower is perfect for busy moms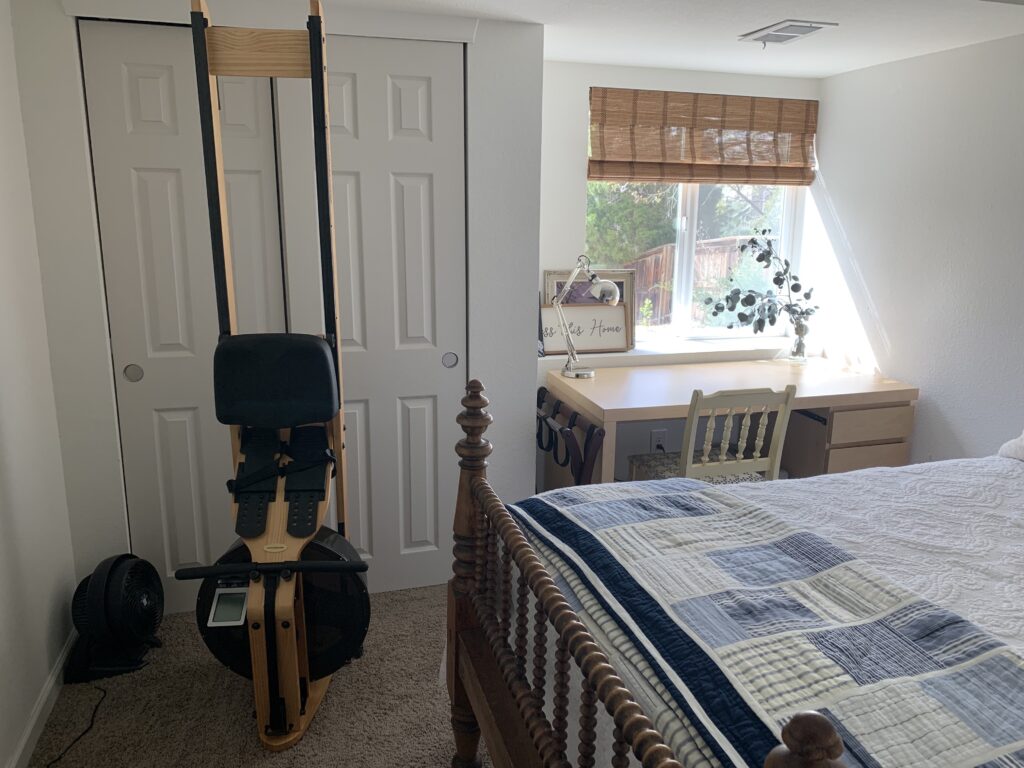 So, I finally bought a workout machine.
And y'all, I love it!
I was really hesitant to shell out a lot of money for a single machine. Also, I am NOT a workout pro, so I had to really convince myself that this was worth it.
But, here we are! Let me tell you what I wanted:
I wanted one machine, that let me zone out for a few minutes a day. I was tired of learning new at-home exercises.
I wanted CARDIO.
I wanted to burn calories. Not just do a few squats.
I wanted to workout my whole body – not just my legs.
I wanted a 10 minute workout that is "worth it"
I didn't want to plugin equipment, subscribe to an app or subscription.
I wanted it to be easily stored, and not have a huge blueprint.
And guess what I found? The GoRowinGo Water Rower.
This is what their website says:
The GoRowinGo Rowing Machine is a world-class indoor rowing machine loaded with features at an affordable price. We obsessed over every detail of each component on our rowing machine. Our goal? Succeed where other rowing machines have failed concerning comfort, durability, functionality, and performance. Our water rowing machine's noise reduction characteristics and aesthetic appeal make it perfect for any home living space.
Rowing is one of the most effective forms of whole-body exercise, working over 86% of the muscles in the body and eliciting a unique strength and cardio training effect. Those who row consistently will testify to rowing effectiveness, with virtually no impact to the joints!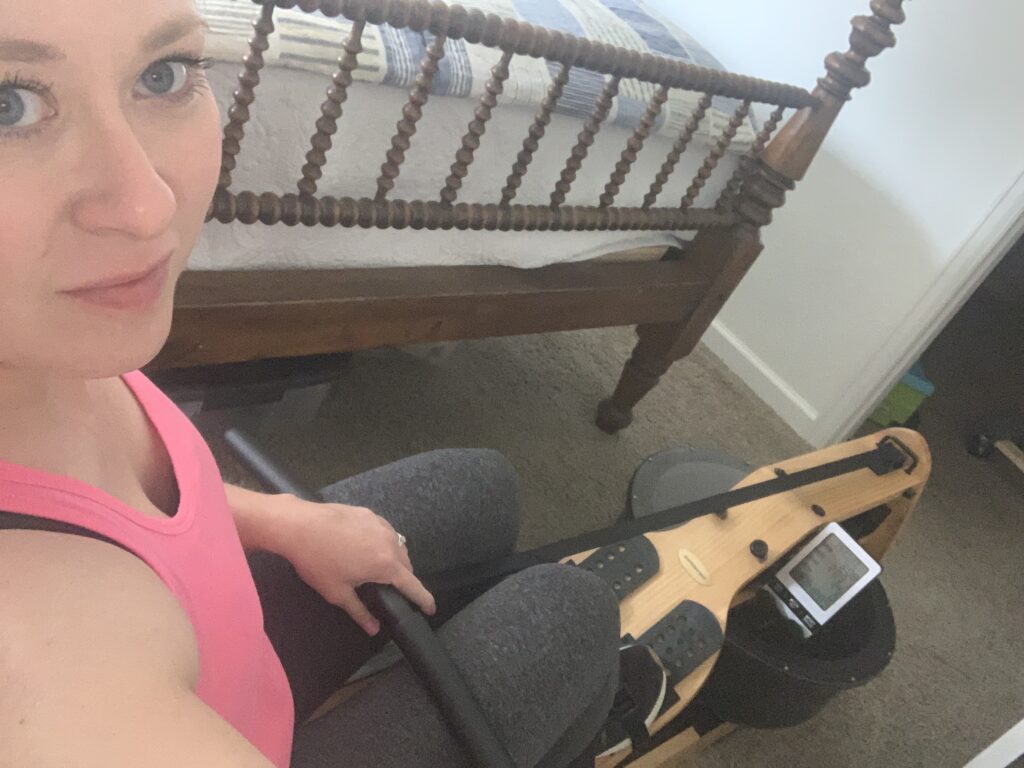 This is why I like the GoRowinGo Water Rower.
One, I burn 100 calories (and work up a sweat!) in just 10 minutes. That's amazing. Even if I just have 10 minutes, it's worth it.
Two, my WHOLE BODY gets a work out. I feel it in my arms, legs, back, and abs. It's incredible workout for just a short amount of time.
Once I settled on getting a water rower, the decision was still hard because they are SO EXPENSIVE and SO CHEAP LOOKING. I didn't want to spend $2K on one piece of equipment. I also didn't want a cheap piece of crap that looks like it's going to fall apart.
So, when I found the GoRowinGo for an amazing price, I almost didn't believe it. How could this price be possible?
It is high quality, made of GORGEOUS wood, and is designed in the USA! (I did want a product made in the USA, but I think the GoRowinGo is designed and packaged in the USA, made in China.)
Honestly when I bought the rower, I was sure that it was a scam. I was worried that it was too good to be true!
But, I've been using it for over 2 months and love it! Totally recommend it!
Some GoRowinGo Questions
How is their customer service?
Honestly, not the best. I've always gotten responses, but they seem impersonal. But, the rower was delivered perfectly and I've never had a product with their product.
Is it easy to put together?
It came with complete directions, and I put it together by myself in about 1-2 hours. You need to be familiar with using a hex wrench.
How is it shipped?
It's shipped in two boxes and is VERY WELL packaged. I was impressed. Everything was double-boxed and there were no damage.
Where is it made?
The GoRowinGo is designed and packaged in USA, but made in China.
How much does it cost?
The GoRowinGo Water Rower is currently on sale for $609 and you can finance for as low as $55/month. Try it risk-free for 30 days.
How do you use the water rower?
I love to row to music. I listen to my favorite Spotify playlist, and power through a few songs. I row hard for 30 seconds, and slow for 30 seconds. This is a great tutorial:
---
What are your favorite mom workouts for 2022?
And that's what mom workouts I'm using now! Some are easy, some push me. But I really love the options I have at my house.
Comment below with your current favorite workout that fits your mom schedule!